WordPress users are always on the lookout for that next great theme. That's true whether you have an existing website that you want to soup up or you're building a new one from scratch. The great thing about being on WordPress is that there's no dearth of choice when it comes to themes. One of the sources for high-quality WordPress themes on the Internet in 2023 is MyThemeShop.
You can get a 50%+ Discount on MyThemeShop. Simply click the link below and signup and the discount will be applied automatically.
MyThemeShop Review
Meet MyThemeShop
MyThemeShop has a repertoire of 115 themes and plugins in total. Out of that, over 30 were released just this year. So it's safe to say that MyThemeShop will continue to grow its range of themes and plugins going forward, which is something to keep in mind if you're considering becoming a customer.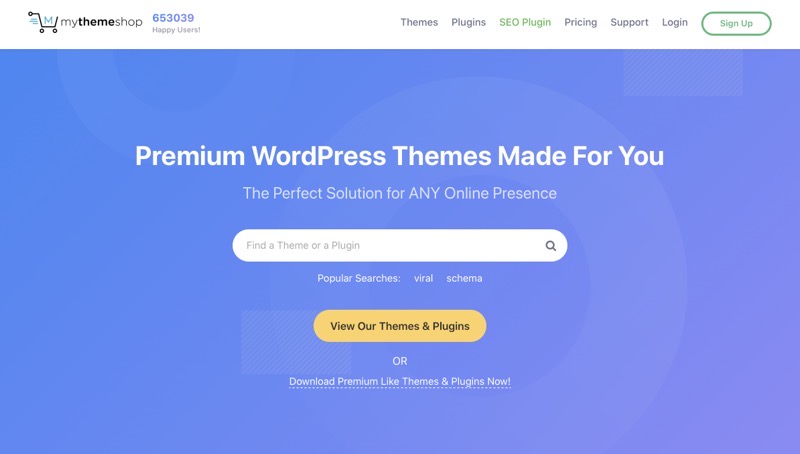 Speaking of customers, this theme maker claims to have over 652,000 users. The website owners who use MyThemeShop range from small hobby enthusiasts running a passion project to major influencers and businesses. MyThemeShop is able to serve all these various demographics thanks to the breadth of their offering combined with its quality.
The main focus here is on creating themes that perform well. If you've tried to build a WordPress website you've probably had bad experiences with themes. You've probably been impressed by how a particular theme looks only to find out later that it is hard to implement or the associated plugins keep crashing. These kinds of compatibility issues are a nightmare if you're a website owner.
MyThemeShop's goal is to avoid all of these problems by creating themes that are highly effective and easy to tweak. They do so by writing code that is friendly to both users and search engines. The themes use an asynchronous loading method to achieve fast render times. Those few fractions of a second can mean the world if you're trying to put together an SEO-friendly website.
Performance is key but you also care about how your website looks. Strong branding is foundational to business success. MyThemeShop creates unique themes that can be tweaked endlessly to suit your business' design language. You don't need to get your hands dirty writing code to get your theme to look the way you want it to. You can simply start by choosing a theme that you like and then use WordPress' visual editor to make changes as you would with any other theme.

Click to Join MTS Membership for $9
MyThemeShop Themes Review
Let's take a deeper look at MyThemeShop's themes. There are a total of 86 themes on offer between the free and premium themes. The themes are categorized into Blog, Business, Magazine, and e-commerce based on their use case. You can also search for theme based on more specific criteria such as:
AdSense optimized
HTML5/CSS 3
Translation ready
Slider
2 column
3 column etc
Being able to filter themes out based on these functional aspects can make the job of finding a theme a lot easier than it usually is. Now let's dive into some of MyThemeShop's popular themes so we get an idea of the best they have to offer.
Schema Theme Review
Click to Join MTS Membership for $9
Schema is a MyThemesShop WordPress theme that has been built for the ultimate SEO-friendly experience. How do you build a theme that search engines love? Blazing-fast page load times are a great start, and Schema has that in spades. Schema as a page load-time of just 0.55 seconds. That's thanks in part to the extremely lightweight page size of 96.9 Kb. The theme is also fully responsive, so you don't have to worry about losing out on users who may be scrolling through on a phone or iPad.
Schema has a number of other features that make it evident why it's such a popular choice. When it comes to design, you can pick from an unlimited number of backgrounds. The theme is compatible with Elementor so you can use the page builder to enhance the appearance of your website. If you don't want to bring another page builder into the mix, there's always the option of writing custom CSS code to make visual tweaks.
There are also several functional features that could come in handy. Schema has a built-in reviews feature. You can use this to have your audience review your posts or leave reviews for products that you're selling through your website. For those who run ads, there's an ad management tool. It can be used to easily set up your ads and track their performance.
Schema is a great theme for any website owner who's serious about ranking high on Google. The page speed optimization techniques that are in use ensure that search engines take a liking to your website. Along with that, you also endear yourself to your visitors since they can access the content they want without it taking forever to load.
MyThemeShop SociallyViral Theme Review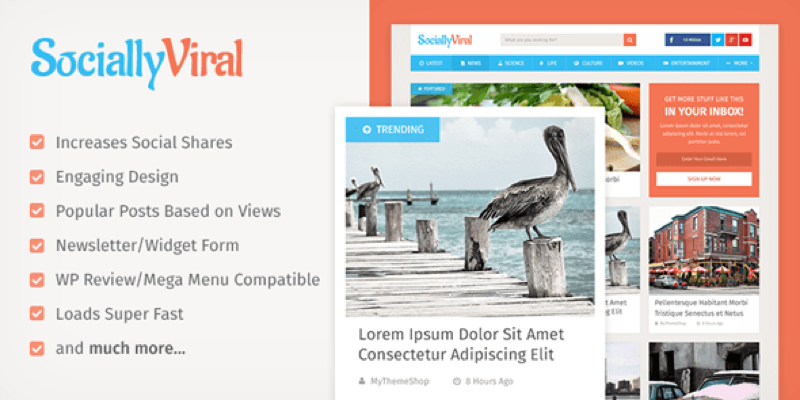 Click to Join MTS Membership for $9
Where Schema is a theme built with SEO in mind, SociallyViral focuses on social media features. Having a WordPress theme built to optimize for social media sharing is invaluable at a time when so many publications have built their entire business model around social media virality. SociallyViral is a MyThemeShop theme that can help you achieve your social media marketing goals through its many in-built features.
The main goal behind SociallyViral is to help website owners generate traffic through social media. This is achieved through both design choices within the theme as well as explicit social media sharing widgets.
Since visual content tends to perform well on social media, SociallyViral emphasizes the same on your website. The images are presented in a large, catchy way that generates more clicks from visitors. You can choose between two different homepage layouts, both of which come with professional pixel-perfect designs and full-length sidebars.
The real power of SociallyViral comes through when you see how it can help you generate more views and followers on social media. Your brand's social media buttons can be positioned right on top of your website. The featured images associated with each post are displayed clearly on the homepage. Visitors can easily load more posts right fro the home page, recreating the feeling of scrolling through a social media feed.
Social media sharing buttons can be added automatically to the bottom of any post. Users can also scroll to the previous or next article on each post page. This helps you generate more views from a single visit.
SociallyViral is a great theme if you're building a viral news website or something similar. In fact, the popular viral site ViralNova was built on a MyThemeShop theme similar to SociallyViral
MyThemeShop Crypto Theme Review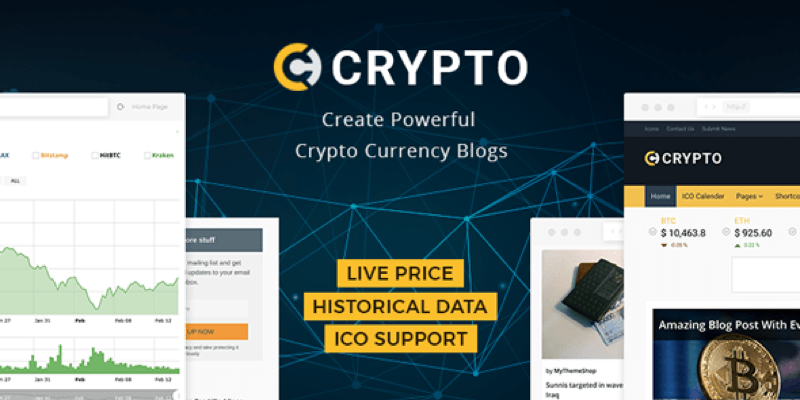 Click to Join MTS Membership for $9
Crypto is an example of a MyThemeShop theme which shows how they're constantly developing themes to fit the needs of new online businesses. The crypto industry hit the mainstream a few years ago and there are several businesses and publications built around it. Crypto is a WordPress theme that is built specifically for blogs about cryptocurrency and Bitcoin.
Crypto lets you create dedicated pages for particular coins. Cryptocurrency enthusiasts know that not all coins are made equal and some are more important than others. You can use the Crypto theme to create pages that show the live price, historical price data, and other important information about the important cryptocurrencies.
Since Crypto lets you pull in all this data about different coins, you can also display comparisons easily. There are two dedicated widgets to make it possible to convert between the prices of different coins and view key statistics. The theme integrates with WooCommerce in case you want to sell products directly from your website.
Crypto is a no-brainer for anyone creating a website around cryptocurrencies and ICOs. It would save you a ton of time in creating posts in a particular format and pulling in live data about different cryptocurrencies.
MyThemesShop Plugins Review
So far we've seen what MyThemeShop has to offer in terms of WordPress themes in different categories. But that's not all that's on offer. The company also creates WordPress plugins that make it possible to add different functional aspects to your website.
MyThemeShop currently has 17 plugins listed on its website. These are categorized as Addon, Functionality, Widgets, and Free WordPress Plugins. Let's take a look at what some of their popular plugins do.
MyThemeShop RankMath Plugin Review
Click to Join MTS Membership for $9
MyThemShop calls RankMath the Swiss Army Knife of SEO plugins for WordPress. Its entire goal is to help you create an SEO-friendly website that ranks high for particular keywords.
To make that possible, RankMath starts by pulling key information from your Google Search Console right into your WordPress dashboard. This means that you don't have to constantly switch between WordPress and Google Analytics to track how your website is doing on the SEO front.
Keyword research is a lot easier if you use MyThemeShop's RankMath plugin. The plugin integrates with Google Trends so that you can view how different keywords perform over time and compare specific keywords. The data is displayed in a visual format that makes it easy to understand how keywords are trending.
Images are an important element when it comes to SEO. It is essential to have the right ALT tags and titles for images so that search engines index your images. RankMath automates that process by dynamically generating titles and ALT attributes to your images while a visitor is viewing a post on your website.
Some of the other RankMath features are XML sitemap generation, Google crawl error identification, a 40-point SEO analysis, and schema support for different post types. All in all, RankMath is a godsend for any website owner who cares about progressively improving the SEO of their website.
MyThemeShop WP Review Plugin Review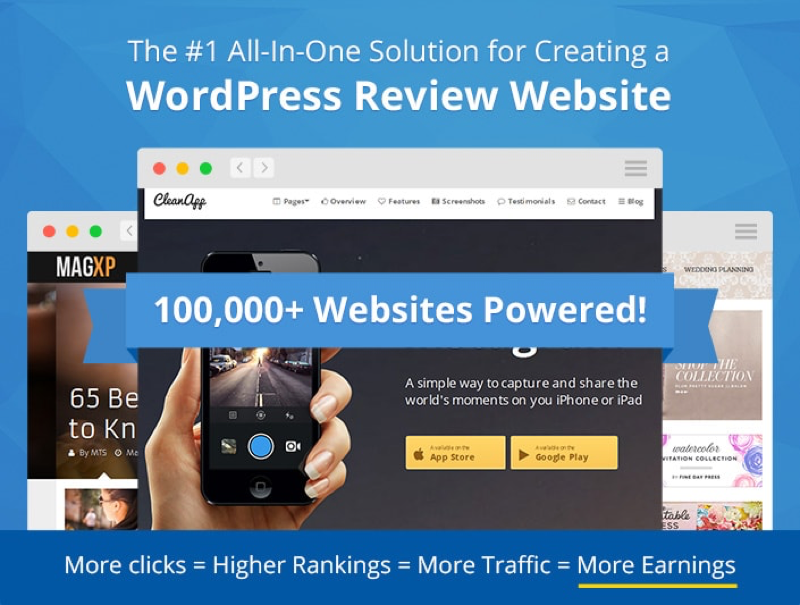 Click to Join MTS Membership for $9
If you run a review website, you know that having a plugin or theme that supports review-specific features is invaluable. WP Review is one such plugin. It makes the job of creating a full-fledged review website on WordPress a breeze.
WP Review comes with 16 pre-made templates that you can use to design your review pages. These pages support 19 different kinds of rich snippets. That includes snippets for the reviews of articles, books, games, recipes, and more. You can use different rating systems (such as stars, percentages, or points) to rate different kinds of products.
WP Review also lets you create a comparison table if you're reviewing multiple products at once and need to compare them. This can be a great way to help your audience make decisions about what product to purchase. The plugin can fetch existing reviews from platforms like Facebook and Yelp if you want to display them on your website.
WP Review is compatible with any WordPress theme. It also integrates with WooCommerce if you want to use it to display reviews of your own products on your e-commerce store.
MyThemeShop WP Quiz Plugin Review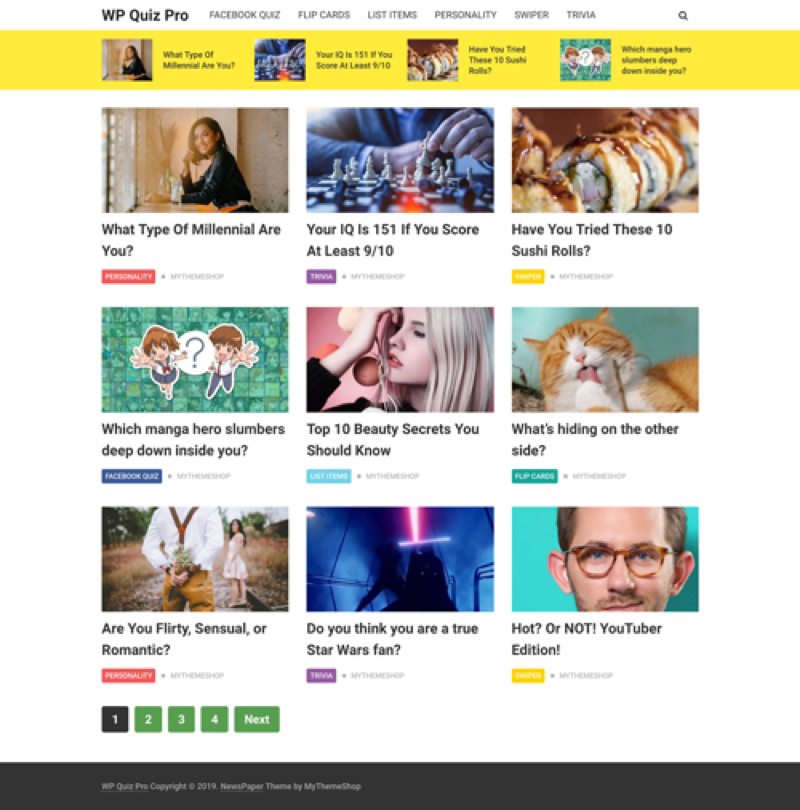 Click to Join MTS Membership for $9
Thanks to BuzzFeed and other websites of its ilk, quizzes have become an important content format on the Internet. WP Quiz is a MyThemeShop plugin that makes it possible for you to easily create quizzes to display on your website.
WP Quiz supports a wide range of quiz types, including personality quizzes, trivia, list-based quizzes and so on. The real power of WP Quiz is everything that it makes possible while the quiz is going on and afterward.
For example, you can display ads in between questions. This can be a way to generate revenue from your website. If you want to charge for the quiz itself, you can accept payments from players using PayPal or Stripe.
WP Quiz generates advanced analytics about each player and the results of the quizzes they have taken. The plugin is developer-friendly, so there's no limit to what you can do with it if you're prepared to put in the development hours.
The best part about quizzes is that they're a great way to keep your audience engaged. Since they keep visitors around on your website for a long time, the bounce rate goes down. This, in turn, can have a positive effect on your SEO.
MyThemeShop Pricing
You can access MyThemeShop's premium products in two different ways.
The first is by paying $99.47 per year for the Extended Membership package. This gives you the ability to use MyThemeShop's 67 premium WordPress themes and 17 premium plugins along with the free products.
Click to Join MTS Membership for $9
If you don't need access to the entire portfolio of products, you can pay instead for one product at a time. This can cost you between $19 and $35 per year depending on the price of the product. All paying customers get 24/7 direct support.
Exclusive Offers For JeremyNoronha.com Readers
JeremyNoronha.com readers can get a 50%+ Discount on MyThemeShop. Simply click the link below and signup and the discount will be applied automatically.
MyThemeShop Review – Final Thoughts
MyThemeShop has a lot to offer to WordPress website owners. The wide range of themes covers most different kinds of websites you may want to build on the WordPress platform. The plugins give you the ability to some powerful features to any website.
The advantage of using MyThemeShop is that you don't have to pay to access all of their themes and plugins all at once. If you see a theme you like, you can pay just for that one. Similarly, you can pay for individual plugins that you may require. If you have a more full-fledged WordPress operation across multiple websites, then it makes sense to consider paying for MyThemeShop's all-access membership package.
Read Next: