If you're looking for an Alternative to Mailchimp or a budget email marketing tool, you've probably come across Moosend in your hunt. In this Moosend review, I'm doing to dive into the pros and cons of Moosend, and why it's actually better than MailChimp (in most cases)!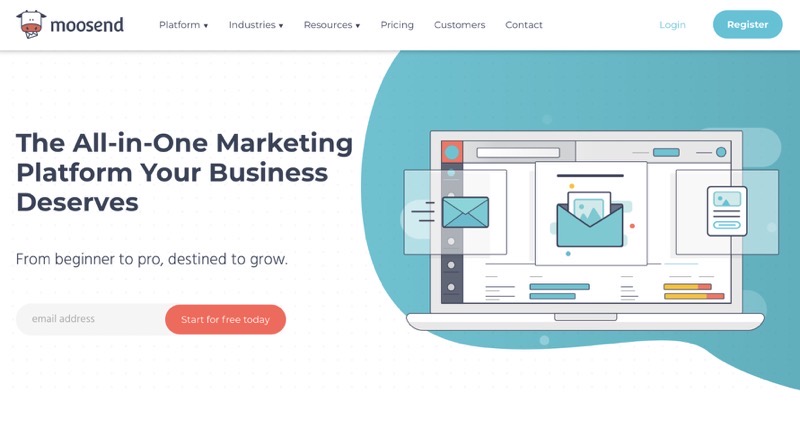 Moosend is easily one of the best email marketing automation platforms out there. What exactly is an email marketing platform? Email marketing platforms allow you to streamline your email marketing efforts. They usually offer a wide range of features, automation is one of these major features and also happens to be one of the selling points of Moosend.
What is the need for an email marketing platform? Today, competition is extremely tough in just about every field out there, your business would be no exception to this, it must be facing quite some competition as well. What makes one business different from another is how well the marketing is.
To make sure your customers keep using your service, you have to maintain strong communication with them. An email marketing platform does exactly that. It helps you maintain a strong relationship with your customers.
Moosend vs Mailchimp
When you get started with email marketing it can be a little overwhelming with all the tools and autoresponders. Also as you go into the pricing you see what most tools like Aweber and ConvertKit start at $20+/month which is a hefty price for someone just starting out.
So what do you end up doing?
If you ask 1000 bloggers who'll find that 90% of then will either sign up for MailChimp or just not build an email list.
Why is that?
Well, MailChimp is a huge company and spends A lot of money on advertising and people think that cause it's free that it's the best choice.
MailChimp's free plan allows you to have an email list of 2000 people while Moosend allows 1000 people.
But just because Mailchimp gives you more people in their "free" plan doesn't mean you're better off. You have to think about the longer term.
For example, let's say you're on paid plans with both MailChimp and Moosend For a list of 5000 people
MailChimp Standard costs $75/month
Moosend costs $30/month
That's a massive difference! The moment you start paying MailChimp is actually 2x more expensive than Moosend & thats for Mailchimp's plan without any advanced features!
So, if you're going to have less than 2000 people on your list and never paying for Mailchimp then it might be an alright choice.
However, if you are planning on growing your subscribers than I'd recommend going with Moosend.
Click Here To Try Moosend For Free
What does MailChimp beat Moosend at?
Moosend's native integrations is one place where it feels kinda lacking. MailChimp overwhelms Moosend here, as it has over a HUNDRED third party integrations, wew! In comparison to it, Moosend has quite a limited selection of third party integrations.
That does not mean that those limited integrations are bad or anything, though. There are some pretty good useful integrations it has to offer still. For example, Moosend's WooCommerce plugin, Moosend's WordPress Subscription Form plugin, etc.
Recently, a new plugin was introduced called "Zapier". With this, users can connect with hundreds of different applications. However, there is a major con to this one and that is the fact that you have to pay a subscription fee to use it. Sucks, yeah?
The other place that MailChimp beats Moosend at is the sign-up forms. The forms at this stage in Moosend are very limited in function and feel barebones. MailChimp, on the other hand, offers some good sign-up forms.
Remember all those features that added to the ease of use to Moosend? Guess what, the modular template builder absolutely sucks in MailChimp and feels wonky to use. Segmentation is also pretty hard in MailChimp as compared to how it was in Moosend.
Another major flaw of MailChimp is that the API is poor speaking design wise.
So yeah, all these considered, I will say: Hell yeah, Moosend is better than MailChimp.
Moosend Review
Moosend is an easy to use email marketing platform with very intuitive automation and advanced list segmentation. Moosend helps you maximize your subscriber to customer conversion rates hence helping greatly improve your revenue. It has all the robust tools necessary to build strong relationships with your customers.
The user interface is quite easy to get used to, hence making it easier for beginners to jump right into Moosend. There is also a great free plan that lets you use a great variety of the features, making it even better for beginners to get into it.
The drag and drop email editor makes it simple enough to create emails from scratch. Not only that, there are a huge number of pre-made email templates too! So in a lot of the cases, you can just pick one of these and forget about spending time on creating one yourself. Not to mention, if you do not like a template quite enough, you can just simply modify it yourself too.
In this review, I will talk about Moosend and its features. I will breakdown the pros and cons and ultimately you will be able to decide whether Moosend is the platform for your business. Hopefully by the end, you will be able to make an informed purchase.
Before I get into the details, it would be a good idea to look at the pros and cons so that you can get a rough image in your mind.
Moosend Pros And Cons
Pros
Provides unlimited emails in ALL the plans
Over 40 good email templates.
A/B testing available
Amazing customer support
Easy drag and drop email editor
Very Affordable, has a nice free plan too
Cons
Native integration support isn't as good as some of the competition
Sign-up form templates are in general quite basic
By now, you should have gotten a rough idea about what Moosend is and what it has to offer you. Now, it's time to dive deep into the features Moosend offers and what exactly it is that separates it from the rest of the competition.
Moosend Drag and Drop Email Editor
As I have already mentioned before, Moosend is easy enough to use. The drag and drop email editor it packs is quite straightforward. Often with these email marketing platforms, you have to spend quite a lot of time on just getting the look of your emails right.
This not only feels like a waste of time, it also delivers a lot of frustration. That's not the case with Moosend, thankfully. It's ease of use will let you save a good amount of time on this. You can use this saved time working on other fronts in order to maximize your income.
Moosend provides a quite simple approach to sending emails to an existing subscriber list, there is a "Campaign Creation Wizard" that guides you step by step on how to create an email campaign.
If you would like to start a new email campaign, you will just need to select the campaign type, for example the regular campaign or the A/B split test campaign. Regular campaigns allow you to send one-off emails to your existing subscriber lists. On the other hand, A/B split test campaign allows you to compare different email variations in order to maximize efficiency and hence maximize your profits.
Once you are done with selecting a campaign type and a subscriber list, it's time to create the email itself, using the drag and drop editor. Since the editor is so designed that one needs no coding or technical knowledge to utilize it properly, it becomes especially useful for beginners. So, it is of no surprise that even beginners can create some nice looking newsletters from scratch, thanks to Moosend's intuitive drag and drop email editor.
If you feel that creating a template from scratch is too bothersome, don't worry because Moosend offers about 40 built-in pre-made templates. These templates cover a wide variety of situations from e-commerce to real estate. So there is a good chance you will find just what you need in these default templates.
What if you don't find a template that works for you? Again, no need to worry. That's where the drag and drop editor comes in for you, you can very easily edit the default templates to suit your needs. This way, you don't have to put in the effort of coming up with a template from total scratch and thus it saves you a lot of time and frustration.
Another feature that Moosend offers you is the ability to put countdowns in your emails. These countdowns can be put for any purpose, whether that be a limited time deal or build up to an important, exciting announcement using it. What this does is that it creates a sense of urgency among your subscribers.
Suppose you send a limited time deal in one of your emails without a countdown. Some of your subscribers won't feel interested enough in the deal. However, if you put in a countdown, they will feel like there is less time everytime they look at the email and they will feel more pressured to reconsider whether that deal is for them or not.
After you are done with all this and have sent your emails, there is a dashboard that will allow you to see the results of your recent campaigns. Here, you can analyze the effectiveness of your campaign through important information like click through percentage and open rate. And of course, how many subscribers were emailed.
There is also the reporting section, allowing users to view real time information on each of their campaigns. You just have to click on each of the campaigns to view individual recipient activity. You can also see comparisons of email clients and mobile tracking. Additionally, you can also track the location where each email was checked.
Click Here To Try Moosend For Free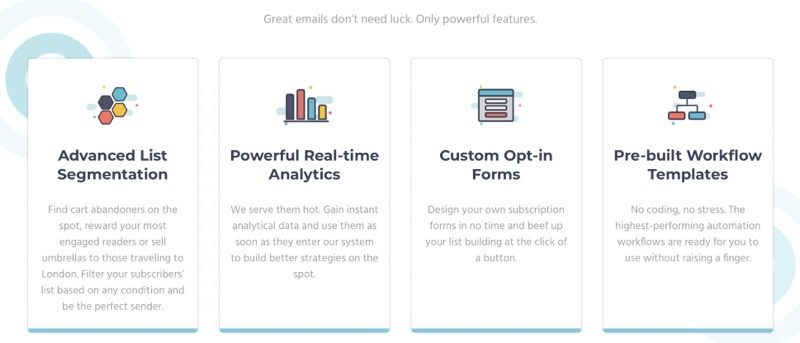 Moosend List Management
List management has never been easier, all thanks to Moosend. Moosend provides you with a good many options for uploading your lists. Some of these options are CSV files, Excel sheets, simply copying and pasting contact information and importing an already existing list from other sources like Google.
When it comes to email marketing, it is very important that you reach the right audience but not only that, the timing is also pretty important. Incorrect timing can lead to losses which I am sure nobody wants to incur. A key component to achieving this is through list segmentation. One of the great many features of Moosend is that it allows you to collect detailed information about your customers and this information can be utilized in making certain targeted lists.
You can put custom fields in your emails to collect such information. For example, you might want to know what date your subscribers' birthday is. With this info, you can send them personalized emails. Such custom fields can be set to be either optional or required.
Once the relevant data is there with you, you can work on segmenting your lists. Moosend offers some extensive default criteria that can help you segment your lists better. For example, Mobile vs Desktop users, responses to pre-determined custom fields, specific user actions, links clicked, etc.
Segmenting the lists like these allows you to narrow down a particular audience. This way you can send different emails to different audiences as you see fit. This is why list management can be an important factor in increasing your revenue. Those platforms that are poor at this, even if they have some nice looking newsletter templates, won't earn you much in the end as you will be sending a lot of unnecessary emails to subscribers that aren't interested in those kinds of mails. This would lead to subscribers being turned off and they might even unsubscribe.
To expand your list, Moosend offers you sign-up forms that you can embed to your website in order to capture email subscribers. In order to change the look of such a sign-up form, you would be required to look into the HTML code once it is embedded into your website and then alter it according to the needs of your brand.
Click Here To Try Moosend For Free
Moosend Automation
Easily one of the best, if not the best, features of Moosend is the automation. This is where Moosend sets itself apart from the competition. This is such a great feature and it is even included in the free plan so you can always try it out for yourself.
Automation functionality allows you an excellent way to send relevant mails to your subscribers at the best time. This helps you to highly improve your conversion rates, thus enabling you to grow your revenue.
Basically, how it works is that you create advanced workflows from scratch using the builder. The process is simpler than it sounds, you just need to specify the triggers for your automation, that is, the event that triggers such automation. You also need to specify the condition, that is, filters for your trigger. And lastly, the actions that may be completed once your subscriber meets a certain criteria.
Moosend offers you a lot of interesting filters for your automations that can add a nice touch to your emails. For example, there is a filter that allows you to split automations based on the subscriber's local weather. So, like if your subscriber is experiencing rain currently, you can advise them to take an umbrella while going out or if it's too sunny then you can advise them to put on sunscreen lotion. These are not THAT useful, however they do provide a more personal feeling to your emails which some of your subscribers might appreciate.
But won't it be kinda difficult to make your own automation workflows? It does require a bit of effort and time. However, if you would rather spend that time and effort on something else… Rest assured! Like with everything else, Moosend provides you with pre-made automation workflows. So, just pick one of them and add a few conditions and there you have it, a quick and easy automation workflow ready for you!
Enough about the good features, it is time that we tackled the cons of Moosend, an important factor that will influence your decision as to whether you should truly go for Moosend or not.
Click Here To Try Moosend For Free
Cons of Moosend Email Marketing
So far, we have talked about features that favor Moosend over the competition but to get a clear view about Moosend, it is important that we talk in some detail about the cons of choosing Moosend over the competition.
Moosend's native integrations is one place where it feels kinda lacking. For example MailChimp, a major rival of Moosend, has over a hundred third party integrations. In comparison to it, Moosend has quite a limited selection of third party integrations.
That does not mean that those limited integrations are bad or anything, though. There are some pretty good useful integrations it has to offer still. For example, Moosend's WooCommerce plugin, Moosend's WordPress Subscription Form plugin, etc. Recently, a new plugin was introduced called "Zapier". With this, users can connect with hundreds of different applications. However, there is a major con to this one and that is the fact that you have to pay a subscription fee to utilize it.
There is also the fact that Moosend's sign-up forms are very barebones. The forms are at this stage very limited in function and are very easily beaten by what some of the competition has to offer you.
There is also currently no easy way to customize them either. You need HTML coding knowledge to modify them, which kinda sucks because many marketers don't have any coding knowledge and just want to use these platforms to focus on their goal: marketing and improving conversion rates. So yeah, it is understandably a bummer for most.
If you have been following so far, you must have definitely gotten a clear impression of Moosend in your mind.
Without the pricing, the image kinda feels incomplete. So let us also take a look at it. There are three plans in total that Moosend has to offer you.
Moosend Pricing
1. Free Trial
Moosend has a 30 Free Trial and unlike the free plans many other platforms have, this one is actually good and offers you ALL of Moosend's core features for free.
2. Pro Plan
Moosend's most popular plan, it covers just about everything you would need, save for a few features required by big enterprises. It is priced at a fair $9 per month if you decide to pay monthly and $7 per month if you go for the annual payment option. It naturally includes all the features listed under the free plan and also the following features:
Landing Pages, Transactional Emails, Priority Phone Support and SMTP Server
3. Enterprise Plan
The biggest plan Moosend has to offer. It has virtually all the features any big organization would ever require. There is no definitive price for this plan, basically if you opt for the plan, you will need to build a custom plan and depending on how many features you opt for, the price will be different. This plan obviously covers everything in the Pro plan and some of the extra features it covers are:
Custom Reporting, Account Manager, SSO & SAM, On-Boarding & Migration and Service-Level Agreement
Which of these pricing plans is the right one for you?
If you are just starting out and are unsure whether you should get Moosend or not, just go for the Free Plan and try things out yourself.
If you like it enough, upgrade to the Pro Plan.
The Free Plan that Moosend offers is pretty good, you will definitely get used to the core features with it and you have no need to worry about any time limit either as it's an unlimited plan and not a limited trial.
However, do know that it wouldn't be wise to continue with this plan forever. As at some point once your skill has risen enough, you will definitely want to explore a little more. At that point, upgrading to the Pro Plan will be ideal.
The Pro Plan should be the plan to go if you have some experience. Without a doubt, the Pro Plan is enough for most situations and the majority of the users don't need to worry about the Enterprise Plan.
Because of this reason, this plan happens to be the most popular plan Moosend has to offer. It also helps that the plan is very reasonably priced. Definitely the best plan for entrepreneurs and small businesses.
What if your organization is big enough to not be considered a small business?
Well then, rest assured, because the Enterprise Plan will have you covered in that case. It is also a pretty good plan, just the thing is that it is of little benefit to an entrepreneur or a small business.
Moosend allows you to form a custom plan to fit the needs of your organization, rather than slapping all the possible features on it with a fat price tag. So you will just have to deal with the features you actually want to use. This makes it an economical choice compared to how some of the competition indulges in that practice.
Moosend Coupon Code
They're many websites on the internet making misleading offers such as:
Moosend Coupon
Moosend Discount Coupon
Moosend Discount Code
Moosend Discount
Moosend Coupon Code
Moosend Coupons
Moosend Code
Moosend Promo Codes
Moosend Promo Code
Moosend Vocher
However, the truth is that Moosend does not offer any coupons!
You can get a discount on Moosend if you decide to pay Annually instead of Monthly! If you decide to pay yearly instead of monthly you will save 20%
Moosend Review Verdict
Moosend is overall a great email marketing platform. The ease of use is remarkable and the simple design makes it very easy to pick everything up in no time.
It is especially good for beginners due to the amazing free plan, it packs so many features that you will be sold on the idea of Moosend quickly enough. It is very understandable that people hesitate to spend money when they are just starting out, however, thanks to the free plan, beginners and veterans alike can get into Moosend without spending a single penny.
When the time comes, you can just upgrade to the Pro plan which itself happens to be quite cheap when you stop to think about it and be able to unleash the full potential of Moosend and thus utilize it the best way you want.
The flaws might be a bummer for many of you but I would still recommend Moosend because it is in the end quite good regardless and totally worth your money.
If you are still unsure about Moosend even after reading through all this, I would recommend reading over the features again and looking at some competition's features. It is very important that you select the best possible email marketing platform since it can influence your revenue greatly sometimes.
So yeah, think it over properly and make an informed purchase. My opinion? Well, like I said above, yes I wholeheartedly recommend you to go with Moosend!
Read Next: