TLDR: Nexcess has the Best Managed Magento Hosting that's built to deliver!
Click to Try Nexcess Hosting Now
Use Discount Code: GETONLINE for 25% off your first three months.
Magento is one of the most popular pieces of software out there for e-commerce entrepreneurs. There are few other tools that you can use to quickly set up and an online store with powerful features to boot. But before you can get your online cash register ringing, you will have to choose a hosting service provider for your Magento website.
Choosing the right web hosting service is essential, especially when you run an online store. If a page takes even a couple of seconds more than average to load, you could lose a customer. So it is imperative that you pick a company that can deliver your web pages to potential customers speedily.
Another factor to take into account is how much work it is for you to run the server itself. You don't want to have to spend a ton of time administrating the server and making sure it's running as you want it to. That's what makes managed Magento hosting so great: it leaves the management of server software and hardware both to your service provider.
With that said, here's our list of the best managed Magento hosting services in 2023.
Best Managed Magento Hosting
1. Nexcess – Best Managed Cloud Magento Hosting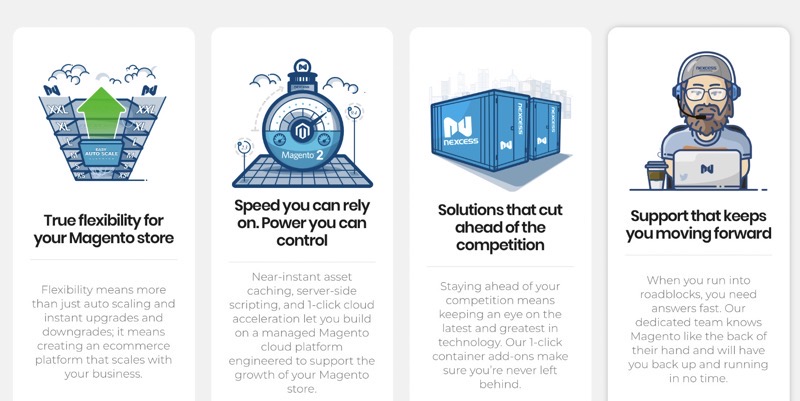 Click to Try Nexcess Hosting Now
Use Discount Code: GETONLINE for 25% off your first three months.
When it comes to managed Magento hosting providers, you can't do a lot better than Nexcess. This provider gives e-commerce companies the ability to use hosting that is safe, scalable, and well supported. Your website will be hosted on the cloud, making it a lot less prone to certain kinds of security attacks.
One of the best features available on Nexcess is what it calls Auto Scaling. This is a feature wherein the resources assigned to your website are flexible based on dynamic requirements. So if your website is suddenly hit with a large influx of incoming traffic, the server automatically scales up resources available to the website.
Nexcess uses a technology called Cloud Accelerator to enhance page load times. The accelerator complements the cloud stack and uses NGINX to manage static content. An advantage of using the Cloud Accelerator is that it caches your assets regularly. So it becomes a lot easier for the server to deliver your website to users in quick time.

Nexcess Managed Magento Hosting Pricing
Nexcess prices its managed hosting based on the number of concurrent users you host on your site at any given time, the total disk space you require, and the bandwidth your website expects to use.
Nexcess' cloud hosting options start at $49 per month for 20 concurrent users, 50GB of disk space, and 1TB bandwidth. It goes all the way up to $849 per month for 120 concurrent users, 800GB disk space, and 10TB bandwidth.
Click to Try Nexcess Hosting Now
Use Discount Code: GETONLINE for 25% off your first three months.
2. Cloudways – Popular Managed Hosting Platform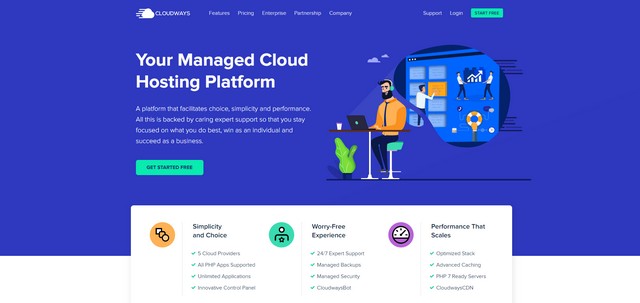 Click here to Try Cloudways For Free
Cloudways is a managed hosting platform. That means that the team at this managed Magento hosting service provider does all the work associated with managings the servers. That leaves you to be able to focus on your website and e-commerce business on the whole.
The servers that are launched by Cloudways all use dedicated resources. So you don't have to worry about the limits that come with using a shared Magento hosting service. The servers use SSD hard drives and combined with other dedicated resources, support lightning-fast page load times.
You can install SSL encryption on your website with one click using Cloudways. This hosting provider uses dedicated firewalls to keep intruders away from your website. You can easily whitelist any IPs that you want to explicitly allow access to your website in case you're collaborating with a network that needs it.
Cloudways Managed Magento Hosting Pricing
All of Cloudways' paid plans come with the following:
Free migration
Free SSL
24/7 monitoring
Automated backups
Team management
The plans start at $10 per month for storing 25GB and bandwidth of 1TB. Cloudways' most popular plan costs $42 per month and can handle 80GB of storage and bandwidth of 4TB.
JeremyNoronha.com readers can get 20% off for 2 months of Cloudways Hosting
Coupon code: JEREMY20
Click here to Claim this Exclusive offer
3. SiteGround – Cheap Managed Magento Hosting
SiteGround is one of the more popular names in managed Magento hosting. And there's good reason for that. The company dedicates resources specifically for supporting Magento shops.
This Magento host uses a security-first approach to its services. A dedicated security team supervises servers for security threats and creates security solutions to help with that. Their software runs server health checks regularly to protect your website against malicious traffic.
SiteGround uses Apache web servers to run its own version of Linux Containers. They also use an in-house technology called SuperCacher to cache data. This makes the platform overall very fast.
SiteGround Managed Magento Hosting Pricing
If you have just one Magento website to host, you can use SiteGround's StartUp plan. IT costs $3.95 per month and supports about 10,000 monthly visits.
SiteGround's other paid plans let you host an unlimited number of websites. The GrowBig plan, which costs $5.95 per month, gives users 20GB of space and 25,000 visits per month. The $11.95 per month Geek plan goes up to 100,000 monthly visits and 40GB space.
4. HyperNode
HyperNode is a managed hosting service provider that focuses specifically on Magento shops. Their entire goal is to help people create better e-commerce stores on Magento without having to worry about anything that has to do with hosting it.
This hosting service was designed in conjunction with Magento developers. So not only does it handle hosting well, but also makes developing the actual web shop a breeze. It does so through a few different features.
The servers use a modern technology stack including software such as RabbitMQ and NGINX. They are CDN compatible, so you can have your website syndicated to servers globally. This makes it a lot easier to serve up your e-commerce store to an international audience.
HyperNode uses a malware scanner to keep their servers safe. This scanner does daily checks and constantly learns to spot new security threats. The servers are equipped to protect your website from brute force attacks.
HyperNode Managed Magento Hosting Pricing
HyperNode starts at €69 per month with which you get 24/7 server monitoring, and the ability to choose your server location. The top-of-the-line package costs €499 and includes more advanced features like PCI compliancy and in-built support for ElastiSearch.
5. ElastyCloud – Enterprise Managed Magento Hosting
With ElastyCloud, you can deploy a new Magento installation in just 60 seconds. The deployment can be done with a single click. That's a lot quicker and easier than a lot of Magento administrators are used to.
As the name would suggest, the servers belonging to this managed Magento hosting service use an elastic environment. When a node that you're using is close to reaching capacity, a new node is added. That way the server is never overwhelmed by traffic coming into your website.
ElastyCloud has set its service up so that customers pay only for the bandwidth they use. You don't have to pay taking worst-case scenarios into account. The system scales automatically based on traffic and you pay accordingly.
ElastyCloud Managed Magento Hosting Pricing
ElastyCloud starts at $299 per month for anywhere between 0 and 25,000 CPU / h. It goes all the way up to $999 for those who need over 100,000 CPU / h. The company states that these numbers are indicative and may vary from the actual numbers.
How to Pick a Managed Magento Hosting Provider
That was our list of the best Magento hosting services in 2021. We've reduced a vast array of options down to a few that most online shop owners out there are likely to use. But you still need to choose between the options that we've placed in front of you. If you're wondering how you can do that, following some of the tips below can help.
1. Your Business' Requirements
Every business has different goals. And they have different needs based on what those goals are. You should choose your managed Magento hosting company based on what your unique needs are as a business.
Firstly, you already have a certain amount of traffic you can expect to come in. Along with that, you have a product catalog, based on which you will need to create a certain number of pages on your website. Take these two main factors into account before choosing a hosting provider.
2. Server Type
There are a few different kinds of servers you can choose from to host your website. They are:
Shared servers: These are servers shared by multiple websites at the same time. That means that you will be limited in terms of the amount of bandwidth available to you at any given time. Shared hosting may be the most economical way to get your website up on the Internet, but most businesses outgrow these servers quickly.
Dedicated server: A dedicated server is the opposite of a shared server. In this case, you get an entire server dedicated just to your website(s). This is ideal if you have huge amounts of incoming traffic and storage needs.
The problem with dedicated servers is that they are not managed. You will have to do all the additional work when it comes to maintaining the server and updating its software. It's also costlier to have a dedicated server if you don't need to use all its resources.
3. Security
One of the most important things to keep in mind when choosing a managed Magento hosting service is the security of your data. Since your website is what generates your revenues, you have to be careful to choose a host that will keep all your data safe.
There are a few features you can look out for to ensure that the Magento host you choose has secure servers. That starts with SSL encryption for your website. It also goes on to things like strong firewalls, blocking banned IPs, and automated website backups.
4. Support
Everyone needs help every now and then. You don't want to use a Magento hosting service that will leave you hanging when you run into issues. Always check what kind of support options a hosting provider gives before making a choice. The best ones offer technical support round the clock.
So there you have it: a list of the best managed Magento hosting services in 2021 and how to choose between them. Now you're ready to get your e-commerce business off the ground using the best tools available.
Click to Try Nexcess Hosting Now
Use Discount Code: GETONLINE for 25% off your first three months.
Read Next:
Cheap WordPress Hosting Reddit 2023
Fastest WordPress Hosting Reddit