For a list of 15,000 people, MailerLite only costs $50/month. In comparison, most email marketing tools (including Mailchimp) cost over $150 for a list of that size (that's 3x cheaper than their competition) The MailerLite Pricing is one of the best in the industry!
Click Here To Try MailerLite For Free
MailerLite Pricing
MailerLite has 2 different pricing plans (Simple!)
Free – Up to 1k subscribers and you can send up to 12k emails/ months (12 email/person)
Paid – Starts at $10 every month for 1000 subscribers. You get all the features, including Unlimited emails per month, no matter how much you pay!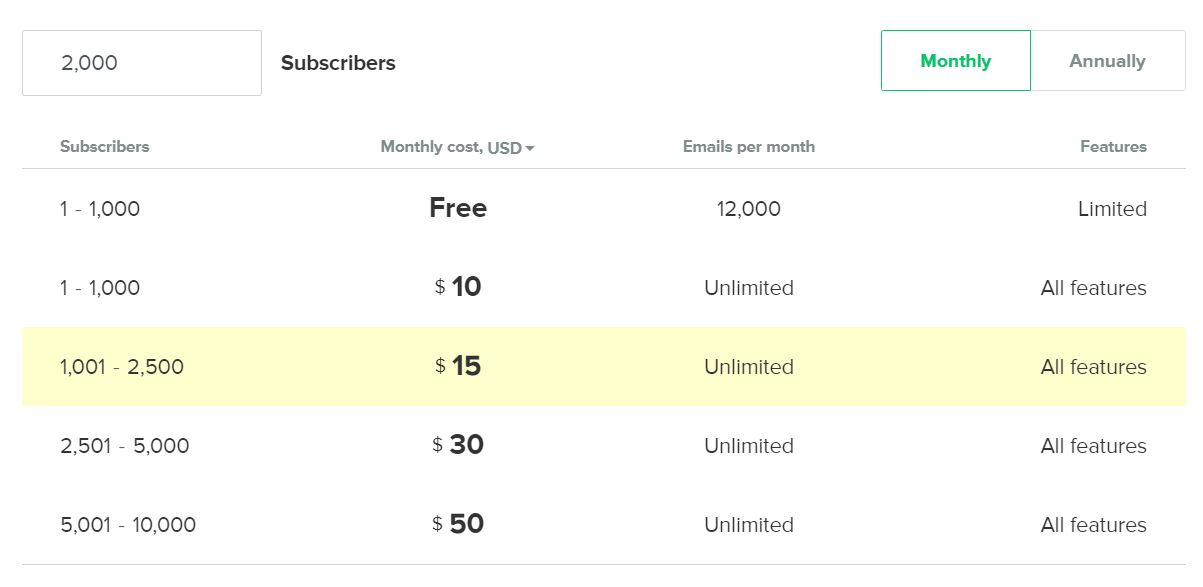 The "Per subscriber" cost goes down as your list grows. For example, a list of 100k costs $350/month (ie $3.5/1000 subscribers vs $10/1000 at the base plan)!
Click Here To Try MailerLite For Free
MailerLite Discount Code
They're many websites on the internet making misleading offers such as:
MailerLite Coupon
MailerLite Discount Coupon
MailerLite Discount Code
MailerLite Discount
MailerLite Coupon Code
MailerLite Coupons
MailerLite Code
MailerLite Promo Codes
However, the truth is that Mailerlite does not offer any coupons or discounts to anyone!
However…..
You can get a discount on the MailerLite Pricing if you decide to pay Annually instead of Monthly! If you decide to pay annually instead of monthly you will save 30%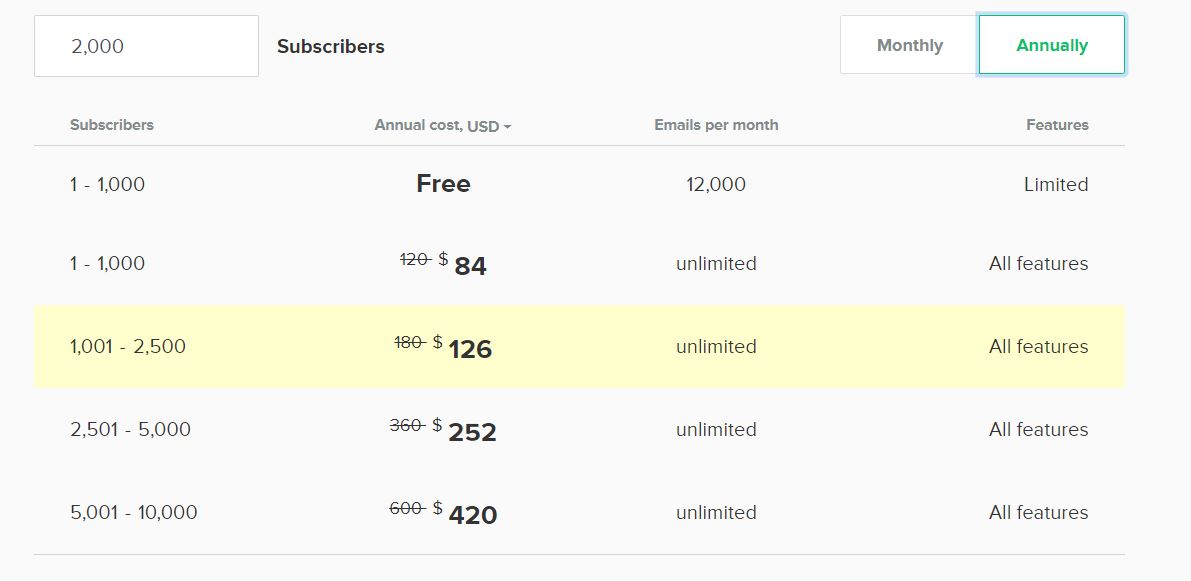 Simply click the link below and pick "Annual"
Why MailerLite is So Much Better Than MailChimp
Both MailChimp and Mailerlite are popular among popular for one single fact: FREE
However, MailChimp's Free plan allows you to have an email list of 2000 people while Mailerlite only allows 1000 people.
So Mailchimp wins this right? Thanks for reading this article, don't forget to let share this article!
HELL NO!
Just because Mailchimp gives you more people in their "free" plan doesn't mean you're better off. You have to think about the longer term.
For example, let's say you're on paid plans with both MailChimp and Mailerlite For a list of 5000 people
MailChimp Standard costs $75/month
Mailerlite costs $21/month
That's a massive difference! The moment you start paying MailChimp is actually 3x more expensive than MailerLite!
So, if you're going to have less than 2000 people on your list and never paying for Mailchimp then it might be an alright choice.
However, if you are planning on growing your subscribers than I'd recommend going to Mailerlite.
Click Here To Try MailerLite For Free
But if Mailchimp's more expensive then that's got to mean that MailChimp has more features than Mailerlite right?
Well, in all honestly not exactly. In fact, the opposite is true!
Support: Both MailChimp and MailerLite have email and live chat support in their basic paid plans. Mailerlite has email support even in their free plan! While MailChimp has only 30 days of Email Support for their free plan.
Analytics: With the Paid plans of Mailerlite is that you get premium features like Clickmaps and Opens by Location which should have to pay extra for on MailChimp
Ease of Use: MailChimp has an interface that can be a little complicated and overwhelming while MailerLite comes built-in with many professionally designed email templates that you can import and modify with the drag and drop editor to make your emails looks exactly the way you want them to!
A/B Testing: Mailerlite has A/B Testing on all plans (including FREE) while MailChimp has limited A/B testing even on paid plans.
MailerLite Pricing FAQs
How much does MailerLite cost?
MailerLite is free for up to 1,000 subscribers (but comes with limited features). MailerLite paid plans start at $10 for a maximum of 1,000 subscribers, $15 per month for 2,500 contacts, $30 per month for 5,000 contacts, $50 per month for 10,000 subscribers, $75 per month for a list of 15,000 contacts.
and so on.
Does MailerLite have a free plan?
MailerLite has a free plan just like MailChimp for upto 1000 subscribers but with limited features.
Is MailerLite Better Than MailChimp?
If you run a small email list <2000 emails and you don't plan on EVER paying for an email marketing tool or growing your list (which is crazy) then Mailchimp works for you. However, if you're looking for an email marketing tool that'll scale with you and your business needs. I'd recommend using MailerLite
Read Next: