MailChimp is one of the most popular email marketing tools out there! In fact, it's the first email marketing tools I used where I built my first email list on my travel blog mainly due to the fact that it has a free plan. But, the MailChimp Pricing (including the paid plan) is garbage and is horrible compare to the other alternatives like ConvertKit or MailerLite for the features you get. Read on…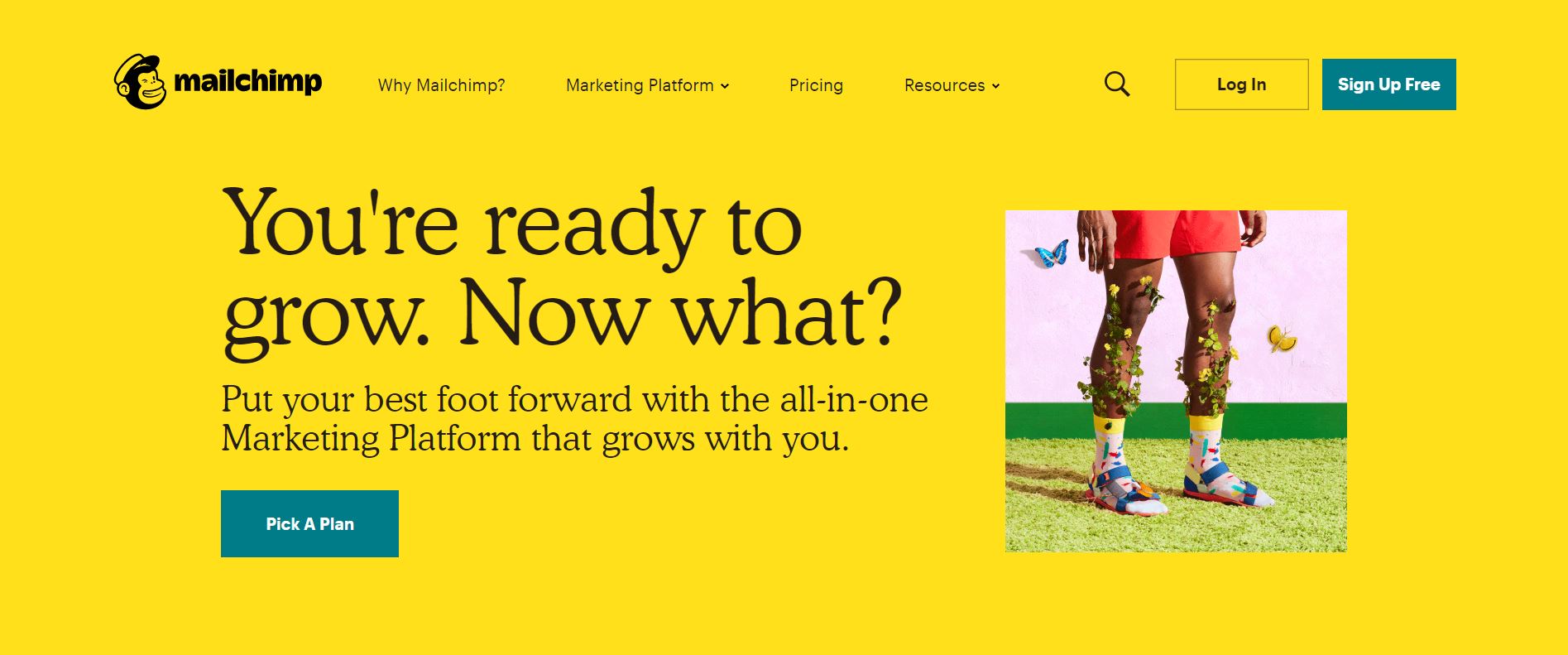 MailChimp Pricing
MailChimp has 4 different pricing plans:
Free – Up to 2000 subscribers and you can send 10k emails every month (that's only 5 per person!)
Essentials (starts at $10/month for 500 subscribers) – Up to 50k subscribers (@$259/month) and you can send 500k emails every month. Comes with reporting, A/B testing, and Single-Step Automations.
Standard (starts at $15/month for 500 subscribers) – Up to 100k subscribers (@$500/month) and you can send 1.2M emails every month. Comes with Automation series, Retargeting ads, Custom templates, and advanced audience insights.
Premium (starts at $299/month for 10k subscribers) – Up to 200k subscribers (@$1099/month) and you can send 3M+ emails every month. Comes with Advanced segmentation, Multivariate testing, Unlimited seats, and Phone support.
MailChimp Free Plan
MailChimp gets searched for 280x more than "email marketing software".
The entire reason behind that is the MailChimp Free Plan.  It's one of the few email marketing tools that actually even allow automation on the free plan (Sendinblue is another one).
Mailchimp Free Plan offers the following features for free:
7 marketing channels
1-click automations
Basic templates
Marketing CRM
Behavioral targeting
Custom domains New
Websites Beta
2000 contacts
10K Monthly emails
However, there's always a "catch" and the MailChimp has so many catches that its hard to recommend it to anyone.
Why You Should Reconsider MailChimp
Being an 800-pound gorilla in the industry means that they're so many other competitors that are cheaper and offer a lot more features and are just objectively better to use. MailChimp is honestly not worth it for most of you reading this. I'll list down why (they're many reasons).
1. Expensive
MailChimp is popular for the simple fact that they offer a free plan that allows you to have an email list of up to 2000 people.
However, the moment you leave the free plan and start paying for MailChimp either because you need more features or your email list has grown you'll quickly realize that MailChimp is pretty fucking expensive.
For example,#1 Mailchimp alternative Mailerlite has a free plan that only allows 1000 people.
So while MailChimp may beat it at the number of people on the "free plan" when it comes to bigger lists Mailerlite is a clear winner.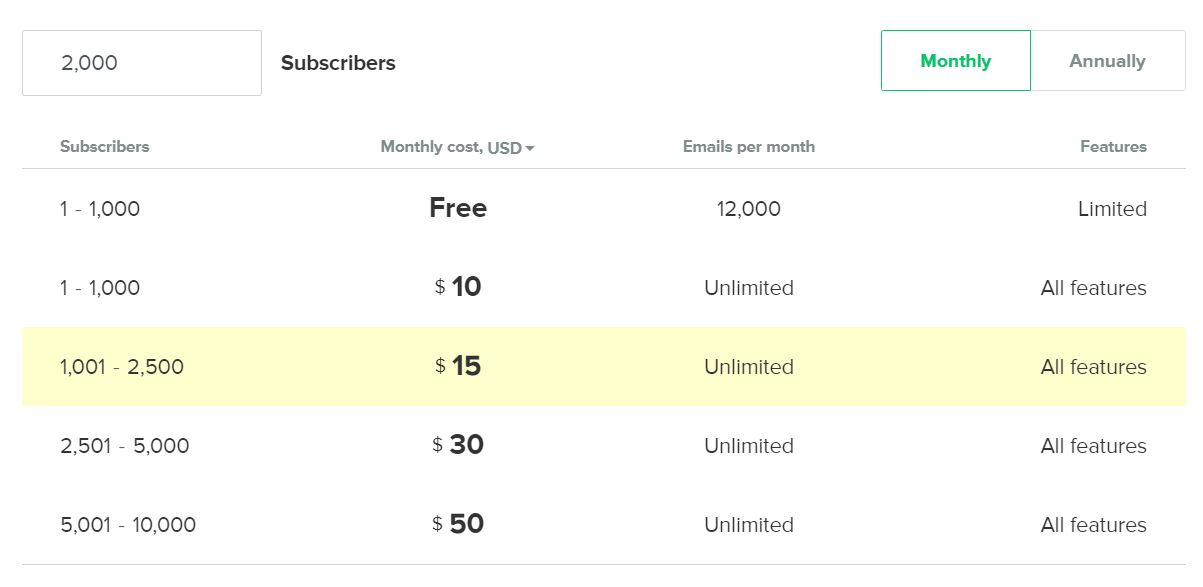 For a list of 5000 people:
MailChimp Standard costs $75/month
Mailerlite costs $21/month
That's a massive difference! The moment you start paying MailChimp is actually 3x more expensive than Mailerlite! Also You can get even more advanced features like, Advanced Segmentation, Interest Groups (Tagging), Auto Resend, Deliver by Time Zone on all paid plans of MailerLite. MailChimp, on the other hand, has 3 paid pricing plans, wherein you always have to pay more if you want more features.
So, if you're going to have less than 2000 people on your list and never paying for Mailchimp then it might be an alright choice.
But if you're someone like me who is always thinking about growth and scale, then I'd recommend staying away.
Cheap + Free Alternatives to MailChimp: Mailerlite, Sendinblue
2. Automation
While MailChimp was one of the first people in the email marketing to have basic automation even for free users, their more complex automation isn't as good or even as easy to use as their competitors like GetResponse.
If you are growing startup you may find Mailchimp limiting in its automation features.
3. List Management
MailChimp makes it super hard to deal with duplicate subscribers that may exist on multiple lists. MailChimp is a "list-based" email marketing tool where everything is based around the list which can get a little complicated as your business grows.
ConvertKit, for example, is subscriber-based that allows you to look at your subscribers as a while and segments then into lists as well as tags and interact with them through them all.
This takes care of duplicate subscribers (eg. If someone signs up for your email newsletter and later signs up for an opt-in course as well)
4. Shopify Integration
Since early 2020, the Mailchimp for Shopify app is no longer available, but we have several third-party integrations that can help you connect your accounts to Shopify.
While their workaround with third-party integration like ShopSync, Zapier, and Automate.io, they obviously don't work as good as having a native integration.
Constant Contact Pricing FAQs
How much does Constant Contact cost?
The basic Constant Contact Email plan starts at $20/month for 500 contacts, while Email Plus starts at $45/month. You can get up to a 15% discount with 6-12 month plans, and a 30% discount is available to nonprofits.
Does Constant Contact have a free plan?
Constant Contact doesn't have a free plan but you can get a free trial of Constant Contact for 60 days!
Is Constant Contact Better Than MailChimp?
If you run a small email list <5000 emails and email marketing isn't a pillar of your business, then MailChimp is better than Constant Contact cause it's free. However, if you're looking for an email marketing tool that'll scale with you and your business needs. I'd recommend using Constant Contact over MailChimp.
Read Next: