Liquid Web first came on my radar because its a popular WordPress Managed Hosting Service that didn't charge you based on pageviews. Later on as I dived into into their product and community around Liquid Web I noticed that they're a very product driven company. In this Liquid Web review Ill dive into how Liquid Web is a great option for many people.
Liquid Web Review
To write this review, I've hosted a site for a month on Liquid Web Managed WordPress Hosting Personal Plan. I've included speed, load and uptime tests. After a month of using Liquid Web and especially with their friendly support they're definitely a recommendation in my books.
Lets dive in!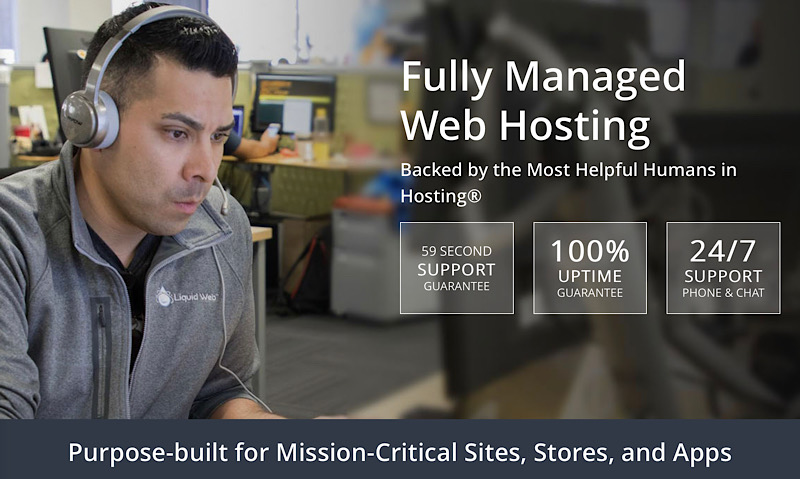 About Liquid Web
Liquid Web is an online web hosting company that's been around for over 22 years and they pride themselves on  being "The Most Helpful Humans In Hosting®" and given their quick and friendly response time its not surprising.
Liquid Web provides all kind of web hosting, from VPS hosting, to dedicated servers to Managed WordPress and Managed WooCommerce.
Liquid Web's Managed WordPress Hosting sites in that cozy place right between cheap hosting services like SiteGround and more pricey cloud platform like Google Cloud.
Get The Best Deal on Liquid Web Now! Simply click the link below!
Liquid Web Managed WordPress Hosting Features
1. No Per Page View Charge
Right of the bat on the most important features of using Liquid Web for Managed WordPress Hosting is that you are not charged per page view like many other hosts like Kinsta or WPEngine. Instead you are allotted a certain amount of bandwidth in your plan.
Why is this such a big deal?
Well, let's say you receive 1M visitors a month. On Kinsta, you would have to pay $600/month,(and an enterprise plan on WPengine). However, in reality if you optimize your server and page cache really well and use a CDN you could easily run that entire site through Liquid Web for only $29/month.

But that means that the responsibility for how well your site performs comes down to you. The optimisation out of the box with Liquid Web and Kinsta are both good, however the bigger plus with Liquid Web is that if you optimise your site is that you don't have to pay extra as your site grows (while hosts like Kinsta will always charge you more as you get more visitors.)
The libertarian in me loves this 😉! Because it means that you can get the benefit of having a managed WordPress hosting, but you are still in control of your site.
2. Liquid Web Speed Tests
Since you're in control of your site (with the plugin and themes you use), your optimization of WordPress have still have a huge positive impact on the speed of your site. Above and beyond the great optimization that Liquid Web provides.
To illustrate this example, I've done Load + Speed tests with Liquid Web in 3 different configurations.
Fresh Liquid Web WordPress Install
Above + few popular plugins* + Astra Theme + "Fashion Lifestyle Blog" Astra Starter Site + Elementor
Above + Caching + CDN
*Plugins used: Yoast, Akismet, Easy Table of contents, Ninja Tables, WPform lite.
The Load test simulators 50 users at one site on the site. That comes to around 200k visitors a month and Liquid Web had an average response time of less than 50ms and url load speed of less than 100ms in all 3 configurations!
(Keep in mind that this is the cheapest $29/month plan of LiquidWeb)
1. Fresh Liquid Web WordPress Install
Being a fresh WordPress install its obvious that this would load fast. This test is just done to place a benchmark.

2. WordPress + Plugins + Astra + Page Builders
This is how most normal website on the internet would be configured. If you import your average site into Liquid Web, this is the performance you're going to get.
Even with all the bloat of a page builder and a ton of images, the site still loads in less than 3 seconds on Liquid Web without any optimization. That's amazing!
Considering that most websites load in more than 5 seconds, just switching over to Liquid Web will give you huge boost in speed.
3. Well optimize WordPress Site
For this I did the following
Installed and setup Autoptimize
Installed and set up W3 total cache with Cloudflare
Enabled Lazy loading for images
Enabled Vanish Page cache in Liquid Web
With this basic optimization that took about 15 mins, the site speed is now less than 1s and scores a 99/100 on PageSpeed insights.
The bandwidth used by the site is reduced thanks to use of cache and CDN. Having an optimized site like this with Liquid Web will mean that you can use the given bandwidth and host sites with a large amount of traffic without having to pay a ton!
If you optimize site like this on a host like Kinsta and WPengine it wouldn't affect your bill at allirrespective of the resources you use.
Get The Best Deal on Liquid Web Now! Simply click the link below!
3. No built in CDN
One downside of Liquid Web's managed WordPress hosting is that you don't have a built in CDN. Using free Cloudflare does create a great improvement on speed as can be seen above.
For 99% of people reading this, Cloudflare is more than sufficient, for those that need more worldwide performance, StackPath is the best option.
4. Free Migrations
Liquid Web with migrate your site for free if you are moving over from another host to Liquid Web. Their White glove migrations makes sure that your site doesn't go down during the transition.
5. Fully Managed WordPress
Liquid Web has all the features you would need from a Managed WordPress Hosting service. Plugin updates, WordPress updates, daily backups, technical support, developer tools, all come included with all plans.
Other than that, since Liquid Web provides other forms of WordPress you can combines multiples managed hosting as your business expands. Eg. Managed WooCommerce hosting etc.
6. Latest Technology
Liquid Web always has the latest technology and server stack. It doesn't matter if you have an up to date automatic SSL certificate, Vanish page cache, PHP7, Nginx etc.
All of the latest features required to keep your site fast and running smoothly come built in with Liquid Web's Managed WordPress Hosting.
7. Great Support
Liquid Web has some of the best support in the managed WordPress hosting space. Their team of experts are available around the clock 24/7/365 by phone, email and chat.
For most hosting services you have to pay a premium for phone support… not with Liquid Web 🙂
8. Expensive for Multiple Plans
The base plan of WPX Managed WordPress Hosting at $25/month lets you host 5 sites, however Liquid Web's base plan at $29/month only allows 1 site. That being said, WPX only has a bandwidth of 100GB (Liquid Web is 50x That at 5TB)
Get The Best Deal on Liquid Web Now! Simply click the link below!
Liquid Web Managed WordPress Hosting Pricing
You have two options with Liquid Web's Managed WordPress hosting for the server location. US central servers (in Michigan) and EU Netherlands (in Amsterdam).
Liquid Web Discount
The Liquid Web Discount Code lets you avail a 35% flat discount off your managed WordPress hosting plan with no strings attached!
Get 35% Off Liquid Web Managed WordPress Hosting
Use code: READY35
Is Liquid Web Worth It?
Hell Yes! Liquid Web is a perfect combination of a great managed WordPress host with good UI and ease of use while still giving technical people the ability to modify the site to their needs.
If you want to run your WordPress website on a host that your developer (or future developer) will like than Liquid Web is a great fit.
In Web hosting terms, Liquid Web has the ease of use of Kinsta, with the flexibility of Digital Ocean.
They're very few conditions understand which I wouldn't recommend Liquid Web Hosting.
If you have multiple websites and don't want to deal with the technical stuff then WPX Hosting is a better option.
Get The Best Deal on Liquid Web Now! Simply click the link below!
Related: