Staying hydrated could be quite a task if you don't have access to safe drinking water. While this can be resolved by simply buying bottled water, it can get expensive quickly. A smart water pitcher is a perfect solution for anyone looking for an easy way to get good-tasting water. No more running out to buy water or dealing with the unpleasant flavor of tap water.
This innovative device is yet another smart home appliance to make our lives easier. It gives you access to delicious water from the comfort of your own home. With its built-in filtration system, it removes toxins, bacteria, and odors while also enhancing taste and smell, giving you a refreshingly clean glass of water with each sip. Plus, it's easy to use – simply fill up the pitcher and start enjoying delicious water right away!
If you are looking for the best smart water pitcher then you are in the right place. The best smart water pitcher on the market today is the LARQ Pitcher PureVis. I have been using this for over a month and will be reviewing it in this article.
Water Filter That Keeps Minerals
One of the reasons I picked the LARQ pitcher was cause I was tired of low mineral water (the fake flavor you get from purified water) and didn't want to become the kind of person that purifies water and than has to re-add minerals with supplements.
LARQ saved my life, I contacted them and make sure the filter preserved chemicals before I ordered it (and it does), so now I can have filtered, clean, tasty water while still having all the good natural minerals.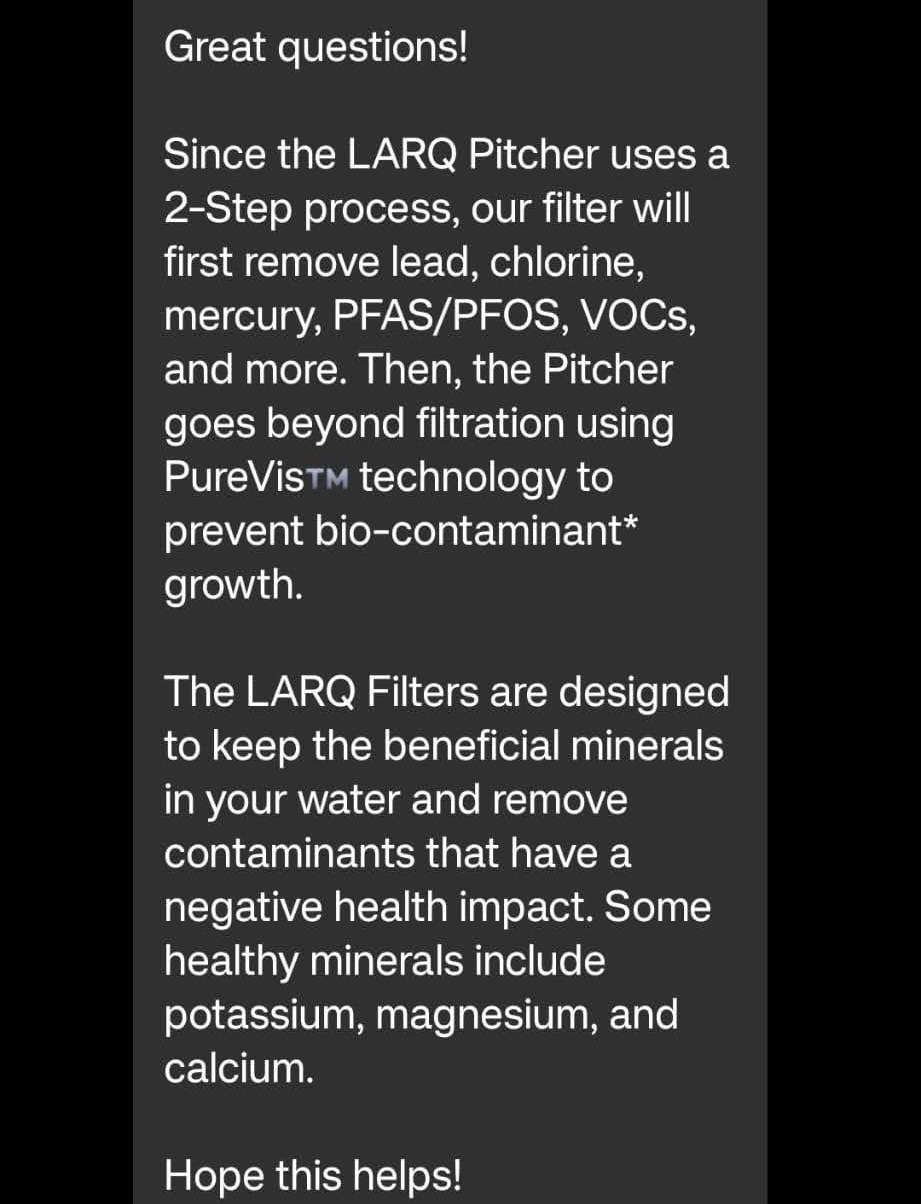 Before we move on to what makes the LARQ Pitcher PureVis a crowd favorite, let's look at the benefits of using a smart water pitcher.
Benefits of using a smart water pitcher
Removes contaminants and impurities: They can reduce lead, chlorine, and unpleasant tastes or smells in the water. This is beneficial as lead is a heavy metal and is unsafe to consume at any level. It usually leaches from corroding water lines and home plumbing fixtures. Chlorine is added to water to kill germs in water systems, but it can also pose health threats such as cancer.
Easy to use and clean: Using a smart water pitcher is very easy, just fill them at the tap and wait for the water to flow through the cartridge. They can be easy to clean like any other piece of plastic kitchen gear. You can clean them by hand with hot water and soap every few weeks or use a dishwasher as most models are dishwasher safe.
Taste of water: Impurities such as zinc, chlorine, and hydrogen sulfide give a metallic flavor or sewage-like smell to your water. This can discourage you from drinking water. Smart water pitchers improve the taste of water as they are quite effective in removing off-putting flavors and odors from it. Having a continuous supply of refreshing water to drink can help you boost your fluid intake.
Saves money: If you're a bottled water drinker, a good filter pitcher saves you hundreds of dollars each year. Moreover, they are more affordable compared to water filters that are built into refrigerators.
Good for the environment: They are a more environmentally friendly choice than purchasing individual plastic bottles of water, which require oil and gasoline to produce and deliver. Moreover, these bottles end up in landfills, where they take many years to decompose.
Easy to carry around: Unlike built-in filters in refrigerators, you can carry the pitcher along to any part of the house, be it your bedroom or living room. This means you don't have to go to the kitchen every time you feel thirsty.
LARQ Pitcher PureVis Review
I'm too lazy to drink water, especially when it doesn't taste good. This is why I started buying bottled water. You see while buying bottled water was something I resorted to over the years just to meet my daily water intake goals, it was a total rip-off. I had to think of an alternate solution that was cheaper and more efficient and that's when I heard about the LARQ Pitcher PureVis.
Many claimed that this self-cleaning and intelligent smart water pitcher not only purified water at a fraction of the cost but also improved the taste of water, I had to try it out for myself. Trust me when I say this, this smart water pitcher was worth every penny spent! It has truly changed my life for the better. Now I don't have to worry about whether the water I'm drinking is safe and clean. I also don't have to spend a lot on buying bottled water anymore – I can just fill up my LARQ Pitcher PureVis with tap water and drink away!
Now, what makes this smart water pitcher different from traditional filters and filters in-built into refrigerators? Let's dive straight into the technical aspects of it.
New Years Sale: Get 15% OFF The LARQ Pitcher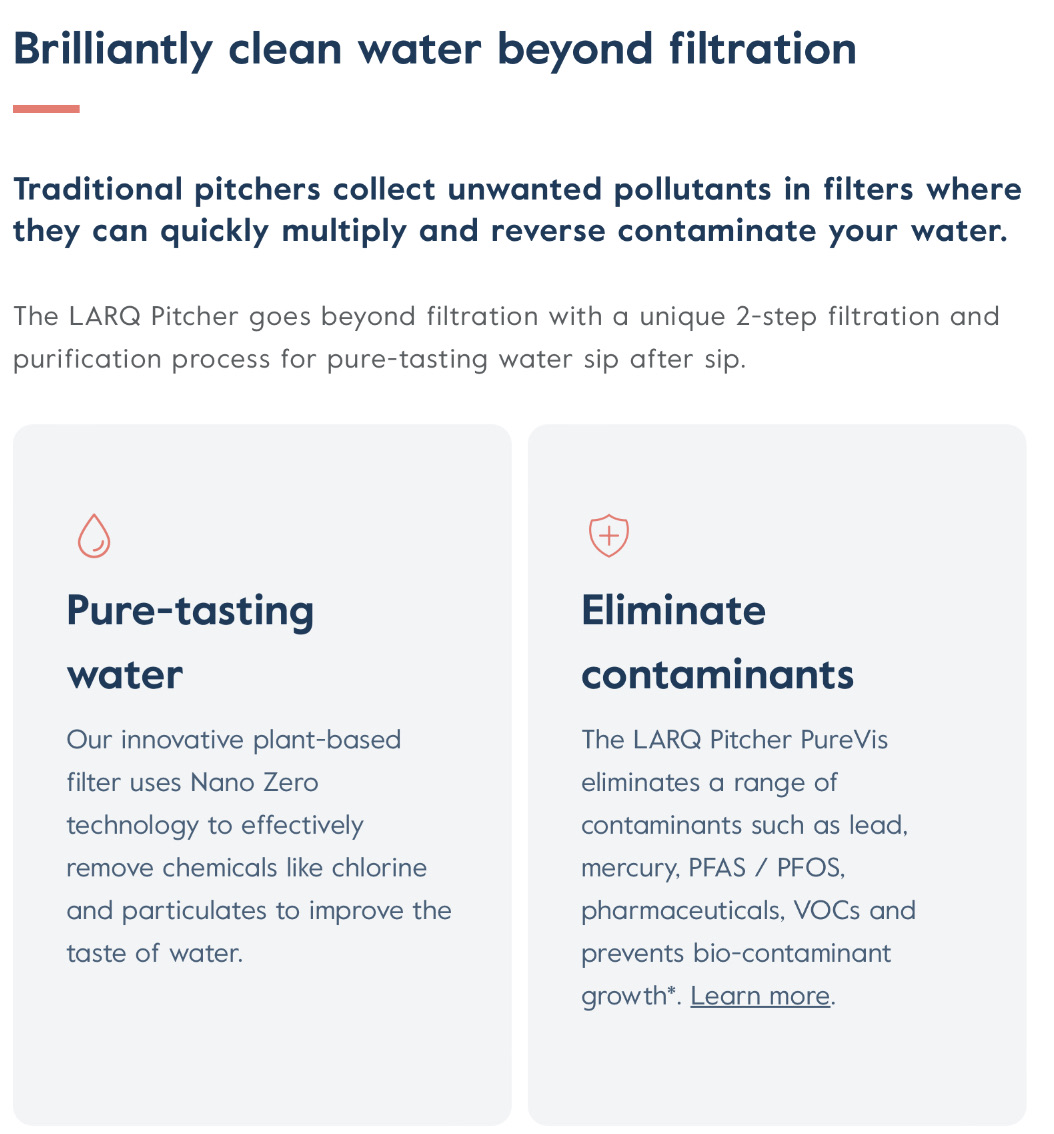 How does the LARQ Pitcher PureVis work?
The LARQ Pitcher PureVis was invented to replace the traditional water filters, as just within two weeks, traditional water filters are said to become a breeding ground for bacteria and molds that contaminate the water rather than cleaning it. Traditional pitchers collect unwanted pollutants in filters where they can multiply and reverse contaminate your water. The LARQ Pitcher PureVis solves this issue with its two-step filtration and purification system.
In the first step, the pitchers' plant-based filter uses a unique Nano-zero filter technology to remove lead, chlorine, mercury, cadmium, VOCs, PFAS / PFOA, HAA5, pharmaceuticals, and more. It can also remove some amounts of calcium and magnesium. The filter is carbon activated which attracts these compounds to the carbon so that they remain in the filter instead of the water. This process is called absorption. The filter does not change the pH of the water. The plant-based filter has also been independently tested to NSF/ANSI 42, 53, and 401 standards which means it's proven to be effective against a wide range of pollutants.
In the next step, the PureVis technology gives your water an extra purification boost. It improves water quality with mercury-free and ozone-free technology. This is achieved through the PurVis wand which emits a pulsing blue UV light that purifies the water. I've got to say that the blue UV light looks very cool when turned on. The UV light activates every six hours or every time you fill the pitcher. It prevents biological activity and biological growth of viruses, bacteria, and protozoa. The PurVis wand renders any bacteria or virus harmless and prevents more from growing. PureVis Wand deactivates naturally occurring heterotrophic bacteria that impact the taste and odor of the water when compared to non-UV-treated water pitchers. Talk about tech backed by science! I'm impressed.
The PureVis wand has a rechargeable lithium polymer battery which takes up to one hour to recharge and is sufficient for a whole month. The smart sensor in the filter tracks water filtered through and the flow rate for smart filter replacement. The PureVis button on the pitcher will glow orange to let you know that it's time for a filter replacement. The LARQ filter does not release any trapped toxins in the water when the pitcher comes to the end of its life. It only stops removing contaminants from the water.
New Years Sale: Get 15% OFF The LARQ Pitcher
Advanced vs Essential Filters
I got to choose among two types of water filters: Essential and Advanced.
I chose to go with the Advanced filter as it provided 360 protection against harsh contaminants when compared to the Essential filter.
The Essential filter is recommended for basic protection and improved taste. It filters out pollutants such as chlorine, mercury, copper, cadmium, and VOCs whereas the Advanced filter additionally filters lead, particulates, benzene, PFAs, and pharmaceuticals. It also removes microplastic particles down to 40 microns in size. Between the two options I feel going with the Advanced filter makes more sense as the difference in cost between the two filters is not much and the Advanced filters out more pollutants than the Essential filter.
However, if money is a constraint then the Essential filter works just fine. The filter is quick and the water tastes super clean, much cleaner than tap water for sure. The pitcher takes 3-4 minutes to filter the water but this may vary based on water quality and filter age.
The filter looks as good as new even after a month of usage. It is pretty long-lasting as it lasts up to 50% longer than leading brands, filtering 60 gallons (227 liters) of water before the next replacement. The brand also claims that one LARQ Filter replaces more than 450 standard single-use bottles. Well, now that's going to save me a lot of money in the long run. The filter typically lasts for about 3 months after which you will have to replace it.
Once you receive a new filter there are a few steps you need to follow before installing it. The filter needs to be removed and soaked in water for 10 minutes before its first use. Once it's soaked, you can install it in the reservoir and snap the lid back in place. When you add a new filter, you will need to reset the wand to accurately track the volume of water filtered through and the flow rate for smart filter replacement. This can be done by pressing the tactile button for 5 seconds. This turns the indicator light to white for 5 seconds followed by a blue light. You can also reset the wand on the app. LARQ does offer a filter refill plan that you can subscribe to and LARQ will ship you a replacement filter every 2 months. It's an automatic delivery with free shipping which means you can save more money.
The LARQ Pitcher PureVis App
I was impressed when I found out that the LARQ Pitcher PureVis features intelligent filter life tracking. All you have to do is download the LARQ app and pair your pitcher via Bluetooth. This feature has been a lifesaver as it helped me track the status of the filter and the battery life of the PurVis wand. And that's not all! The app and the pitcher disconnected when I placed the pitcher in the refrigerator and closed the door. I was also able to buy replacement filters straight from the app. The PurVis wand kept me updated on all the water filtering stats by storing data even while disconnected from the app. I do have to mention here that the app is available for iOS only and can be downloaded from the Apple store.
Design and Aesthetics
Moving on to the aesthetics and design of the product, the LARQ pitcher is the same as using any other water filter. The construction of the actual filter is sturdy and I love that the lid closes inward preventing water from leaking. It looks very chic and modern and is available in two colors: black and white. The upper half of the water pitcher is opaque and colored while the bottom half is transparent so you know when to fill it up again by just looking. The material used to make the body is BPA-free, phthalate-free, and food-grade plastic. It has a swinging lid at the top that allows you to fill the pitcher and is very easy to handle.
It features a tactile button on the lid that you can push to activate the PureVis technology. The pitcher can hold up to 8 cups or 2 liters of water at one go. It also comes with a magnetic USB charger for charging which as mentioned earlier takes up to one hour to charge and lasts up to a month. It also comes with a quick start guide that you can refer to if you want to know how to get started.
Self-cleaning capabilities
LARQ Pitcher PureVis employs a self-sanitization process that starts on its own every six hours. You can also press the top of the wand to activate it. You will see a blue light gleaming inside the glass which indicates that the cleaning process has started.
You can also clean the pitcher by hand when the power is running low. The pitcher is dishwasher safe so you can clean it in the dishwasher once every 6 months or every 2-3 months when you need to replace the filter for a quick reset. Before washing the LARQ Pitcher PureVis in the dishwasher make sure you remove the PureVis wand and don't forget to give the PureVis wand a full charge every time you replace the filter.
It's very easy to set up!
Once you receive the box, remove the PureVis wand from the LARQ pitcher and give the pitcher a good wash before using it. You will have to charge the PureVis wand before using it for the first time by connecting the magnetic charger to the gold charging pins on top of the wand. Make sure to give it a full charge before use. After this, you will have to remove the filter from its packaging and soak the filter in water for 10 minutes before first use. Once this is done you can install it into the reservoir and put the lid back on. Now you can fill up the reservoir with tap water and wait for 3-5 minutes before it's ready to drink.
New Years Sale: Get 15% OFF The LARQ Pitcher
LARQ Pitcher Pro & Cons
Pros
30-day return policy
1-year warranty
Self-cleaning capabilities
UV technology for an extra layer of protection
App for tracking filter life and water intake
Compact design which is easy to carry around
Environmentally friendly choice
Long lasting compared to other brands
Cons
The app is available for iOS only
Not a water softener so it will not work on extremely hard water
Not rated for fluoride removal
LARQ Pitcher FAQs
Does the LARQ Pitcher PureVis actually work?
Yes, it does. Don't just take my word for it. You can find a third-party filter performance report on LARQs official website. LARQ Filters are also tested to NSF standards (42, 53, and 401) to achieve >90% reduction across a range of contaminants.
Does the LARQ Pitcher PureVis come with a warranty?
Yes. The pitcher is covered by a 12-month limited warranty to repair or replace any defective material or component. It does not cover any issues due to normal wear and tear, misuse or loss, or theft of the bottle.
Can I keep it inside the refrigerator?
Yes, you can keep it inside the refrigerator, however, avoid keeping it inside the freezer.
Final Thoughts
I'm so glad that I decided to try out the LARQ Pitcher PureVis because it has made my life so much easier. I never expected to find a water pitcher that would make such an impact on my life, but the LARQ Pitcher PureVis has certainly done that. The LARQ pitcher has more features than its competitors and the experience of using the pitcher justifies the steep price tag. Not only does it make sure I can always drink high-quality water, but it also takes away all of the stress from remembering to maintain the filter. The LARQ Pitcher PureVis intelligent tracking is an incredibly convenient feature as it reminds me when it's time to replace the filter. It's totally hassle-free and lets me know when to clean the filter and run a cleaning cycle. This has helped me enjoy crystal-clear water without having to worry about maintenance – all I need to do is press a button!
New Years Sale: Get 15% OFF The LARQ Pitcher
I highly recommend investing in a LARQ Pitcher PureVis if you want an easy and efficient way of getting clean and refreshing water without breaking your wallet or polluting the environment with plastic bottles. It's truly a revolutionary product and a good choice for anyone looking for an intelligent and convenient way to enjoy purified water. It's not just a smart appliance but a smart investment as well.
Read Next: