It's a dream of many people to get paid to travel the world … Wouldn't it be the best thing ever to have a job that allows you to travel the world and get paid in the process? That would be the best travel job ever honestly! Sounds too good to be true huh?
However, if you take the time to do a little research you will come to the conclusion that it isn't as out of your reach as it may seem. Hopefully, by the end of this article, I'll be able to help you understand different "jobs" that can help you make money traveling the world!
Being in the digital nomad and backpacking community, I occasionally get stuck in the bubble that everyone knows how to make money traveling the world, however, that isn't the reality and I was looking at the world through my tiny lens and that a lot of people could learn from this article on the best travel jobs.
As someone who travels for a living, I've learned a lot, in my industry of blogging but also in other industries from people who are doing things completely different from my expertise and hopefully I can share everything that I learned with you here.
Get Paid To Travel With These Travel Jobs
Everything mentioned here isn't as easy as pictures on Instagram will have you believe, there's no sitting on the beach having millions of dollars going into your bank account while you sip a drink! Shit like that doesn't exist, everything mentioned here requires you putting the effort to learn new skills.
If you are looking for a course or ebook that will "promise" you making 1000s of $s in a week, then please close this article because it's going to be packed with practicality.
However it's not impossible either, I started my journey of traveling around the world at the age of 18 with barely 200$ in savings after dropping out of college. If I did it, why can't you find a travel job that fits your lifestyle?
Get Paid To Travel with a Remote Job
You don't have to quit your current job to travel the world especially if your job involves you being at a desk or if it can be done at home, it can probably also be done with you on the other side of the world. This idea sounds crazy for most people because the idea that you have to be in an "office" is ingrained into our cultures.
But times are changing, as we are slowly realizing the truth, many companies are letting their employees work remotely. Even the big guys like Amazon, Hilton etc.
I'm always for questioning the status quo, and a survey in 2016 by FlexJobs saw that only 7% of workers say that they're more productive in an office. Many employers are still afraid to try and let their employees work remotely, however many people I know have managed to convince their bosses to let them work remotely.
The 4-hour workweek gets bashed a lot as Tim Ferriss clearly doesn't work for 4 hours, however, a large part in his book shares a step by step strategy on how to convert your current job into a remote job.
Most people are too afraid to ask, but here's a thought I live my life by, "If you never ask, the answer is always no. If you never go, you will never know."
If you can't turn your current office job into a remote job or maybe you don't have a job, to begin with, then maybe you can apply directly for a remote job. Many companies are hiring for remote employees. Here're a few sites where you can find and apply for some remote jobs.
Networking can also open a lot of opportunities as you can come in contact with someone who's looking for your expertise! Many remote jobs also offer benefits like health insurance, 401ks etc.
Remote jobs are truly getting popular, Eg. Automattic, a Billion Dollar company behind WordPress.com closed down their San Francisco office as no one was coming there, Haha!
Remote jobs are still not mainstream and for some people, it'll still sound extremely crazy, especially as many bosses and managers still believe that micromanaging is the way to go, despite it being proven to be a failure and stifles creativity and growth.
Get Paid To Travel with a Working Travel Visa
This method is extremely popular among the backpacking community and among people taking a gap year. The most popular strategy is working in Australia or New Zealand with a working visa and then traveling in South East Asia. I've met a ton of people doing this over my near year long in South East Asia so far.
The most popular job is picking fruit, but there are a lot of different options like construction, electricians, working in ski resorts, etc.
As obvious from the above statement, many of these jobs are seasonally and more directed towards the younger crowd. The working holiday visas are mainly directed towards the 18-30 age group. The requirements usually differ based on your destination and your country of origin.
Get Paid To Travel By Travel Blogging
Blogging is like any job, despite how glamorous the lifestyle is sometimes portrayed! It's not as simple as just writing and having money magically appear in your bank account. It takes a lot of hard work and patience and learning new skills! You don't need to solely blog about travel, I have a friend who runs a camera gear and photography blog while traveling.
If you want to go down the path of blogging, don't do it just for an income, do it for the positive impact your content will have on people. Bring your readers more value with your content than you ask from them. It'll take time to grow your audience but the benefits are that you get to make a living talking about the things you love if you blog about your interests.
Get Paid To Travel by Teaching English
Visit some parts Asia and it won't be long before you meet someone teaching English and traveling! Professional English teachers are highly sought after in many parts of the world. Basic requirements include a college degree and a TEFL (Teaching English as a foreign language) certification.
The pay is pretty decent and it's incredibly easy to get a job if you are a native speaker. It might be harder if you aren't American or European but I'm met people from different walks of life who were teaching.
IMO, make education your priority and don't get into the field of teaching English just to make money. My mom was a teacher and she loved doing that. I can definitely notice the difference between someone who is teaching with the end goal being education vs someone who is teaching just to make a quick buck.
Get Paid To Travel by Freelancing
I started out traveling by learning to build websites off Youtube and then building websites for cafes and hotels. I also networked and began freelancing online.
You can take any skill, maybe one that you already possess or maybe one that you have an interest in. Using the internet you can get better at the skill, then you can start doing that skill for other people.
Freelancing, however, isn't just limited to just web development, from language translators, travel writers to marketers, the options are endless. Virtual Assistants aka VA's are getting popular. You can pretty much freelance with any skill. I still freelance as an SEO for startups as a side hustle.
Pick a skill and sharpen it, get so good at it that people are begging you to work for them.
You can get 2 free months of Skillshare premium, a platform where you can take unlimited classes and learn any skill from web dev to graphic design! Click here to get 2 months of SkillShare for FREE!
Okay now that you are good at a skill, how do you get a client? Here you have 2 options.
There are sites on the internet where you can list what you are good at and pitch to potential clients. Here are 2 highly popular marketplaces: Upwork, Fiverr. There is high competition here and that drives the payout down in most cases. But it's a good starting point for most people to build a portfolio.
NETWORK, NETWORK, NETWORK. Are you a writer? Get into Facebook groups of books and also of writers and networks. Don't be a spammer. Network and form actual human connections.
I recommend most people get started with freelancing! It's service-based and tough and a lot of work, but in the process, you will learn a lot of life skills and business skills that will help you later on in life.
Get Paid To Travel and Review Hotels
If you run a big Instagram account or have a website with a lot of visitors, hotel, tour companies, tourism boards, and destinations will pay you to visit them.
Even websites like Hotels.com will pay you to travel the world and review hotels. For example, recently Hotels.com was hiring a "Poolhop" to travel across the country and test the waters at six different hotels, including establishments in Hawaii, Florida, Vegas, L.A., New York, and the non-beach town of Colorado Springs.
However, getting a job like that is pretty much close to winning the lottery and I wouldn't recommend betting on that. Instead a better bet is to become an "influencer" or grow a large audience.
Influencer marketing with destinations and hotels is a great way to get paid to travel and review hotels which is dream for many people.
Get Paid To Travel by Becoming An Instructor

Yoga, Zumba, dance, surfing, diving … the list is endless. Do you possess any skill and have enough experience in it to teach others? Why not hold classes and make an income as you travel the world! This way you can earn an income doing what you love.
Get Paid To Travel By Working in the Airline Industry
A year ago, I bumped into a flight attendant in Nepal and it was pretty darn amazing to hear her stories from all around the world. Getting paid to fly the seven seas sounds pretty darn amazing, doesn't it? Especially the huge discounts on airline tickets and hotels!
However it is also a lot of hard work and long hours (and heavy lifting if you work for United lol, too soon?) but if you want a life of wanderlust, it rarely gets better than this.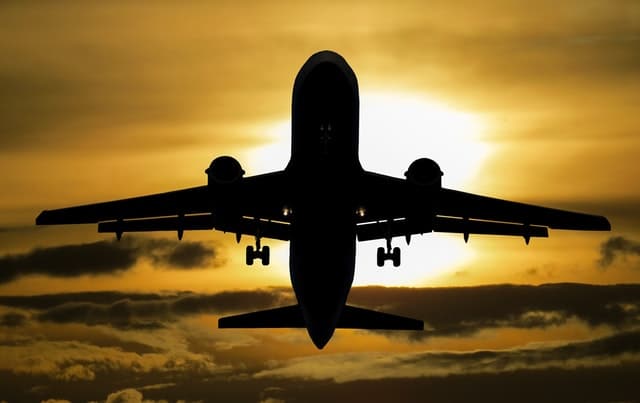 Get Paid To Travel with YouTube
Not everyone expresses themselves best in written form, some of us will do better in audio, while others are better on video. If blogging isn't the thing for you, maybe vlogging is or maybe running a YouTube show.
Soo many people nowadays make their living traveling through Youtube, that it reached the point where I meet 16/17-year-olds who tell me that their dream when they grow up is to be a Youtuber. Back in my day, we wanted to become astronauts, haha!
However, just like blogging, remember that Youtube takes years of building an audience as well as a community and you need to put in a lot of effort and create a lot of content. Many YouTubers make money off ads, as well as Patreon, partnerships with companies and getting free sponsored trips.
Get Paid To Travel with AirBnb
You have probably heard of Airbnb, I use it mainly it to rent short term apartments while traveling. However, I have friends who rent out their house on Airbnb and travel the world with their house making them money.
Do you have a room in your home that you aren't using, or are you traveling and paying down a mortgage of a place that you are leaving empty? Why not get paid for renting out your place?
The resources below can help you set up an Airbnb business, however, make sure to keep automation a priority so you don't have to be there in person to have the business run.
Ready to Get Paid To Travel in 2021?
The truth is there's no quick way or easy way to get paid to travel the world! There's no system that will pay you millions to get paid to travel the world!
All of it takes a lot of hard work, however, there are plenty of different travel jobs and the truth is at the end of the day, your imagination is your only limitation.
It takes hard work and patience but it's definitely worth it! Right now this blog pays for my expenses but I remembered I started it made barely a dollar in the first month! This lifestyle didn't happen overnight.
But I hope now that I have shown you the possibilities, you understand that you can make your dream of getting paid to travel the world a reality if you put in the work!
Cheers,
Jeremy