Before we start to discuss ExpressVPN we need to ask one question. Why do most people use a VPN? Some would say they use it access contents that are blocked either by their ISPs. Or to access content blocked by their colleges, universities or even their government. Others would say they use it to do stuff that might otherwise get them into trouble. Like downloading torrents for instance.
There's also a new group of users who use a VPN to access content Geo blocked by all the streaming services out there. While all of these are use cases of a VPN, none of those are the primary reason most people use a VPN. So now you would be dying to ask this question. What is the reason most people, who use a VPN, use a VPN for? Well let us see what the real reason, or we can say the major reason is.
Click The Button below and sign up for ExpressVPN for FREE With A 30-day Money Back Guarantee!
Get 30 days Free Trial of ExpressVPN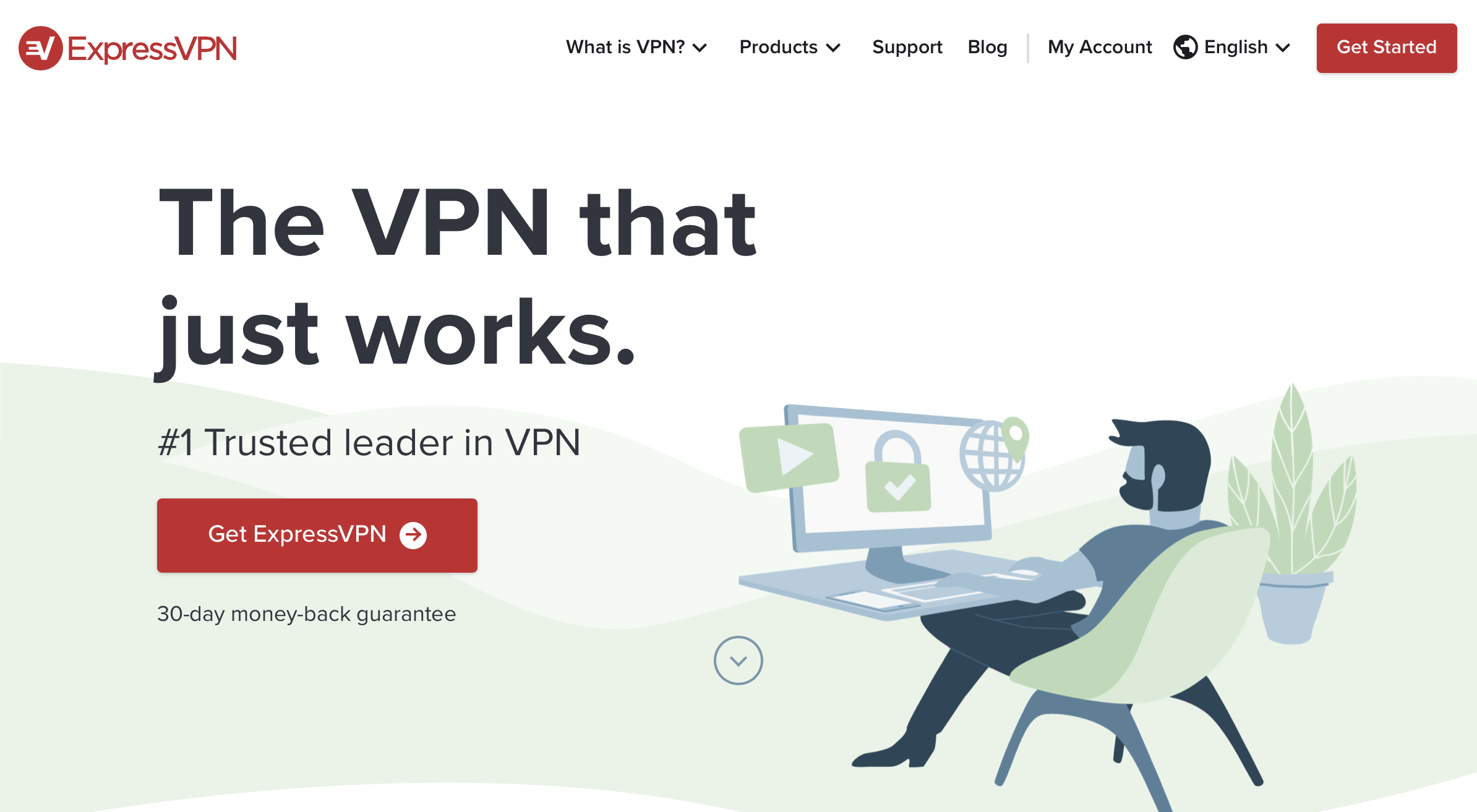 Why do most people use a VPN?
While all the other reasons we discussed are all very important, none of those are the primary reason people use a VPN. Rather, the primary reason why most people use a VPN is that they are concerned about their privacy. Privacy is one thing that most people are worried about. Whatever they do while they are online can all be recorded. The websites they visit. The purchases they make. All those sensitive things they do. Things that they don't want anyone else to know about. The ISPs can track all these things and there's no knowing what they can do with it. Even though they claim your data is safe, we can't trust them with our precious data, now, can we? This is where a VPN comes into play.
How a VPN helps protect privacy online
The way a VPN operates is really simple. A VPN routes your connection through a remote server. This makes it seem like the requests are coming from that server and hence hiding your online presence. For a more technical explanation, here's what Wikipedia says about a VPN:
A virtual private network (VPN) extends a private network across a public network. It enables users to send and receive data across shared or public networks. Its as if their computing devices were directly connected to the private network. Applications running on an end-device (PC, smartphone etc.) across a VPN may, therefore, benefit from the functionality, security, and management of the private network. Encryption is a common, though not an inherent, part of a VPN connection.
As a result of using a VPN your ISP won't be able to track your activities online. That doesn't mean that you are safe. Your VPN provider can still track you. This is where a paid VPNs like ExpressVPN are more reliable as they have very strict policies regarding your data. Let us discuss those in detail.
Click The Button below and sign up for ExpressVPN for FREE With A 30-day Money Back Guarantee!
Get 30 days Free Trial of ExpressVPN
Is ExpressVPN Safe?
So after reading all those reviews, you finally decided to buy an ExpressVPN subscription. But now you are wondering whether ExpressVPN is as effective as you were hoping. Well this is exactly what we are going to find out in this article. Let us discuss the various features of ExpressVPN and how effective it is. At each we will either give it a Thumbs Up or a Thumbs Down. Even one thumb down would mean that the VPN isn't totally safe.
1. Zero-knowledge DNS
A Domain Name System(DNS) is a kind of identity that every website has on the internet. A DNS is nothing but a string of numbers also called an IP address. Each IP address is linked to a URL which is easier for a human to remember. How this is relevant is that many VPN providers use third-party a DNS. These 3rd party DNS aren't encrypted. They are vulnerable to manipulation, and hence don't provide the same level of security.
ExpressVPN on the other hand runs its DNS on every one of its VPN servers. Not only that, but all these servers are also secured by AES-256 encryption. This makes your connection safe and secure.
Verdict: ExpressVPN manages to completely secure your connection. With their Zero-Knowledge DNS, ExpressVPN ensures that there are no activity logs, no connection logs, no DNS blocking and no third parties. So ExpressVPN starts with a Thumbs Up in the first section.
2. TrustedServer security
TrustedServer ExpressVPN claims that it prevents the operating system and apps from ever writing to the hard drive. Instead, the server is run entirely on volatile memory. This results in stopping both data and potential intruders from persisting on the machine.
It also further states that :
"Each time a server starts up, it loads the latest read-only image containing the entire software stack, OS and all. That means ExpressVPN knows exactly what's running on each and every server—minimizing the risk of vulnerabilities or misconfiguration and dramatically improving VPN security."
To sum it up in ExpressVPN's official terms, It's ExpressVPN TrustedServer ensures the following:
All data wiped with every reboot, as VPN servers run on RAM only
Servers never write to the hard drive, further minimizing data risk
The entire software stack is reinstalled on every server at startup
We know what's running on every server, with no inconsistencies
Verdict: TrustedServer is a unique take on replacing the traditional hardware and replacing them with volatile memory. This makes an impact and improves the overall safety measure of ExpressVPN. This also gets a Thumbs Up from us.
Click The Button below and sign up for ExpressVPN for FREE With A 30-day Money Back Guarantee!
Get 30 days Free Trial of ExpressVPN
3. Network Lock kill switch
What happens if your VPN connection is ever interrupted or if the connection fails? In a normal situation, this would lead to your online connection being compromised. This would mean that your personal information including your IP address would be exposed. Your ISP or other prying eyes would be able to access these data. ExpressVPN however protects you from this using its VPN kill switch.
So if your VPN connection ever gets interrupted, Network Lock will get into the act. What it will do visit will immediately stop any kind of traffic from either entering or leaving your device. This will be in place as long as the VPN connection isn't restored. So you don't have to worry whether or not your VPN connection will fail. If it does then Network Lock will make sure your security and privacy aren't compromised.
Here's what ExpressVPN claims on their website:
Whenever you connect to the VPN, Network Lock becomes active, and it stays active until you choose to disconnect. It keeps your connection secure when:
● You switch between Wi-Fi networks or your signal flickers
● You close your laptop or put your computer to sleep
● You toggle your internet connection on or off
● Your ISP has a momentary outage
Verdict: ExpressVPN stands true to its claim here. It manages to protect you protect your security and privacy in case your connection is interrupted. Another Thumbs Up for this.
4. Split tunneling
Not all applications and websites require you to use a VPN. For example, some web services from your local IP addresses. Some services might also require you to turn off your VPN. So what happens if you have to access both at the same time. This is where ExpressVPN's split tunneling comes into act. It lets you exclude certain traffic from the protection of your VPN. This will protect all connected devices or applications except for those specifically excluded.
"With split-tunneling, you can:
● Stream foreign movies while using web services from local IP addresses
● Download safely without slowing down your other web activity
● Access your network printer while surfing the internet securely "
Verdict: Once again ExpressVPN passes our criteria and gets a thumbs up for its spilled tunneling functionality.
5. Policy Towards Activity and Connection Logs
This is one of the biggest concerns most people have while buying a VPN. What if your VPN provider is tracking and logging your activities? What stops them from selling your data? Almost every VPN you will find out their straight out claims that it doesn't log any data. But there is no transparency as to what they log and what they don't.
ExpressVPN takes a completely different route. Instead of making such claims they mention what they don't log. They also mention what they log and why they log that particular thing. Here's what one can find on their official website:
ExpressVPN does NOT and WILL NEVER log:
IP addresses (source or VPN) Browsing history Traffic destination or metadata DNS queries
What ExpressVPN collects:
● Apps and app versions successfully activated
● Dates (not times) when connected to the VPN service
● Choice of VPN server location
● Total amount (in MB) of data transferred per day
Why they collect these data:
For troubleshooting technical issues related to ExpressVPN apps
● To provide technical support to customers, identify connection problems, and give country-specific advice on how to use our service
● To troubleshoot technical issues related to ExpressVPN apps
● To enable ExpressVPN engineers to identify and fix network issues
We analyzed these data that ExpressVPN claims to be logging. We came to the conclusion that their claims are true. Indeed these data can never be used to match the individual to specific network activity or behavior.
Verdict: ExpressVPN logs only those data that it needs and also states why it needs those data. Hence they get yet another thumbs up from us making it 5 out of 5.
Click The Button below and sign up for ExpressVPN for FREE With A 30-day Money Back Guarantee!
Get 30 days Free Trial of ExpressVPN
Final Verdict: So Is ExpressVPN Safe?
After looking at all this stuff we have the final results. ExpressVPN managed to get a Thumbs Up from us in each and every section. Hence we can say that ExpressVPN is safe and totally worth your money.
Click The Button below and sign up for ExpressVPN for FREE With A 30-day Money Back Guarantee!
Get 30 days Free Trial of ExpressVPN
Read Next:
Private Internet Access Black Friday