If you are looking for a Infusionsoft Discount Code, then you've come to the right place! In this article, I'll share how you can get the maximum discount on the Keap/InfusionSoft. Keap is a Marketing Automation Software, a CRM, a Sales Automation Software, and an E-Commerce Management Solution – All In One!
Click Here To Save On Infusionsoft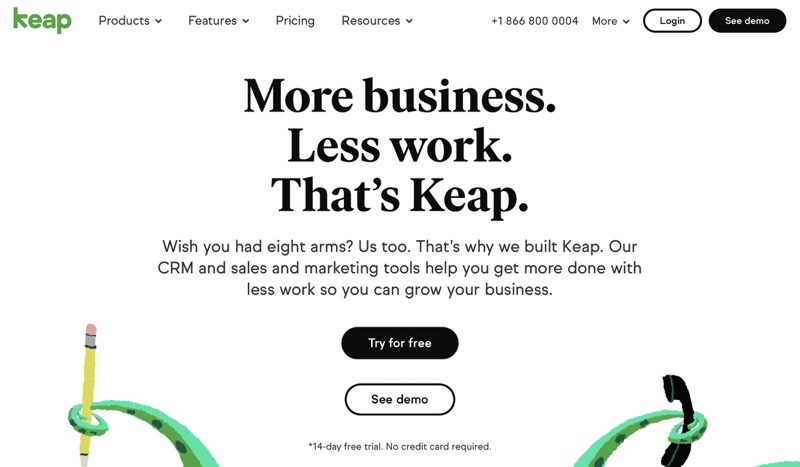 Infusionsoft Discount Code
Running a business has never been easier. Sure, there's a lot more competition, but whether it's managing operations, coordinating sales, or running marketing campaigns, there are online and offline software available for almost everything today.
But, with great power, comes great responsibility, and the convenience these tools provide comes with the added responsibility of having to manage so many tools simultaneously.
Seeing a lot of small business owners with this, and to help them get rid of the hassle of managing multiple sales, marketing and CRM tools, Keap was born.
Infusionsoft Pricing
Keap offers 3 plans at different price points tailored to suit a business that's in its nascent stages as well as for businesses that are growing or are well established businesses with serious needs.
All plans include 500 contacts and access for 1 user. Additional users can be purchased for $30/month. You can also add additional contacts as required at varying costs based on the numbers you may need.
Let's take a look at the 3 Plans Keap offers –
1. Keap Grow
For small businesses just starting out and looking to get organised while better managing leads and clients, Keap grow is priced at $79/month and comes with the following features –
Client management (CRM)
Email marketing
Business phone line and text messaging
Appointments
Quotes, invoices, and payments
2. Keap Pro
For a growing business with a slightly bigger appetite, Keap Pro is priced at $149/month and delivers a powerful blend of automation along with a simple CMR tool. Keap Pro comes with all features in KeapGrow and adds –
Marketing and sales automation
Recurring payments
Landing page builder
Smart forms and reports
3. Infusionsoft
For a fully established business, Keap offers its entire suite of features in a power packed combo of CRM, Sales and Marketing. Infusionsoft is priced at $199/month. It comes with all the features of Keap Grow and Keap Pro and adds –
Client management (CRM)
Marketing and sales automation
Lead scoring and company records
Advanced reporting and eCommerce
Click Here To Try Keap For FREE

Infusionsoft Coupon Code
They're many websites on the internet making misleading offers such as:
Infusionsoft Coupon
Infusionsoft Coupon Code 2023
Infusionsoft Discount Coupon
Infusionsoft Discount Code
Infusionsoft Discount
Infusionsoft Coupon Code
Infusionsoft Coupons
Infusionsoft Code
Infusionsoft Promo Code
The truth is that Infusionsoft does not offer any coupons!
You can usually get a free month or something like that when Keap runs sales but in most cases your best bet is just signing up for the free 14 days trial.
Special Sale: Click the link below to get 50% off for your first 2 months on all packages!
Click Here To Save On Infusionsoft
Infusionsoft Free Trial
Keap is one of the few companies in the online marketing & SaaS space to offer a completely free 14-days trial without a credit card.
All you have to do is sign up with your email and phone number.
Click Here To Try Keap For FREE
NO Credit Card Required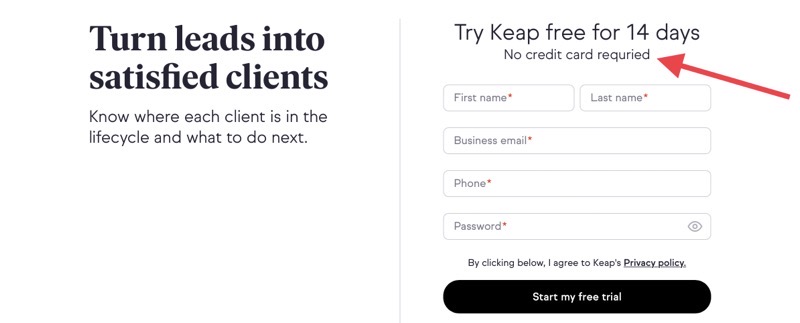 Infusionsoft Pros & Cons
Pros
Easy to use Visual Campaign Builder.
Reliable and Fast Platform.
Good Segmentation.
Massive 3rd party Add-ons and Plug-ins.
Good CRM functionality.
Easy One link appointment scheduling.
Zapier integration
Customer tags.
Cons
Slightly expensive.
Has a moderate learning curve.
Not ideal for full fledged project management.
Click Here To Try Keap For FREE
NO Credit Card Required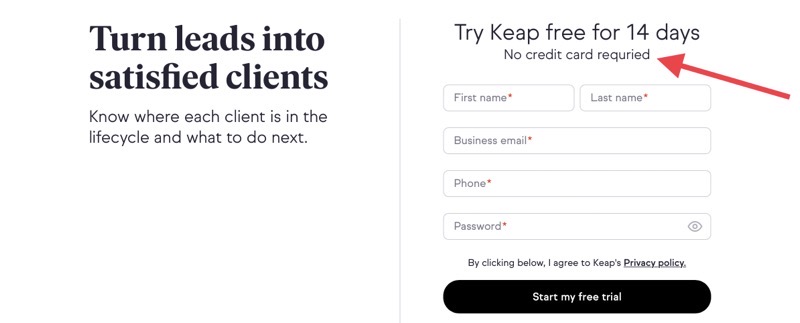 Keap Review
What is Keap?
Keap is a Marketing Automation Software, a CRM, a Sales Automation Software, and an E-Commerce Management Solution – All In One!
With all these features, Keap is designed to make it convenient for small business owners to track prospects and existing customers, manage invoices, payments, integrate with external applications and software – All with a single goal of making running a business as convenient as possible.
Is Keap Right For Your Business?
You're probably wondering if Keap is right for your business, and rightfully so. Not all tools are designed in a one-size-fits-all style and that's the case with Keap as well.
Keap is perfect for you if you're a small service based business providing home, professional or personal services and are looking for a tool that'll help you manage and grow your business.
If you're looking for all or any of the following features, Keap might be a good fit for you –
You're looking to acquire leads
You have employees that need to be coordinated
You'd like to track and manage leads from 1 place
You'd like to invoice clients on autopilot
Click Here To Try Keap For FREE
Keap Features
Keap is a powerful tool for any small business owner looking to simplify their ability to manage:
Marketing
CRM
Sales
Ecommerce
Let's look at the main features Keap offers to understand how it addresses each of these 4 key requirements.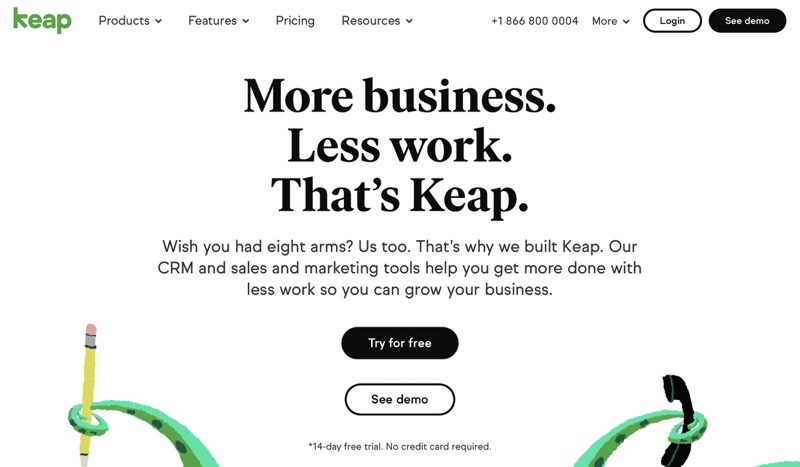 Keap CRM (Client Management)
Effectively managing client interactions can mean the difference between winning and losing a lead.
With Keap, you can set up auto-responders with emails letting your customers know that you've received their enquiry and that you're working on it. It helps set you apart from your competition and guarantees that your customer will wait for your response before making any buying decisions.
If you're not a fan of auto-responders, you can save pre-written templates for the most common enquiries you receive, and choose to send those instead as responses to emails.
Keap connects with Gmail and Outlook to sync all your communications and contact records. It helps you store and organise client information like –
Contact information, names and numbers, email address, social media, etc.
Shared files or folders, documents, images, proposals, etc
Past meeting history, quotes, payments, chats, emails, etc.
Tags (for categorization).
Follow-up tasks.
Keap also comes with Smart Forms that make it super easy for you to predesign and save different style forms for different requirements. Whether it's an introduction form or an appointment form, you can quickly select from your list of pre-saved forms to send to your contacts and leads as and when the need arises in a matter of seconds.
Click Here To Try Keap For FREE
Keap Email Marketing
Keap sends a massive 1.1 billion emails each month on behalf of its clients. With an average open rate of 20% and an average Click rate of 13%, they're surely doing things right and surpassing every industry standard.
Keap comes preloaded with a library full of versatile and functional email templates that are perfect for a range of requirements. With design taken care of, all you need to worry about is getting started with your email marketing campaign.
You can segment your contacts by industry, content interaction, and more, into as many lists as you like. That way, if you're planning to send out an email blast for leads in a specific part of the funnel, you can easily target that audience and send tailored content to help you convert them more easily.
With an 'At a Glance' style report, you can track the effectiveness of your emails to see how many were opened and clicked to gain insight into performance and further tweak your email campaigns to better engage your audience.
Keap's auto-spam check helps maximise email deliverability into your customers' inbox and keeps your emails far away from the much dreaded spam folder.
With an in-built A/b split testing system, you can trial different copy and content and see which performs better for your target audience to maximise email effectiveness.
Click Here To Try Keap For FREE
Keap Messages
A Small Business Survey conducted in 2018 stated that 72% of customers want to communicate using text messages and it's no surprise either, since more than 85% of SMS/Text messages are usually read within 10 minutes of being delivered.
Keap instantly alerts you when your leads and clients email, text, or call you or your business, so you're always on point and can instantly respond to your client without any delays. You can also Star important messages to find them later so you don't have to dig through hundreds of texts each time.
You can easily organise texts by marking them as unread and storing notes on your phone as soon as you get off the phone with a client while the conversation is still fresh in your mind.
Click Here To Try Keap For FREE
Keap Appointments
When you're busy running a business, it can get tough managing and setting appointments if you're still going about it the old school way.
Keap makes setting and scheduling appointments completely hassle free and makes it super easy for your clients to set appointments. All you have it do is send them a link and they can choose from your available time slots, reducing the chances of you being double booked and losing out on a sale.
Each time an appointment is set, a confirmation email is sent and your Google Calendar is instantly updated so everyone's on the same page and there's no mix-ups or no shows.
Keap's Appointments gives you direct access to all customer data, notes, and your calendar all in one place so you can make the most out of every meeting.
Click Here To Try Keap For FREE
Keap Pipeline
A key part of converting a lead is being able to manage it effectively, and Keap's Pipeline feature gives you an interactive way to manage and track all your potential and existing clients throughout your sales process. You get a customisable dashboard to organise leads along with existing clients.
With all your leads and clients in a central location, you can customise the stages of your sales process to help you get organised and prioritise tasks.
You can trigger emails automatically each time a lead progresses from a sales stage to another. This way, you never miss a step in your sales process and you can ensure you close leads consistently. Say Good-Bye to boring spreadsheets!
Keap Marketing Automation
If you're still manually copying and pasting messages, and following up with leads as well, you need to upgrade to automating your marketing, sales, and data entry with Keap so you can spend less time on mundane tasks and more time interacting with your clients while growing your business.
With Keap's Marketing Campaign Builder, you can completely customise your sales and marketing process. You can set up a chain of emails that can be triggered and sent based on time triggers or client interactions like after downloading an ebook or booking an appointment.
Click Here To Try Keap For FREE
Keap Quotes
After scheduling a meeting and successfully delivering a winning sales pitch, when your client is ready for a quote, just move the lead into the next step of the sales process and get ready to wow them with your quote.
You can send customers personalised quotes detailing your services and costs making it easy for them to quickly choose you for the job. You can create proposal templates with your logo and standard services in a matter of minutes. Save and store the quotes to be customised and reused for new clients multiple times.
With Keap, your clients will be able to instantly accept quotes with the touch of a button right from their phones – no need for printers, scanners, or fax machines anymore.
Once accepted, Keap will convert your quote into an invoice with a simple click saving you time and helping you get it through to your client instantly.
Click Here To Try Keap For FREE
Keap Invoices & Payments
When the job's all set and done, Keap makes it easy for you to get paid in a jiffy. Your customer needs to click the pay now button in their invoice and their credit card (if they've saved it) will get charged immediately. You can even set up daily, weekly and monthly payments based on your needs and even send automatic reminders to get paid faster.
Keap doesn't restrict you to a single payment processor and lets you choose from PayPal, Wepay, and Stripe with no additional transaction fees or penalties. Just take your pickup and integrate it with your Keapaccount to start getting paid.
Nobody likes pursuing overdue invoices and having awkward conversations with customers. Fortunately, Keap gives you a way out with friendly payment reminders that get sent to your customers, saving you the hassle of having to play Dog The Bounty Hunter.
A one-time setup can help you ensure you receive payments on-time and you can create recurring payments – either daily, weekly, monthly, or yearly – whatever suits your business and service. Best of all, you can automatically trigger an update for expired cards for customers that have recurring payments set up.
You can view all your past, current, paid, unpaid, due, and overdue invoices in a single place in Keap'sInvoices section and even connect to payment tools like Xero and QuickBooks to automatically sync data to make reconciling transactions a breeze.
Click Here To Try Keap For FREE
Keap Integrations
Keap is completely flexible and fully extensible with the massive amount of integrations it offers.
Whether you're looking to integrate with an eCommerce platform, lead gen software, mail, or membership software or any other online software, there's a good chance Keap has you covered.
From Gmail and Outlook to WordPress and BigCommerce, Keap will help you scale your business effectively and keep track of all your leads and transactions. It's like a one-stop-shop for action plans, specialty apps, campaigns, services, and more that'll help you grow your business while delivering the best service to your customers.
Keap Reporting & Insights
It's easy to lose track of your business when you're busy, fortunately with Keap, you can get an inside look into your business and its performance and fully visualise customer traffic, conversions, and more in their updated analytics dashboard. A bird's eye view of these metrics can give you valuable insights into your business and potentially help you make smarter decisions to boost its growth.
Keap's software digs deep into your data and accesses millions of data points to help you gain better insight into conversions by sales stages, lead sources, and other similar criteria. It also gives you metrics of form completion and email open and click rates along with insights into marketing and campaign performance and contact actions.
You can instantly access sales reports that dig into the key performance metrics of sales and also give you a better understanding of things like revenue per lead, source contact interests etc. You can even look at activity history and get insights into sales generated by each rep in your sales team. You can also project revenues based on current activities, gain insights into revenues from referrals, and even generate custom opportunity reports – Keap will help you do it all.
If you need billing and accounting reports, with integrations into QuickBooks and Xero, Keap is always on top to ensure you can generate reports based on sales, payments, credits, and more. It makes it easy for you to see the income generated from specific leads, products, or sources and also gives you insight into a customer's lifetime sales value to your business.
If you're coordinating between multiple teams, in-house and with external experts, just use Keap'sAdministrative reports to get a top level view of user logins, leads, contact, and all tasks by users, completion statuses and more.
Click Here To Try Keap For FREE

Keap Coupon Code
They're many websites on the internet making misleading offers such as:
Keap Coupon
Keap Discount Coupon
Keap Discount Code
Keap Discount
Keap Coupon Code
Keap Coupons
Keap Code
Keap Promo Codes
Keap Promo Code
Keap Vocher
However, the truth is that Keap does not offer any coupons!
You can usually get a free month or something like that when Keap runs sales but in most cases your best bet is just signing up for the free 14 days trial.
Click Here To Try Keap For FREE
Keap Drawbacks
No review can be truly complete without addressing areas of concern and with Keap, there are a few that deserve mention.
Keap offers tons of features, however, that's also my primary concern when it comes to its usability. With so many features on offer, it might be intimidating for some and even potentially deter some from making their purchase in the first place.
It does have a bit of a learning curve and if you're someone who'd like to learn from the pros, they offer paid expert coaching at additional costs that help you get set up fast.
Which brings me to my second issue with Keap, it can be a bit expensive to get it up and running. If you're a super small business or aren't a person who's too tech friendly or able to learn new software, Keap may not be the best for you. After paying for the software, you'll have to pay for additional expert coaching, which depending on the plan you choose can end up costing a bit.
If you're okay with chalking it up to the costs of doing business, then this may not be a true drawback for you.
Another small drawback is the lack of an Android app. Although they offer an iOS app for Apple users, Android users aren't as lucky and don't get an app to manage their Keap account, unfortunately.
Is Infusionsoft Worth it?
Keap is an amazing marketing and sales automation tool that also packs in a user friendly CRM. While it does have a few drawbacks, Keap offers a clean, intuitive and easy to use UI that's perfect for small businesses. With features like tags, lead scoring, and more, it makes it super easy for you to categorise and prioritise leads and get the most out of your business.
With a learning curve that may demand paid coaching, Keap is not for those who want something basic. But for users who are serious about growing their business and getting organised, Keap can work wonders in helping them structure their activities and processes and to get their sales processes fully streamlined.
If you're ready to see how Keap can benefit your business while boosting your productivity, consider signing up for their 14 Day Free Trial before you make up your mind – No Credit Card Required!
Click Here To Try Keap For FREE
Read Next: