If you're reading this article you probably already know how terrible GoDaddy is either had the unfortunate experience of using GoDaddy only to regret it and come here searching for an alternative or maybe you've just heard enough horror stories to know better.
Bottom line you want to be as far from Godaddy as humanly possible and go for a better alternative!
In fact, those who have tried it have changed their hosting from Godaddy to Siteground, FastComet, GreenGeeks etc were because almost all of them were tired of expensive renewal fees, terrible customer service and vulnerable hosting that come with the supposedly "cheaper" Godaddy!
If Godaddy is so bad why do people still get it?
The reason why many opt-in for GoDaddy in the first place it is because they are tricked into getting in. Most of the users that do get Godaddy are users who haven't built or are new to websites.
These people are sitting ducks who don't know what they need in their website hosting and just get attracted by the supposedly "cheap pricing" GoDaddy markets themselves by.
For instance, they offer $10 per year but when you actually go to renew it the very next year they charge about ten times the initial amount for domain renewals.
Sure this marketing tactic brings in a lot of new customers but isn't good, to begin with, because it results in extreme dissatisfaction. If only Godaddy spent half their marketing budget on good servers and maintenance they wouldn't have such a bad rep in the first place.
So why should you read further?
You are a beginner and are looking to investing in a website or simply understand how a hosting service will actually help your website. This article is dedicated to steering you away from crappy website hosting like Godaddy and towards something amazing to run power your website (think Siteground!)
I plan to just get right to the important stuff rather than beating about the bush with this no bullsh*t guide on the best GoDaddy alternatives in 2020.
Best GoDaddy Alternatives 2020
1. Siteground – Best GoDaddy Alternative For Hosting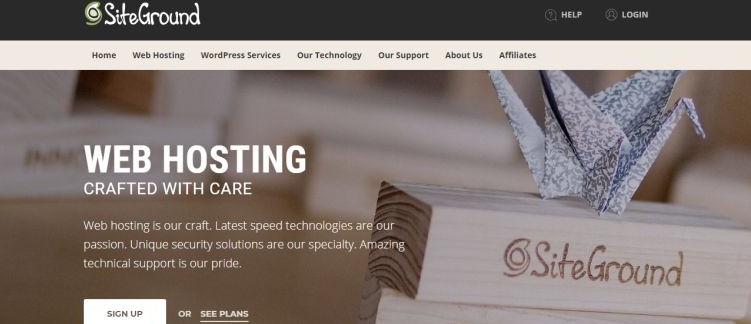 Reasons to buy
Reasons to chuck

4x faster
quick server response times
100% uptime
managed WordPress host
Customer support that cares
Free Daily system backup
Optimized software & auto update
Free website migration
60% discount

Higher price for the second term
Limited resources for shared hosting (10GB/20GB/30GB)
SiteGround vs Godaddy
SiteGround has been gaining a reputation of being one of the most stable and affordable web hosts for bloggers. With pricing plans starting as low as $3.95 per month for your first year (you also get a free domain name for one year.)
One great thing about SiteGround is that you can scale your service so you're not paying for server space that you're not using. For instance, the cheapest server plan works until you're receiving about 10,000 visitors per month, after which you might want to look into upgrading to prevent downtime in the future. Having options like this are pretty rare, but also makes SiteGround one of the best web hosting service for new bloggers!
In fact, I have been a customer of Siteground for a while and have never been happier with the service.  One of the main reasons I choose Siteground vs Godaddy is for its transparency and stable performance.
Below are the top reasons for choosing Siteground over GoDaddy.
Reason 1: HTTP/2 enabled  serves
Reference: CSS tricks
Why this matter is it's a newer, faster, version of HTTP protocol—HTTP is basically what allows resources to be fetched on the internet.
It's the foundation of just about any data exchange on the internet. In fact, Siteground was one of the first few servers to support this protocol on all of their servers. This protocol is, in fact, foundational to the internet. You could say getting the sequel isn't a bad idea.
Reason 2: Anti-bot Artificial intelligence
If you're using a SiteGround server you almost never have to be worried about security. This is because of the anti-bot ai that prevents hackers from using brute force attacks.
A brute force attack basically means a bunch of hackers try to hack into a bunch of passwords until they get it right.
So what? They can't possibly get my password.
Think again. They can if they use bots or sophisticated programs to try countless combinations, unlike humans. This is why, of course, brute-force attacks are among the most common forms of cyber attack.
So if Siteground anti-bot AI set up to counter this, do they really work? Well, they surely do because there hasn't been an exploit till now and SiteGround themselves claim to stop 500,000 to 2 million brute force attempts per hour using their anti-bot AI!
Reason 3: Free backup and restore
This isn't a game-changer anymore because many servers are starting to offer this but compared to GoDaddy (which is a paid add-on) you can store up to 30 copies of your website for free and get it restored as well
This is incredibly useful for all types of situations; if you do manage to get hacked (which, as said above, is not likely with Siteground), if the power goes out while you're working on your site and your work isn't saved or if one of the Siteground servers goes down temporarily.
Reason 4: Transparency
LAST, but the most impressive of all reasons is their transparency. How?
If you purchase any plan on Siteground you will see the exaction specifications of the server.
I'm not talking about VPS hosting/dedicated server but  Shared hosting. Shared hosting is typically the most popular type of hosting—it's kind of like an apartment building in that a lot of people pay the cost to reduce the cost by spreading it out for everyone.
This server is shared/used by many, but the cost is lower than if you had a server dedicated to you (just as a house is typically more expensive than an apartment). Shared hosting plans are therefore some of the cheapest and most common plans.
Reason 5: Unparalleled Real-time support
This is solely one of the main reason why I have been using Siteground for a while. To me, no amount of money can replace the convenience of having someone to constantly support you at the end of the line when I run into an issue.
There's also a technical support ticket section with a dedicated technical team working to solve issues that are complex and need more work to analyze.
Notice how I almost instantly got a reply although I had opened a support ticket?
That's the bar SiteGround has set and I bet no other hosting company can match this.
Pro tip: ALWAYS buy a hosting from a company with Live chat customer care. A downtime caused due to an error can take time to fix on your own and this can mean a website that's inaccessible for a certain period of time and ultimately decline in sales/traffic.
How much does SiteGround cost?
Siteground pricing starts at $3.95 per month for a single website hosting but the more popular choice and one I recommend is the GrowBig Plan this is because It's got all the premium features you need to run your website on steroids and more if your website grows.
Remember: The prices are SiteGround's discount prices which means the renewal cost will change to regular after the expiry of the subscription so it would actually save you a ton of money to just buy it for more than one year and save a ton of cash.
2. FastComet – Best Cloud Hosting Alternative To Godaddy
There is no "perfect web hosting" but if your needs are to remain within a budget without sacrificing performance and important features then you cannot go wrong with a FastComet. In fact, FastComet should be your first choice if you are looking for a good "Value for Money" Website Hosting. Keep reading and I'll tell you how it can save you $129 a year in fees.
Reasons to buy
Reasons to chuck

Strong Uptime Out of the Gate
Fast, Personal Support
Longer-than-Usual Money-Back Guarantee (45 days)
Free daily backups
Free Cloudflare CDN, migrations and domains for life!

Concerning speed (395ms vs 689ms Godaddy)
FastComet vs GoDaddy
Reason 1: Easy Interface to Install Let's Encrypt SSL Certificate
Godaddy does not provide such an option, in fact, you have to get it done from your network admin.
This alone can save you about $40/year as you now don't need a Let's encrypt SSL renewal through network admins every 90 days which used to cost about $10 per year.
Pro tip: An SSL is a must If you want to charge your visitors in any way. Many a time users move away from websites due to the "not trusted" signature because of not having SSL.
Reason 2: Free Domain Renewal
If you own a website you definitely need a domain name which is going to be a recurring charge with some hosting services. While the budget hosting companies like GoDaddy charge about $14/year for domain renewals.  FastComet offer this FREE for life!
Reason 3: Access to Daily Backups:
This is a real lifesaver. You never know when your server crashes or website messes up or get hacked/deleted anything can happen really. With daily backups, you can simply restore it.
This is an extra add-on with GoDaddy hosting.
Reason 4: No Price gimmicks
Like I discussed before this is how Godaddy prices themselves. For your first purchase you get it on a discount and at the time of renewal, it renews at a hefty price. This is because of the lock-in contract with GoDaddy. A cheap marketing stunt to get more new customers but bad to retain.
That is why many have switched from Godaddy to Fastcomet. As the FastComet renewal price is the same as what you pay for it when you buy it the first time. It will really give a piece of mind.
Reason 5: Free Hosting Offer
I saved the best reason for the last; free hosting. FastComet has an offer wherein if you refer just 5 friends to their shared hosting plan you will get free hosting for LIFE!! Yes, for Life. Isn't that amazing?
This is a HUGE cost saving that will give you financial flexibility on a lot of factors.
So, switching from a supposedly cheaper Godaddy to FastComet saves you around $40+$14+$75 = $129 in potential savings. I say potential because that $75 for backup and not everyone may need it.
How much does FastComet cost?
A 1 year shared hosting plan for FastComet starts at around $71. Basically, if you can save $54 for sure and about $129 potentially, won't you invest $71? It's simply a no-brainer. I recommend going for it.
If you want to switch to FastComet like me click the link below:
Reasons to buy
Reasons to chuck

Environmentally friendly
Latest speed technology (SSD configured in the RAID-10 storage array)
Fast website load times
Reliable infrastructure (300% clean renewable energy)
5 data centers based in Chicago (US), Phoenix (US), Toronto (CA), Montreal (CA), and Amsterdam (NL).

Misleading pricing ( 3.95$ only if you opt for 3 years of service)
Refunds don't include set-up and domain fees.
Greengeeks Vs Godaddy
If you want a web host with no affiliation to EIG (more on this later) GreenGeeks is a fantastic option! With plans that start at $3.95 per month, and that includes web hosting, email, unlimited space, a transfer to their servers and more.
Something that's unique about GreenGeeks is that they use renewable energy. According to the GreenGeeks website, here is why using renewable energy to host websites makes an actual difference:
"Website hosting servers pull energy from the grid, most of that energy comes from fossil fuels. Each web hosting server produces 1390 pounds of CO2 each year! There are tens of millions of servers worldwide and growth in web hosting services is estimated to be greater than 400% each year for the foreseeable future."
Here's information about how to launch a blog with GreenGeeks, a green web host that's doing their part as an eco-friendly company to help the environment.
Greengeeks isn't as popular as the above two but it's definitely not one to sleep on. They're eco-friendly, decent pricing, good uptime and a few unlimited features even for the most basic plan!
Below are the top reasons for choosing GreenGeeks over GoDaddy.
Reason 1: Unlimited domains, Fast SSD web space, and a free domain setup/transfer (for all plans)
With GoDaddy, you can add domain names to any type of hosting account. However, as their site says, what you can do with each additional domain depends on what type of plan you have.
Furthermore, you can only add additional unlimited domains for Deluxe and higher plans (for shared hosting accounts).
This is not the case with GreenGeeks: nope, with GreenGeeks it doesn't even matter what kind of account you have you can just go ahead and keep adding domains as you need. Don't worry, because they can accommodate your unlimited domains.
On the other hand, GoDaddy warns you to not overload their already crappy servers on the shared hosting plan with too many additional domains (makes sense), GreenGeeks just tells you that it's alright to have unlimited disk space, bandwidth, and email accounts for even a basic starter account.
Reason 2: Eco-Friendly servers
Greengeeks may not be as popular as servers like Siteground but they're known for their eco-friendly software.
Isn't all the software eco-friendly?
Well, not really because hosting requires servers to suck up tons of energy but in the case of Greengeeks they put back "3 times the power [they] consume into the grid in the form of renewable energy." GreenGeeks has a very unique take in that you can get a fully-featured hosting service while servicing your conscience.
Reason 3: Proven high uptime
Well, I think this explains itself. Most of the servers we listed have a tested 90.99%+ uptime rate and to be frank, most of the users have never reported a downtime whilst using GreenGeeks.
As we discussed before this is important for all hosting platforms, but more so for GreenGeeks: you can be confident this ethical option won't sacrifice the energy of the environment for maximum performance.
How much does GreenGeeks cost?
I'll be honest GreenGeeks does not have the best pricing of all our alternatives above. However, it does have decent pricing compared to GoDaddy.
Let's just be honest: on the simplest level, GoDaddy shared hosting plans are on low that go to as low as $2.49 a month (when there's a sale) whereas their entry-level plan.
Even If you do commit to GreenGeeks for 3 years, you will still pay $3.95 a month for their entry-level shared hosting plan (this goes up if you want a shorter commitment).
4. Bluehost – What About This Alternative?
5M$ affiliate commissions should tell you a lot about Bluehost
If you made it this far in the article you're probably wondering why so many bloggers recommend Bluehost and why I didn't recommend it already.
After all, it's great right?
Well to answer the first questions: It's all about the benjamins.
Bluehost offers a much higher affiliate commision than other web hosting companies. In fact, it's almost double than what other web hosts offer! This alone is a good enough reason to incentivize most bloggers to promote Bluehost.
Sure I could've done the same but I made a promise to promote products I genuinely have used and more importantly those that have provided value to me and Bluehost has not.
Bluehost used to be great before EIG
In late 2010 Bluehost was bought by Endurance International Group (EIG) which is a conglomerate that owns a lot of webs hosting company (they own 80+ web hosting companies)
These companies specifically:
Courtesy: Research as a hobby
Personally, I would recommend staying away from all of them especially if you are a new blogger looking to find the best web host for WordPress It'll save yourself future headaches and going with my recommendations above.
What is Web hosting and Why is it important?
If you haven't built a website yet, you may not be aware of what a web host is, and how important will be to your website. A web host is a remote computer server where all your website files and databases are stored. When you choose a hosting company for your website, you will pay a monthly/annual hosting fee.
There are three different types of hosting:
Shared: The files from other people's website are hosting at the same location.
Dedicated: In this case, no other person has files on the server. Essentially you are using the entire server's resources for yourself. The benefits of this are your server will be much faster, more stable and more secure.
Cloud Hosting: This is a virtual server made up of numerous physical web server.
Pro tip: Cloud hosting is much more reliable because it has multiple fallback servers in case one fails.
Why is hosting important?
Think of hosting as the foundation of your website and if it isn't strong the website that is built upon it would fall apart.
A bad hosting can lead to your website taking time to load and ultimately bad user experience and that's the last thing you want.
A server is the key essential that holds your website together without it your customers/target audience cannot reach you effectively. So it's really important to make sure you build your website on a good server. In hindsight; your website will thank you.
Here are some of the main reasons to get good website hosting:
Negative impact on SEO: If your hosting is going down all the time your website will have a negative experience for the visitor trying to access it. This tells Google your website isn't worth ranking for and ultimately your website will drop in ranking and lose traffic.
Revenue: You'll want to make a positive ROI on your website. If you've picked an unreliable host there will be downtime and this can negatively impact your revenue as well.
Security: Make sure you pick a host who has your data backed up on a remote server. If your website ever gets hacked, you want to know you can easily restore it. If this isn't the case and your website does come under attack, you could be struggling to rebuild your website afterward.
Pro tip: A good hosting service like Siteground creates backups on a daily basis of all the databases and websites you have.
Factors that make a good website hosting
Now that you know what is a good web host it's time to look for a good website host for your website. However, in the market is flooded with crappy servers like GoDaddy it can be difficult to find one that is good.
I cannot stress how important it is to be sure before investing in a website hosting because it's firstly doing to determine the performance of your website and if you don't like it or it isn't something you can scale up with then you are going have a field day with the website transfer.
Fortunately, I've compiled a list of some factors you should consider before committing to a host:
Price: Some of you reading this are probably still new or just starting out and the price will definitely be a concern. However, not all that is cheap is actually going to be effective. Remember " you get what you pay for" and this is true with hosting so it's important to find that sweet spot.
Email accounts: If you're starting a website you definitely need to stop using Gmail and use a professional domain name. Think "info@yourdomainname.com"
Cheap hosting like Godaddy almost never offers this for free but charges this as an add-on so it pays to go for the supposedly more "expensive" hosting
Fun Fact; 70% of people in a survey done by Visible Logic think it matters to have a professional domain name, and a non-domain-level email address looks Unprofessional.
Customer service: I cannot stress how important it is to have good customer support to deal with issues you will have in the future.
Spoiler alert: You will have a ton.
Servers are quite complex to manage especially when you start managing more than one website. Issues will come up and when they do you better hope there's someone at the end of the call to answer your calls.
Pro tip: Look for live-chat customer support for the best customer care experience. (think Siteground)
Reputation: Bad rep is a very common trait of shitty hosting companies. A good hosting company will have a long history in the business, plenty of testimonials and almost zero downtime.
Lock-in contracts: A lot of beginners make the mistake of getting locked with bad hosting services. This can be easily avoided by ensuring you there is no lock-in period and fees for switching web hosts if you find something better in the future.
Found Your Godaddy Alternative?
As compared to GoDaddy all the Godaddy alternatives are great in their own way. It's all about what works best for you as each recommended website hosting is good and bad in its own way. Below are my Godaddy Alternatives recommendations based on what is more important to you:
Overall Best performance + Price: Siteground
Best value for money: FastComet
Excellent performance and eco-friendly: GreenGeeks
I hope you by now find what you were looking for when you typed in "Best GoDaddy Alternatives" If you have any other questions do let me know and also what website hosting you finally decided to go with.
Read Next