Email marketing has been around for a long time and it seems like it'll be here for a long time in the future too. Even though social media marketing and PPC have changed the way we look at digital marketing, they simply cannot beat the ROI that email marketing offers.
Today, there are a number of awesome email marketing tools out there that help you create email campaigns and track them and GetResponse is one of the leading email marketing tools currently and it offers great features at a pretty competitive price. It also comes with many additional features that let you do much more than just email marketing.
You can find everything you need to know about GetResponse in this in-depth review such as the different features it offers, it's strongest use cases, pricing, and more!
Click to Get 10% OFF GetResponse For Life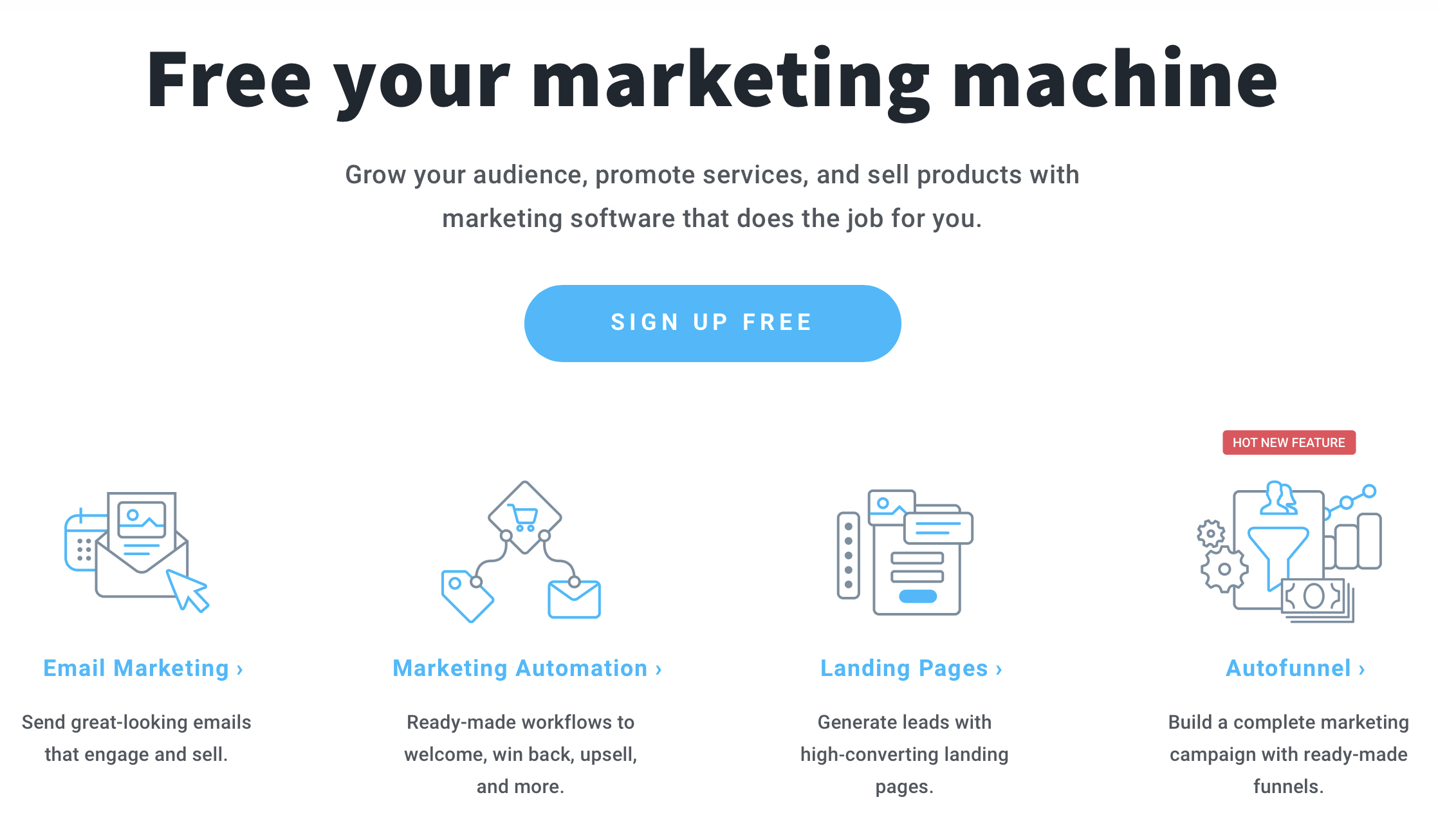 GetResponse Review
GetResponse is an email marketing tool that was created way back in 1998. The company behind it is based in Poland but it is used by people across the world and engages more than 1 billion subscribers per month. Even though email marketing is the core service offered by GetResponse, it has branched out over the years and has an impressive set of features available today.
Other than providing basic email marketing features like A / B testing, email list management, automated sequences, GetResponse also provides features that help in creating conversion funnels, webinars, and even comes with some basic CRM features.
Additionally, GetResponse is also extremely easy to use. You don't need any kind of coding skills when it comes to creating email campaigns or landing pages with GetResponse. It is also really easy to set up automated sequences and conversion funnels with a visual interface that makes doing anything just a matter of a few clicks.
Tracking user behavior is also pretty easy as GetResponse has a number of powerful features like lead scoring, activity tracking, and automated segmentation.
Lastly, GetResponse's plans are very competitive and offer something for everyone, right from someone who's just getting started with email marketing to large enterprises that want a robust and high-end solution for their email marketing needs.
Click to Get 10% OFF GetResponse For Life
GetResponse Features
GetResponse has a lot of features with most of them relating to the core email marketing service and some additional features that come in handy if you want to extend how you use GetResponse based on your needs. Here are some of the key features of GetResponse:
1. Custom Fields and Tags
Custom fields and tags help you manage your contacts on GetResponse. With custom fields, you can collect more information about your contacts along with the basic fields like first name and email address. You can use custom fields to collect any type of information you want such as Age, Gender, Location, and basically any custom field you want.
Custom fields also help you plan and execute more relevant and personalized campaigns which helps a lot when it comes to increasing open rates and conversions.
With tags, you can segment your contact list and use them to identify subgroups within your list. They help you in identifying contacts by behaviors, locations, gender, etc. You can also set up automated rules for assigning tags to new or existing contacts which are particularly useful as it saves a lot of time and automates the entire process.
Other than helping you identify your contacts with relevant information, tags also massively help when it comes to creating better campaigns that provide better results for your business.

2. Advanced Segmentation
As mentioned previously, segmentation is really important when it comes to creating effective email marketing campaigns. With a properly segmented list, you can deliver the right emails to the right contacts. Along with custom fields and tags, there are also a number of other attributes that you can use to segment your contacts in GetResponse.
Some of the other attributes you can use to create different segments of your contact list include attributes such as pages visited on your website, last opened email, the last link clicked, etc.
You can also merge different attributes to create more sophisticated segments. For example, it is possible to create a segment of your contacts that visited the homepage of your website but are yet to open an email sent by you.
Creating segments is really easy with GetResponse. All you have to do is run a search with the attributes you're looking for and save the results as a segment. Naturally, having properly defined segments is important when it comes to optimizing your email marketing campaigns.
Click to Get 10% OFF GetResponse For Life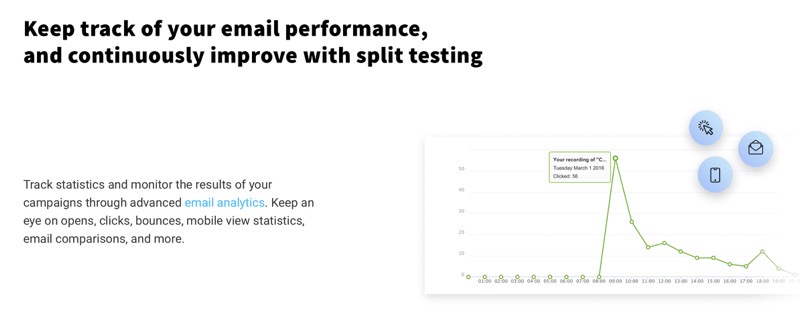 3. Automation Sequences
One of the things that really changed email marketing was automated sequences and autoresponders. With automated sequences, you can create a series of emails that are delivered to your contacts in a predetermined way automatically.
Automated sequences not only save you a lot of time but also help in increasing the conversion rate if you set up the sequence correctly.
GetResponse allows you to create automated sequences of emails that are triggered either on a schedule or based on the activity of the contacts. Even though automation is a major part of most email marketing tools, GetResponse handles it exceptionally well.
With automated sequences, there's a lot of cool things that you can do such as sending a soap-opera style email sequence automatically over a period of time or setting up planned emails to be sent automatically when the user does something such as signing up to your list, opening or not opening a certain email, downloading a lead magnet, etc.

4. User Tracking
One of the most impressive GetResponse features is its ability to track visitors on your website. Just like Facebook Pixel, all you have to do is add a small script to your website's code to start the tracking.
User tracking is a very powerful feature that not only goes beyond basic email marketing features but also complements them very well. For example, you can set up automated sequences based on certain actions taken by the visitor such as when the visitor abandons a cart or visits a certain webpage. It is also possible to add tags to your contacts or segment your list based on the user actions on your website.
Overall, the user tracking feature allows you to get much more detailed data about your contacts and engage in more relevant and powerful ways with them.

5. Conversion Funnel
Conversion Funnel is another feature that lets you extend GetResponse's use beyond just email marketing. With Conversion Funnel, you can create complete online funnels using GetResponse like online sales funnels, webinar funnels, lead generation funnels, etc.
Funnels are very commonly used in digital marketing as they're very effective in turning visitors into leads and ultimately, leads into customers.
With Conversion Funnel, it is possible to create complex sales funnels that are optimized to nurture leads and increase the conversion rate. These funnels are completely automated sequences and you can create them using a visual editor that makes it really simple to plan out even really complex funnels.
In order to create the funnels, you use If-Then-Else conditions and attach them to different user actions. This lets you create an entire automated flow that serves as a journey for the visitor. For example, you can set up your sales funnels so that if a new user signs up for your list, then they get the welcome email, if they open the welcome email, they get a predetermined email, else they get another email, and so on.
Lastly, GetResponse also provides a number of templates that you can use for your funnels. These templates are created by experts and the entire range of templates cover different use cases and scenarios. They can be a great starting resource if you're not used to creating funnels and you can always customize the templates to your liking using the visual editor.

Click Here To Get 10% OFF GetResponse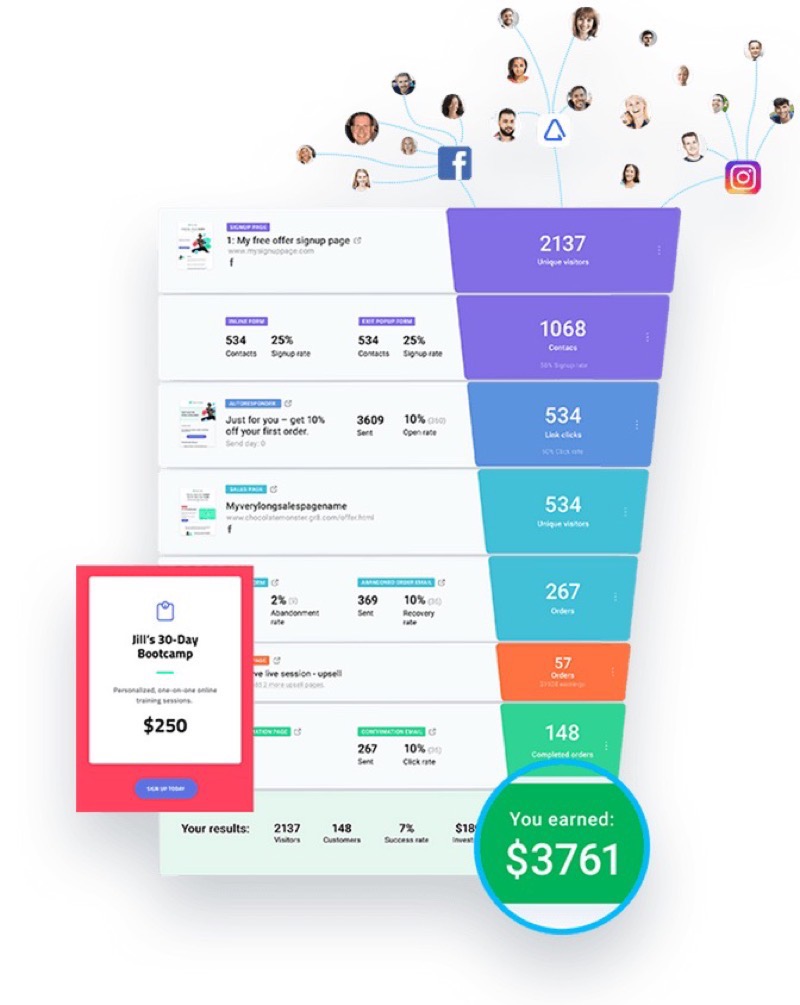 6. Landing Pages
With GetResponse, you can create landing pages too. Landing pages are vital when it comes to building your email list and being able to create landing pages with the same email marketing tool you're using is definitely a very useful feature.
If you don't want to start from scratch, you can use a template from a pretty decent library of landing page templates. These templates are pretty well designed, fully responsive and optimized to increase conversion. There are dozens of templates to choose from and it's really easy to design and host landing pages with GetResponse.
GetResponse also provides a visual drag-and-drop editor that can be used to create landing pages which means you don't have to worry about coding at all. Even though the visual editor is not the most flexible editor out there, it is still pretty great and gets the job done.
You can also split test your landing pages and set up different variants of the landing pages with slight changes in design or text. Lastly, you can also integrate with a number of payment gateways like PayPal and Stripe to collect payments on your landing pages directly from your visitors.
Click Here To Get 10% OFF GetResponse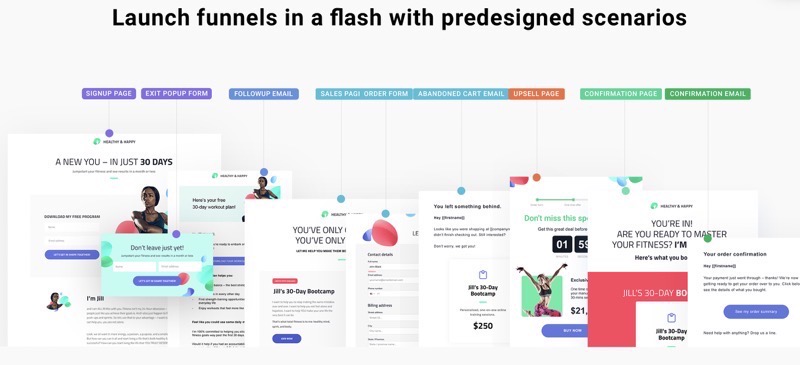 8. Webinars
Webinars are really useful when it comes to establishing your brand as a thought leader in the industry and to generate more leads. With GetResponse, you can easily create, manage, and host webinars as it offers a full fledged webinar management system.
The webinars can be broadcasted to platforms like Facebook and YouTube and you can do a lot of things with the webinar management system such as sending files directly to the audience, engaging with them via chat, use whiteboards, create different calls to action for the webinar, and more.
You can also save any webinars you host and allow them to be made available on demand as a replay or a download. Additionally, you can also provide them as paid products for your audiences.
Lastly, the webinar management system also provides detailed analytics and insights that can be used to optimize the performance and content of your future webinars.

9. Opt-In Forms
Just like landing pages, opt-in forms are a way to collect contacts for your email list. Without proper opt-in forms, it is not really possible to build a huge email list which is why creating opt-in forms is one of the core features of any email marketing tool.
GetResponse allows you to create many different types of opt-in forms and also offers a library of templates to get you started quickly. In case you would want to create something from scratch or customize the opt-in forms, there is a pretty flexible form builder that allows you to do so.
You can also set up how the opt-in form would behave on your website. For example, you can set up the opt-in form to pop up right when the user is about to close the tab or you can set up the opt-in form to pop up after a fixed interval of time.
The opt-in forms can also be linked to your email lists and it can also be used in automation sequences or funnels.

10. CRM
Lastly, GetResponse also has a fully Customer Relationship Management system that lets you control and manage the entire customer lifecycle. However, the CRM feature is only available for enterprise users.
Even though the CRM is pretty good and can be used to control and manage communications with your customers, it is not really the most advanced CRM out there. However, it is still pretty impressive that GetResponse is able to provide CRM functionality even though it is available only on the enterprise plan.
Click to Get 10% OFF GetResponse For Life
What is GetResponse best for?
GetResponse is a pretty great email marketing tool in general but there are certain use-cases that it really excels at. Here are some pointers on the situations that GetResponse is best for:
1. Capturing and nurturing leads
GetResponse comes with a lot of awesome features that make it ideal for inbound marketing and lead generation. Along with being able to create landing pages and forms, you can also create funnels, host and manage webinars, and use advanced segmentation. The Conversion Funnel feature makes nurturing your leads easy too by creating advanced funnels for your contacts.
2. Email marketing for small ecommerce sites
Another use case where GetResponse excels at is email marketing for ecommerce stores. There are a number of features that can help drive more sales for ecommerce stores such as integrations with Shopify and other ecommerce platforms, dynamic content for emails, sales tracking, and abandoned cart campaigns.
The Conversion Funnel feature is also pretty useful when used in the context of email marketing for ecommerce sites as you can create entire funnels for your online sales. For small ecommerce sites, GetResponse is probably one of the best email marketing tools available today.
3. Automated email marketing
Lastly, GetResponse is also really great when it comes to automated email marketing. The automation features provided by GetResponse are really awesome and creating complex automations and automated sequences are really easy with GetResponse.
Click to Get 10% OFF GetResponse For Life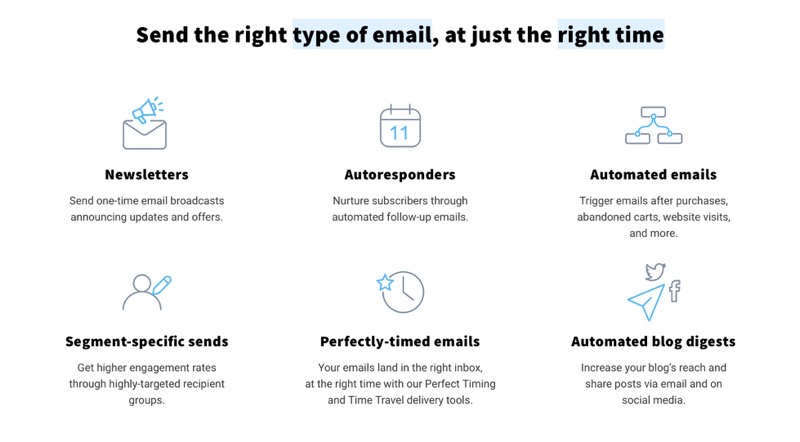 GetResponse Pricing
GetResponse currently offers four plans – Basic, Plus, Professional, and Enterprise. While the first three plans are fixed monthly plans, the Enterprise plan essentially is a custom pricing plan for large enterprises and can only be used if your list has more than 100,000 contacts. Here's a more detailed breakdown of the different plans offered by GetResponse:
GetResponse is available in 4 different plans: BASIC, PLUS, PROFESSIONAL and ENTERPRISE.
BASIC (Starts at $15/month for 1000 subscribers): Send emails and build an engaged contact base
PLUS (Starts at $45/month for 1000 subscribers): Generate leads, sell products, and grow your profits.
PROFESSIONAL (Starts at $99/month for 1000 subscribers): Optimize your results with pro automation and integrations.
ENTERPRISE (Starts at $15/month for1000 subscribers): Generate high profit with solutions tailored to your needs.
The "Per subscriber" cost goes down as your list grows. For example, a list of 100k on the basic plan costs $450/month (ie $4.5/1000 subscribers vs $15/1000 at the base plan)!
If you have more than 100,000 contacts in your business' email list, the Enterprise plan offers all the features in the Professional plan and includes other features such as a dedicated IP address, transactional emails, campaign consulting, SSO (single sign-on), and more!
GetResponse also offers a 30 days free trial for any plan which is great if you want to get a taste of what it has to offer before committing to a full purchase.
Click to Get 10% OFF GetResponse For Life
GetResponse Customer Service
Lastly, one of the key aspects that makes GetResponse great is its dedication to providing really great customer support. Along with providing an extensive help center with plenty of guides to help you use GetResponse to its full extent, you can also get 24 / 7 customer support via live chat and email.
The customer support is available in 8 different languages and the response time is pretty quick. While most email marketing tools are not really known for providing great customer support, GetResponse truly shines in this area which makes it unique.
Click to Get 10% OFF GetResponse For Life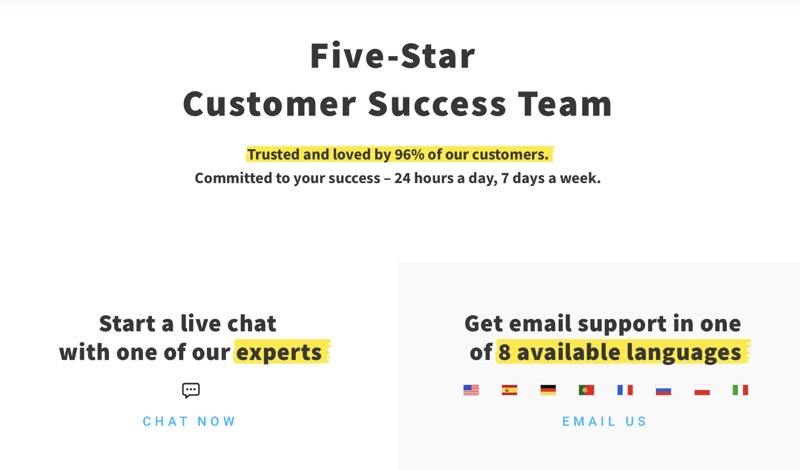 GetResponse Pros and Cons
Now that we've covered all the important aspects of GetResponse, here are some pros and cons to provide a summary for this review:
Pros
The Basic plan is really great for people who are just starting with email marketing.
You get a lot of awesome features at a pretty great price.
It has amazing marketing automation options.
List segmentation is more flexible and powerful than other tools like MailChimp.
It allows you to host and manage webinars, something no other email marketing tool provides.
It has a pretty good landing page creator with features like split testing.
GetResponse provides excellent customer support in a variety of languages.
You get a 30-day free trial with all the plans.
Cons
The landing page builder is not really the most flexible visual editor but gets the job done.
The number of attendees of your webinars are capped depending on the plans you use.
Support over phone is not provided.
Click to Get 10% OFF GetResponse For Life
GetResponse Review: A solid email marketing tool with extra features
GetResponse is one of the oldest email marketing tools but it still ranks amongst the best email marketing tools available today. It not only offers all the core email marketing features that you would need but goes above and beyond by providing marketing automation features, webinar support, and landing page builders.
Overall, it is a pretty solid marketing tool that comes with a lot of extra features. The pricing is also very competitive which makes it an easy choice when it comes to email marketing tools. Lastly, the 30-days no commitment free trial is the cherry on the top as it allows you to fully experience GetResponse before you commit to a paid plan!
Click to Get 10% OFF GetResponse For Life
Read Next: