In this GeneratePress review, I will not waste your time beating about the bush and get right to the point on why it is a good idea to use GeneratePress. I'll then proceed to share some light on specific features that make developing your website via GeneratePress an absolute no-brainer!
If you're reading this you got a couple of websites or starting your very first website and you're theme shopping.
Well you, my friend are just in the right place! I'm going to share a versatile theme that you can use regardless of the type of website you're thinking of building.
I'm talking about GeneratePress a popular multipurpose theme among WordPress professionals. (and for good reason)
GeneratePress Review
GeneratePress is a free WordPress theme that is designed to be fast, basic, lightweight, and simple to use. It's popularly used among users a niche site or blog site theme, also people often pair it with page builders. Find out if this theme is right for you in my GeneratePress review
Backstory about GeneratePress
I figured I'd give you a short preface about where GP comes from before I dive into the nitty-gritty. The reason is that the founder Tom Usborne is partly the reason GeneratePress is so popular!
He is hands down the most down to earth and helpful guy who's contributed a lot to the WordPress community. In fact, if you go to GeneratePress documentation you will see the amount of work he has put in to create a repository of helpful documentation that is enough to make you well acclimatized with GeneratePress.
There's also a ton of videos if you're interested in a more visual approach towards learning. My point is he's someone like you who's dedicated his time towards contributing real value to the WordPress community.
The reason I say this is because the $49 price tag on his product is far below the value he is providing in return. I want you to know that the money is going directly towards supporting someone like him
In Tom's own words:
"I realized people wanted more features, but I wanted to keep the theme light for developers like me who wanted a lightweight base for their client websites. That's where the modular add-ons came into play — each of them can be turned on and off as needed, so there's not a bunch of unnecessary stuff loading in the background of the theme."
This should tell you a lot about what you can expect from GeneratePress.
GeneratePress Features: A Quick Introduction
A quick glance on the GeneratePress shows they brand themselves as a multipurpose WordPress theme. Its versatile nature allows you to use it on just about any website niche you want it!
According to WordPress.org, GeneratePress is active on over 100K sites and has also managed to maintain an incredible 5-star rating on over 700 reviews!
There are two versions of GeneratePress:
Free GeneratePress theme:
Premium GeneratePress Plugin:

This is the core default theme that can be customized but takes some time and technical know-how to customize.
It's 100% free but lacks customization options.

This is the versatile plugin that can be used on a whole multitude of websites and has in-built customizations making it extremely easy to build websites.
GeneratePress Premium is technically a plugin that you install alongside the free theme. It extends the theme with even more functionality.
So, which one should I go for?
It's all about how much you value your time if you are willing to spend lot of time then the free GP theme should be sufficient.
If you are looking for a more turnkey solution to build websites fast and focus on more important things like SEO, Content etc then go for the premium plugin.
Trust me the $49 you're paying is a worthy investment as it'll save you a whole world of hassle if you opt-in to buy it!
What can you use GeneratePress for?
You've probably noticed I've mentioned "lightweight" quite a few times already and this is because this is one of the key reasons for going for GeneratePress.
GP is perfect for those who value performance more than visuals. That's not to say that you can't create a good visual website using GeneratePress it's a tad bit harder than something like Elementor.  Moreover, if you're looking to blog or build an affiliate website it's really important to have a lightweight website because these websites always rank higher.
But wait there's another way to make it easier to customize websites and that is simply combining the GeneratePress theme with another Page Builder like Elementor or Beaver Builder.  What this does is allow you to customization to a very high degree without sacrificing on performance.
Here are some examples of websites built using GeneratePress: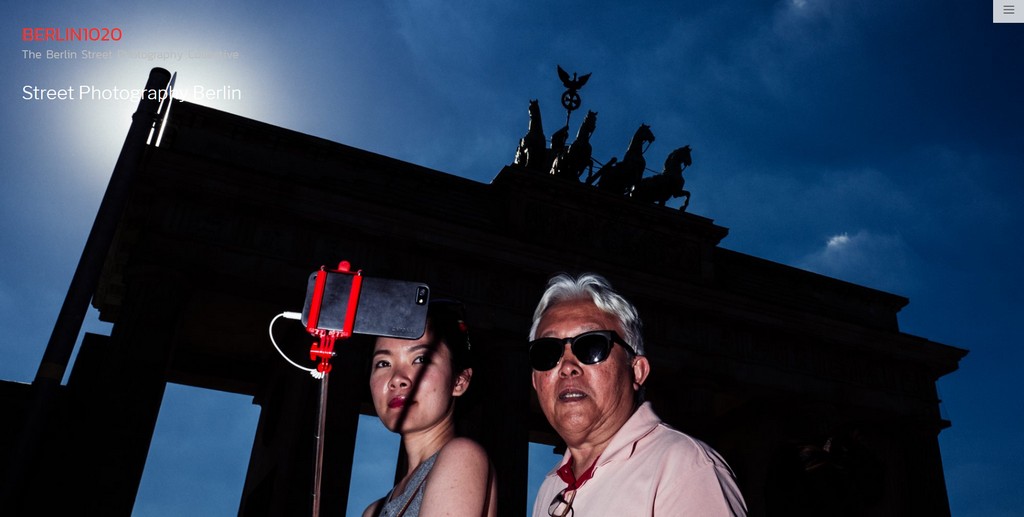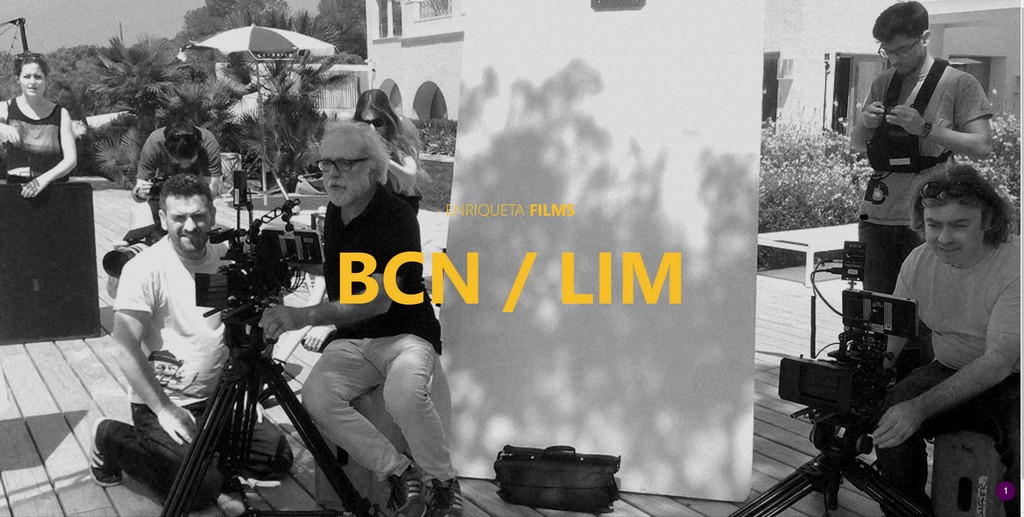 What can you NOT use GeneratePress for?
Although GeneratePress is great it can also not be right for others. For instance, if you want something that will instantly look perfect out of the box.
For example, if you know you want to create something really specific for your business or passion right away, you might be happier choosing a child theme.
I say this because GeneratePress still takes a little bit of effort and knowledge about WordPress to set up. Especially if you're looking to create something unique.
However, GeneratePress has gotten much better over the past few years and even a fresh install of GeneratePress looks decent!
GeneratePress Premium Review
So basically to make GeneratePress look like a fully functional website you need to get your hands dirty and work with the plugin and go about customizing and adding elements.
Like I've mentioned before while some users (mostly casual) don't like making those changes themselves others prefer to make those changes themselves.
Don't worry it's really not that difficult there is a learning curve just like any other builder. If you spend some time trying to understand how it works I'm sure you'll be a pro in no time!
Fortunately, I hope to make things a little easy if you're just getting started. I'll explain some of the specific features which will be more than enough to help you understand exactly how GeneratePress works:
Website Performance
Degree of Customization
Content Customization
Free Starter templates
Other Premium Extensions
Website Performance
Like I've mentioned before across all of its features, GeneratePress always has an emphasis on high performance and super clean code. In fact, the whole theme is less than 30 kB!
For measure, this is as small as you'll ever find for a WordPress theme! Even some of the most optimized themes like StudioPress are over 200+ Kb! While some of the visually richer themes are over 1MB!
If you are new to WordPress you may not know this but website size is one of the key factors that will affect the ranking of your website. As a rule of thumb, a lighter website is always better than one that is bloated.
Moreover, GeneratePress also has no code dependencies, which helps you avoid the render blocking error that Google Pagespeed Insights often mentions.
Put that together, and you get a super fast-loading theme.
Sounds good but How fast is it? To give you an idea, I ran a little test.
The results websites that are optimized to load fast and have a super micro file size.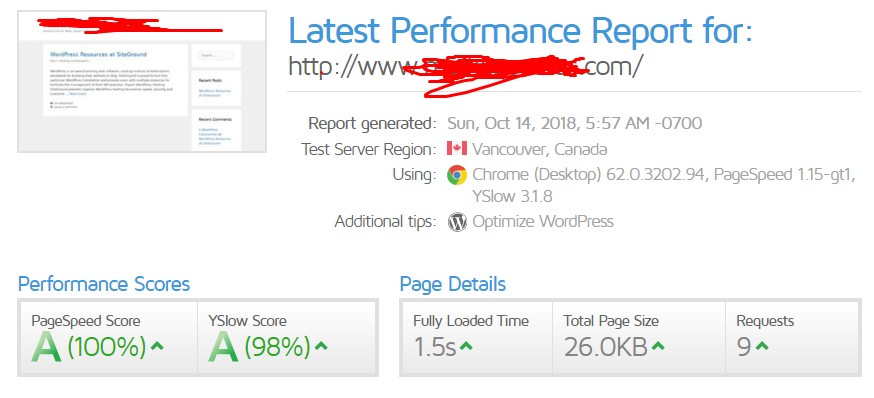 Degree of Customization
Apart from performance, another area where GeneratePress excels at is its customization options. Moreover, the plugin is constantly being updated with new customizations being added so over time you can expect a higher degree of customization.
GeneratePress simply uses the WordPress Customizer for its customizations. This is really convenient because you'll be able to see the changes you make in real-time! This is the same that bloated visual pages builders use and is termed as WYSIWYG or What you see are what you get.
The free version of GeneratePress also gives you decent options, but if you have GeneratePress Premium, you'll be able to customize pretty much everything about your site in no time.
For example, if you go into the Layout area, you can configure detailed settings for your:
Header – Let's you can move your header around and change its styling
Navigation – GeneratePress gives you two different navigation options, including sticky menu options and more
Sidebar layout – Whether you want to use one or two sidebars
Blog post layout – Deals with featured image size, metadata, etc. etc.
Footer layout – like how many widgets to be included
Content Customization
Most themes use the same setting for the most part of the website be it posts and page. In some cases you might have some custom templates or formats but you won't have much control beyond that.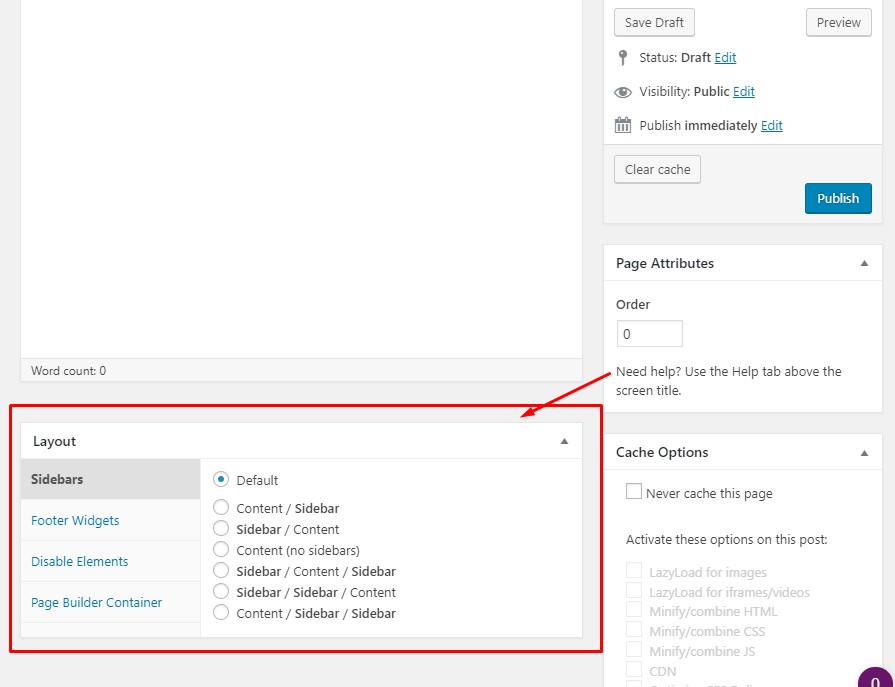 GeneratePress changes that by giving you a new Layout meta box for every single post and page.
You can use this meta box to:
Change how many sidebars your site will use, or the orientation of the sidebar (basically  changing the sidebar to right or left)
Choose how many footer widgets you want to use
Disable certain elements, like your header, navigation menu, post featured image, post title, or footer
Create a special "container" for your page builder layouts
What can I do with these customizations? Well for starters if you're using a WordPress page builder which is mostly the case this will help a lot.
By disabling certain elements, you're able to create the proper foundation for your page builder design, which makes it easy to create custom content as needed.
Free Starter templates
I mentioned GeneratePress isn't a turnkey solution for those looking specifically for a website that they can use right away.
However, if you want to save a lot of money and can work your way on a laptop you can simply load a premade starter website from the GeneratePress Site Library.
The site library is a collection of turnkey website layouts for those looking to build on a base. This will require far less work than creating one from scratch as most of the work is already done for you.
This is a great way to create a custom website for those who are on a budget and cannot afford hiring a developer to build one for them.
This wasn't always the case though, In the past, you had to build GeneratePress sites from a blank canvas no matter what, which made the theme difficult for casual users to set up.
Earlier in 2023, though, the developer added a new Site Library feature for GeneratePress Premium users that lets you simply import any one of the 30+ pre-built demo sites.
You can import them right from your WordPress dashboard: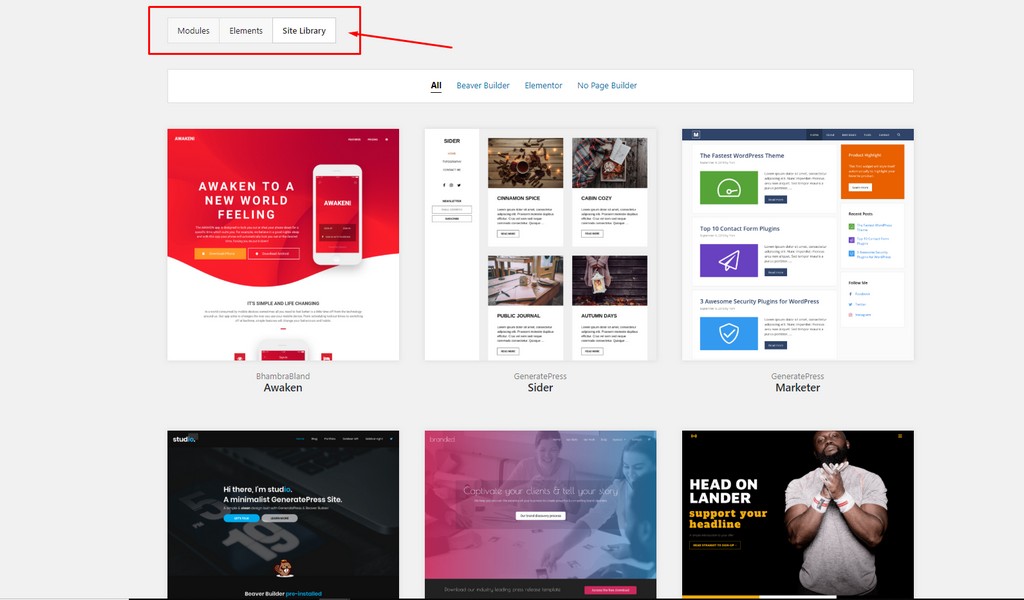 Other Premium Extensions
Apart from giving you more style customization in the WordPress Customizer the GeneratePress Premium plugin also comes with a lot of other helpful features like:
Page Header – lets you create a unique page header per page you are customizing
Elements – this is a very unique feature that lets you create custom hooks, page headers, or layout templates.
Sections – this is kind of like a lightweight version of page building. It lets you create separate "sections" on each page, each with their own custom layout and column settings!
Wait, won't this affect the size of your page?
It can but for those who want to  stay lightweight regardless of adding customization GeneratePress also gives you a modular interface where you can pick and choose exactly which features you want to activate: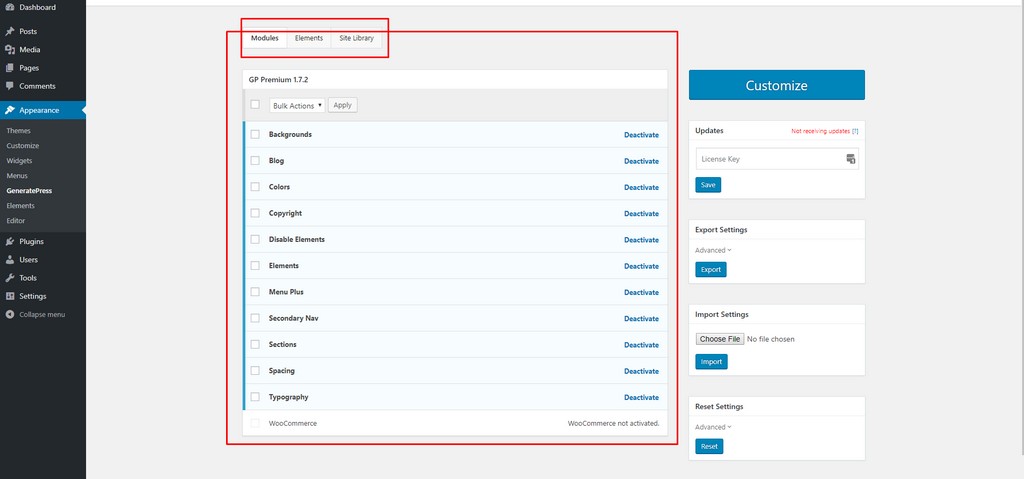 What this does is let you choose exactly what feature you want to have enabled so you won't add unnecessary bulk to your website.
GeneratePress Pricing
Like I mentioned before the core GeneratePress theme is available for free at WordPress.org.
That being said, if you're serious about using GeneratePress, I recommend you to purchase the GeneratePress Premium plugin, as that's what makes the theme so flexible.
Moreover, It gives you a direct connection to the founder Tom who's great and will help you a ton to understand how to use the plugin to the max!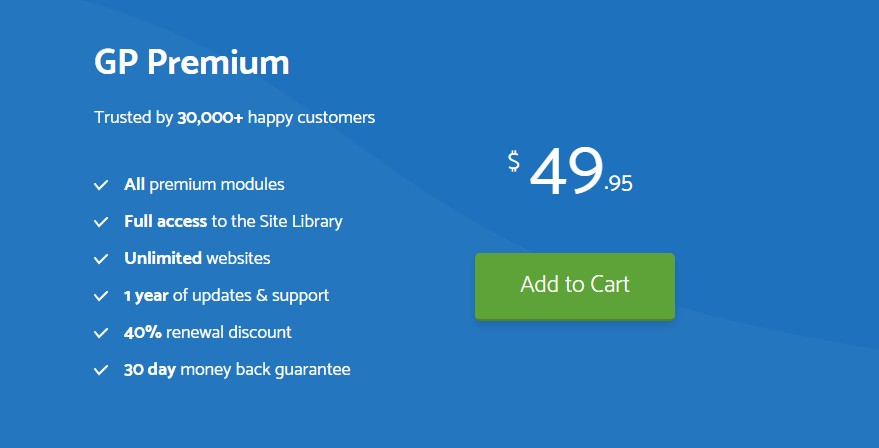 Is GeneratePress Premium Worth It?
The free version doesn't give you nearly as many settings in the WordPress Customizer. And you'll also miss out on the premade Site Library. Like I mentioned before you get access to 30+ websites that is a great way to build websites saving a ton of time and money.
GeneratePress Premium is also still quite affordable. It costs just $39.95, and that gives you use on unlimited sites. You'll also get a 40% discount if you want to renew to continue receiving support and updates after the first year (you can, of course, keep using GeneratePress after the first year without renewing – you just won't get any more updates).
When you consider that the typical premium WordPress theme will usually cost around $60, In fact, StudioPress costs around 100$+ for the Genesis child theme and builder. So in comparison, GeneratePress offers a great value.
GeneratePress Alternatives
GeneratePress is such a great WordPress theme that it's hard to recommend any other alternative to it!
There's honestly just one WordPress that can compete with GeneratePress and it's Astra!
Astra is a lightweight WordPress Theme that was released in 2017 by Brainstorm Force, the company that for the past 9 years have been making great WordPress products like
Ultimate Addons for Gutenberg
Ultimate Addons for Beaver Builder
Ultimate Addons for Elementor
Convert Pro
Schema Pro
WP Portfolio
In just 2 years, Astra has more than 300,000 product downloads and is loved by many and has almost 2000 5-star reviews in just 2 years. That's bloody insane! 
To put it into comparison, GeneratePress has only 821 5-star reviews as I type this.
One upside Astra has over GeneratePress is that the Brainstorm Force team behind Astra have build plugin for page builders like Ultimate Addons for Beaver Builder and Ultimate Addons for Elementor and you can get them included with the agency bundle of Astra.
Also, GeneratePress is kinda conservative when it comes to updates and isn't on the cutting edge, Tom isn't a huge fan of page builders and doesn't change things with GeneratePress often.
Astra, on the other hand, is always trying to be on the cutting edge and releasing new updates whenever they can. They integrate well into page builders and always looking for new conversion focused features that they can add.
Astra is a little pricey when compared to GeneratePress so if you are on a tight budget I'd recommend sticking to GeneratePress, however, if the cost isn't a concern, Astra is the better buy.
Final Thoughts On The GeneratePress Review
I hope by the end of this GeneratePress Review you are well aware of what GeneratePress is and what it isn't. Like I've mentioned before it definitely isn't for everyone but to some it can be a real game changer.
Basically, if you want a niche-specific website you can save time buying something custom made by a coder.
But for others, if you're willing to spend some time to create something truly unique then GeneratePress is for you.
If you decide to go forward with GeneratePress I recommend you to combine it with fast hosting and domain registrar to get the whole package.
Read Next: