TLDR: ExpressVPN is incredibly popular but Surfshark is better while being cheaper
In real and virtual life alike, we, as the average-person-on-the-street (or forum), are mostlyfighting one consistent battle – the war of territories. Whether it is a rented apartment downtown or copyrighted content on a torrent, it's all about the area you want and the areayou are in. Thankfully, while landlords cannot be stopped from being selfish, at least the online struggles can be abated with a single software – VPN.
VPN means Virtual Private Network, a software meant to protect you and your private data – for instance if you are using a public connection, or if you are swapping files through a torrenting client – and also to provide you access to geo-restricted content, as in the case of streaming services such as Netflix and Hulu which, even though paid subscriptions, would not let you access copyright-protected content in regions where the copyright does not extend. So, to sum it up, VPN is meant to get you past all these hurdles.
How a VPN performs this miracle is by boasting your security levels with additional layers. A VPN hides your identity by encrypting your Internet traffic, re-routing your connectionthrough remote intermediary servers and assigning you a new IP address each time. These features enable a VPN to keep you shielded from hackers, trackers, copyright trolls, legal authorities and even your Internet Service Provider. In short, a VPN makes you disappear without a digital trace.
At this point you might be wondering – do I even need a VPN? And the answer is, yes. If you are the kind who travels a lot, who cares about your financial data, who is a cinephile with no scruples in swapping the latest Woody Allen flick, then yes, a VPN is exactly what you are missing in your virtual life.
How Do I Choose A VPN?
Sounds like the perfect plan – get a VPN, install, run and binge-watch your favorite seriesanywhere in the world. But it is the first step that becomes the most important in the process. Just to grab the first VPN on your search results could be a foolish move, because not every VPN vendor delivers what they promise. The free services, in particular, log your activity on the sly and can land you in serious trouble. The fact that there are dozens of paid VPNs on the market makes it a tough choice.
The choice should be determined after careful evaluation of several factors. Chief amongst them is security, i.e. solid encryption and leak protection to keep your online activity private. Privacy is equally important, for which a VPN should have a strict no-logs policy so that it doesn't keep tabs on your activity (which it can then compromise to interested third parties). A third factor (perhaps more important to a certain kind of users) is connection speeds. A VPN supported by an extensive server network spread across multiple locations will obviously give speedier performance. Add to that multi-platform compatibility, simultaneous connections with more than one device, a user-friendly interface, and there, you have your VPN winner.
To make things easier for you, here we have picked two of the top-five VPNs doing the rounds today – the renowned ExpressVPN and the newly-successful Surfshark. Remember, what is 'best' for your friend might not be the best VPN for you; eventually these decisions are governed by non-technical factors such as your budget and your explicit purpose for wanting a VPN in the first place.
ExpressVPN vs Surfshark
Technically speaking, ExpressVPN and Surfshark have their differences. Financially speaking they aren't even in the same price range. But there's one unlikely similarity between the two – their hometown.
Both companies, as it is, are based out of British Virgin Islands. Yep, the volcanic archipelago floating in the turquoise Caribbean waters, better known as a yachting destination than the base of two of the world's best VPN services. Although they are each a British Overseas Territory, the islands are not directly subject to UK's data retention laws, and provided the political scenario on the that side of the world remains stable, you can rest assured that you wouldn't be standing in a court for downloading Elvis Presley's discography.
Generally speaking, if your VPN isn't headquartered in the US you are more or less safe, so both ExpressVPN and Surfshark are a good bet. ExpressVPN has been around since 2009, and most of you would already know it as the first VPN listed on every best-of compilation. Surfshark, on the other hand, is barely two years old – a new entrant taking the industry (and us users) by happy surprise.
Not only have we run multiple tests using different locations on each of the two VPNs, I have also personally used both for fair amounts of time, and in fact am glad to take you through the merits of each before you invest.
1. ExpressVPN vs Surfshark VPN – Security
When it comes to security, both ExpressVPN and Surfshark deliver on their promises. Both VPNs come with the standard AES-256 encryption and private DNS, and both support the reliable OpenVPN protocol along with the option to choose other protocols.
The whole point of a VPN would be wasted if you don't get protection against DNS, IPv4, IPv6 or WebRTC leaks. We did not detect any such leaks during our tests with ExpressVPN, which is known for maintaining above-average industry standards in terms of security. It has over 30,000 IP addresses at its disposal, so you'd be hopping around the Internet without a trace in no time at all.
Surfshark scored high points on our security tests as well. No leaks were detected, plus Surfshark comes bundled with certain additional little features I like. Such as in-built anti-malware, ad-blocker and tracker blocker, and the option to whitelist websites of your choice, which can be handy for those of you looking to use the VPN for work. Also, last year Surfshark added the HackLock feature, which is a breach detection mechanism that alerts the user whenever it detects a leak in your private data.
Finally, both VPNs come with a kill switch, so that in case the VPN connection drops, all your traffic would come to a halt automatically. This feature is fundamental to keeping your security intact.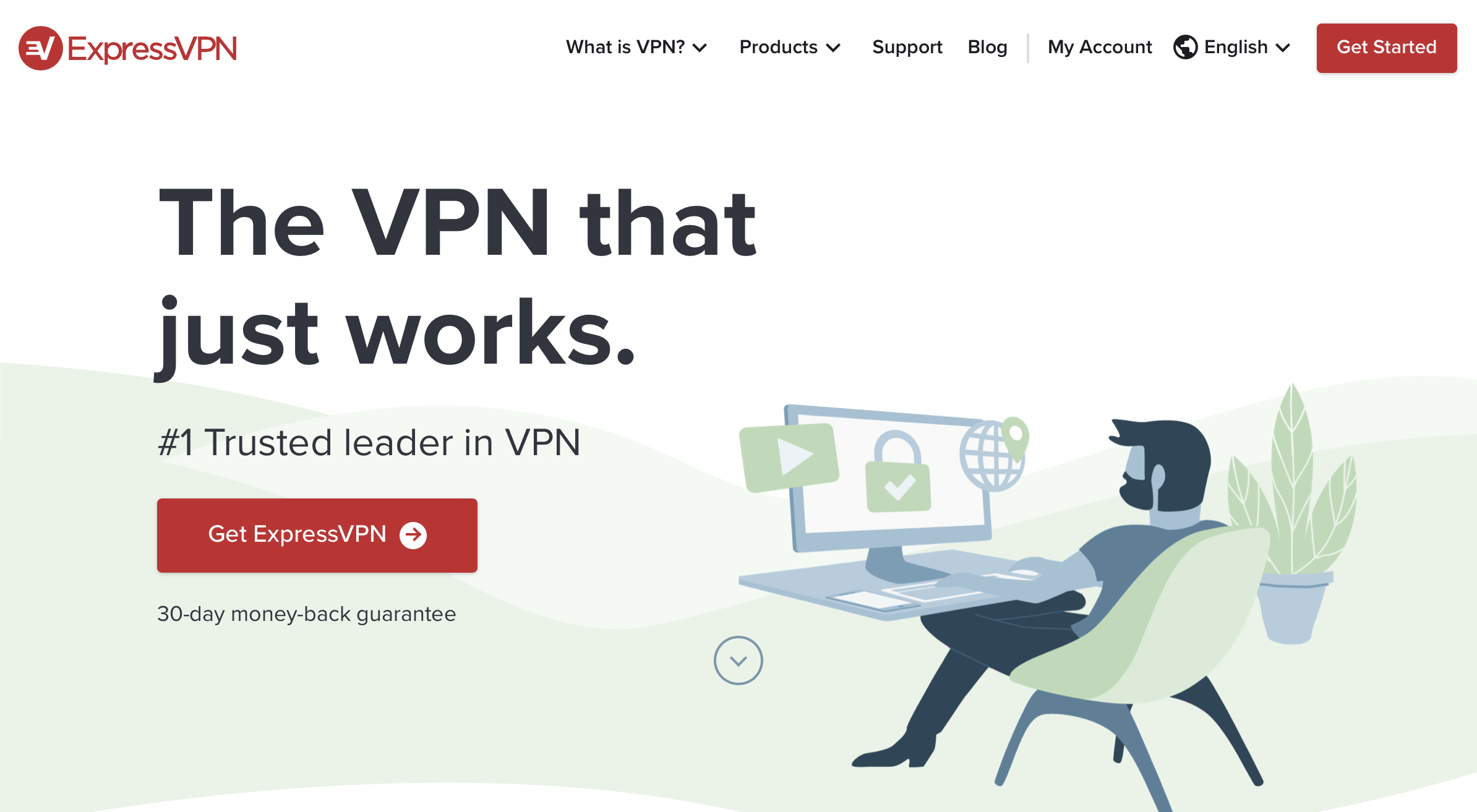 2. ExpressVPN vs Surfshark VPN: Speed & Performance
Here we come to everyone's favorite aspect of a VPN, one that is bound to matter more for those users whose main use of a VPN is to torrent and stream (I address this in detail later in the article). Speed is one thing none of us like compromising on, and also the one most likely to suffer as soon as you have a VPN up and running. Over turtle-like public connections, the download and upload speeds with a VPN on can become even more crucial a consideration.
ExpressVPN's performance in this regard is sealed as superfast. Most users who've subscribed to this VPN (including yours truly) vouch for its speeds. Which is totally understandable considering ExpressVPN's network reach – they've got over 3,000 servers spread across 94 locations, which means you can pretty much forget about dumb buffering periods no matter where in the world you are.
Compared to the above statistics, Surfshark's 1,000-plus servers in 60 odd locations might sound unimpressive, but not when you remind yourself of the age and the modest size of this fledgling VPN. Officially, Surfshark claims to offer 'blazing fast' speeds; on-ground it comes pretty close to that. ExpressVPN is undoubtedly faster, but in certain cases we found Surfshark to outdo its elder competition. Eventually, a VPN's performance on this front relies on your local connection too, but amongst the many VPNs to choose from, ExpressVPN and Surfshark are amongst the fastest.
3. ExpressVPN vs Surfshark VPN: Privacy
This is the touchiest aspect of any VPN, and one that usually rules out most free VPN services. Even amongst the paid ones there are several that keep logs of at least selective data, leaving their users with the constant fear of the VPN being bullied into sharing their data with unwanted authorities. Towards this end, both ExpressVPN and Surfshark follow no-logs policy that promises to retain none of the users' data and, thankfully, this shows on their clean record (at least on ExpressVPN's; Surfshark is fairly new so we shall see).
Last year, ExpressVPN introduced its TrustedServer technology, a unique server-side privacy mechanism that ensures the VPN maintains zero logging. Essentially, this means the VPNruns on RAM instead of the hard disk, which means the server is thoroughly emptied on each reboot, hence not retaining any records of your data even by accident.
Surfshark is no less. It too follows a strict zero-logging policy, keeping absolutely none of your data on their records. Also, like ExpressVPN, Surfshark lets you pay anonymously via Bitcoin or another cryptocurrency.
4. ExpressVPN vs Surfshark VPN: Connections & Compatibility
Now that we've covered the basic requirements of a VPN, let's take a look at how flexible – in terms of devices and platforms – either of the two VPNs is. Because while there are more important factors to consider, this one matters when you plan to use the VPN on multiple devices or amongst a group of people.
Both VPNs are compatible as browser extensions, but ExpressVPN's MediaStreamer DNS feature goes a step ahead by working pretty much with every kind of platform, including VPN-unfriendly devices such as game consoles and smart TVs. In terms of devices, ExpressVPN lets you juggle 5 simultaneous connections.
Surfshark does a wee bit better in this department by letting you connect to unlimited devices – the only VPN to offer such a valuable luxury at a throwaway price. Regarding multiple platforms, it doesn't have an all-rounder compatibility, but will work with most major ones such as Windows, Android, iOS and Linux.
5. ExpressVPN vs Surfshark VPN: Torrenting, Streaming & Sharing
There are two sides to this coin – first is the geo block issue, and second is speed. We already know that both VPNs being compared in this article offer great speeds, so you can rest assured that your binge-watching sessions will run on HD without any buffering interruptions in between.
Personally, I feel if a VPN is unable to get around geo blocks – as in, if it isn't able tounblock geo-restricted content in enough locations that your subscriptions might not extend to – then it's as good as useless. Because statistics show that the maximum number of VPN users are people looking to bypass regional censorship.
Both ExpressVPN and Surfshark pleased us by unblocking (at good speeds) content not only on such popular streaming services as Netflix, HBO, iBBC Player and Disney, but also on fussier, stricter services including Hulu. They manage to keep up with Netflix's constant blacklisting of servers as well as Hulu's hard firewall. Both have servers dedicated to streaming, with one little difference being that ExpressVPN lets you select one of your preference while Surfshark doesn't. That aside, both VPNs will unlock content for you even in China, so I'd call this a tie.
The same goes for torrenting. Both ExpressVPN and Surfshark have dedicated servers for torrenting, and with their airtight security layers you can swap files on P2P technologies without a second thought.
6. ExpressVPN vs Surfshark VPN: User Interface
An easy-to-use interface goes a long way in getting the most out of a VPN, especially for first-time VPN users. Both ExpressVPN and Surfshark are easy to install and have clean, super-easy user interface. The advanced settings for each let you tweak the functions to your own preferences, plus their official websites offer plenty of help in the form of knowledge base, video tutorials and FAQs.
In the case of ExpressVPN, its Smart Location feature is helpful as it auto-recommends servers and displays your last location. We also like the split tunneling feature that lets you switch between connections. Like I've mentioned earlier, Surfshark doesn't let you choose servers, but it does display the best and worst amongst those available.
Get 83% Discount on Surfshark VPN
7. ExpressVPN vs Surfshark VPN: Customer Support
Not even the easiest user interface is complete without strong customer support at the back end. On first thought you might not be very concerned about this, but it only takes one error message to go wishing for prompt response from the faceless customer executive.
We found both the VPNs to have reliable 24/7 live chat support. ExpressVPN, in particular, responded within seconds to our queries regarding the best server for torrenting and streaming. Which means we were spared of time usually wasted on trying dozens of servers before the right one clicks.
8. ExpressVPN vs Surfshark VPN: Price Points
The pricing of the two VPNs in comparison here might well be the deciding factor. Because overall, both of them tend to qualify for a value-for-money deal.
ExpressVPN is on the higher end of the cost spectrum. Its monthly and 6-month subscriptions are quite costly, but the annual subscription comes for $8.32 per month, which seems steep still but not when you consider the top speeds you get for the investment. They have a 30-day money-back guarantee in place, so you can try before you spend precious bucks. Android users can also download a 7-day trial version.
Surfshark has received some flak for its pricing policy that apparently undercuts market rates, but we aren't complaining. Its monthly plan is again too costly like ExpressVPN, but the annual subscription costs $5.99 per month. Best is their two-year plan, which will set you back by as little as $1.99 per month; that's 83% savings to write home about. Surfsharkdoesn't have a trial version, but all their purchases are refundable up to 30 days, so you can give it a go before making the big decision.
ExpressVPN vs Surfshark VPN: Pros & Cons
Before we proceed to the conclusion, here's a quick summation of both the VPN's main pros and cons to help you make the best choice:
ExpressVPN
Pros
Wide network of servers
Excellent speeds
Solid security features
All-platform compatibility
Great for streaming
Cons
Costly compared to competitors
Surfshark
Pros
Value for money
Good speeds
Reliable encryption
Unlimited device support
Easy-to-use app
Cons
Fewer servers
Choosing a server not possible
Get 83% Discount on Surfshark VPN
The Verdict: Which Is The Best VPN?
If this whole comparison sounds like tie to you, it is. To be honest I'm spoilt for choice. On hand is a long-standing winner VPN and on the other a new entrant that we've grown fond of. Both are all-rounders, justifying your expenditure to the last cent, so ultimately the decision depends on your purpose for acquiring a VPN and the budget you've set aside for it.
ExpressVPN has never let us down in our tests over the years, and for that alone it deserves a pat on the back because we can be quite rigorous in our testing. But I'd say the main factors that draw us to this VPN are speed and its wide server network, both of which work together to ensure that your streaming hours are pure pleasure.
Surfshark, on the other hand, is ideal for anyone interested in long-term savings. It scores well on security and offers good enough speeds, but most importantly, it's a dream come true for large groups – with unlimited device support you can really reap the most out of your VPN investment.
Get 83% Discount on Surfshark VPN
Read Next:
VPN Free Trial Without Credit Card Reddit