So, you've decided to start building a website and looking for a great WordPress landing page builder? Divi and Beaver Builder are both 2 popular options in this spere however, which one is better? and which one should you go for? Well, in this article we'll dive into the pros and cons and finally clear up your choice for you of Divi vs Beaver Builder
Beaver Builder vs Divi
Before we dive into the differences and what separates Divi and Beaver Builder, let's talk a little about each theme builder.
Divi by Elegant Themes is one of the most popular themes on WordPress. It's also pretty affordable which is why it's popular. It's mainly marketed towards beginners who want to build their first website.
About Beaver Builder
Beaver Builder is a drag and drop landing page builder, that been around since 2014 making it one of the oldest WordPress Page Builders (that were actually good)
Fun fact: Wpengine.com is built with Beaver Builder
In a nutshell, the entire purpose of Beaver Builder is to make building landing pages easily in WordPress. You shouldn't have to know to code to be able to build a landing page.
When it came out in 2014 Beaver Builder it was one of the best landing page builders, it was honestly the best "drag and drop" landing page builders that were actually good.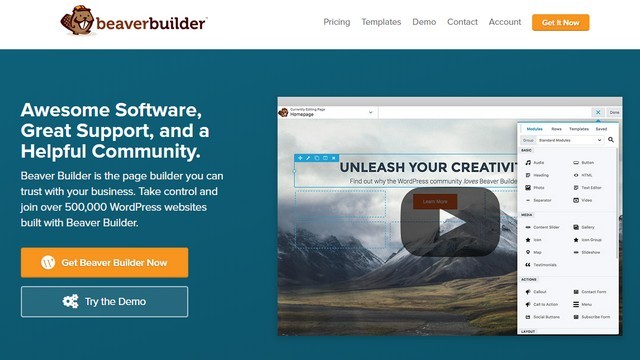 If you go to BeaverBuilder.com or ElegantThemes.com and check out what their features are, you will probably think that both of them have the same features. However, they're drastically different. Let's dive into what separates them.
Beaver Builder vs Divi: User Interface
Both Beaver Builder and Divi have an easy to use drag and drop interface that you will be using to build your landing pages. Divi has a floating bubble interface that's similar to Gutenberg (Stock WordPress), while Beaver Builder has a drop-down sidebar that you can use to drag and drop your necessary elements.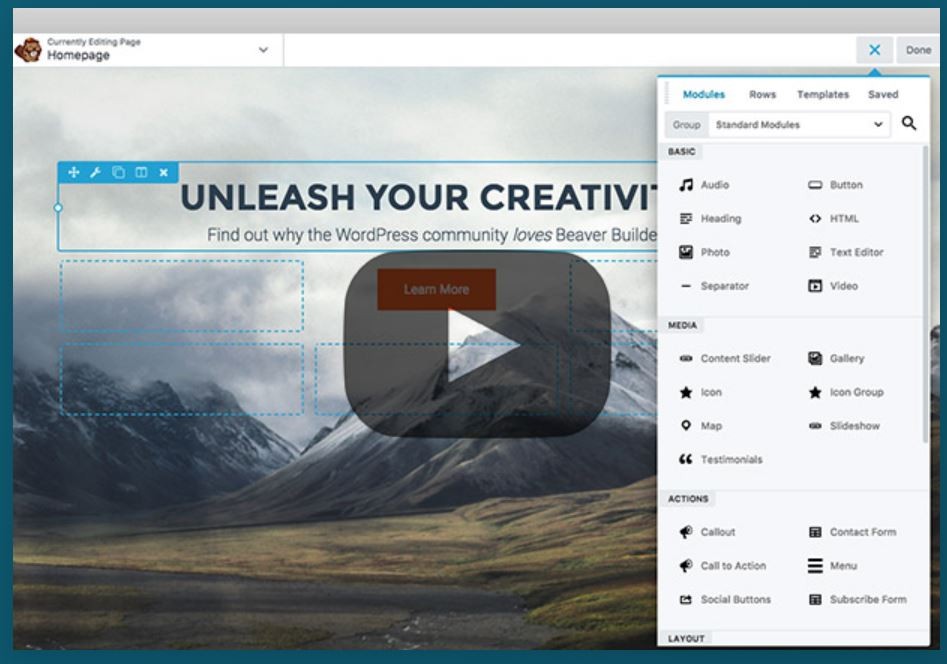 I personally like the sidebar interface as it's similar to other page builders like Elementor and other website page builders.
Beaver Builder vs Divi: Theme Builder
While Divi is a proper theme and page builder, Beaver Builder is primary landing page builder and you can use it in combination with a normal light theme like Astra. You can get the Beaver Builder Theme with the higher plans of Beaver Builder.
Divi is designed more towards beginners and people who don't want to deal much with code. However, Beaver Builder there's a lot more flexibility for coders to change and modify things.
Beaver Builder vs Divi: Features
The Beaver Builder has like Premium Modules with basic modules like "Text, images, video" and more advanced features like "CTA, Content slider, countdown timers, tabs, etc.
Divi, on the other hand, has 36 widgets which include,
Testimonial
Portfolio
Opt-in
Pricing table
and so much more
Beaver Builder vs Divi: Template Library
Both Beaver Builder and Divi come with built-in templates that you can use instead of building things from scratch.
Beaver Builder comes with 30 templates in 2 different layouts:
landing page: Small business templates, eBook templates, law firm templates, and many more.
content page: contact pages, newsletter sign-ups, about pages, pricing tables, and many more.
Divi gives you access to the entire Divi Builder template library. You now get access to 350+ templates spread across 45+ layout packs.
With Divi, you can save and undo your edits while with Beaver Builder there is no undo, redo, or history option.
Beaver Builder vs Divi: Content Lock-in
One major issue with using the Divi Theme and Divi Builder is that if you decide to switch to stock WordPress or some other theme (like maybe Beaver Builder Theme). Your content will still have Divi's shortcodes, which is a huge mess and you'll have to spend a lot of time during the migration.
So, if you decide to use Divi, it better be for life. While with Beaver Builder you can always switch to another WordPress theme. This is reason enough to use Beaver.
Beaver Builder vs Divi: Speed
Sure page builders have gotten better over the years, and while some pages builders are better than others (cough…Elementor…cough). They still add bloat to your website vs running a simple WordPress Theme and Divi is really bad at this.
Most people won't notice the difference of the site speed between Divi and Beaver Builder, however, the thing with Divi is that you are locked in using Divi, while with Beaver you can use it with a super lightweight theme like GeneratePress or Astra.
Beaver Builder vs Divi: Price
So, all things considered, why do people use Divi instead of Beaver Builder?
Well, price! Divi is cheaper and if you are just planning on building a simple website/landing page for a cafe or a small business or a blog! Then Divi is definitely the choice for you.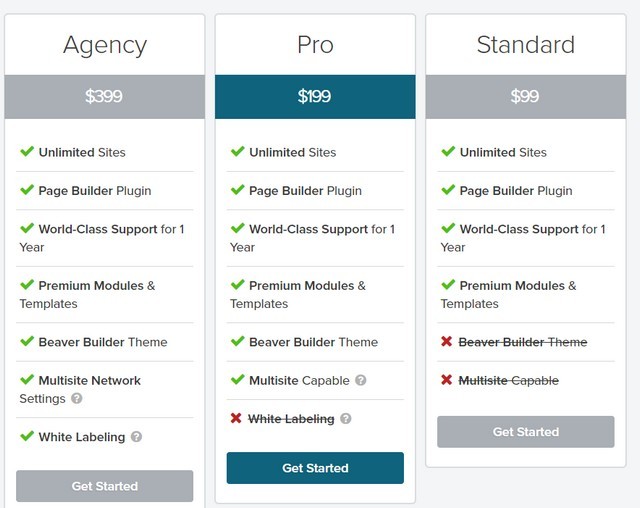 Divi costs $89/year and $249 lifetime however if you use my coupon below you can get 10% off!
Exclusive Offers For JeremyNoronha.com Readers
JeremyNoronha.com readers can get a 10% Discount on Elegant Themes. Simply click the link below and signup and the discount will be applied automatically.
Hurry Up! Limited Time Offer.
---
Beaver Builder is much more pricey and it doesn't have a Lifetime plan like Divi, so you do have to pay yearly.
Agency Plan
Unlimited Sites
Page Builder Plugin
World-Class Support for 1 Year
Premium Modules & Templates
Beaver Builder Theme
Multisite Network Settings
White Labeling
Price: $399 / Year
Pro Plan
Unlimited Sites
Page Builder Plugin
World-Class Support for 1 Year
Premium Modules & Templates
Beaver Builder Theme
Multisite Capable
Price: $199 / Year
Standard Plan
Unlimited Sites
Page Builder Plugin
World-Class Support for 1 Year
Premium Modules & Templates
Price: $99 / Year
Click Here To Get The Best Price On Beaver Builder!
They're pros and cons to both, for example, my friend Mark uses Divi to freelance and build websites for cafes and hotels. On the other hand, a few of your online marketing friends have been using Beaver Builder for over 5 years to build their landing pages.
If you are a beginner I'd recommend going for Divi Elegant Themes.
Else if you have an already existing online business the Astra + Beaver Builder combination is better!
All the best!
Click Here To Get 10% Off Divi
Read Next:
Divi Builder Alternatives Reddit