Now, if you've come here looking for Divi Space Discount coupon code — you've come to the right place!
Divi Space Discount Coupon Code
Quick Answer:10% discount!
Divi Space has a FLAT 10% discount off all of its products. This includes memberships, themes, and even nifty plugins.
So, if you're in a hurry click on the button below that will take you directly to Divi Space's discount page
Get The Maximum Discount On Divi.Space
And use this discount code to while getting Divi Space products: AHOY10
Bonus: Click this button to Get A 20% Bonus Discount on Elegant Themes (Including Divi)
What is Divi Space?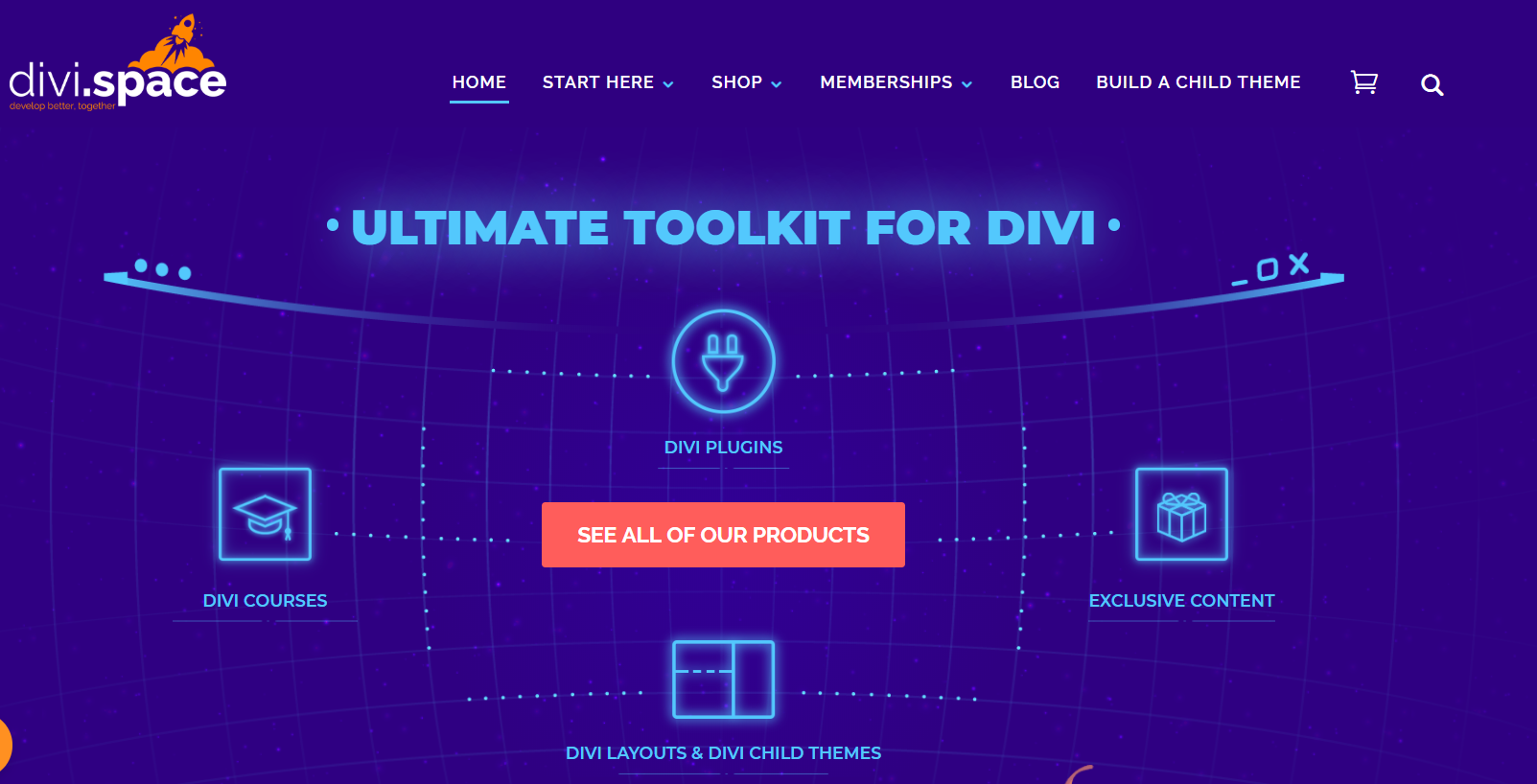 Divi space is the leading resource for the Divi community and aims to bring you best products, content, tutorials and latest news to help your Divi business thrive.
Divi, on the other hand, is one of the most powerful drag and drop theme builders from Elegant Themes. It is for perfect for multiple purposes that range from starting a blog to a custom website.
On a side note, I have reviewed Divi Elegant themes in great detail. I recommend checking it out if you're interested in learning more about Divi.
Divi space employes some of the most talented WordPress developers and designs to create awesome Divi related products. They sell premium Divi child themes, plugins, and informative Divi courses.
This is great for Divi enthusiasts, agencies and hobbyist Divi website developers that have a knack for building websites.
Some of the best products from Divi Space are as follows:
Divi Business Expert Course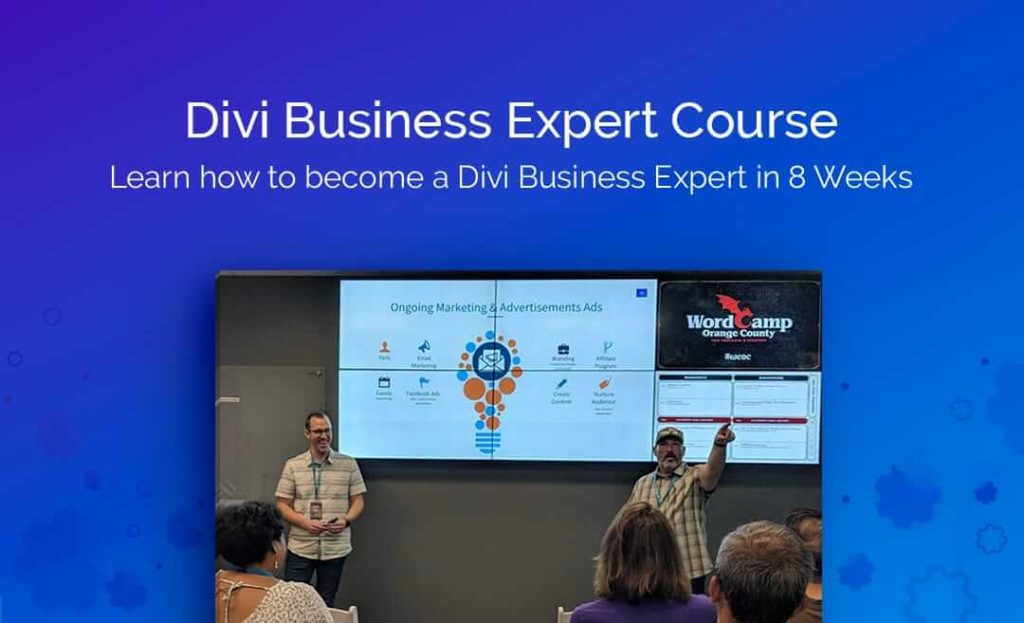 I'm not a huge fan of courses, and this course will NOT guarantee you six figures a year. What it will do is lay down a blueprint tested with time and experience by legitimate experts that will drastically increase your chances of making more money with Divi.
Divi Business Expert Course is a unique program from Divi experts, Dave and Tim. They lay down the entire blueprint to build a 6 figure Divi Website business.
The best part? They take you through the entire journey right from scratch, i.e. 0$ to 6 figures!
Here are some reasons to get the Divi Business Expert course
You're new to Divi/WordPress and want to make money creating sites
You can't get clients and want to expand your clientele
You want to scale your Divi business
You want to start a Divi website agency
You're struggling with the tech (CSS, DNS, HTML)
You want to work from home
Bottom line if you're looking to make money with Divi without the hassle of learning everything on your own — the business expert course is for you!
Divi's Business Expert Course Pricing
This course costs a one time fee of USD$997.
Now, before you go out and say that's too expensive… It's not!
Depending on where you are in your Divi career the benefits may vary, but the value this course provides can be directly applied to building your Divi business.
However, if you're looking save 10% off this product, I suggest using my Divi Space Coupon code below
And use this Divi Space discount code to while getting Divi Space products: AHOY10
What does this course include?
8-week Divi expert course
Coaching calls to take action and implement learnings
Divi expert certificate (recognition with clients)
Lifetime access to an exclusive FB group
Lifetime access to live webinars
Access to course bonuses and materials
6-month private mastermind coaching
Dedicated full-time support to help you with problems
Wait can't I get this course with the Divi space membership?
No! This course is NOT part of the Divi Space membership. So, you'll have to get it separately.
As mentioned before, this course is a business training program as opposed to some theme you just develop for a client. It's a business model that's definitely capable of making you six figures.
Divi with CSS & jQuery Course
This is a highly technical Divi course for those looking to level up their CSS and jQuery coding skill.
The course focuses on the core fundamentals of CSS and jQuery to give learners a deep insight into the fundamentals of CSS and jQuery to be able to build visually striking and functional Divi websites.
What's included?
Technical modules related to CSS & jQuery
Practical tasks to build custom Divi elements
Frontend developer Course certification
Add-on: Private coaching
1-hour call per week with SJ James
Extended jQuery cheatsheet
Guided learning with an expert mentor
Divi with CSS & jQuery Course Pricing
The course alone costs $197. However, the class with the private coaching costs $697.
However, if you're looking save 10% off this product, I suggest using my discount code below —
And use this Divi Space discount code to while getting Divi Space products: AHOY10
Again this isn't expensive considering the value it will bring your Divi business or career. As after the course you will be able to build beautiful custom websites and increase your hourly rate!
Divi Space Membership
Divi space has a growing membership of over 35,000 members. This is because of the insane value provided in each subscription.
After all, you get access to the best Divi child themes, plugins, icon packs, layouts and much more.
What's includes in the Divi Space memberships?
Over 20 Essential Plugins to take your websites up a notch
Over 30 Premium Child Themes in a variety of genres
Premium Courses
25+ Layouts to create a semi-custom website
Themes are optimized for Gutenberg
Icon Packs for personalization
WooCommerce Plugins – maximize your WooCommerce sites for profitability
WordPress Plugins to help you take advantage of added functionality
Plus: Industry-leading 5* STAR support, Members-ONLY bonus content, and FULL ACCESS to ALL future products (including 2-week early access, before the general public)!
Divi Space Membership Pricing
Divi Space comes in two membership plans, annual and lifetime and the pricing is as follows:
If you're looking to save 10% off your Divi Space Membership, click the button below:
And use this Divi Space discount code to while getting Divi Space products: AHOY10
Note: All Divi space products have a 30-day money-back guarantee so that you can return it just in case you aren't happy with their products.
So, that's it!
Let me know, in the comments below what Divi space product you decided to get.
Read Next: