The online business space is growing at an exponential pace, and figures estimate that by 2025 the market is set to be valued at $563 billion. In this ever-changing space, digital real estate has taken center stage and propelled a lot of questions into the minds of consumers.
Digital real estate is similar to the traditional property investment seen in physical real estate, except that you are dealing with assets online. This is popular due to its talks with a virtual reality platform called Metaverse. If you want to secure a piece of the pie in the growing digital real estate space, investing in digital real estate is one way to accomplish it.
The practice of investing in digital real estate is becoming popular day by day. If you haven't, then you may want to start building your virtual property and assets to generate a viable source of income and wealth. If you aren't fascinated yet, then take a look at this article and discover what you are missing out on.
How is Metaverse Related to Digital Real Estate?
Before we get into details about digital real estate, let us discuss what is a metaverse in the digital space. Metaverse is a 3D series of virtual worlds built to allow users to interact as they do in video games in real life. In this space, you can attend parties, educational events, purchase things and hold virtual real estate property. There are several metaverse worlds, but there is only one metaverse, and you don't require any special equipment to connect with it. You can access these worlds by making use of a desktop, computer, or smartphone.
What is Digital Real Estate?
In classic thinking, investing in real estate is purchasing property early in a location where you forecasted that people would want to be. It may be a commercial housing area, agriculture, advertising, etc. This is made up of real-life opportunities involving the physical presence of human beings.
In the digital space, real estate is an online asset that you can buy, rent or sell for profit. It works the same way as traditional real estate; however, this investment allows you to earn passive income online. Depending on the platform you decide to purchase virtual real estate, the asset you purchase has various attributes.
In simple terms, digital real estate or digital property can be utilized to define any property which exists online and can be purchased and sold. This also includes cryptocurrency or other digital currency.
Right now, businesses and real estate investors are testing the waters of digital real estate to check how far they can push its limits. There are some common use cases, like websites or blogs, that are already developed.
What are the Requirements for a Digital Real Estate?
Any business needs you to have the technical know-how of the business to succeed, and so is the case with digital real estate. For digital real estate, you require advanced technical knowledge and a little bit of experience to grow a successful online business. Most importantly, you will have to put in a lot of time and effort to get the desired results.
Some of the technical skills and knowledge you require to grow an online real estate asset is:
1. Soft skills
Digital marketing skills
Experience with at least one content management system (CMS)
Content writing skills
SEO skills
Social media marketing
2. Technical requirements
Personal computer
Steady power supply
Internet connection
While the above skills are required to run a successful online business, there are some misconceptions. To start off, you don't have to have any skills before starting a digital real estate. You can learn these skills with time and become successful. It is important to note that you don't need all these skills, and you can easily leverage other people's knowledge and time to get you going.
How to Invest in Digital Real Estate?
There are different ways you can invest in digital real estate. Also known as virtual land, you need to have a clear strategy to succeed in any form of virtual space. To help you in this regard, I have outlined a step-by-step process to start accumulating digital assets. A major part of these strategies is having people read or watch your investments. Digital marketing, thereby plays an important role in the growth of your online real estate. But what are the ways to invest in digital real estate? Let us take a deep dive into this in detail below.
1. Build your own blog
Building your own blog is like purchasing a property or real estate, except that you are building a virtual home on the internet. This type of business and asset costs very little to start but requires a lot of your time and some technical expertise to get it visible on Google and other platforms.
The blog will slowly evolve, and your efforts will compound, and you'll gain momentum. With the help of digital marketing, your digital assets will grow exponentially, and you'll get the desired results.
To build a website or a blogging platform, you will need to purchase a domain name and get hosting. Further, you will need a content management system to help you out. If you are looking for a reliable platform to start your blog, then WordPress is a great choice with its outstanding features, plugins, themes, and other functionality.
Click to Get 67% OFF Bluehost Now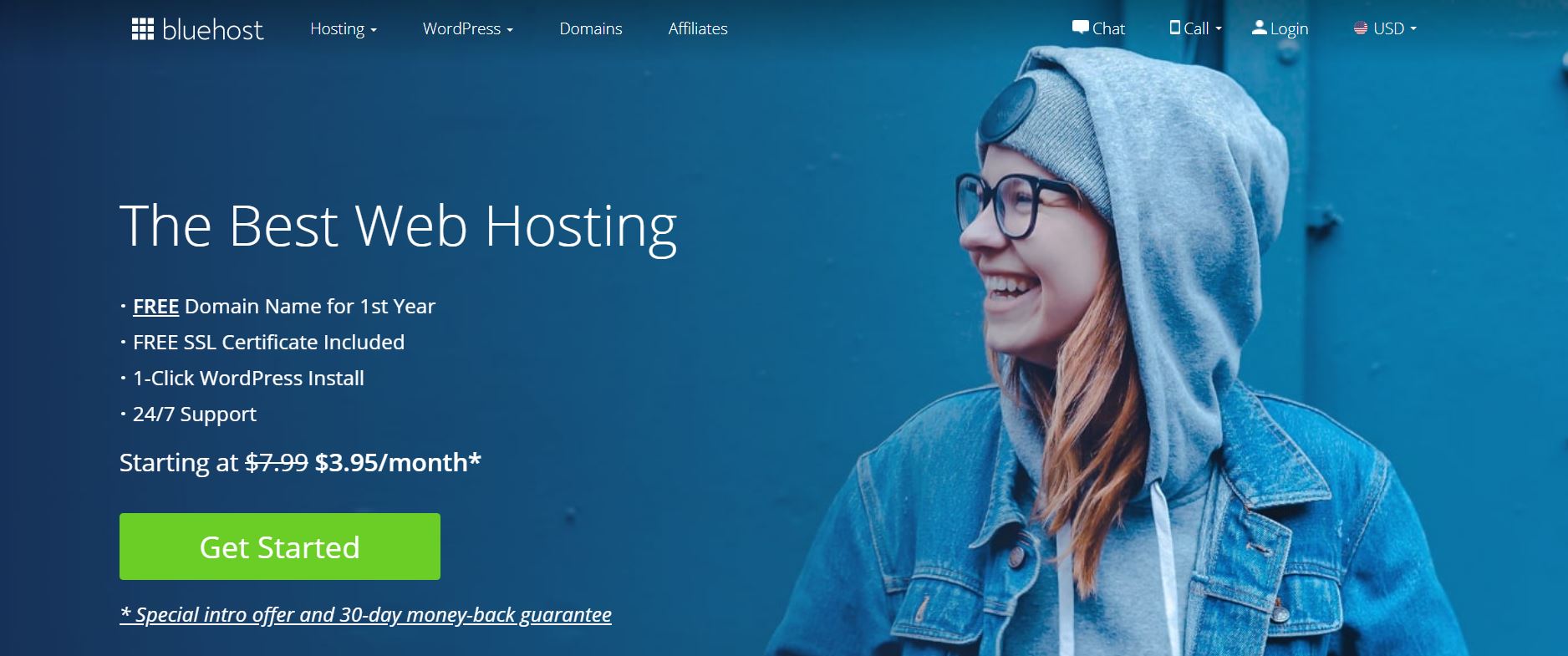 2. Purchase digital real estate
If you don't have the required time or inclination to create your own blog, then you can buy real estate directly. You can directly buy your own virtual island or virtual worlds as digital properties or digital land having a broad real estate market and prospective buyers in the augmented reality world. It is a kind of investment opportunity similar to the properties of the physical world.
There are websites in the virtual world where you can check purchase real estate assets or acquire virtual land. Listed below are some of the websites where you can begin your search.
Flippa- Flippa is a place to go if you want to purchase or sell an online business without having to remortgage your house. Flippa is one of the top and most reliable websites that allows you to buy or sell websites in any price range. It is super easy to get around, and on the seller side, it doesn't take more than 5-10 minutes to list a site for sale.
Empire Flippers- It is a marketplace that allows users to buy and sell established, profitable websites or online businesses. It has an 88% selling success rate to help you get the desired results.
FE International- It is a reputable online broker for buying and selling businesses. These are mid-market brokers, and they deal in assets above the six-figure valuation. It has a community of an established group of buyers and offers excellent support throughout the process of buying and selling.
Motion Invest- It is an online marketplace that allows you to buy and sell websites. As per the platform, it focuses primarily on websites that are making between $50 to $2000 per month. The most important thing about the platform is that even though it looks like a website broker to the end user, it is basically a larger portfolio of websites that are owned and sold by some of the foremost experts within the online business industry. The platform has its free website valuation tool to make your work easier in finding an investment opportunity to give you the best results.
Human Proof Designs- If you are looking for starter sites to purchase or sell, then Human Proof Designs is best suited for it. It provides excellent service and offers assets with a fair market value.
3. Buy Social Media Assets
Buying a social media account is another way to invest in digital real estate. You can select sites like Toofame and SocialTradia to purchase accounts for TikTok, YouTube, Instagram, etc. These platforms offer a safe place to buy or sell social media properties to supercharge your money-making efforts.
Working with social media influencers can be a touch expensive, but you can directly purchase a social media account to promote your product or services to targeted audiences without having to pay a penny for marketing. On the websites mentioned above, you can buy a social media account to get unlimited access to a niche audience and help you save a lot of money on marketing.
4. Smartphone apps
Apple iOS and Android smartphones offer excellent opportunities to get a residual and passive income through their apps. Any product launch and in-game purchases further help increase the return on investment.
5. Digital products
A great example of digital real estate is through e-books or online courses. To make these products successful, you will have to spend time, effort, and money to create these products. However, you only need to do it once, and you will get the monetary benefits of it for a long time (this is only possible if it is marketed properly and the product is in demand).
6. E-Commerce Stores
E-commerce stores like Amazon FBA, Shopify stores, Etsy stores, physical product stores, and others come with endless possibilities in the digital world. All you have to do is dream about it, and it is simple and efficient. You can design a product for these stores and launch it on Amazon or other stores, and the platform takes care of it from inventory to shipping and much more.
7. Purchasing and selling domain names that are not in use
A domain is a common example you can give when you are discussing what is digital real estate. Domains are websites that you visit on daily basis, and every day billions of users are surfing the internet searching different websites.
A domain is typically a string of characters that designate a website location online. For example, microsoft.com is an impressive piece of digital real estate, and it is a virtual home of an electronics and multimedia company.
You can purchase different domains and URLs that are not in use and sell them to people who are looking for domain names for their businesses.
8. Affiliate programs
Affiliate programs are marketing ploys wherein an affiliate earns a commission for marketing another person's website, product, software, etc. The affiliate has to search for the product and promote it to earn a piece of the profit from each sale they make. A single portal on an affiliate network gives users publisher access to different affiliate programs.
9. YouTube Channels
YouTube is a great platform for video hosting, with billions of users around the world. You can start uploading videos on different subjects and make them persuasive and appealing to the user so they watch them. As your channel grows, you can monetize it by running ads or through affiliate programs by sharing products and items to get a slice of the pie.
10. Online communities and Email Lists
You can build online communities on various social channels or platforms, like OnlyFans or Patreon, and earn a few bucks on the web. Another great method of trying digital real estate is through email marketing and lead generation. Using these methods, you can attract customers and slowly convert them into paying customers.
11. Buy and Sell Crypto or NFTs
Digital currency is gaining traction and popularity due to its rollercoaster performance over the years. Virtual currency is here to stay, and more companies will adopt it and enter the metaverse, and digital currency will slowly be worth it.
Understanding the Multiples of Digital Real Estate
Multiples are utilized to value a digital asset or website to sell accurately. A typical multiple for a range between 20x to 50x for online assets. This infers that when you are purchasing or selling an asset, you can multiply it two folds from its original value.
There are multiple factors that drive up the valuation, for example, for buying and selling a website, the factors that impact the values include demand, domain name, traffic quality, site management, diverse revenue streams, website age, and other features.
A lot of factors should be considered when deciding the value of an online asset. It is important to understand these multiples by doing some research in the designated niche to ensure that you get good value for your money.
How Much Capital do you need to Invest in Digital Real Estate?
The amount of money to get going in digital real estate depends on the asset you want to invest in. You can purchase assets for a few dollars to thousands of dollars. If you want to build a blog, you can get a domain for $10 and pay around $36 for hosting per year.
You can also start a blog without paying a dime using the free version of one of the popular website hosting companies. Further, you can monetize it to get returns from the existing community of users. On the blogging platform or website, you can run digital products for free to generate passive income for your business.
If you are planning to purchase digital real estate, its costs are high, especially for established businesses. You need to do some research before investing and check whether a particular product will make it or will disappear once its popularity has passed.
The good thing about digital real estate is that you can start building and growing your online asset without having to pay hundreds or thousands of dollars. You only need to invest your time and effort to build a solid, revenue-generating machine online.
How to Make Money with Digital Real Estate
Digital real estate allows users to make money in various ways based on the asset they have invested and are selling. Below I've explained some examples to grow the business models that I have discussed in the article.
1. Display advertisement
Advertisement is one of the most common ways used to monetize a blog, website, or video platform. You can start earning from the traffic that comes to the website easily using Google AdSense and Ezoic to show ads to your website visitors.
2. Affiliate marketing in the digital world
Affiliate marketing is a common monetization method in the online space. This can be achieved with your social media or website. You just have to sign up with Amazon Affiliates, ShareASale, PartnerStack, and other companies to promote or get an affiliate link to share with your audiences. You get paid a commission on any product that is purchased via this link.
3. Sell services to the virtual world
If you have skills and knowledge that you can offer to others, like web design, content writing, and social media management, then digital real estate is a great way to make money in the online space. This is not a means to generate passive income, but you are making money without any investment right away. You can start for free by offering services on your blog or social media. Once you have a steady flow of clients, you can have a predictable income, and you can focus on other types of digital real estate that require assistance or investment in them.
4. Sponsored content
Sponsored content is a great way to earn money online. This can be done in the form of product reviews, where brands will pay you to write about products and services. You can also create product reviews or tutorial videos on YouTube and other social media channels.
5. Create a membership site
You can create exclusive membership for your YouTube channel, website, or blog and offer premium perks, free consulting, etc. This is a great tool to generate passive revenue, and the revenue you will generate is solely dependent on how you market it to your consumers.
6. Sell digital assets and products
Creating and selling your digital property is a popular way to generate an income stream by investing in capital. You don't have to invest in a data center or digital world; you just have to sell products like templates, courses, eBooks, Apps, etc.
Digital Real Estate Pros and Cons
Anyone has the ability to invest in digital real estate; however, it is important to understand the benefits and drawbacks of this investment. The pros and cons of this are listed below:
1. Potential for high returns
There is an opportunity to earn high rewards like any other business, especially when the popularity of learning how to make money from digital real estate will increase. The initial investment is not costly for beginners, and you can register the domain name for $8 and pay $3 to host it. Most digital real investments require you to have minimal maintenance that helps create a passive income source and generate continued cash flow. With time, your online assets may increase in wealth, and there is potential to scale your income infinitely, The online market never sleeps, and you can efficiently deal with a global audience without hassle.
2. Income diversification
Diversifying any assets is important to reduce the risk of your investment. With digital real estate, you can diversify your assets easily and make sure that all your capital is not locked on a single item increasing the security of your capital.
3. Digital real estate appreciates in value
Like physical real estate, digital real estate appreciates you. If you own a piece of it, then you can earn appreciation. In simple terms, you can sell the digital asset for more than you have paid. This helps make capital gains on your investment.
4. Time and location freedom
Online business allows you to free up time and make the money on your terms. So, you can easily work from anywhere in the world having an internet connection without having to meet the broker as with public real estate.
Cons
1. Unpredictable market
Any digital asset that you purchase online is at a risk to be volatile. Google algorithms are prone to change, which will impact the ranking, traffic, and sales. You also have to keep up with your followers, maintain sponsors and advertisers or continuously find new tenants for your digital real estate. A common example of this is that sometime back, some affiliate marketers on Amazon had their income cut in half all of a sudden, which makes the market unpredictable.
2. Requires some skills
Building and growing your digital real estate needs you to have some basic skills required to operate and run a good online store. With time you will need to upgrade your skills as the algorithms constantly change, and you have to evolve with it to get ahead of the competition. However, with experience, you will start polishing and becoming an expert in this space. If you want to bypass this step, then you can always hire third-party personnel who will handle all the technicalities of the venture.
3. Maintenance of digital property
You have to ensure that your digital assets are well-maintained and ensure that you constantly keep in touch with your followers, maintain sponsors, or find new tenants for your digital real estate. This is very important as this will dictate the price that it will make if you decide to sell it.
4. The OFF button
Anything that runs on a server in the digital space can be turned off at any moment if the server turns off. You don't have any control over it, so anything you build can vanish within seconds. Your only course would be to recourse it to legally pursue the person who pushed that button, but that will be slightly difficult, and they would be already prepared for this outcome before turning it off.
Just think, if platforms like Shopify or Medium turn their site down, then all accounts created and audiences built will vanish. These brands have a good form of accountability, and you can take legal recourse. However, in the world of the wild west of digital real estate, people are masked behind a keyboard, so people can be much harder to find.
How to Mitigate the Risks of Digital Real Estate
1. Think like a developer
If you are going to create a presence in the digital universe, you'll have to create a valuable experience to help users capitalize on the presence. This infers that you have to create or provide a product, service, or business in the digital world which is intrinsically valuable to the users. You'll have to figure out what the viewers in the digital space want, what motivates, entertains them, and how you can provide something that'll make your presence worth it so they invest their time and money in it.
You may have to turn yourself into a digital developer or get somebody with that expertise in the space to help you build the asset. It is not like throwing money into a pot and you'll get an instant return. You will have to do deep analysis and research to find real opportunities in a specific space.
2. Don't buy, rent
The best way to mitigate risk is by limiting your exposure to the time that you are invested within the digital space. You just have to sit back and let creators of the digital marketplace create core experiences and ride them through the popularity of those experiences. This is more of sponsoring something instead of investing in it. This lets you be present and also see where users currently are, and be invested when something is valuable, and get out when it no longer presents an opportunity.
If you are anticipating a digital marketplace as an investment opportunity, then you can consider investing in a company, like investing in a startup, rather than sinking money into a product that may disappear tomorrow. This gives you a stronger overall opportunity.
3. Take notes on what currently exists
It is important to understand the market trend and see what people want at a particular time. You also have to ensure whether it will be a short-term punt or a long-term project to get to your desired goals.
Does Investment in Digital Real Estate have Profit Potential?
Investing in online real estate is a smart move, especially in the 21st century. It is easily accessible to anyone that wants to buy it, and over time its value is going to increase sustainably. You can easily lease a property on the internet and earn income and returns. Finally, it will only improve with time with proper regulations, and all the assets that are purchased can be sold at a premium in the future.
Investing in digital real estate is enticing with its fast earning and popularity, but you have to understand it comes with its own risks. You shouldn't put all your capital on one plate, just like physical assets. Diversifying your portfolio is the best way to consider purchasing and investing in this digital space.
Digital Real Estate FAQs
1. Can you own digital real estate?
Everything online, including websites, blogs, and domain names, are owned by the internet. These are virtual properties that can be bought and sold, like physical real estate. Some people in the digital space work full-time in purchasing and selling websites and domains.
2. Is digital real estate worth investing in?
Digital real estate is like any investment strategy, and it cannot be predicted, just like any other physical investment in the real world. Investors are rapidly embracing digital real estate investing with market valuations in the trillions to help broaden their portfolios away from the erratic nature of the real world.
3. How to profit from digital real estate?
Purchasing and understanding how to purchase a digital property and make investments is not difficult. There are some easy ways, while others are a little difficult. The common methods are advertisement, social media, building websites, creating a blog, etc.
4. What is a must-not for real estate marketing?
The common mistakes that you should avoid in real estate digital marketing are inadequate response time, not paying enough attention to SEO, and failure to pay attention to online reviews.
Read Next:
ChatGPT Alternatives Free Reddit
Cheapest Website Builder Reddit