Back in the day, it was normal to work for just one company your entire working life but now it's not uncommon for young adults to change their career paths more than once.
Becoming a digital nomad is a fantasy for many but for others like myself, it's really nothing great. It's simply working on the go or whilst traveling and if you're reading this and wondering what it is these digital nomads do you're in luck as this article is all about that!
I'll list out a bunch of digital nomad jobs aka work from home jobs or jobs you can do from a laptop or whilst traveling.
Contents of this article:
Going Remote with your current job
Remote jobs for Digital Nomads
Where to look for Digital Nomad Jobs?
Important FAQs: Digital Nomad Jobs
My Final Thoughts on working as a Digital Nomad
Going Remote with your current job
Most jobs nowadays can be done remote and if you're reading this and already working job chances are you can go remote with it.
How to get started?
Going remote with your current job is not easy and will take some creativity for your organization to agree to such a proposal.
You'll have to have valid reasons to convince them to shift you remotely for instance cost savings due to this is a good reason. However, the easiest way is to just build a good repo with your organization so they agree to this transition without having to deal with a bunch of questions.
In my opinion, this is the easiest way to become a digital nomad and should be an option to consider for anyone already working a job.
Remote jobs for Digital Nomads
Website and App Development
If you met a digital nomad or ever look up "digital nomad jobs" or "jobs that allow you to travel the world" one of the top jobs recommended is website and app development. This is by far the most popular jobs amongst digital nomads because of the nature of the job.
Website and app development is a broad field so here are a few specific roles within that field:
WordPress Developer
Shopify Developer
Mobile App Developer
Website Application Developer
How to get started?
This is probably the most difficult job on the list to leverage but the most lucrative to get into. Yes, it is not for everyone but it's definitely not impossible and just like anything has a learning curve.
Sure if you haven't done any coding or programming before you can most definitely learn from the internet either through a paid online course on Udemy, skillshare or via online resources.
You can start by building simple websites and apps to showcase what you can do and share that to potential clients that need people who can code etc.
Who is this for?
If numbers and problem-solving aren't a problem for you or you know your way around the internet then programming websites and apps are a good job to look into.
Copywriting and Writing
This is one of the easiest digital nomad jobs to get started into especially if you're a native English speaker moreover because it's one with the least hassle to do remotely.
How to get started?
If you are good in a certain language (English is the easiest) and can write fluently in the same copy or content writing could be a good option.
The best way to get started is to write for yourself either through a blog or through google documents so as to create a portfolio. Then you can share the same with potential clients that need content writers.
Who is this for?
While this is one of the easiest jobs among the list it is not fun at all! You have to really like words and more importantly, writing them else you'll end up with a burnout.
It's important to be efficient so as to be able to pull off travel and work and this takes some time and practice to learn.
Social media manager
This is someone who keeps a check on social media platforms and performs daily activities like engaging with the audience, content planning, maintaining profiles and other support related tasks.
With the ongoing craze over social media and ever increasing list of platforms, this is a skill you can easily develop into a job or service for multiple clients.
How to get started?
You can start by the obvious starting a social media page and gaining some noticeable traction and engagement as this will serve as social proof to potential clients.
You can use the internet once again to find strategies specific to a certain social media platform and get good enough to sell a service. It's better to be an expert rather than a general social media manager.
Who is this for?
This job may seem quite easy at first but actually takes a specific kind of person to actually do the job. Social media isn't easy and it's actually pretty complicated to get right especially for a business account it takes an empathetic person who is good with people.
So If you are a social butterfly who likes dealing with a lot of drama and creating a craze then you should consider social media marketing it's not my thing but it may be yours!
Translation
This is a great freelancing job for people that know an exotic language really well enough to translate say a book or long form content. If you are good at the language this language will be childsplay.
In some countries translating is regulated so you might need the necessary education to do it legally. However in most countries, it isn't and basically, anyone can translate.
How to get started?
If you want to get started start with something you already know maybe there is a market for your native language you never know until you search.
Even if you don't know a language you can always learn something you've always been interested in and then get into translating it. It is a very rewarding experience to learn a new language and on the plus side, you can speak a new language.
Who is this for?
This job doesn't really need a specific kind of person but rather just an interest in languages and the semantics of how they work. If you don't have the interest it will be dreadful no matter how much you get paid.
Illustrating and Graphic design
Graphic designers are the folks who create visuals used by businesses mainly branding think logos, brochures, business cards, merchandise designs, flyers and awesome memes that everyone loves!
How to get started?
You can start by playing around with Adobe Photoshop or illustrator or whatever suits your style and create some visuals to create a portfolio.
Once you're good you can create visuals for family and friends that need a logo or some visuals. Social media is another huge source for getting graphic design clients.
Who is this for?
This is more for the creatives and artistic folks in the area that have a good eye for design and know their way around adobe photoshop.
If you're an artist and don't know your way around photoshop then you can look into learning how to do so by taking up a course on Udemy, Skillshare.
Another option is to learn for free from the infinite amount of tutorials available on Youtube. There's seriously a whole bunch of content out there!
Virtual assistant
How to get started?
A virtual assistant aka VA is probably one of the most common digital nomad jobs. A Virtual Assistant is a skilled freelancer who takes on different support oriented tasks for business. This frees up time for business owners to focus on building their business without having to worry about day to day running of things.
One particular benefit about being a VA is there's always a demand for a whole multitude of tasks giving you more options to get hired so essentially you could do a whole bunch of things.
A few popular services that you can sell as a VA include data entry, translation, transcription, email marketing, social media management, copywriting, blogging, WordPress management, customer service, bookkeeping, and admin related support tasks.
Who is this for?
Though VA's have a lot of demand it is in no means an easy job it takes a lot of discipline to be a good VA and takes a lot of practice and structuring if you work with multiple clients.
If you have a disciplined mindset and like to follow rigid structures with timelines being a virtual assistant might be worth looking into.
Blogging
Blogging is quite popular among digital nomads and myself am a blogger so can definitely vouch for this. There are two ways to do this either start your own blog or run a blog for another company aka clients. Or you can actually do both like me!
Since blogging is a broad field here's a few specific roles you can look into:
Niche Website (affiliate marketing)
Authority Website (info products)
How to get started?
If you're just getting started I recommend starting your own blog and writing for yourself first gaining some traction and then looking for clients to run their blogs.
Blogging may sound easy but believe me it is not it takes some trial and error to get things rolling but some of the key skills you'll need to learn are:
Search engine optimization or SEO
Basic WordPress Management
Writing
Discipline to keep going
Keep in mind if you are starting a blog for yourself it'll take at least 3 months to 5 months to make that first dollar after which the growth is exponential.
Teaching Online
If you've looked for digital nomad jobs you've most likely found "online teacher" in many articles and remote job listings. This is because this online teaching is actually booming with many openings for teaching languages online.
How to get started?
You need a certain personality to succeed with online teaching as you'll need to have a lot of patience dealing with people and moreover having constant conversations with them with for some people can make their head spin.
It's also a job that's dependent on certain time zones you'll have to be online at a certain time every day so although you're working remote a chunk of it is reserved for this gig.
How to leverage?
If you are just starting out I recommend looking at a couple of NGOs that need people who can speak English as this is the most common way to teach online and the easiest for many as most people know English.
If you're looking for a gig that's different from languages, for instance, teaching coding online or some other art then it'll help to have prior experience or land a job in this gig and proposing a remote position after gaining some repo.
Where to look for Digital Nomad Jobs?
There are many ways to look for jobs that can be done remotely. In this section, I will list only the important ones that actually work so as to avoid the risk of information overflow.
Reddit & Facebook Groups
I've personally used this to land my first few clients and it's worked great! All you need to do is find where your ideal client is hanging out either in a niche related group or something similar and start engaging with them.
You simply post genuinely and get your name out there. Sometimes you may get a client within a few hours and other times it may take a while but when your name is out there it'll remain and you'll get a few people to enquire regarding your service
Cold Emails
Another way to reach out to potential clients is through sending them a cold email I've reached out to a few businesses that have turned into clients by simply notifying them of a problem via an email. Be sure to optimize your cold email subject line to increase your conversion rate.
Most businesses really do check their emails and WILL read them especially if you're helping them but don't expect a reply if you're emailing them asking for work. "Jab Jab Jab and right hook" and by this I mean help them and offer a solution to an existing problem and then propose a position in their business.
Flexjobs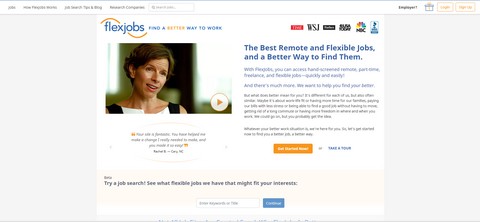 A premium job board with legitimate job listings that are approved only after a strict review and check process. If you're serious about getting a remote job FlexJobs is a website that won't disappoint.
However, you have a to pay for the annual membership as per their policy of filtering out scammers and time wasters from their job board.
I recommend reading my flexjobs review to know more about the platform.
Remoteok.io
If you're looking for a remote job there's no better place than Remote OK to get one as it's specially made for that.
Remote OK is the bare definition of finding a job you can do from anywhere or whilst traveling. It's made by nomadlist.com, one of the most well-known digital nomad websites that might help you find the best destination for your next trip as a digital nomad.
Upwork.com (wouldn't really recommend)
One of the most well-known websites among businesses and freelancers to do all sorts of work in fact all from the list mentioned above.
However, because this is popularity there's intensive competition making it extremely difficult to get work that's above the bare minimum. That being said if you are in a hyper-niche role with less competition then up work could be a great platform for you.
Important FAQs about Digital Nomad Jobs
What is a digital nomad?
A digital nomad is a working nomad or remote worker that only needs a laptop and Wi-Fi. It is not only a new way of employment but a modern lifestyle full of freedom from location, from money and the politics of corporate.
Can I really trust work from home/remote job offers are they credible?
Of Course, there will be scams just like with anything it all comes down to how diligent you are in spotting the ones that a legitimate from the scams. If you do dumb shit and get scammed doesn't mean remote jobs are a scam.
I've personally been a freelancer and held a remote job as head of organic marketing for Foundr and can guarantee you remote jobs are legit!
How do I get paid and do I need paperwork?
Most people think remote jobs or digital nomad jobs aren't as organized as a normal job and this couldn't be further away from the truth. Sure there's less paperwork but I always recommend fixing up a contract before agreeing to any sort of work with a clear definition on the terms and conditions and more importantly what and how you get paid.
The most common option is PayPal however some clients do pay in crypto and others wire the money.
Will I really be able to travel and work?
This comes down to how to travel as a digital nomad and the work you do sure traveling and working can be difficult at first but the sooner you realize that you're not on a holiday the easier it will be to work and travel.
I recommend keeping your costs low at the beginning of your journey in order to save redundancies for times you don't have much work coming your way.
My Final Thoughts on working as a Digital Nomad
Being a digital nomad is no easy feat! It requires a ton of discipline to actually pull off because the temptation to take it easy and think you're on a holiday is extremely high!
The phase before becoming a digital nomad is definitely the most difficult as most people don't really believe in it and half-ass the hustle to only end up failing. It's going to be the most difficult part of your life and one that will make you give up several times.
However when you get the hang of it and reach a point where you don't have to work as much either because of passive income or because of high ticket contracts life becomes really simple and easy.
Thank you for reading this article on digital nomad jobs remember being a digital nomad isn't a fantasy I've done this and several others have too it's really great but takes a lot of work.