If you're reading this article then you're probably out looking for to get a good deal on WPEngine Managed WordPress Hosting plan.
This is great because you're going to save a ton of time and hassle by having a team of experts manage all the technically WordPress stuff, however, the only catch is the higher cost.
And when I mean higher I mean much higher than what you'd pay for if you opt for normal hosting which is why I'm writing this article to help you save 25% OFF that cost with WPEngine.
WPEngine Coupon Code 2019
WPEngine has an introductory offer that lets you avail 10% flat discount off your plan no strings attached and if you go for the annual subscription you get 3 months free!
If we run some numbers and look at the potential savings from each plan:
Startup – You save USD$93
Growth – You save USD$309
Scale – You save USD$783
Note: Annual subscription fetch free hosting up to 3 months which is a great way to cut costs and if you are serious about your website you'll save a ton.
Click Here To Get 3 Months Free WPEngine Hosting
Steps on How to use this WPEngine Discount Code
1. Click this link and the 3 Month Free WPEngine coupon code "JULY3FREE " will automatically be applied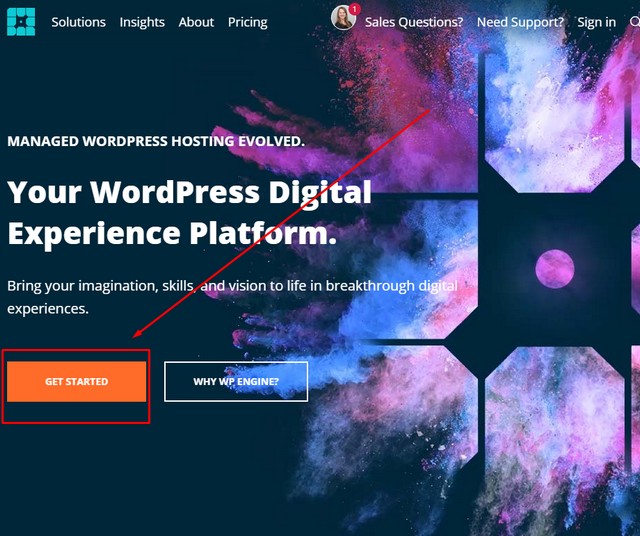 2. Click ON Get Started

3. You can then choose which website plan you would like to signup for, a detailed table with feature specifications and account limits come with each plan so you can choose the best one for your website simply Choose a relevant plan based on your requirements
Step 4: After choosing the plan you'd like to buy you will be taken onto a payment page where you will see my 10% off discount has been applied to the bill.
Pro Tip: If you go for annual billing you can get 3 months free which is a no-brainer as hosting usually works for one year.
Click Here To Get 3 Months Free WPEngine Hosting
What's the catch?
Nothing. The only reason WPEngine is giving up the discount is that WPEngine is always striving to bring high-quality service to everyone. I've also been a fan of them for a while which is why have affiliated with them.
WPEngine Overview:
If you've been snooping around for best Managed WordPress hosting services chances are you've heard about WPEngine and for good reason. In fact, they are one of the leading Managed WordPress hosting services in the market right now.
This is because WPEngine is a hassle-free hosting that offers fast and robust servers and can handle almost anything at very attractive prices.
Here's a comparison table to give you a brief Idea about WPEngine
PROS
Drawbacks but not Dealbreakers

Longer than usual 60-day money back guarantee.

One click website staging

Automated site migration plugin that makes it super easy to transfer your WordPress website over to the WPEngine servers.

Automatic daily backups and plug-in updates.

Regular Malware scanning and firewall protection included in all the hosting plans

Unlimited monthly data transfer

Is WordPress specific with no support for other traditional services like Linux or Windows-based.

Traffic and storage are restricted on every pricing plan.

CDN integration is only included in Enterprise and Premium plans.

Note:  This gives you the freedom of choosing your own CDN when using WPEngines budget or lower tier hosting plans.
Not only do they offer everything you'd hope for such as lightning fast servers, amazing security, automatic caching and outstanding 24/7 support they also continually push the boundaries of technology by bringing something new to the hosting market
Add to that they are also one of the first specialist WordPress hosting service to offer HTTP2, PHP7 and a whole multitude of other advanced features.
Bonus: You also get USD$499 worth of Studio press themes for free!
With the recent acquisition of StudioPress WPEngine has added a whole new feature to their portfolio. Now all the WPEngine clients get access to all StudioPress themes that are usually sold as a PRO PLUS package by StudioPress.
This is a HUGE deal as StudioPress is one of the best WordPress themes use by SEO professionals all around the world. It is a super lightweight theme that is already optimized to start from.
Considering all that and the 20% off on WPEngine is an absolute no-brainer for anyone looking for a value for money option basically you are getting a team of experts to manage your WordPress website and a bunch of premium SEO friendly themes.
Click Here To Get 3 Months Free WPEngine Hosting
Who is WPEngine best suited for?
WPEngine is perfect for those who don't have funds to spend on premium hosting but still are looking for a unique experience at 20k
What are you waiting for? Start managing your WordPress website using WPEngine
So all in all WPEngine offers a great level of security that a managed WordPress Hosting should offer. Add to that a few extra features like website staging, loading content based on GeoIP targeting, and strategic account management and you're looking at a really sweet deal.
WIth 20% off and free hosting for a couple of months, you really cannot go wrong with WPEngine and even you don't end up liking it you can ask for a refund after 60 days!