For the past 2 years of running my online business, I used to use SiteGround. However, as my businesses started to grow shared WordPress hosting just wouldn't do it for me and I wanted to migrate my site over to much more scalable system and Cloudways turned into the perfect solution for me. Read my Cloudways WordPress Hosting Review to figure out why…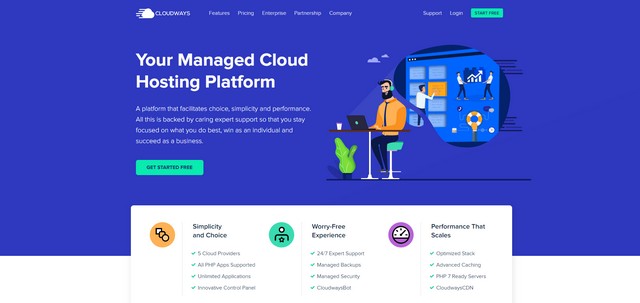 ---
Exclusive Offers For JeremyNoronha.com Readers
JeremyNoronha.com readers can get 20% off for 2 months of hosting with our exclusive promo code to try out Cloudways. Simply add Cloudways coupon code "JEREMY20" when you sign up and the discount will be applied automatically.
Coupon code: JEREMY20
Click here to Claim this Exclusive offer
Hurry Up! Limited Time Offer.
---
Cloudways WordPress Hosting Review
Cloudways is a platform-as-a-service and which allows you to choose to host your WordPress site on a cloud server from Digital Ocean, Linode, Vultr, Amazon Web Services (AWS) or even Google Cloud Platform. However, Cloudways handles all the heavy lifting of running the server and you just focus on your website business.
So with Cloudways, you have all the benefits of having powerful Cloud Hosting, the same hosting that powers apps like Netflix, Airbnb, etc without having to deal with any of the technical aspects!!
Read to figure out why…
About Cloudways?
Cloudways, as mentioned in the intro, is a platform-as-a-service and which allows you to run your applications on cloud servers from Digital Ocean, Linode, Vultr, Amazon Web Services (AWS) or even Google Cloud Platform.
You can run any application like
Magento
Laravel,
custom Php
Drupal
Opencart
Joomla
PrestaShop
WordPress
However, in this review, I'm mainly going to focus on Cloudways for WordPress businesses as that's my expertise.
Cloudways handles all the heavy lifting of running the server and you just focus on your website business. So you don't have to spend time trying to figure out your droplets in Digital ocean or anything of that sort. No, you just focus on your online business as it should be.
Given all of that, it's obviously a little more expensive than bootstrapping your server from scratch. However, for someone like me who doesn't understand the in's and out's of a server, Cloudways is a lifesaver.
Let me start with some of the features of Cloudways Cloud Hosting Platform as a service and why it's worth purchasing in 2020
Cloudways Cloud Hosting Services
1. Tunderstack
Have you ever heard of Nginx, Varnish, Apache, PHP-FPM, Memcached, Redis, and MySQL?
Well, I have quite often when I read a WordPress tutorial blog on how to speed up my site or listen to my developer friends talk about websites.
But…I'll be honest… I have no idea what the fuck they mean!
Sure I could spend all my time learning what each thing I mentioned means but I honestly feel like that's a waste of my time. Why should I or anyone else reading this have to learn that if we're not interested in it?
I want to focus on growing my business and that means producing more content and marketing my content. However, having a good server can mean the difference between your business scaling or failing and all those words I mentioned below are software and tools that help your server and in turn, your website gets faster.
So is they any middle ground? How can you get the benefits of having all those services without having to learn and understand them? Well, Cloudways comes to your rescue 🙂
Cloudways Engineers has built their own PHP Thunderstack on the top of best technologies:
So all you have to do is click on the type of website you want to run and Cloudways layers all of those technologies in the most optimal way to make your site blazing fast!!
Which is why Cloudways is a godsend for a non-programmer like me.
Google cares about speed a lot, and not just Google has found that 53% of mobile site visits leave a page that takes longer than three seconds to load. So speed is definitely an important thing to think about especially as the number of mobile users is growing.
2. Up To Date Technology
Cloudways is always up to date with the lastest server and programming technology so you don't have to be worried about losing out on the latest and greatest.
For example, if you go to Cloudways.com right now, you will see that PHP 7.3 is available on Cloudways.
Why is that important? Well, for every PHP version upgrade your site gets faster.
According to WordPress.org statistics, 36.4% of WordPress sites are on PHP 5.6. The problem? Active support for PHP 5.6 ended on 19 January 2017, however, PHP just became the minimum requirement for WordPress in April 2019, to be replaced by PHP 7.0 as early as December 2019.
However, PHP 7.0 is extremely outdated already and is already at its end of life. While WordPress hosts like WP Engine only starting asking customer to switch over in late 2018, Cloudways is already making the latest version 7.3 available!
It's not enough meeting WordPress's minimum requirements! You want to be using the best, not just enough to get by.
Kinsta published performance benchmarks, comparing PHP 5.6, PHP 7.0, PHP 7.1, PHP 7.2 and PHP 7.3. Their findings show PHP 7.3 executes 3x as many requests per second compared to PHP 5.6.
3. Ease Of Use
Cloudways has an easy to use interface that makes everything from Monitoring to scaling up your server super easy. UI and UX is a big part of Cloudways Ethos as you can see if you visit their webpage.
4. Support
Cloudways 24/7 Support is really helpful and quick to answer any of the questions you may have or to modify anything on the backend for you if it's too complicated. Till date, in 3 years of running an online business, I have never used an FTP or anything of that sort as I have always count on the support team to help me.
5. Free SSL
Cloudways comes with a built-in One click Let's Encrypt SSL that improves website security with a trusted certificate that fulfills all your HTTPS requirements for free.
6. Cloudways CDN
CloudwaysCDN is a powerful yet simple service (that's powered by Stackpath) that delivers superior performance and top-of-the-chart global response times. It can be integrated into a few clicks without any technicalities.
At only $1/25GB/Application, it's a steal, in comparison Stackpath starts at $10/month for the lowest plan.
How to Decide Which Cloud Hosting to Pick
There are five cloud service providers you can use from.
DigitalOcean
Vultr
Linode
Amazon Web Service (AWS)
Google Cloud Platform
Each of them come with a 3-day free trial (Without a credit card!) so you can always give Cloudways a while, click here to sign up.
However, not all of them are created equally. Google and AWS are the most powerful hosting platforms however they're also expensive starting at over $30/month.
If you are running a WordPress website, using Google and AWS is kinda going overboard. I'd recommend going for either Digital Ocean of Linode.
Digital Ocean on Cloudways start at $10/month and Linode starts at $12/month.
I'm personally using on Digital Ocean on Cloudways.
Setting Up Your Cloudways Account
1. Create A Cloudways Account
First, click the button below to go to Cloudways.com.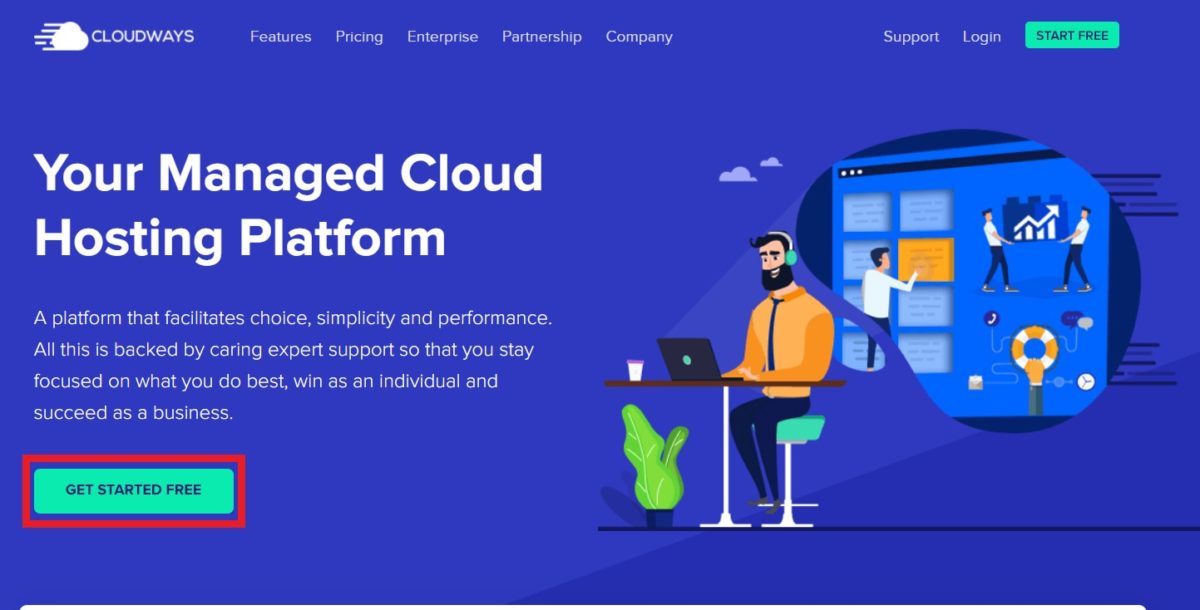 Click on the green "GET STARTED FREE" button, it'll take you a page that looks like this
Fill in your information, and then click on the "Got a Promo Code" and paste JEREMY20 and click "START FREE"
You'll be asked to enter a phone number so you can get a one-time activation code. Once you have verified the activation code, you can access your Cloudways account.
You can also sign up to Cloudways using your Google, Github or LinkedIn account which is a big plus.
2. Create Server on Cloudways
Let's now Create a server. After you click 'Launch', you can pick the server you want..
For example, I have selected the following:
WordPress 5.1.1 as application
'Cloudways Review Test' as the name of the application and server
Digital Ocean as the cloud provider
1 GB as server size
San Francisco as location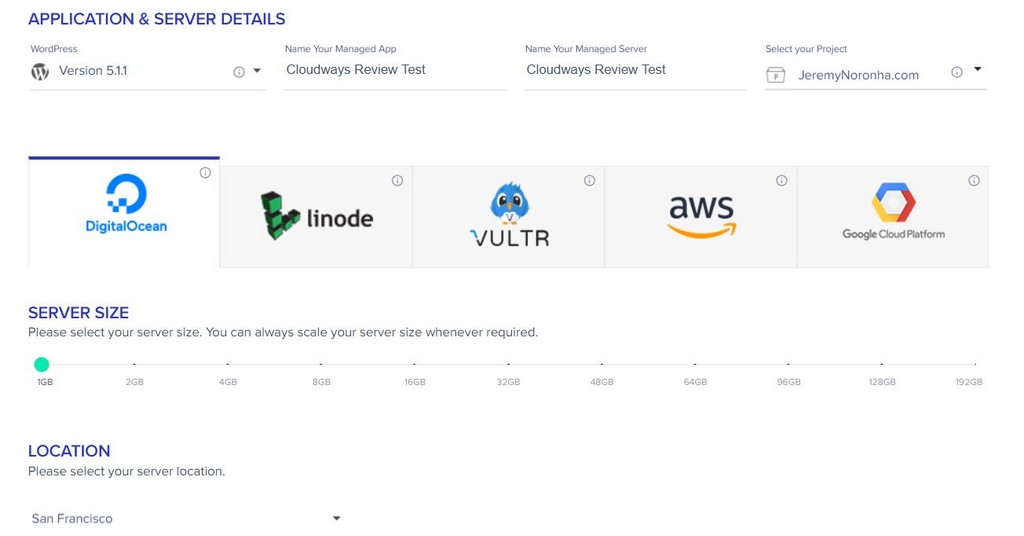 At the bottom, click 'Launch Now' button and you'll have to wait a few minutes while Cloudways does their Server magic and tada! You'll be able to use your new server!
Cloudways Server Stack
Once you have your new server set up, you'll have access to your server management where you have access to the server access credentials, monitoring attributes, service management, backup, security, and scaling options, etc.
Master Credentials
The first thing in Server Management is Master Credentials. It displays the public IP, Username, and Password. You can use these to access your server using SFTP and SSH. In most cases, you'll never have to use them.
On the right, you'll have the ability to upload multiple SSH Public Keys and launch SSH terminal.
Monitoring
On the second tab, you have Monitoring that gives you a summary of how your server is being used.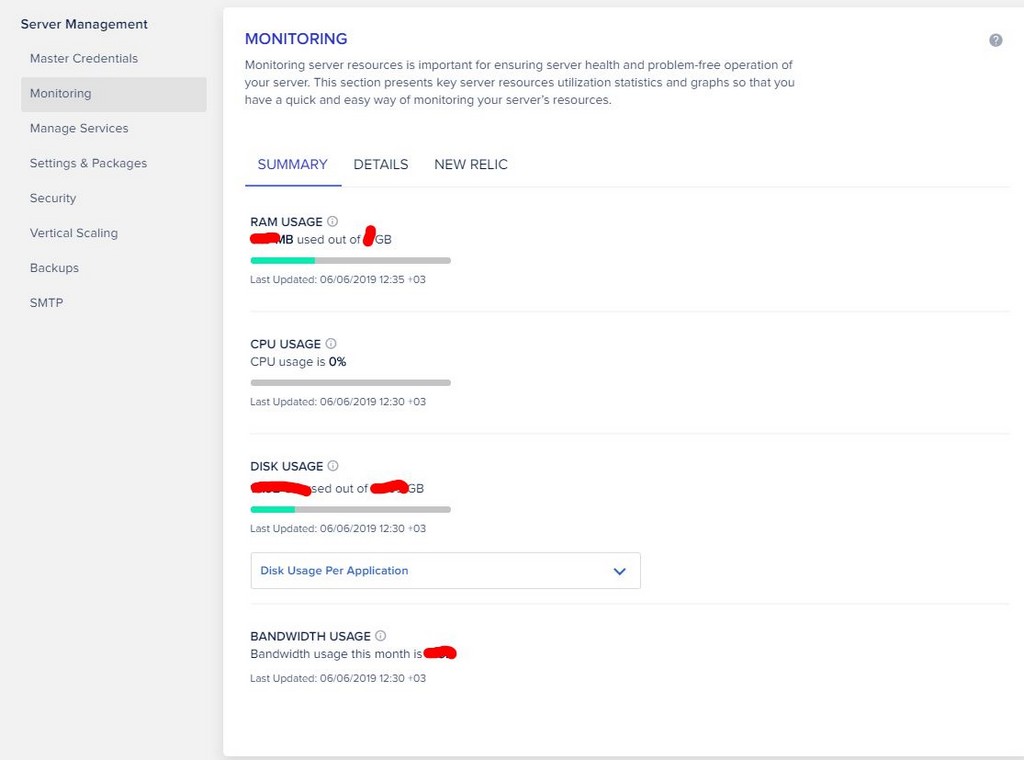 You can click into the "Details" column to see more details like,
Idle CPU
Free RAM
Free Disk
Reads per second
Writes per second
etc.
With different time ranges, from by the hour all the way up to for the past 6 months.
Manage Services
The Manage Services column allows you to change all those tools we talked about earlier like Apache, Memcached, MySQL, New Relic, Nginx, PHP FPM and Varnish. You can enable and disable your server resources as per your requirements.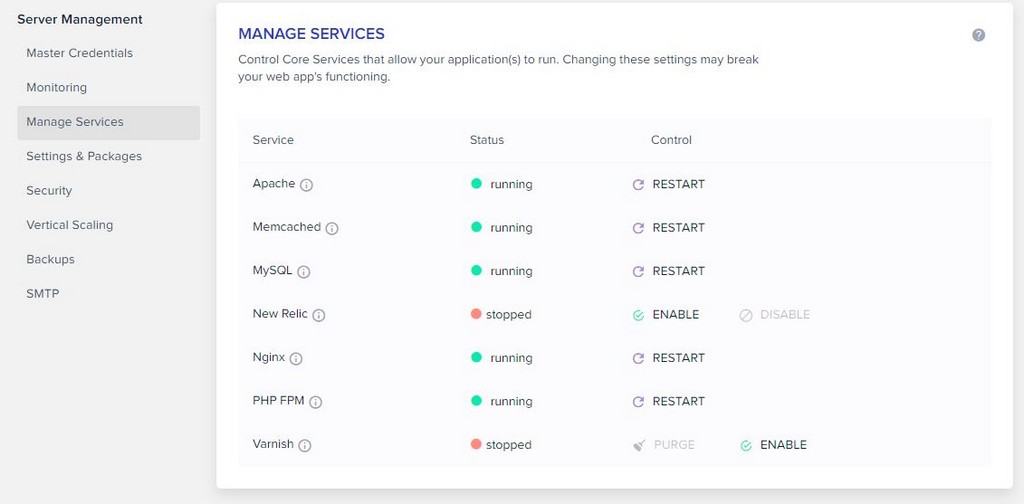 In most cases, and for most people reading this, I would recommend you just leave things the way they are.
Settings & Package
The Settings & Packages option lets you modify the details of your server packages. As above, I would recommend you just leave things the way they are.
Security
The security tab allows you to whitelist your IP addresses in order to safely access your server over SFTP and SSH. You can also check whether an IP address is open or blocked.
Vertical Scaling
If you run an online business scaling is important for you! You don't want your entire business to be done for a couple of hours while someone increases the size of your server by a few GBs, you want it done quickly and seamlessly.
Cloudways makes this sooo much easier. Using the vertical scaling tab, you can easily upgrade or downgrade your server anytime you want, and since you are paying by the hour and not by the month, you only have to pay for the upgrade when you are using it.
Note: Digital Ocean can't be downgraded only scaled up. 
Backups
Backups are very important when it comes to running your business. You won't want to wake up one morning to find your entire business down or destroyed because of a mistake on your hosts part.
Meanwhile @Linode corrupted our entire VPS's hard disk drive and did not respond to us for 2 hours (and still hasn't) pic.twitter.com/PpXz7Jbju9

— Pieter Levels ✨ (@levelsio) May 9, 2020
Ps. Have off server backups too!
SMTP
The SMTP Addon allows you to either use Elastic Email add-on for transactional email delivery and management service or a Custom SMTP Add-on will configure an external SMTP service for transactional email delivery and management service.
Cloudways Application Management
The Application Manager allows you to easily manage the different application hosted on your server.
Access Details
Access Details provides you your credentials to use your website application. You can also get your WordPress username and password over here.
Disk Usage
Disk Usage allows you to view the resources used by this application.
Domain Management
Domain Management allows you to use your domain name with your Cloudways application. You can also add additional domains that you want to have linked to your application.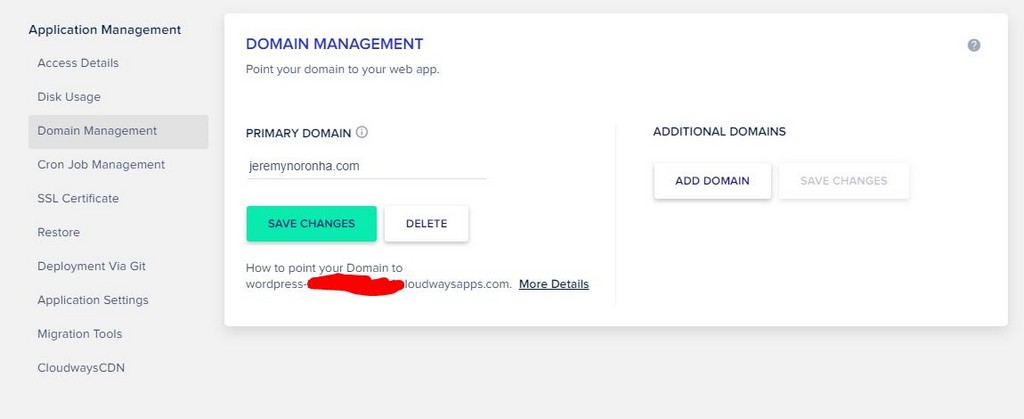 Cron Job Management
Cron Jobs basically allows you to schedule any task on your website. In my SiteGround Startup Hosting review I mentioned that the biggest issue with SiteGround and most shared hosting was that you can run any Cron Jobs on them as your resources are limited.
If you are a developer that's building an app that needs a lot of Cron jobs, Cloudways makes managing them super easy with the Cron Job Management tool.
SSL Certificate
You can install a free Let's Encrypt SSL certificate on your application over here.
I'm not sure if you guys noticed but this site is secured with SSL (the tiny green lock at the top next to the URL), that means all data passed between the web server and browsers remain private and integral!
Restore
You can restore your application from the backups over here.
Deployment via Git
If you are a developer, this feature is a great plus! You can deploy your application to your Cloudways server using Git!
Application Setting
The Application Settings lets you modify the details of your application eg. Database name, password, etc. I would recommend you just leave things the way they are.
Migration Tools
Cloudways makes moving your WordPress website over super easy thanks to their Cloudways WordPress migration plugin that's powered by BlogVault that makes moving over from your previous host a breeze!
Cloudways CDN
The amazing Cloudways CDN can be enabled for your application over here. At only $1/25Gb it's well worth it to make your website fast from all over the world!
Cloudways WordPress Hosting Pricing (+ Discount)
Cloudways, as I mentioned, is a no-brainer if you are serious about your business and looking for a hosting provider that can scale with you. However, it's not really cheap especially for someone just starting out.
For someone just starting out, a shared host like SiteGround is better which is why I recommend it. However, if you have an existing business that's growing, Cloudways is well worth your time.
Cloudways starts at $10/month with DigitalOcean with 1 Core, 1GB ram and 25Gb of storage.

It also comes with a Pay As You Go where you are paying by the hour and there's no lock-in. Also since you only pay at the end of the month, you don't need to worry about paying in advance for years like SiteGround or other hosts.
Bonus: Cloudways will migrate your first website to Cloudways for free.
For only $10/month, you can host Unlimited website on your fast server! That's definitely worth it!
But, wait! Thanks to being a JeremyNoronha.com you can get it for even cheaper!
Exclusive Offers For JeremyNoronha.com Readers
JeremyNoronha.com readers can get 20% off for 2 months of hosting with our exclusive promo code to try out Cloudways. Simply add Cloudways coupon code "JEREMY20" when you sign up and the discount will be applied automatically.
Coupon code: JEREMY20
Click here to Claim this Exclusive offer
Hurry Up! Limited Time Offer.
---
Is Cloudways WordPress Hosting Worth it?
The answer is definitely yes, starting at only 10$ per month, you can host unlimited websites, with fast servers, with free SSL and amazing support!
So what are you waiting for? Try it today for free (without a credit card) and see whether this is the right hosting for you.
Click here to Claim this Exclusive offer
Read Next: