TLDR; If you want a quick answer before diving into the in-depth review, it's pretty simple – If your goal is to earn as much as you can, then there is no choice but to go for Clickfunnels. Sales funnels are really effective at increasing your revenue and Clickfunnels is a sales funnel platform where the goal is to simply convert visitors into your customers.
Click Here To Try Clickfunnels For Free

Clickfunnels and Kajabi are two popular platforms for marketing your products online. Though that does not mean they offer the same thing, they both offer different services for you and this article will help you decide which one exactly suits you the best. First we will get an overview of what each has to offer, then we will dive in depth with it and finally, we will compare Clickfunnels vs Kajabi against each other directly.
Clickfunnels vs Kajabi
So, let's begin with it. Starting with Clickfunnels And it's Features
About Clickfunnels
Clickfunnels is a sales funnel builder and it happens to be one of the most popular ones at that. You might wonder, what exactly is a sales funnel builder?
Basically, a sales funnel builder is a software that allows you to increase the sales of your products. Softwares of this kind funnel or direct your customers through your website, assisting them to place their orders and become a paying customer for you.
Clickfunnels is aimed at entrepreneurs who do not have any programming knowledge and simply want to create nice looking web pages, complete with a sales funnel to maximize their sales and grow their business. All that without having to deal with the hassle of coding.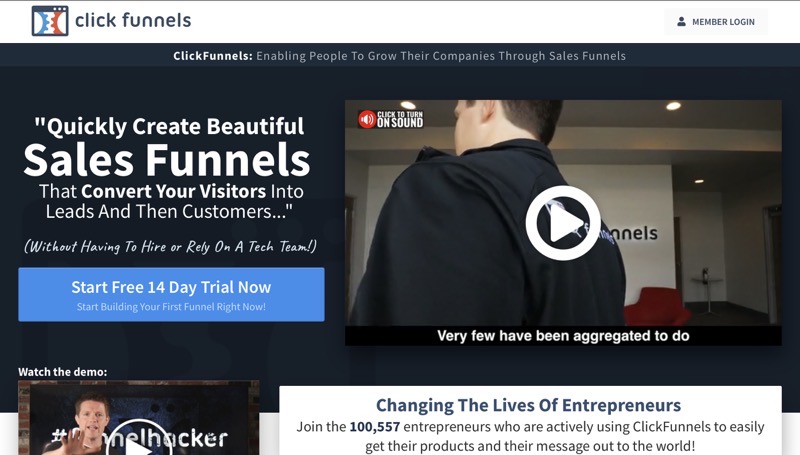 Pros
Easy to use
Efficient creation of sales funnel
Membership site portals
Versatile drag-and-drop builder
Secure shopping cart pages
Email automation
Integrations with different software's
Availability of marketing-related educational content
Cons
Higher price range
Too simplistic for some people
Software downtime
Email marketing is not available on all plans
How Does ClickFunnels Work?
ClickFunnels is a tool that simplifies the creation of sales funnels and turns their visitors into prospective customers. The platform offers you everything possible to attract visitors and follow up to leverage them to be real customers. It can help users collect payments and track how each page displays on the funnel.
The platform requires little to no technical knowledge, and you can set it up automatically if you know what you want. This means that your sale funnel is growing your company 24/7 while you're focusing on other things.
ClickFunnels is different from traditional tools and helps you achieve a profit faster. This software allows you to:
Quickly build a high-quality landing page where you can capture leads and sell different products online.
Integrate a payment system allowing you to collect payments on each page of your website.
Advanced traffic analytics to retarget your traffic to boost sales.
Create upsell and downsell pages to increase your overall revenues.
Option to send advanced follow-ups to your leads
And much more.
Click Here To Try ClickFunnels For Free
Let's also take a quick look at the pricing while we are at it. In total, there are three plans Clickfunnels has to offer. The Clickfunnels goes like this:
Clickfunnels Basic plan: This is the most basic and cheapest plan Clickfunnels has to offer, going for $97 per month. The features offered in this plan are:
Ability to share funnels with others, maximum number of funnels you can build is 20, you can make a total of 100 pages under each funnel, supports only one user, offers integrations with upto three payment gateways, you can connect with upto three domain names, chat support, Funnel Hacker Forums and offers Funnel Flix through which you can watch courses and trainings from professionals in marketing and personal development.
Clickfunnels Platinum plan: The Clickfunnels equivalent of the "pro" plan. It is priced at a fair price of $297 per month. With this plan, you get everything in the basic plan and all the following features:
Unlimited funnels, Unlimited pages, upto a maximum of three users are supported, offers integration with nine payment gateways, likewise you also get the ability to connect to nine domain names, ability to create follow up funnels (meaning you can reconnect with your audience even after they leave your website), Priority support available, Features weekly peer review hackathons and hours of additional training and courses through Funnel Flix.
Clickfunnels Collective plan: If you decide to go with this plan, it will cost you a whooping, yet worthy, price of $1497 per month. This plan naturally offers you everything the Platinum plan does and also the following features:
It supports upto a maximum of 10 users, ability to integrate with a total of 27 payment gateways, also offers the ability to connect with 27 domain names and Live VIP phone support
Click Here To Try ClickFunnels For Free
No obligations, no contracts, cancel at any time.

ClickFunnels Gives You THE TOOLS You Need To Market, Sell and Deliver Your Products Online!
Simple drag and drop webpage editor!
Quickly build sales funnels that convert!
Smart shopping cart with 1 click upsells!
Email and Facebook Marketing Automation!
Everything organized in one simple dashboard!
That high a price for just this many features? Well, rest assured because the Collective plan also offers you the following special features:
Access to all Funnel frameworks:
Frameworks Back Office License
Virtual Framework Hack-A-Thons
Funnel Audibles
Funnel Flix all access pass:
Agora Media Buying
Agora Copywriting
Funnel Boards
Two comma club consulting and live events:
Two Comma Club Momentum Events
Two Comma Club / Inner Circle Cruise
Unlock The Secrets Family Event
These days it is very hard to do business online as there is some extreme competition in almost every field. Thus it becomes hard to make some good profit and your business might easily become unsustainable.
That's where sales funnel builders come in, they help you to sometimes dramatically increase your website revenue by guiding your customers through your products and easily providing them the product they require to solve a specific problem. This makes it easy for customers to use your website.
Clickfunnels is one of the best sales funnel builders out there, helping you increase your revenue but what makes it stand out from the other sales funnel builders is its ease of use. Other sales funnel builders require you to have some level of coding knowledge, thus thinning their potential customer base. This also consumes a lot of your time. With Clickfunnels, you can use that saved time to improve your overall website and products.
Now that you may have gotten a rough idea about Clickfunnels, it is time that we dived a little in-depth into the features it has to offer.
Click Here To Try Clickfunnels For Free
Funnel Templates
A good number of people reading this are most likely those who are just starting out with their businesses and possibly have no experience with sales funnels before. There is no need to worry though, Clickfunnels has got you covered there.
Clickfunnels offers you both simple and complex types of templates. These templates allow you to easily create your sales funnel in just a few simple steps.
The templates are majorly categorized as Lead Capture Funnels, Sales Page Funnels and Event Funnels. That is not all, of course. There are some special categories as well. For instance, Membership Funnels allow you to easily make a membership page.
Example of a simple funnel template is the Squeeze Page Funnel. What it does is that it collects a visitor's email address and then forwards them to a 'Thank You' page when signing up.
An example of a complex funnel template is the Reverse Squeeze Page Funnel which gives some of your best information to the visitor first before asking them to opt in.
Each of these funnel types have their own templates. There are both free and paid ones.
There are some simple steps to create your first sales funnel:
Choose a funnel type
Select a funnel template
Customize the pages as you wish
Add your products and important integrations like email and payment gateways
Choose a domain name
See? It only took five steps! It is truly easy to use.
Click Here To Try Clickfunnels For Free
Clickfunnels drag and drop builder
Clickfunnels has a powerful builder and it is easy enough to use as you just have to drag things around and drop them wherever you feel fit.
The pages in Clickfunnels are arranged using sections that can have any number of rows and columns. Just drag the elements around using your mouse and place wherever you want them.
The best thing about it is that there is absolutely no coding knowledge required here. You are building your pages without needing to know even HTML. Just forget about the technical side of things and focus on designing the page to suit you the best.
Funnel Flix
Funnel Flix is seriously one of the neatest features Clickfunnels has to offer to you. You can take courses and training on Funnel Flix that will make you learn more about marketing.
There is a great number of content on here that is entirely focused around Clickfunnels. Some of the content include:
Funnel Builder Secrets
Funnel University
Affiliate Bootcamp
30 Days book videos
Product Secrets
There are other great training modules too that teach you everything there is to know about marketing and turn you into a fine marketer.
Marketing is very important when it comes to online businesses as I said before, competition is on the extreme side these days. Nobody will buy from a website they don't know about.
Such a crucial thing and yet many people forget about it because they just don't know enough about it. Clickfunnels fixes this problem through Funnel Flix where you learn in depth about this and thus earning a greater chance at your business being successful.
Clickfunnels Affiliate program
There is a really nice affiliate marketing program that Clickfunnels has to offer you. It is easily one of the best that platforms like these have to offer. This is how the affiliate program works:
Basically, you get a 30% cut for every referral you make and once you hit 100 referrals, there is a chance to win prizes like a $500 cash prize. There are also 30% commissions that you can earn by promoting any product in Clickfunnels' ecosystem like Software Secrets books or Expert Secrets books.
That's not all it has to offer you, there is another feature called share funnels. You will find your share funnels URL inside the Settings tab in your funnels.
Whoever visits this URL will be able to grab your funnel and add it directly to their account given they are an existing Clickfunnels member. Free trial users can also take advantage of this.
This URL also acts as your affiliate link so you can get a recurring commission out of it if the new user ends up staying on.
Click Here To Try Clickfunnels For Free
These are the features I feel are worth highlighting. It is also worth it to talk about the Cons in detail as well so that you can get informed well about Clickfunnels:
Cons of Clickfunnels
Like every product out there, Clickfunnels is not perfect either. It too has some cons. They are small and negligible for many but they are cons nonetheless and so I will talk about them.
The first con is that Clickfunnels is not Search Engine Optimization friendly. Meaning your Clickfunnel pages will have a poor ranking on Google, compared to a normal website.
However, this is not an issue for most as most do not try to rank on Google using their Clickfunnel pages. Rather, most online businesses use a normal WordPress website for ranking on Google and from this website they lead the visitors to the sales funnel.
Another con is that Clickfunnels is generally a bit slow compared to some of the competition. That is not to say it is extremely slow, it is just not as fast as some other products.
Again, not an issue for many as you do not actually waste time, as Clickfunnels is otherwise an easy to use platform and so you save a lot of time on parts where on other products you would be coding. This saved time makes up for the time you have to spend waiting.
Click Here To Try ClickFunnels For Free
Kajabi Features
Kajabi is a very specific type of product, as opposed to Clickfunnels which can be used in any general situation that involves sale of products.
Kajabi is a digital marketing platform that is aimed at those who only want to sell their online courses. Now, there are a lot of online course platforms so you might wonder, what exactly separates Kajabi from them? Well, for starters, Kajabi is, so as to say, a compact digital course platform. Usually, you would require WordPress to run your online course platform website but Kajabi lets you host it through itself only. There is no need for any different plugins you have to fetch, just start it up and boom Kajabi will do stuff for you.
This is an essential difference from Clickfunnels, where it allows you to funnel sales to your online product website rather than helping you host such a product website itself. There is one other difference and that is you can sell physical goods through Clickfunnels while Kajabi is strictly a digital product selling platform and you can not just sell any kind of goods on there either. Only online courses.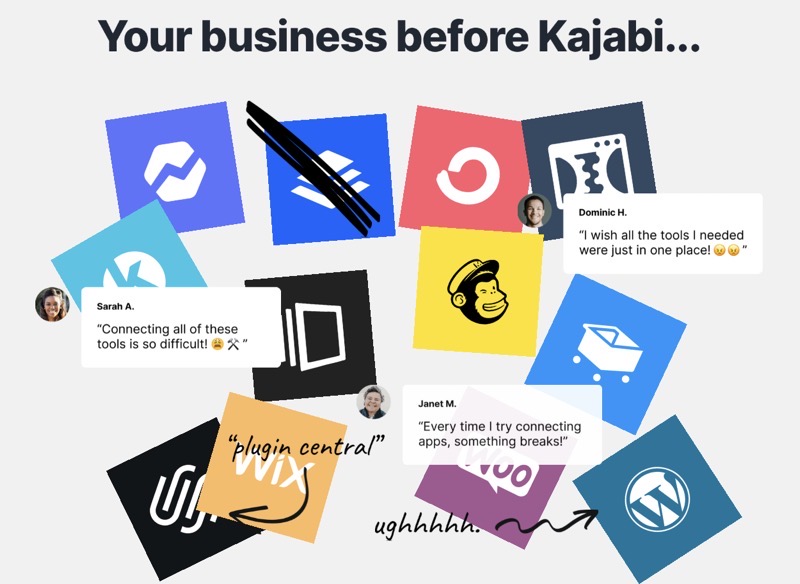 Pros
All in one online course platform
Allows you to make your own website and run your own blog
Good Android and iOS mobile app.
Good 24/7 customer support
No transaction fees
Cons
Bad price
No ability to create certificates natively
Does not handle sales taxes
Time to take a look at the pricing of Kajabi, a very crucial thing when it comes to making a decision. In total, Kajabi has to offer you three plans. These plans are:
Kajabi's Basic plan: The cheapest and most basic plan Kajabi has to offer, as implied by the name. It goes for $119 per month. Not that bad a price, you might think, so why did I say 'bad pricing' in the cons then? Well the reason is, that price is if billed ANNUALLY. The monthly price, which is what a beginner would want to go for is $149 per month. This plan offers you the following features:
A total of three products, three pipelines, unlimited Landing pages, unlimited Marketing emails, 10,000 contacts, 1,000 active members, one website, one admin user, webinars and events, ready to use templates, assessments (Quizzes and Surveys), chat support and automations.
In addition, you will be charged nothing per transaction, that is, no transaction fees.
Kajabi's Growth plan: This plan is Kajabi's most popular plan. The cost is $159 per month if you decide to go for annual payment but $199 per month if you decide to go for the monthly payment option. A sharp increase from the last plan. This plan has to offer you the following list of features, along with everything covered in the Basic plan:
A total of 15 products, 15 pipelines, 25,000 contacts, 10,000 active members, 10 admin users, 24/7 chat support, advanced automations, ability to remove Kajabi branding and affiliate program.
Kajabi's Pro plan: The highest level plan Kajabi offers you. Likewise, the highest cost plan as well. It costs you a fortune of $319 per month if you decide to pay annually and if not, then it will cost you a whooping $399 per month. It includes all the features included in the Growth plan and all these extra features:
A total of 100 products, 100 pipelines, two million marketing emails, 100,000 contacts, 20,000 active members, three websites, 25 admin users and a code editor.
With this you should have formed a rough image about Kajabi in your mind, so it is time that we begin with the in depth talks about what Kajabi has to offer you.
Kajabi course builder
It is quite easy to get started with Kajabi because it has something called Product Blueprints. Basically, these are pre-made blueprints for various digital products. So you don't need to worry too much about the structure of your course, just select one of these and you can get started with it.
As for the course area itself, unlike most other online course platforms which offer you a single theme for the course area, Kajabi offers you to choose from 10+ of these themes.
You can use a different theme for a different product. Like you can go for a dedicated theme for online coaching and another one for running a membership website. This diversifies your options and makes for some unique and beautiful pages.
Not only that, you can customize these themes to your own taste as well. You don't have to create a theme from scratch thus saving a lot of time and frustration and at the same time you can give these pre-made themes your very own touch to separate themselves from the competition!
Kajabi also has another tool called Assessments, which allows you to create some nice quizzes and add them to your online courses. The quizzes can be of any type, whether that be multiple choice based or multiple options based. Students are automatically graded based on their answers as well. There is also an upload option for your students. You can utilize this to have your students be able to submit their assignments to you.
Kajabi also allows you to create a comment section where your students can comment and give feedback. But not only that, Kajabi allows you to create community forums where students can have discussions with themselves or you.
Drip Course Content
This feature is a very important one and a very useful one. A good amount of so-called popular online course platforms lack this feature. However, Kajabi does have it.
What exactly is drip content? Well, basically drip content allows you to put a timer on specific categories. What this does is that when a student enrolls in your course, they will not immediately have access to everything. Rather, thanks to drip content, they will get the content based on the schedule you would have set.
There is also another feature Kajabi offers that goes well with this feature. This other feature is called Content Locking. Content locking locks content unless the previous content is completed. Like, your students will not be able to access the next lesson unless they complete the previous, pending lesson. This creates a linear course path for your students.
Kajabi's Automations
Automations is one neat feature Kajabi has. What it does is that it allows you to create When/Then triggers, you can take different actions depending on the trigger.
An example would be that you can create a trigger to send another of your courses for free to those who have completed a certain number of your lessons so that they get motivated to take on more courses and stay on your platform.
Another example would be that you can create a trigger to send a reminder about your course to those who have been inactive for more than a week. This allows you to bring back customers who have merely forgotten about your course and keep the revenue going.
This feature is only really available on Kajabi and it is a really flexible feature you can use for a variety of situations that usually arise when students are doing courses. Automations helps you to create automatic responses to these situations and so you have no need to worry about manually handling all these situations, saving you time and tediousness.
Cons of Kajabi
Kajabi has some noticeable cons that can even be deal breakers for many people. The first con is the pricing. The rise from Basic to the Pro plan is very steep. Add that to the fact that the Basic plan already has a somewhat high cost.

Another con is that you have no ability to create certificates natively. A bummer for many as certificates are crucial to an online course platform. You will need to use other softwares for you to help with this, thus adding to the cost. This is why I recommend Teachable as a Kajabi alternative for courses.
Now that we have individually talked about both Clickfunnels and Kajabi, you should have gotten a good idea about what both of them are capable of. So now it is about time that we go about doing a direct comparison between both of them.
Kajabi vs Clickfunnels Reddit
What Redditors say about Kajabi:
u/nineagencyxyz- "If you're doing online training sessions, I would recommend using Kajabi. The platform is better set up for content/digital services than Shopify".

u/Jealous-Wait2122- "Hey! I have a link to Kajabi, the online business platform which is amazing for creators. You can try it for 30 days instead of the usual 14."
What do Redditors have to say about ClickFunnels?
u/tenantreport "ClickFunnels is worth the investment if you're planning to build funnels and send traffic through them for your business. The first funnel you should build is the lead generation funnel. Here you offer a piece of free content in exchange for someone's email".
u/bootstrapspecialist "I've used ClickFunnels for many years and find it an extremely valuable tool".
u/finous "ClickFunnels is pretty straightforward to set up, just like legos. I have had some success using it with Facebook ads".
Kajabi vs Clickfunnels Verdict
Clickfunnels and Kajabi are both different kinds of products, aimed at different kinds of people. A complete comparison is futile but the overlapping features can indeed be directly compared.
If your goal is to earn as much as you can, then there is no choice but to go for Clickfunnels. Sales funnels are really effective at increasing your revenue and Clickfunnels especially is a sales funnel platform where the goal is to simply convert visitors into your customers. This vision allows Clickfunnels to stay focused on what every sales funnel should strive for and keeps itself from being bloated with unnecessary features that no one is going to use.
Click Here To Try ClickFunnels For Free
Kajabi on the other hand may be used when you do not want to deal with making your own WordPress site and looking for plugins for it. Kajabi is a compact solution for an online course platform.
However, it may be noted that it is only for online course platforms while Clickfunnels is a general purpose platform. Not to mention, Kajabi also only allows sales of digital goods. Clickfunnels allows you to sell both digital and physical goods.
Then there is the cost, Kajabi has a high cost and if you are a small business, you might not even be able to turn a profit with it. While Clickfunnels also seems to have a not so lower cost, it helps you increase your revenue a ton so that it becomes a worthy purchase.
Clickfunnels should be the preferred platform when your aim is to sell a variety of products online and especially when your product list includes physical products. Otherwise when your aim is to sell only online courses and you do not want to deal with multiple softwares and also if you are fine with a high cost, then Kajabi might be the option for you.
For most cases though, I would recommend Clickfunnels as it is fit for virtually selling any kind of product while helping you to greatly increase your revenue.