TLDR: If you're in a hurry according to Reddit, Clickfunnels is great if you're going to primarily build sales funnels and run ads but not so great if you're to just use it for landing pages. Unbounce and Leadpages is better for that.
u/finous "ClickFunnels is pretty straightforward to set up, just like legos. I have had some success using it with Facebook ads".
Click Here To Try ClickFunnels For Free

ClickFunnels is a sales funnel builder designed for entrepreneurs to scale their businesses by attracting targeted leads. The versatile tool allows users to automate their sales process from A to Z. It offers you the opportunity to keep each stage of the customer's purchasing journey under your control.
ClickFunnels lets you build regular websites, landing pages, opt-pages, accept payments, and many more. Besides that, it facilitates the building of entire sale funnels with a large number of customizable pre-made designs. All this can be done with a few clicks of a button without requiring any technical skill.
ClickFunnels was created back in 2014 by Russel Brunson and his team, who wanted to make the sales process simple and efficient. Several businesses and entrepreneurs use this platform to sell and market their products and services. Other people usually leverage it to facilitate customer generation campaigns for their online businesses.
In this article, we'll discuss what ClickFunnels does, its marketing solutions, and all its features in depth.
How Does ClickFunnels Work?
ClickFunnels is a tool that simplifies the creation of sales funnels and turns their visitors into prospective customers. The platform offers you everything possible to attract visitors and follow up to leverage them to be real customers. It can help users collect payments and track how each page displays on the funnel.
The platform requires little to no technical knowledge, and you can set it up automatically if you know what you want. This means that your sale funnel is growing your company 24/7 while you're focusing on other things.
ClickFunnels is different from traditional tools and helps you achieve a profit faster. This software allows you to:
Quickly build a high-quality landing page where you can capture leads and sell different products online.
Integrate a payment system allowing you to collect payments on each page of your website.
Advanced traffic analytics to retarget your traffic to boost sales.
Create upsell and downsell pages to increase your overall revenues.
Option to send advanced follow-ups to your leads
And much more.
Click Here To Try ClickFunnels For Free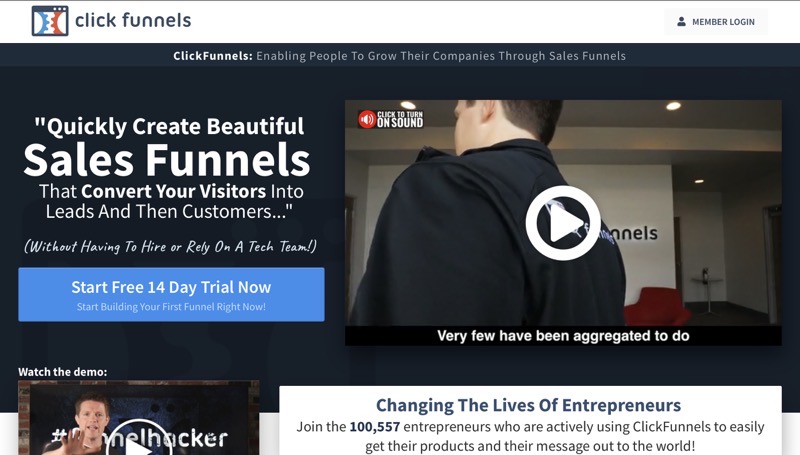 The Type of Funnels you Can Build with ClickFunnels
ClickFunnels allows users to select a wide range of tested and proven funnel templates to generate a higher conversion rate. The platform gives you access to both free and paid choices. The templates can be classified into three key groups, namely event funnels, sales page funnels, and lead capture funnels. However, you can also create specific templates like membership funnels, etc.
ClickFunnels have a large library of funnels that help in network marketing, B2B lead generation, E-commerce, blogging, and affiliate marketing sectors.
If you're using multiple marketing tools to control each stage of your customer journey, then your precious time and resources are deterred. You can manage everything in one platform with ClickFunnels. With this platform, you can monitor all the metrics and performances of the landing pages easily.
Why do you need ClickFunnels for your Online Business?
If a vendor is selling a product in person, you can approach leads and build a relationship with customers. All this while you explain the value of the product and encourage them to buy the product. If you're planning to sell online, then you'll need to design landing pages, code the features, run advertisement campaigns, etc.
If you select ClickFunnels, then you'll not have to be an expert in all the fields, as the platform can help you create digital sales funnels. You can select a pre-made sales funnel template to suit your product requirements and customize it before publishing it.
The software is an effective method to launch your website instead of employing web designers to generate your funnel. The Plug-and-stay feature allows you to get going within minutes rather than describing the plan to somebody else, and waiting for them to implement it.
The exciting part of using ClickFunnels is that the platform provides efficient funnels for all types of businesses. From B2B to B2C or acquiring leads for your email list, ClickFunnels does that all for you under one platform.
ClickFunnels has a few extra features that allow you to optimize your page and improve areas of your digital marketing service. This includes
Templates for multiples sales pages
Custom domain hosting
Integration with your Email
Different types of funnels
The ClickFunnels Actionetic allows you to control your email marketing campaigns in one place. It includes features like list management, email builder, advanced segmentation, triggered emails, autoresponder series, etc.
Click Here To Try ClickFunnels For Free
ClickFunnels Review
1. Drag and Drop Editor
ClickFunnels has a drag-and-drop site-building feature that allows you to create professional-looking pages without having any coding or technical skills. With the editor offered by the platform, you can create multiple pages within a few minutes.
ClickFunnels offers 40 free templates to users and has several premium templates. These templates can be customized as per necessity. Users can also opt to build the landing page from scratch without requiring assistance from any programmers or designers.
ClickFunnels also provide pre-designed sales templates that do the heavy lifting of your business. If you're planning to launch a membership website or product release, you have access to several tested and proven sales funnels. These funnel templates have a pre-made landing page to suit all your requirements.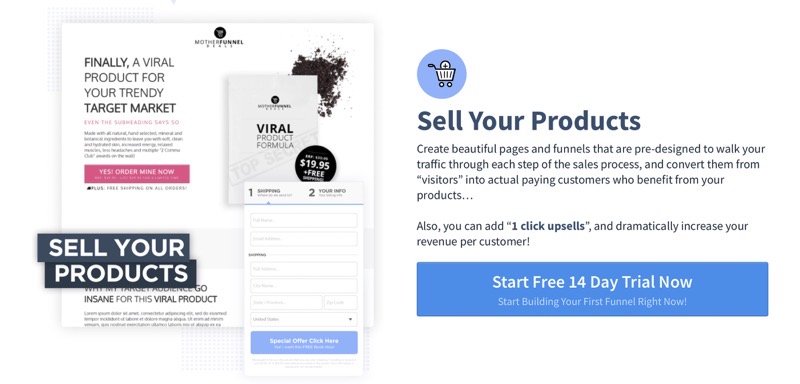 2. Share Funnels
This is a unique feature offered by ClickFunnels to its users. With this feature, you can share the entire funnel with other users who can later duplicate and use it in their accounts. Automation emails, tracking codes, and custom CSS can be cloned with this feature. However, integrations and products will not be copied with this feature.
The Share Funnels feature can be used to create and share landing pages with customers. This feature can also be used as an affiliate program to get a few extra bucks. If a user signs in with the URL you shared, you can get a 40% commission on your account.
3. Email List Building Tools
ClickFunnels allows users to build an email list from scratch with ease. The email builder feature lets you create an opt-in email funnel that collects leads alongside their email addresses.
4. Email Messenger
The Email messenger feature offered by the platform enables you to create email broadcasts similar to other email automation software. With this feature, you can also send out emails by integrating with third-party tools. You can schedule a fixed date or time for broadcasting this message using this feature.
5. Check-out and Order Forms
Users can create an easy check-out form to reduce cart abandonment. This feature helps retain customers and makes the entire process simple. You can capture user data based on these forms in either a traditional order form or a special 2-step order form. This allows you to get their addresses up on your email registration list for future email marketing campaigns, cart abandonment reminders, etc.
6. One Click Upsells and Downsells
The one-click upsells and downsells features help you add additional pages to your cart and suggest add-ons. This helps increase the cart value while generating more income. The suggestions are designed specifically based on what is there inside the cart.
If a customer doesn't find the upsell feature appealing, the platform triggers the downsell feature. Here purchasers are offered one-time discounts and offers that will result in higher income generation.
7. Sales Analytics
The sales analytics feature allows users to keep track of their sales and provide essential statistics. With this feature, you can check performance that includes conversions, click-throughs, opt-ins, etc.
This is a great way to determine which page generates the highest revenue. You can also track down resources and manage users to deliver what they are looking for in the store.
8. Click Opt-In
The click opt-in feature is a great way to collect contact information from your visitors. You can encourage visitors to opt-in to this feature by adding a customizable page. Once the prospects add their email address, they are automatically added to your email list.
You can create different fields based on the information you are planning to collect from your audience. This feature is an excellent tool if you're connecting with leads and want to share future marketing materials.
9. Connect Multiple Domains
You can connect multiple domains and subdomains with ClickFunnels. Users can leverage this feature to get multiple domains and make the most of a single platform. The platform enables users to directly purchase the domain from the ClickFunnels dashboard or link another domain purchased elsewhere.
This feature lets you run or host webinars right from your website without incurring any additional costs.
10. Add Sub-Users
The sub-user features let you grant permission or access to some other users based on different permission settings. This feature is very helpful if you have an assistant who has to be given access to your account.
The permission for Sub-users can be adjusted anytime, and you can give partial or full access to the other user. With this feature, you can share your account without giving away your sensitive data.
11. SSL Certifications
ClickFunnels websites and pages manage payments and sensitive credentials. The platform ensures that all websites and pages are protected and encrypted with SSL protection. This keeps your information and that of your purchases from phishing, identity theft, cyber-attacks, etc.
12. Integrations
ClickFunnels helps optimize your website and your business by offering several third-party applications to make your process efficient. ClickFunnels lets seamless connection with other applications. Here are some integrations available with this platform- Facebook, HubSpot, Mailchimp, Zapier, ZenDirect, etc.
Click Here To Try ClickFunnels For Free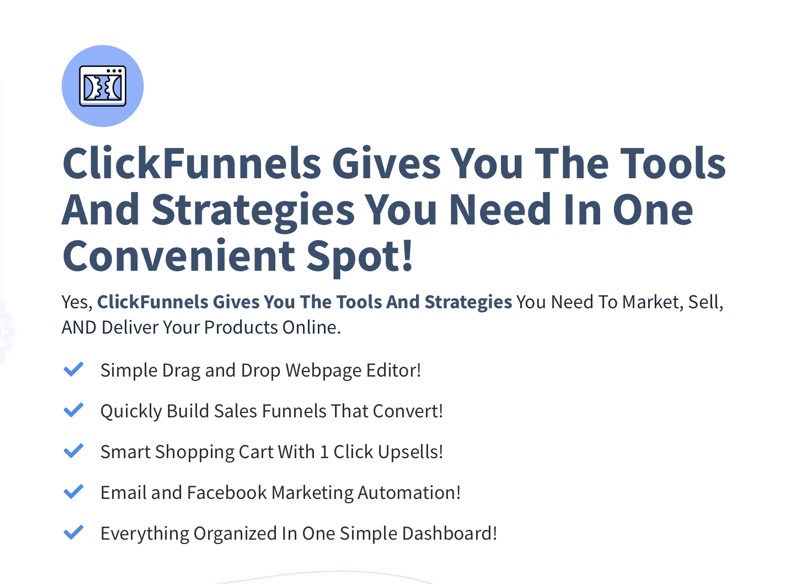 13. A/B Split Testing
To constantly evolve and improve, you have to implement new marketing strategies constantly. The A/B split testing offered by the platform allows users to test conversions between two individual pages.
This feature will give you a comparison side-by-side between two pages and sales funnels. You can decide and choose the best option for you after running the changes for a period of time.
14. Membership Section
The membership section caters to customer care and satisfaction. This feature is a tool that creates an exclusive member-only page.
After an individual purchases the subscription and becomes a member, they have access to exclusive content, training material, and special discount and deals. The Membership section is a great feature to build a community and increase your interaction with your premium or frequent buyers.
15. Actinonetics and Backpack Tool
Actinonetics and backpack tools are two amazing features offered by ClickFunnels in the higher-end plans.
Actinonetics is a marketing automation tool that supervises the stats of your sales funnel. The stats help you determine the behavior of your customers and their demands. This tool can help you promote your products better for potential clients.
The Backpack tool helps users create their own affiliate program. This is an incredible tool that allows you to step up in the corporate world.
16. Multiple Payment Gateways
ClickFunnels allows you to set up multiple payment processing services. This feature allows you to accept payments directly from customers without directing them to a third-party platform. You can integrate with different payment systems that, include Android Pay, PayPal, Apple Pay, etc. Users can integrate a range of payment gateways as per the selected plan.
17. FunnelFlix Program
The FunnelFlix program is one of the most amazing features that come with a ClickFunnels account.
All premium users of this platform get access to this feature for free. It has a collection of training courses, resources, marketing strategy, and much more, which is put together by experts and business insiders.
Click Here To Try ClickFunnels For Free
Funnel Hacking Review Reddit
Funnel hacking is a competitor analysis campaign tool offered by ClickFunnels. This feature lets you create better landing pages and sales funnels based on your niche. It allows you to observe and identify competitor sales and marketing strategies to combine the elements and create your own sales funnel.
The funnel hacking feature doesn't infer that you are taking what other marketers are implementing. You're basically combining certain elements that work for them and testing them against your elements. This gives you a better picture of the market and helps you improve your processes.
ClickFunnels, lets you test everything that allows you to create efficient funnels. It is not effective if you are planning to blindly test only your ideas. Instead, you have to take the aggregate of landing pages, price, and advertising of your competitors to come up with the best strategy to suit your business.
Some Steps to start funnel hacking:
1. Track your Competitors
Gather a list of competitors in the same niche as per your product. This can also include partial competitors who fall under the same criteria as your business or direct competitors.
Once you have a list of competitors, you can go to their website and take a screenshot of their website pages. You can check their autoresponders or check their remarketing ads or more. The no of screenshots you have gives you more insights into the competitor's strategy.
2. Test out ideas and Strategies
You can consider site design elements, content strategy, product positioning, pricing, and other aspects of your competitor. As per this, you can make certain changes to enhance your website.
3. Implement Advanced Competitor Analysis
ClickFunnels has some advanced competitor analysis tools that allow users to understand the deep funnel strategies of their competitors in their niche. Some of these tools are AdBeat, SEMRush, Ghostery, etc.
4. Enhance your Funnel Marketing Strategy
When you narrow down your competitor's funnel elements you are planning to hack, then make changes with the help of this platform. Select the sales funnel template you like and utilize the editor offered by ClickFunnels to edit them.
Some of the funnel elements you want to funnel hack include home pages, email sequences, landing pages, backend products, retargeting strategies, etc.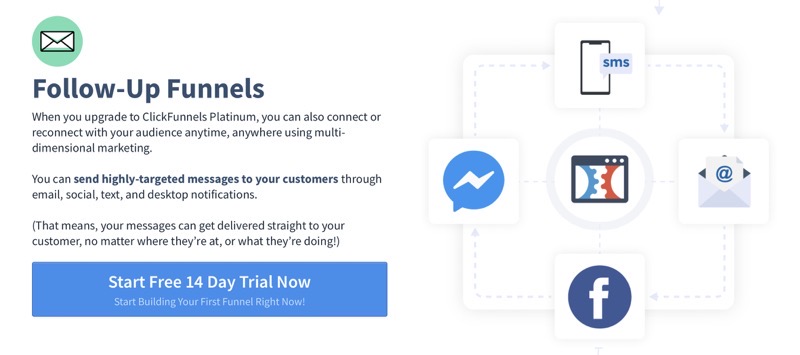 5. Implement and Repeat
When you make some changes and enhance your website, then you are ready to generate higher traffic volumes and get better conversion rates. You should make use of the ClickFunnels A/B testing feature to find out what performs well and revamp the website accordingly further.
ClickFunnels Pricing Reddit
ClickFunnels is an online tool that helps create sales funnels and offers 3 plans for its users.
ClickFunnels Starter Plan
ClickFunnels Platinum Plan
TwoCommaClubX Plan
1. ClickFunnels Starter Plan
The Starter plan offered by the platform is priced at $97 per month. This plan is well-suited for individuals who have never built a funnel before. It is also ideal for users who are using another email marketing tool and don't require any additional email marketing automation tool.
The Starter plan allows you to:
Create up to 100 pages
Activate Share Funnels functionality
Build up to 20 funnels using pre-made templates and drag and drop editor.
Limit for 1 sub-user
3 payment integrations
3 connected domains
Customer support via chat
Access to join the Funnel Hacker community
Funnel flix
2. ClickFunnels Platinum Plan
The Platinum plan is priced at $297 per month and is well-suited for individuals who own multiple businesses or brands. The plan comes with three times the features offered by the Starter plan. With this plan, you have access to more follow-up funnels and access to over 20 funnels.
The Platinum plan has the same features as the Starter plan plus:
Unlimited funnels and pages
Limit to 3 users
9 payment integrations
9 connected domains
Email automation system
Access to ClickFunnels Backpack features
Premium courses and training modules
Priority support services
Private coaching
3. ClickFunnels TwoCommaClubX Plan
The TwoCommaClubX plan is priced at $2497 per month and is the highest tier plan offered by ClickFunnels. This plan is best suited for individuals who own several businesses or brands. The plan allows unlimited pages and follow-up funnels. It also offers VIP line customer support that you can reach anytime.
Apart from the features of the Platinum plan, this plan offers:
27 payment integrations
Limit to 10 users
27 domains connected
High-priority phone support from the tech team
Exclusive personal training courses, live conferences, etc.
The entry to this package is application based. ClickFunnels only allows you to become a member if you are a good fit for the platform.
ClickFunnels Trial Period
ClickFunnels doesn't offer a free plan; however, it has a 14-day free trial period. During this time, you won't be charged and have full access to the platform. This is a great opportunity to test the different features of this platform. You will have to cancel the plan if you don't like it before the trial period ends; making you pay for the plan.
Click Here To Try ClickFunnels For Free
Customer Support
ClickFunnels has an excellent support team who can back you up in case you're stuck with any problems. Customer support comes in two forms- support articles and live chat.
The support articles comprise different questions that people have asked in the past. The solutions have a step-by-step approach for each question and also have videos embedded with them.
If you cannot solve your problem after checking the articles, you can always use the live chat feature. Users get quick and efficient answers from the tech team.
The TwoCommaClubX plan comes with priority phone support that is answered in priority. Getting into this plan is also difficult, so only the best businesses have access to this feature.
ClickFunnels Pros and Cons
Pros
Easy to use
Efficient creation of sales funnel
Membership site portals
Versatile drag-and-drop builder
Secure shopping cart pages
Email automation
Integrations with different software's
Availability of marketing-related educational content
Cons
Higher price range
Too simplistic for some people
Software downtime
Email marketing is not available on all plans
ClickFunnels Review Reddit
What do Redditors have to say about ClickFunnels?
u/tenantreport "ClickFunnels is worth the investment if you're planning to build funnels and send traffic through them for your business. The first funnel you should build is the lead generation funnel. Here you offer a piece of free content in exchange for someone's email".
u/bootstrapspecialist "I've used ClickFunnels for many years and find it an extremely valuable tool".
u/finous "ClickFunnels is pretty straightforward to set up, just like legos. I have had some success using it with Facebook ads".
ClickFunnels Alternatives Reddit
1. Unbounce – Efficient Landing Page Builder
Unbounce's landing page and conversion marketing platform allow marketers to quickly create, launch and test high-converting landing pages, popups, and sticky bars without developers and Unbounce is so much cheaper compared to ClickFunnels!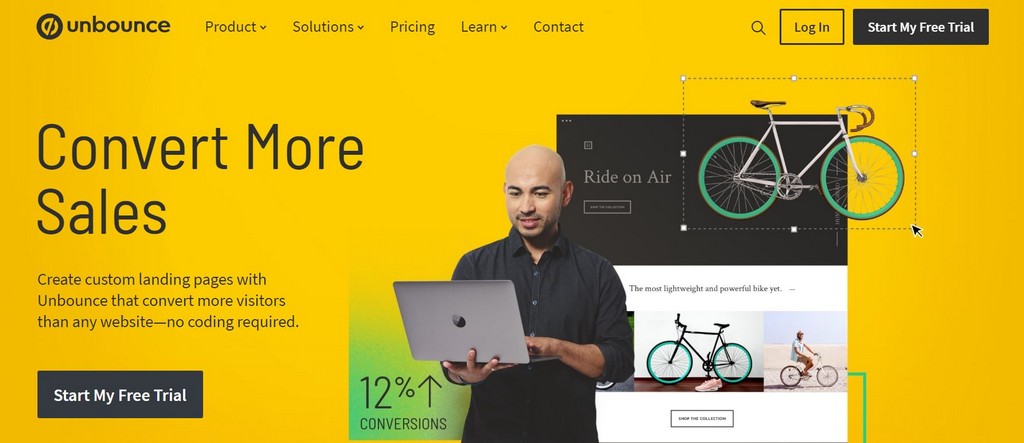 Use my exclusive Unbounce Discount Code below to get a 30-days free trial and a massive 25% discount on all plans of Unbounce!
Unbounce is driven to get your conversion rates higher. The platform is a landing page builder and allows users to create versatile and innovative landing pages. It also offers a range of features to enhance user experience, including
Drag-and-drop editor
A/B testing
Pop-ups and sticky bars
Reports and analytics
Smart traffic
Dynamic text replacement
AMP landing pages
Lead form builder
Unbounce comes with three plans
Essential Plan- $79/month
Premium Plan- $159/month
Enterprise Plan- $399+/ month
The pricing starts at $79 per month, and the key difference between the plans is the number of pop-ups and landing pages you can create.
Unbounce is an excellent landing page builder- one of the best in the market. It helps solve a majority of issues and helps increase your conversion rates.
2. Leadpages- Page Builder for Small Business
Click to Try LeadPages For Free
Leadpages is a popular landing page builder for small and medium-sized businesses. The platform offers an efficient way to connect small establishments with the audience to collect leads and convert them to customers. The features it offers include
Lead capture pop-ups
Custom form fields
A/B testing
A/B analytics
Easy drag-and-drop customization
Fast web hosting
Leadpages has three plans it offers to its users
Leadpages Standard- $37/month paid annually
Leadpages Pro- $79/month paid annually
Leadpages Advanced- $321/month paid annually
Leadpages packs plenty of features in terms of the price point, making it a good choice if you're starting out. However, it lacks some important features that are present in higher-priced landing page builders.
Leadpages is a great tool that allows users to build landing pages for small businesses at low prices.
3. Systeme.io – Budget Clickfunnels Alternative
Systeme.io is an all-in-one solution that helps users run online businesses with utmost proficiency. With the tool, you can easily build sales funnels, memberships, webinars, run affiliate programs, and sell physical products for your online business to make it simple and accessible.
Click Here To Get A Lifetime Account For Free
What Reddit Says About Systeme.io:
U/Broholmx- "I'm using Systeme, and you can just use tags as lists. Also works for exclusion, so you could have".
U/kekeligafatsi- "System.io is an intuitive, affordable, and simple online business tool designed for users looking to grow their online business. It is a versatile platform that is designed to build and run your sales funnels, memberships, and webinars".
U/MarleneEarningMakers- "As an online business owner, I understand how it can be overwhelming and stressful to get a tool that corresponds perfectly to your needs. A few years back, I wanted to find a tool that would allow me to run my business without needing multiple subscriptions for sale funnel builder, email marketing, automation, and hosting my online training. Until I found System. io, I could not imagine a better tool to do that work. This makes it an all-in-one platform that has completely changed the way I do my business now".
The tool was created by Aurelien Amacker, who was a tech expert who started as a consultant running a successful coaching business online. After he got frustrated with dealing with dozens of different tools while working for his clients, he decided to create his own platform that would take care of all other processes without needing to jump from one tool to the other.
Since its launch in France in 2010, Systeme.io has grown to become a hit with thousands of customers around the world. No matter your current success level, the platform has something to offer.
Who is Systeme.io for?
Systeme.io is a perfect choice for anyone who wants to run an online business without having to deal with multiple marketing tools. The platform is especially great for digital nomads, solopreneurs, lifestyle entrepreneurs, and small business owners. It is perfect for
Creating sales funnels
Email marketing
Creating and managing courses
Drop shipping
Starting a blog
Creating a community and nurturing leads
Building membership sites where you'll regularly feed your followers with helpful content
Freelancers trying to build a brand
It is important to understand the core function of Systeme.io before you decide to invest in it. The tool is a simple marketing platform that helps you offer a product, build a funnel, convert the leads, and market them through email.
It is not an ideal choice for physical product shops or large agencies. However, if you have a digital product/service or plan to start a community or blog, then the platform is made for you, and you don't have to look elsewhere.
Is ClickFunnels the Right Choice for You?
ClickFunnels has some of the best tools and features that allow it to be a good choice for beginners as well as advanced entrepreneurs who are planning to scale their online businesses. The platform is a one-stop solution for anybody planning to create a winning website with the assistance of sales funnel-building tools and multiple integrations.
ClickFunnels allows you to set your sales funnels from A to Z. The three plans offered by the platform cater to businesses of all sizes and allow users to create customized funnels and marketing plans to get higher sales.
In addition, the excellent customer support coupled with the several training courses and support materials helps you run an efficient sales funnel.
If you're serious about growing your business, then ClickFunnels offers the easiest way to scale up without requiring any technical skills.