The web hosting industry is a very crowded place filled making it complicated for users to choose the right hosting. Moreover, if you are a developer looking for good cheap cloud hosting you have to consider a few things else you might end up with a cloud hosting that's crap.
Bottom line you are here to find affordable cloud hosting that offers low cost but also delivers maximum uptime powered by reliable sustainable servers.
In this article I am not going to talk about shared web hosting rather cloud hosting (more on this later) so if you are a blogger I recommend the former however if you are a developer or experienced webmaster who can't afford to have long loading time, downtimes etc keep reading because I will be explaining about some of the best cheap cloud hosting services to get in 2019. All of them are trusted and used by top class companies and wouldn't be on my list if I didn't trust them.
Comparison Table of Best Cheap Cloud Hosting Services
| | | | | |
| --- | --- | --- | --- | --- |
| Hosting Provider | Starting Monthly Cost | SSD Storage | Ram | Bandwidth |
| Vultr | $2.50 | 40GB | 2GB | 0.5TB |
| CloudWays | $10 (managed) | 25GB | 1GB | 1 TB |
| Host1Plus | $20 | 40GB | 2GB | 1TB |
| Digital Ocean | $5 | 50GB | 2GB | 1TB |
| InterServer | $6 | 25GB | 1GB | 1TB |
| A2Hosting | $5 | 20GB | 512MB | 2TB |
| BlueHost | $6.95 | 100GB | 2GB | unmetered |
| DreamHost | $4.5 | 80GB | 2GB | unmetered |
| SiteGround | $80 | 40GB | 4GB | 5TB |
| Atlantic.net | | 40GB | 1GB | 3TB |
| Linode | $5 | 50GB | 2GB | 1TB |
What is Cloud Hosting and why should I get it?
Cloud hosting is simply a network of servers that are strategically located around the world that concurrently store user's data. Although it is shared with other users it renders extremely high speed that can beat any other traditional shared hosting as it is powered by some of the finest CPUs and Ram.
The real icing on the cake is the strategically located network of servers that give you 100% uptime at all times as if one server goes down, faces technical issues and traffic spikes the other servers that are connected in parallel cover the outage!
This is why many professional webmasters prefer cloud hosting over shared hosting basically it's cheaper than dedicated hosting and much faster than shared hosting which is a perfect balance as now you don't have to break the bank to get your hands on a really fast and reliable server.
What to look for in a good Cloud Hosting provider?
A server is a foundation that brings your web application to life so it's evident that it needs to reliable and good enough to host it effectively.
Choosing a bad cloud hosting provider can, in fact, kill your business as your web application will experience long loading times and downtime negatively affecting SEO and ultimately sales.
Here are some of the factors that will help you pick a good Cloud hosting provider for your business:
Timing
Certifications and Standards
Uptime Guarantee backed by SSD servers
GooSupport
Timing
Before you even begin to pick a good cloud hosting provider you need to first determine your specific business needs and whether it is the right time to upgrade or get Cloud hosting.
A lot of people fail to understand their businesses needs and end up getting a cloud hosting that's not right for them so clarity on your businesses requirements is the first step towards picking the right cloud hosting for you.
Certifications and Standards:
Good cloud hosting providers comply with strict certifications because they invest in best practices and keep their standards high and while standards may not determine which service provider is good for you it depicts the quality of the hosting provider.
Uptime Guarantee backed by SSD Servers
We live in a digital age where customers want everything instantly and definitely do not want to wait for your website to load or worse access an inaccessible website because then they'll just switch to your competitor.
I always look for 99.99% uptime guarantee and also pro-rata credit just in case I do not get the promised guarantee.
And of course, a server with SSD storage to ensure fast performance especially because HDD backed servers experience long loading times.
Architecture:
It is important to think about how the architecture will be incorporated into your workflow now and in the future. For example, say your business is invested in the Microsoft universe it makes sense to move forward with Azure however if your organization is more Amazon/Google it's best to look at those vendors for ease of integration.
Note: Cloudways is well integrated with many third-party providers making is quite versatile to choose to pick something.
Customer Support:
Now, this is a tough one as investing in good tech support is expensive and not many "cheap" cloud hosting plans can really afford to price their services down and invest in expensive support. However, some cloud hosting provides live chat and call options and it's worth going for these provides although they may be a little bit more expensive.
So yeah that's pretty much all the factors you need to consider whilst deciding to get good cloud hosting.
Best Cheap Cloud Hosting
So, here is my list of recommendations for the best cloud hosting services as of 2019. Only those services that are low cost and have reliable services have made this list so you can rest assured you will find your pick among these recommendations.
Vultr
Overview: With plans starting at $2.5 per month Vultr is among the cheapest cloud hosting providers on the market moreover they offer premium features like virtual cloud computing, block storage, dedicated instances making it a no-brainer pick for another looking for good cloud hosting that won't break the bank.
PROS
CONS

Flexible pricing options both monthly and hourly
15 servers located across the globe with low latency
100% SSD based hosting
Full root control which is great for developers

Support is average with no option for live chat however the ticket based system is pretty fast.
Why Should I get Vultr?
Reason #1:  Cheapest Cloud hosting provider
With pricing at $2.50 per mo, Vultr is one of the cheapest cloud hosting providers in the market. Moreover, it offers premium features that make it an absolute no-brainer to invest in.
Reason #2: Servers powered by powerful hardware
Another reason why Vultr is top on my list is that it's invested in high-quality hardware like Intel CPU's, Rams and 100% SSDs server this ensures your web application will perform well without any hiccups such as downtimes, long load times and all the bad stuff
Reason #3: Highly Customizable Cloud solution
With Vultr you have a higher degree of flexibility, for instance, having your pick at the operating systems (Centors, Debian etc), choosing a custom ISO, a variety of Apps (WP, CPanel, LEMP)
Click Here To Sign up on Vultr.com
CloudWays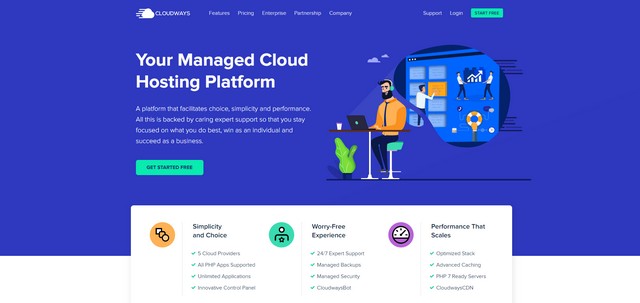 Overview: Cloudways is a managed cheap cloud hosting provider that starts at $10 per month and is great a multitude of applicated related to e-commerce, bloggers, designers etc. They also have a trial option so be sure to check that out here. Add to that a great support system and you're looking at a really good cheap cloud hosting provider.
PROS
CONS

Great support system via chat, tickets, and documentation.
Great infrastructure based on Amazon, Google, Vultr and over 25+ data centers.
Team control board for restricting access to crucial information
FIrewall and monitoring tools for security

Expensive pricing but for the features, it has to offer it is pretty worth it
Why Should I get CloudWays
Reason #1: Optimized cloud solutions powered by top-notch infrastructure
CloudWays offers performance optimized cloud servers that are powered by some of the best companies like Amazon Web Solutions, Google, Kyup etc. So basically you can buy cloud solutions from various providers through CloudWays which makes it easy to enjoy business-class services without messing with complex setups.
Reason #2: Great third-party application support:
Most cloud hosting providers limit the number of application install but with CloudWays you have the option of installing unlimited applications with add-on features like 1 Click free migration and cloning features.
Click Here To Get A Free Trial Of Cloudways
Host1Plus
Overview: Another great cloud hosting provider with multiple data centers around the world (Germany, Africa, Brazil etc)
PROS
CONS

Multiple data centers located across the globe
Free backup plans with each plan
Low-cost web hosting for major CMS like WordPress

$60/month for dedicated "extra care" support with a huge knowledge base to find easy to learn tutorials
Add-on license for cPanel at extra cost
Why Should I get Host1Plus
Reason #1: A WorldWide network of servers:
People pay a premium for cloud hosting because of their strategically located servers and Host1Plus has servers located all across the globe in South Africa, Germany, Lithuania, Brazil and are trusted by over 64k customers.
Reason#2: Feature-Rich Server options
I love the shared features bundled with all the plans like 1 free backup, Xeon E5 v3 processors, 10GB link speed, DDR4 error correcting-code ram and virtualization technology which is actually sometimes not provided by premium cloud solutions.
Reason#3: 14-day refund policy
If you are skeptical and want to just give it a try you can opt in for a 14-day free trial before buying into the annual or monthly plan. This is more than enough time to try out the service and get your money back if you decide to opt out.
Digital Ocean
Overview: Another big name in the cloud hosting industry especially for developers. Plans starting at $5/mo for SSD backed servers and add-on storage at 10 cents per GB you're looking at a
PROS
CONS

99.99% uptime
Numerous data centers located around the globe

No Live chat, phone option
Why Should I get Digital Ocean
Reason #1: Reliable 99.99% uptime with globally located data centers
With data centers in San Francisco, Toronto, New York City, Singapore, Germany, Bangalore etc and an uptime guarantee of 99.99% and you're looking at a pretty really solid cloud hosting provider.
Reason#2: Beginner-friendly Pricing plans ($5/mo)
Most cloud hosting providers offer restricted plans at a cheaper price but with Digital Ocean you have that experience of using a full-fledged premium cloud server at a budget price of only $5/mo this is great to gain enough experience to understand how to use the server before you decide to start some serious work.
Click Here to Give Digital Ocean A Try
InterServer
Overview: This cloud hosting provider is best for those that want to scale and have websites with a huge amount of traffic. Moreover, with plans starting as low as $6/mo at 1 TB bandwidth InterServer is a very cost-effective choice.
PROS
CONS

99.99% uptime guarantee backed by 100% SSD drives and up to 16 OS options
Servers that support multiple languages like PHP, Perl, Python

Extra $10 for cPanel
No live chat option but 24/7 support with email and ticket-based systems and a community forum/
Why Should I get InterServer
Interserve has several advantages like a 99.9% uptime guarantee, SSD drives and options to choose up to 16 OS. Do note if you want cPanel you have to pay an additional $10.
The company has data centers located globally to ensure the highest availability of services with a decent speed of 765ms (while this isn't very consistent)
Interserver is also very common amongst developers because of support for multiple languages like PHP, Perl and Python and other salient features like backup, snapshots, DNS manager, IPV6 and more.
In conclusion, InterServer isn't great but it isn't bad either for the price it's a pretty decent Cloud hosting option.
Click Here To Give InterServer a Try
A2Hosting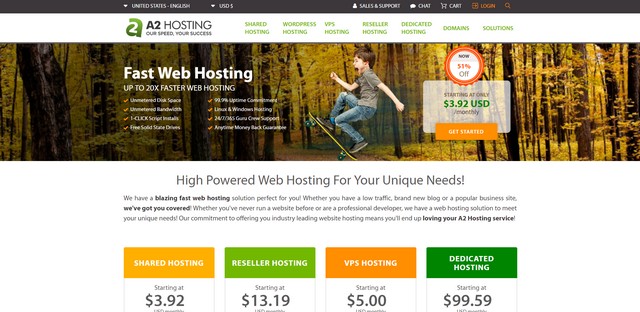 Overview: Although a little on the expensive end A2 Hosting is still a quite affordable option among SSD cloud hosting providers. Moreover, you have the option to customize your plan as per your requirement to prevent extra charges.
PROS
CONS

24/7 Live chat/Phone support with a very active blog
User-friendly and intuitive interface

A bit expensive compared to other companies on the list
Why Should I get A2Hosting?
Reason #1: Highly customizable Pricing plan
One thing different about A2Hosting is you have a high degree of control over customizing the plan to keep pricing low and paying exactly for what you need.
You have control over the selection of Linux operating system, shopping page and you can also select the version of CentOs, Fedora etc.
If you are a developer then there is a tailored plan just for you called the "Cloud Disaster Recovery" which is specifically optimized to troubleshoot errors whilst coding and restoring the previous session.
Reason#2: 30 days refund policy
Most cloud hosting providers offer a 14-day policy which is still good but with A2 Hosting you have the option of claiming a full refund within 30 days which is more than enough time to know the in and outs of hosting.
Click Here To Give A2Hosting A Try
BlueHost
Overview: This is a big name in the hosting industry and one that offers great cloud hosting as well. In fact, it is one of the top 10 web hosting companies that provide incredibly fast and reliable WordPress optimize cloud storage that's best suited for bloggers.
PROS
CONS

A reliable company that's been the industry for many years
Cutting-edge server speeds with global CDN
Three data mirroring system for extra safety
Dedicated phone and live chat support with an active blog
A fast response time of 151 ms

No site backup for starter and performance plans but only business Pro plan.
Why Should I get BlueHost?
Reason #1: Reasonable pricing plans with premium features
Bluehost although being a premium company manages to keep its pricing reasonable for instance
The Starter plan priced at $6.95 per month lets you host 1 website with 100GB bandwidth, 1 free domain, 2 GB ram, and marketing credits.
The business pro plan priced at $15.95 per month offers dedicated IP, SSL certificate, SPam protection, backup and much more.
Moreover, you get a domain free for one year with EVERY plan that's a minimum 15$ saving right there!
Reason#2: Good support with many ways to reach out
Many cheap cloud hosting provides fall short on support as it's expensive to maintain a good support team, however, Bluehost offer 24/7 support via Phone, Live Chat and ticket based system and even have a very active community of users that help you with any issues
Click Here To Get Off BlueHost
DreamHost
Overview: An award-winning web hosting service for WordPress websites and other web applications that manages over 1.5 million sites and apps. With plans starting at $4.5 per month bundled with powerful features such as root access, SSD and good network you cannot go wrong with DreamHost.
PROS
CONS

97-day money back guarantee
Complete control over the website root

SSD powered plans that render good speed
Good reputation among web hosts and handle over 1.5 million sites, apps and blogs

Technical support is a little tricky and complicated with no live chat/phone but the only ticket backed system
Why Should I get DreamHost?
Reason #1: Affordable pricing plans bundled with premium features
DreamHost although a premium hosting company offers cloud hosting services starting at $4.50 per month with a bunch of powerful features such as SSD storage, globally centered servers and decent hardware like 1 vCPU, 512 MB ram, 100GB storage, and 80GB SSD space.
Reason#2: 97 Day Refund Guarantee
It can be tricky to find the right cloud hosting as there's a learning curve to really figure out how the server works and this is when you pretty much know if it's for you.
While most hosting providers offer a 14 and 30-day money back guarantee DreamHost offers a whopping 97-day refund guarantee so you can pretty much use it for almost 3 months get the complete experience of a cloud server and claim a refund if you think you didn't get what they claimed.
Click Here To Sign Up To Dreamhost
SiteGround
Overview: SiteGround is known for being one of the best website hosting companies in the industry and also extends its service to cloud hosting. It's got the best customer support and uses reliable high-end servers that are located across the globe.
PROS
CONS

Outstanding customer support with live chat and phone support along with fast ticket based support
FREE domain name and SSL certificate
Recommended by WordPress and trusts by many users
99.99% Uptime guarantee

A little expensive as compared to other hosts but for the features, you get in return it's worth paying the extra premium.
Why Should I get  SiteGround?
Reason #1: Excellent Servers powered by top-notch hardware and Numerous servers
SiteGrounds hosting may be a little bit expensive but this extra cost gets you servers with high-end configurations like Dual CPUs, 4GB Ram, and 40GB SSD space.
You also have the option of scaling to add more resources in case you want to scale your web application.
Reason#2: One of the best Customer Support
SiteGround is popular because it has one of the best support in the industry. It offers multiple channels of communication from telephone to live chat to ticket based system that work round the clock.
Click Here To Get 75% Off SiteGround
Atlantic.Net
Overview: Atlantic.net offers a wide range of plans but is not among the cheapest. The company categorizes its plans on resources so as to offer custom configurations that are work just right for its users.
PROS
CONS

Tailored custom plans based on resources
6 active data centers and currently expanding towards more countries
Live chat and phone  tech support with all plans
Why Should I get Atlantic.net?
Although Atlantic.net is a new hosting provider it offers premium quality servers powered by SSD, 6 active data centers and good support.
While their plans do not focus on simple website builder or pre-installed programs they offer premium features at competitive prices. So if you're new to web hosting these plans are probably not the best for you however if you're looking for scalability and root access then you will definitely be impressed by Atlantic.net offerings.
An added bonus is the HIPAA-compliant plan for those handling sensitive medical information
Click Here To Sign Up on Atlantic.net
Linode
PROS
CONS

Feature-rich plans for all tiers that start as low as $10 to as high as $400 per month
99.9% uptime guarantee with pro-rata credit

7-day guarantee but with a $5 fee
Extra features cost more month like "Node balancer service" that balances demand across servers
Why Should I get Linode?
Linode sticks to the industry standard of premium services by offering a 99.99% uptime guarantee with a pro-rata credit system if your service is down long enough to break the SLA.
Moreover, you have the opportunity to host your website in one of the six data centers (Tokyo, London, new jersey etc) with test download options to assess the best option and an option to move later.
In short, Linode is an option that's best for people knowledgeable in Linux as there are no managed options you will have to do a lot of things on your own. However, the competitive prices for the superior hardware you get in return make it an attractive option for many experts.
Click Here To Sign Up on Linode
The Bottomline: Which cheap cloud hosting should I get?
Cloud Hosting is great for people that can't afford dedicated hosting but still require something that is reliable and fast. However, cloud hosting can still get expensive and looking for a good one is not exactly easy.
You could pick one of the overall balanced recommendations like Vultr or try out some of the recommendations with refund policies to just have a trial of the plan and have that option to refund if you find that cloud hosting is not for you.
Read Next: