Bluehost vs Siteground, when it comes to picking a website hosting provider to start with, I don't think it's even a competition when it comes to deciding between SiteGround and Bluehost and by the end of this article, you will understand why!
TLDR; SiteGround is the winner!
JeremyNoronha.com readers can get a 70% Discount on SiteGround's Hosting Plans. Simply click the link below and the discount will be automatically applied.
Hurry Up! Limited Time Offer.
If you go to Google and search "How to start a blog" or read a lot of the popular blogs on the internet you will see Bluehost's WordPress Hosting recommended in a ton of places, however, ask anyone with a little experience with the more technical side of websites and blogging and they will tell you to run in the other direction of Bluehost, why is that?
SiteGround vs Bluehost 2020
Well, the reality is that Bluehost pays its affiliates (bloggers etc, people like me) a lot more than any other web hosting provider out there to recommend them. Bluehost pays its affiliates at least 65$ per sale through their referral while SiteGround pays their affiliates only 50$, which is why every blogger seems to be recommending Bluehost and every newbie ends up using Bluehost (Like I did).
I used to recommend Bluehost back when I was still using it, however, after talking with friends with more experience than me I switched my travel blog to Siteground and I couldn't recommend Bluehost anymore as when I started this blog I made a promise that I would only recommend products that I believed in and use personally.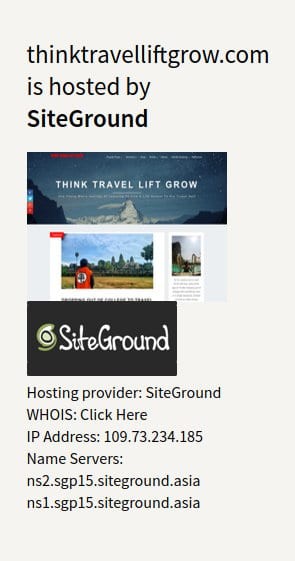 It was pretty awkward for me the other day when I say an ad on Facebook to "Start a blog with Bluehost" however when I ran the site through Whoishostingthis.com I found that the blog advertising Bluehost was actually hosted with SiteGround -_- "talk about conflict of interest eh?" This was awkward for me cause the ad was by one of the top travel bloggers and they used to be people I looked up to when I started blogging!
SiteGround vs Bluehost
Affiliate Disclaimer:  If you decide to use SiteGround and want to use my affiliate link I will earn a commision from SiteGround at no expense to you. Your support helps keep this blog running and I genuinely appreciate it. The truth is that I would recommend SiteGround to you either ways, it's the host I use for this blog. I made a promise when I started this blog that I would only recommend products or services that I love or believe in, read more about it in my affiliate disclaimer where I share the companies I work with and why I don't work with some anymore (like Bluehost) .

I honestly love and believe in SiteGround so much which is why I host my blog through them and hence I would recommend them even if I wasn't getting paid. However if you don't want to support this blog but want to buy hosting from SiteGround here's a non-affiliate link to SiteGround. Either way, you can use the rest of this guide with the best WordPress host I've ever used till date and I asure you that your site will run amazing. Do your research and when it comes to SiteGround you'll find most people (who've used them) will say the same.
Big Fish (EIG/Bluehost) vs Small Fish (SiteGround)
Bluehost is owned by EIG who is a big fish in web hosting, they are a huge corporation and they got big by buying up small hosting providers. If you visit their Wikipedia page, you will see that they own everyone from Hostgator to Ipage and as mentioned above Bluehost as well. It's a consensus among most experienced developers in this industry to stay away from EIG acquired hosting providers websites as they tend to take control, fire a lot of the people and cut costs by putting too many websites on the same servers.
One of the first sentences on EIG's Wikipedia page is "In November 2015, the company acquired Constant Contact, and days later laid off 15% of their workforce" yikes! Do your own research on EIG and you will realize why you should run away from them.
SiteGround, on the other hand, is a completely bootstrapped privately held company that 's run by an amazing CEO Tenko Nikolov! If you listen to the Podcast on Foundr with Tenko Nikolov you will understand why people like me love the company so much!
SiteGround is the #1 Rated WordPress Host
I used to do WordPress development in the past hence I'm in a lot of Facebook about WordPress. Most of them are full of developers and people with a lot of experience in the world of WordPress hosting. In the poll in almost all of the groups I've been in SiteGround has always been #1, while Bluehost is usually one of the lowest!
Here's a poll from the WordPress Hosting Group On Facebook, which has nearly 7000 members! You can request to join the group here if you are not a member! (I'm not affiliated with the group, just found them to be incredibly useful and hence I'm sharing them!)
SiteGround is also the only host that's recommended by and listed on all 3 WordPress,
Joomla,
and <Drupal's official hosting pages.
SiteGround is fast, Bluehost.. isn't so
Speed is very important to me, very important! I always try and make sure that my blog is as fast as possible and having a good host is crucial in that equation.
SiteGround's speed technology is one of the biggest reasons I chose them. They use the latest NGINX servers, solid states drives (SSDs), PHP7, CloudFlare, and HTTP/2 enabled servers. In simple terms, it's got the best tech for your site; hardware, and software wise!
As you can see from the picture above, this site loads in <1s in Pingdom and the Google PageSpeed Insight score of this site is above 90 out of 100, while most blogs in my niche are usually below 70.
Why is speed so important to me?
Well, there's nothing I hate more than visiting a site that takes forever to load. I believe that time is the currency of life and I respect the time of each of my readers so I make sure that my site loads in a snap(literally).
Also, many of my articles come on the first page of Google for many queries. Like my article on how I make money traveling comes on the first page of Google for How to make money traveling. Now that's due to a ton of factors; Speed is one of them. Google likes fast sites!
The average load time on SiteGround is 1.3 seconds which is miles ahead of the other hosts at the same price!
You can boost security and speed by enabling CloudFlare in a single click in SiteGround.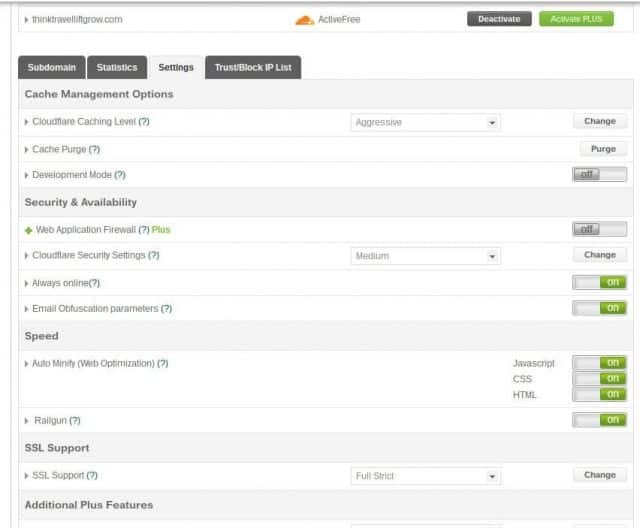 Bluehost, on the other hand, has incredibly slow servers, as mentioned earlier, EIG, Bluehost's parent company has a habit of cutting costs and putting too many sites on a single server thus causing the sites to be incredibly slow!
Just do a quick twitter search of "Bluehost speed" and you will understand what I'm talking about! Literally, every tweet is someone complaining about their site taking forever to load.
Click to Get 70% Off SiteGround Plans
SiteGround has amazing uptime, Bluehost goes down often
The biggest issue I had with Bluehost's WordPress Hosting was that almost every month I used to get an email saying that my server is down, however ever since I switched over to SiteGround, that hasn't been a worry or a second thought. Not having my site up is a big deal as that means a potential loss of revenue and that means I make less money each month!
SiteGround has amazing uptime technology, from Linux containers, proactive server monitoring, secure account isolation, and other things that even with my technical background I can't completely understand. Doesn't matter.. it works! Many WordPress hosts promise 99.99% but fail to deliver unlike SiteGround as you can see from the picture below.
SiteGround's support is amazing, I waited for 30mins with Bluehost
When I bought my hosting from SiteGround, I contacted them to have my website moved over (a service they do for FREE btw!) I got a reply back in less than 5 mins! And they had my site over with no downtime in less than 24 hours! Also, their support is always ready to help.
As seen from the above picture, SiteGround is super quick to answer any tickets raised! It's the fastest in the industry! Their average reply time is 8mins, however, it's rarely even that long!
For example in my guide on "How to start a blog" while rewriting it, I decided to contact Siteground and ask them if they would help set up people's website? They were like sure! if you buy hosting from SiteGround; they will do half of the work for you FOR FREE of setting up the blog and will install and set up WordPress for you! Honestly, SiteGround has some of the best support I've ever gotten from any company till date! United Airlines could learn a thing or 2 tbh!
While Bluehost has some of the worst support I've ever come across! I once waited for 30+ mins to chat with a real human and even after waiting all that time they weren't able to solve a super simple issue. And I'm not the only one just type "Bluehost support" in Twitter/Reddit search and you will see what I'm talking about…
They normally will try to sell you unnecessary services if you contact them and will charge you 100s of $ to provide basic support to its users! Their support team seems to be made up of more marketers than developers or any people with a technical background!
SiteGround places a priority on security
SiteGround uses Linux containers and account isolation as I mentioned in the uptime section, this helps prevent other websites on your server from affecting yours, plus they're always software ongoing patches and security monitoring. SiteGround is always at the forefront of technology, they are already starting to use AI and other cool shit to reduce spam as you probably already heard in the podcast!
Here are a few of the basic ways SiteGround protects your websites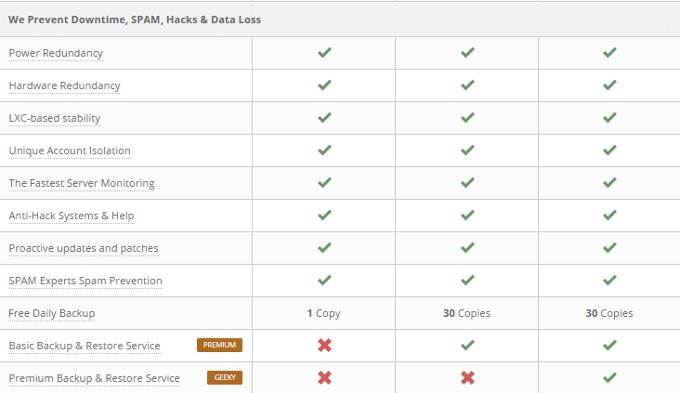 Also on the website side, SiteGround offers Free SSL from LetsEncryt! What's that? Well, it's a service that usually costs 59$ – 100$ on most hosts, that secures and encrypts the information transmitted between the browser and the user. Basically, it keeps my reader's emails/information safe! It's the green lock you see in the URL of this site!
SSL is also a factor in coming higher in Google search results, like speed! Google likes websites that secure and for good reason, having SSL secures credit card numbers, usernames and passwords, and other sensitive information from any computer between the user (you) and the website.
Bluehost, on the other hand, has really bad security and everytime something bad happens to your website (usually for something they did!) they will try and sell you on SiteLock, a third party service where Bluehost earns 55% of the sale if they get you to buy it!
Many times, they are claims that their support has blatantly lied in order to sell SiteLock to its customers. Also, Bluehost's security is definitely lacking and they get hacked often, in March 2015, Bluehost was hacked by Syrian Electronic Army according to their Wikipedia Page. which is why I wouldn't trust any content of mine on the internet with them.
Click to Get 70% Off SiteGround Plans
Bluehost has shady pricing strategies
Go to Bluehost's home page right now and you will see that it's "only $2.95 / month"! That sounds amazing, doesn't it! Every guide I know on "starting a blog with Bluehost" talks so much about how it's less than $3/month.
However, if you actually go to the payment page you will realize that it's $2.95/month ONLY if you pay for 3 years upfront, yikes! If you go to buy hosting for just one year it's $4.95/month.
Also by default Bluehost automatically selects add-ons so that unsuspecting customers might not notice (This is a strategy used by airlines as well)
However, keep in mind that this is Bluehost's introductory rate when you go to renew you are going to be paying $7.99/month for the basic plan!
SiteGround also has this introductory rate where they offer 70% off for new customers, however, the prices shown are the same if you go to buy a single year or you buy hosting for 5 years. On SiteGround for the shared hosting, you have to pay upfront however if you are using the Cloud and Dedicated hosting you can pay monthly.
SiteGround will move your site over for free
SiteGround will migrate you for free if you're currently hosted somewhere else! They did this for me after I contacted them, in less than a day and without any downtime! SiteGround's technicians are absolutely amazing and have my full confidence.
SiteGround Hosting options
There are 3 different choices when it comes to picking a shared hosting plan. StartUp, GrowBig, and GoGeek.
The major difference is that StartUp can only host one website, while the other plans allow unlimited sites. GrowBig includes more servers resources (faster site, yay!), even better and faster support (what!??) and 30 daily backups (instead of 1 with the StartUp plan). GoGeek, as the name suggests, is for developers and for much bigger sites and comes with even more server resources to handle the higher traffic!
Here's the comparison chart comparing all the features of the different types of hosting!
Here's a breakdown of each plan:
StartUp – Cheapest plan at only $3.95/ month, it is sufficient to host a single website with very little traffic. It's better than any other hosting plan at $3.95/ month available but lacks the additional server resources, high storage, priority support and the amazing backup tool you get with the other plans (though you do get a free daily backup). In my own experience of this plan, I've gotten 99% uptime and absolutely no internal server or other hosting errors.
Hosts 1 website
~10,000 visits a month
$3.95 a month
All essential features
10 GB space
Free SSL from Let's Encrypt!
Best suited for someone starting their first blog
GrowBig – At $5.95 a month, the GrowBig plan is the most popular one, and for good reason; it's the best bang for your buck for anyone starting in the online business industry. It allows you to host multiple websites, has nearly 2x the server resources as compared to StartUp, Double the storage space, priority support, staging and includes 30 daily backups and the backup restoration tool.
There's advanced caching if you use the SG CachePress plugin, but as I mentioned in a previous article I prefer using WP Rocket.
Hosts Unlimited Websites
~25,000 visits a month
$5.95 a month
All essential features
20 GB space
Priority support
Backup & restoration service
WordPress special cache
3 levels of SuperCacher
Wildcard SSL certificate
About 2x server and email resources
Best bang for the buck for someone with multiple websites like me!
GoGeek – Consider Semi-dedicated, GoGeek is about 4x faster than normal shared hosting! At a fraction of the cost of a dedicated server at $11.95 a month. It's perfect for people who have large sites but don't want to spend the $75+/month for cloud hosting.
It includes everything in the GrowBig plan along with staging (for testing websites before launching), unlimited restores by SiteGround's support team, and essential e-Commerce features like 1-year free Wildcard SSL and PCI compliance for credit card fraud protection. Other features are listed below.
Hosts Unlimited Websites
~100,000 visits a month
$11.95 a month
All essential features
30 GB space
Priority support
About 4x server and email resources
1 click WordPress Staging
Premium Backup & Restore
SG-Git for repo creation
Free PCI Compliance
Pre-Installed Git
Free Wildcard SSL certificate for a year
Fastest Shared Hosting Plan available and mainly for people who run big websites
I currently use the GrowBig plan as I host multiple websites but I started out using the Startup Plan. As my businesses and websites grew I updated to the bigger plan.
Why I recommend SiteGround
The main things about SiteGround that attracted me personally, were the speed, free SSL, the uptime and the amazing support. I could instantly notice that my site was much faster. My site now has a load of <1s in Pingdom. It also hasn't been down since! (as of September 13th).
Honestly right now by recommending SiteGround, I'm leaving money on the table, I'm taking a 25% pay cut! However, it's a net win for me as I can sleep at night like a baby knowing that I'm recommending the best product to my audience!
The reality about Bluehost is that they are amazing at marketing. Seriously, they spend a lot of money on getting you as a customer, not just in paying their affiliates a lot but also in ads! Just go visit Bluehost.com and then go anywhere else on the internet and all the ads you will see are going to be Bluehost!
However when all your money in marketing, you can't really focus on the product and that's what's wrong with Bluehost, they aren't investing in the product ie the web hosting which is why their servers are slow, support is shit and everything is about sell more services and more money which is why I wouldn't recommend them to anyone!
SiteGround vs Bluehost WordPress Hosting – The Winner is Pretty Clear
So there you have it, here's my comparison of BlueHost WordPress Hosting vs SiteGround! Have you had a different experience that you'd like to share? Drop it in the comments! Read my SiteGround Review if you want to learn more about how why I use SiteGround and how my setup is with Cloudflare, cache plugins etc so that you can optimize your site well!
Tbh even if you don't go for Siteground, I recommend staying away from Bluehost of any other EIG owned company and if you do your own research, you will come to the same conclusion! As always, here's an affiliate link and also a non-affiliate link because the truth is I would recommend SiteGround to you even if you aren't using my link, however, if you click through the affiliate link and buy it you will help me keep this blog running (at no extra expense to you)!
Click to Get 70% Off SiteGround Plans
Cheers,
Jeremy Noronha
Read Next:
SiteGround Startup Hosting Review