Bluehost is one of the most productive WordPress hosting company and they also offer a free one-year domain registration along with their hosting subscription.
Click to Get 50% OFF Bluehost Now
BlueHost Coupon Code 2020: Auto Applied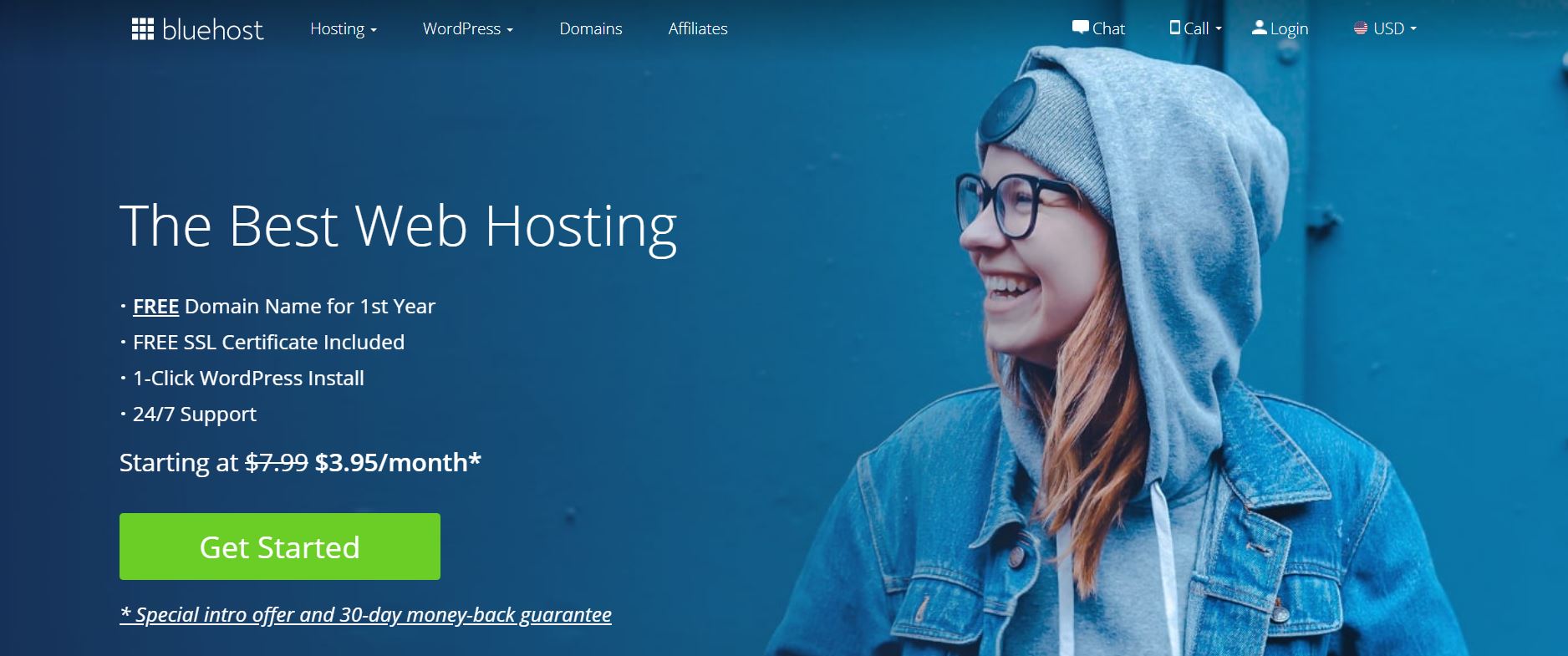 Bluehost Pricing
Bluehost is one of the cheapest WordPress host and its no wonder its recommend by most blogger out there.
Starting at only $3.95/mo with the Discount for the cheapest Bluehost shared Hosting plan.
Note: All plans come with a 30 Days Money Back Guarantee
Why Bluehost's Pricing is a Scam
Bluehost's pricing seems fucking amazing right?
For only $3.95/month you can get started with your webpage and even get a free domain name!
Well, if you've noticed the * the asterisks are where Bluehost will fuck you!
#1 Pricing
The promotional price is for the first term only and renews at the regular rate.
For starters, their $3.95/ month price only applies for the new customers ie for the first term. What that means is once your plan with Bluehost expires you will have to pay the high cost. This is normal in the web hosting space And every single company does this so its not my big issue.
This is it:
The $3.95/month rate is only for people who sign up for the 36 month plan. That's a 3 years commitment.
Now this is not even listed on Bluehost's homepage and you only see this once you've gone and typed your details.
To actually get the benefit of Bluehost "apparent" cheap pricing you have to commit nearly $300 and stay with them for 3 years. That's fucking stupid!!
In comparison, SiteGround (my number #1 Alternative I'll dive into later) allows you to get the discount price even if you sign up just for a year!
#2 Unlimited *
Bluehost lists "UNLIMITED" across their website as it tricks newbies into picking them over another host that might have limited storage or bandwidth.
However they're 2 big issues with Bluehost's "unlimited"
Its not really unlimited, they're asterisk for a reason. If your site gets a huge spike of traffic thanks to a viral posts, Bluehost will take down your site and make you pay for a more expensive plan. Their Usage policy is basically just a highly-paid-lawyer way of saying "GOTCHA!"
You don't need a lot of resources. For example, SiteGround's base plan ($3.95/month) only comes with 10GB SSD storage, that may sound less compared to Bluehost's 50GB or unlimited. But, in reality you'll rarely use that much space. For example, this webpage with over 150 blog posts is less than half a GB. 
Why The Fuck Is Bluehost So Popular?
Sadly the answer is the all to a simple answer: money.
Every time someone sign up with Bluehost following all the guides out there on how to start a blog or website the site owner earns a commission.
Now that's are good, and not the problem at all. That's how I earn most of my income. However, most of the people who wouldn't trust Bluehost for their own business recommend it just for the check.
Personally, I've worked with a ton of websites on every hosting provider and used a ton myself and Bluehost is one of the worst (there's a huge rabbit hole you can dive into about how it's part of a big conglomerate)
Here's a TLDR of why Bluehost is terrible
Bluehost is owned by EIG who is a big fish in web hosting. It's a consensus among most experienced developers in this industry to stay away from EIG acquired hosting providers websites as they tend to take control, fire a lot of the people and cut costs by putting too many websites on the same servers.
Bluehost has incredibly slow servers, as mentioned earlier, EIG, Bluehost's parent company has a habit of cutting costs and putting too many sites on a single server thus causing the sites to be incredibly slow!
Bluehost has some of the worst support I've ever come across! I once waited for 30+ mins to chat with a real human and even after waiting all that time they weren't able to solve a super simple issue.
They normally will try to sell you unnecessary services if you contact them and will charge you 100s of $ to provide basic support to its users!
Bluehost has really bad security and everytime something bad happens to your website (usually for something they did!) they will try and sell you on SiteLock, a third party service where Bluehost earns 55% of the sale if they get you to buy it!
Bluehost automatically selects add-ons so that unsuspecting customers might not notice (This is a strategy used by airlines as well)
But why do bloggers still recommend Bluehost? Cause they pay bloggers more. For example, I recommend SiteGround because I use it for many projects (#skininthegame) and if someone signs up for the SiteGround link above and starts a blog I earn $50. If I were recommending Bluehost I'd earn $65. 
Why SiteGround
I've used SiteGround for a ton of projects including my ex-travel blog and they are the only host recommend by all 3 WordPress, Joomla, and Drupal on their official hosting pages!
SiteGround has 3 different plans which cater to different needs.
I personally use the GrowBig Plan and it was amazing bang for the buck as for 5.95$ a month I can host unlimited websites. Also the SiteGround Pricing isn't fucked up like Bluehost so you can sign up for the year and get a discount.
Speed is very important to me, very important! I always try and make sure that my blog is as fast as possible and having a good host is crucial in that equation.
SiteGround's speed technology is one of the biggest reasons I chose them. They use the latest NGINX servers, solid states drives (SSDs), PHP7, CloudFlare, and HTTP/2 enabled servers. In simple terms, it's got the best tech for your site; hardware, and software wise!
As you can see from the picture above, this site now loads in <1s in Pingdom and from the image above the Google PageSpeed Insight score of this site is above 90 out of 100, while most blogs in my niche are usually below 70.
The average load time on SiteGround is 1.3 seconds which is miles ahead of the other hosts at the same price!
SiteGround will migrate you for free if you're currently hosted somewhere else! They did this for me after I contacted them, in less than a day and without any downtime! SiteGround's technicians are absolutely amazing and have my full confidence.
JeremyNoronha.com readers can get a 75% Discount on SiteGround Hosting Plans. Simply click the link below and the discount will be automatically applied.
SiteGround Coupon Code 2020: Auto Applied
Bluehost Pricing FAQs
How much does Bluehost Cost?
Bluehost has 4 shared hosting plans. The initial discounted price starts at $3.95 to $13.95 per month depending on the type of plan. The normal renewal prices starts at $7.95 to $23.99 per month.
Is Bluehost any good?
In my experience, Bluehost is one of the most overhyped hosting provider out there. Their marketing tactics are shady and their pricing predatory.
Does Bluehost charge monthly?
Bluehost doesn't have a monthly plan, and in fact you have to pay for years (3) to get their advertised discount prices.