TLDR: Bitdefender VPN is definitely NOT worth it! If you're in a hurry NordVPN is the Best VPN in 2023!
🔥Click The Button below and sign up for NordVPN for FREE With A 30-day Money Back Guarantee!🔥
Click Here To Get 70% OFF NordVPN
A 500-million-strong worldwide userbase does indeed sound impressive. That is how we recognize Bitdefender – as one of the leaders in the cybersecurity space. That said, a VPN's job might be to provide an extra crucial layer of security, but it is a totally different ballgame from antivirus software. In Bitdefender's case, although packaged like a full-fledged VPN, I'd like to clarify one thing up front: big brother anti-virus's reputation does not extend to its VPN.
To begin with, the free version of Bitdefender VPN included with the basic antivirus package feels like a bit of a joke to us. Capping the daily data transfer limit at 200MB/day? What century are we living in? The world is talking in terabits per second, and here we are returning to digital-caveman days.
Our years of experience reviewing VPNs tells us that free VPNs, in general, are anything but free. They rarely hold true to their promises, and accordingly in our review here we have focused on Bitdefender Premium VPN, which is the paid VPN service you can unlock on your existing Bitdefender Antivirus or Security subscription. Since the Bitdefender VPN is not a standalone service, the only other option to have it is to uninstall whatever antivirus/security is already on your system and invest in a complete Bitdefender security package.
If the re-installation isn't something you mind, and Bitdefender interests you, you are probably going through a mental checklist along the following lines:
What features does Bitdefender have?
How much does Bitdefender cost?
Are there better alternatives to Bitdefender?
Is Bitdefender worth it?
I will answer your first question right away – it doesn't! Bitdefender barely has any features to write home about. So instead of listing them individually, we have stuck to our usual strict criteria against which we rate all VPNs and ran various tests on Bitdefender to see how it fares. Personally, I have had a rather horrid experience with Bitdefender antivirus in the past (which nearly wiped out half my hard disk!), but we'll keep this VPN review unbiased and go instead with our test results. So read on for a detailed analysis of Bitdefender VPN's merits, or, alternately, we've also summed up the pros and cons in brief below, so feel free to scroll right down to our best Bitdefender alternatives.
Pros
Easy-to-use app
Convenient for Bitdefender Antivirus users
Affordable
Relaxed jurisdiction
Reliable customer service
Cons
Not available as a standalone VPN
Minimal features
Dubious logging policy
Slow speeds, small server network
A big no-no for streaming
No consistent kill switch
Uses proprietary protocol
Bitdefender VPN Review
We tested the Bitdefender VPN against 7 parameters to see how it holds up against the amazing standalone VPNs already in the market. The results are enumerated below at length to help you make an informed decision of your own.
1. Security & Privacy
Before we get on with Bitdefender VPN's features, the first thing you should know is that it is powered by Hotspot Shield (which means it operates using the encryption, server network and policies set up by the latter). Those of you who've kept yourself updated on the world of tech news would probably recall the dodgy logging policy that Hotspot Shield has become infamous for since 2017, but we'll get to that in just a moment.
Let's take a closer look at security – the prime feature for any of us to invest in a VPN in the first place. Bitdefender meets the market standard by offering 256-AES data encryption, and our tests did not detect any DNS leaks or IP leaks despite it using third-party DNS servers. Sounds good so far? But this is where Bitdefender starts to disappoint.
Firstly, if we are to take the basic premise of a VPN seriously, the last thing we need is proprietary control. And yet, this is exactly the case with Bitdefender. Instead of using an open tunneling protocol such as OpenVPN, Bitdefender relies on Hotspot Shield's in-house protocol Catapult Hydra. They claim it is the fastest in the market, which we couldn't really substantiate during our tests. Secondly, Bitdefender lacks a kill switch that works across devices; at the moment it is only active on Windows and Mac versions.
Finally, we come to the sorest point in this review: Bitdefender's logging policy (or the lack of it!). Hotspot Shield made it to the news in 2017 after the Centre for Democracy & Technology's complaint against the VPN's 'unclear data sharing and traffic redirection'. Their policy is still not clear on what parts of the data it logs, and the going consensus is that they store users' IP addresses and sell their data to advertisers. This is one of the key areas where Bitdefender VPN loses out to competition. As far as security goes, we'd vouch for NordVPN's double data encryption any day.
2. Speed & Performance
As mentioned above, Bitdefender doesn't have a server network of its own; it relies on Hotspot Shield's network, which is spread across 26 countries but unknown number of locations in each. Well, either way, the point is that 26 is an absurdly low number (there are free VPNs out there that offer more servers than that!), and what it basically means is lousy speeds. We tried many of their servers, and realized that each is burdened with too many users to so much as upload a plump PDF file with ease. God forbid should you want to try gaming with this one!
A quick trial to choose a server revealed the distances that separate each of these servers, which makes download speeds and latency take a direct hit. To be honest, if speed is your main criteria for selecting a VPN, you might want to consider ExpressVPN instead and treat yourself to the best available speeds (closest you can get to the speeds you'd have without using a VPN!). The kind worth paying extra bucks for.
3. Connections & Compatibility
Bitdefender's numbers are limited by its insistence that we buy into its security package. The VPN will only connect with as many devices as are supported by your existing Bitdefender antivirus subscription (or the one you buy into). A premium security package would give you up to 10 simultaneous connections, but that comes at a higher cost than a standalone VPN charges for the same number.
Please note that Bitdefender is only compatible Windows, Mac, iOS and Android, so we are also looking at system limitations. Linux users, in particular, should stay far away from this. Overall, I can count off at least 5 standalone VPNs offering better platform compatibility, without a second thought.
4. Torrenting, Streaming & Sharing
I don't mean to be too blunt about this, but come on, we all know that the biggest names in the VPN industry struggle to outdo proxy bans and blacklists set up by monolithic streaming services such as Netflix and Hulu. In such a scenario Bitdefender doesn't stand a chance.
Although a Romania-based VPN service – and hence safe under relaxed jurisdiction and data laws, especially when it comes to unblocking geo-restricted content – Bitdefender simply lacks the speed and server network required to crack streaming. During our tests, it was not only kicked out by Netflix on immediate detection, but also failed to unblock Hulu or BBC iPlayer. Amazon Prime Video did flicker to life, but so slowly we thought we'd be better off buying a cable connection to watch shows.
Bitdefender doesn't specify its stance on torrenting, but the customer service got back to us implying that it is somewhat tolerant of it. Considering the sluggish speeds this isn't much a of a reassurance; Bitdefender barely has enough servers to support regular surfing, forget dedicated servers for torrents. To cut a long story short – I wouldn't buy into this VPN if my big plan was to binge-watch shows while travelling abroad, or to download two discographies an hour.
5. User-Friendly Interface
The app interface is the only thing that Bitdefender pleasantly surprised us with. It has practically no features, so if 'user-friendliness' is defined as ease-of-use, then yes, Bitdefender scores high. Straightforward design that lets you connect, disconnect, open the menu or change location (choices are limited here too). It makes me wonder if they didn't just get bored while building their VPN product!
6. Customer Service
Bitdefender VPN does have a proper knowledge base for you to tap into for assistance, but VPNs these days have spoilt us by offering 24/7 live chat support as something to be taken for granted. So that was the first route we tried to reach their customer service through and were not disappointed. Took about two minutes; that's a tick. The same customer service platform is accessible to their antivirus userbase as well, and yet it worked quick enough. They are also available on phone and email.
7. Price Points
If you want to waste your time, you could try out the free version of Bitdefender VPN and torture yourself with the 200MB/day data transfer limits. If not, if this sounds like a VPN you wish to check out further, even then we hit a bottleneck – the requirement of buying an antivirus subscription in order to have the VPN. This is a bad (read time-consuming) idea for those of you who already have a reliable security software installed on your systems. It's not just about the cumbersome uninstallation and then the setup process, but also about your comfort with the program.
The Bitdefender website is clever enough to list only the VPN costs – with a monthly subscription costing $6.99 and a yearly one at $3.33 per month – but if you are not an existing Bitdefender Antivirus user you must factor in the cost of that too. The cheapest annual subscription is the Antivirus Plus at $5 per month, but the prices go up depending on how many devices you need to connect to (a whopping $12.50 per month for Premium Security with support for 10 simultaneous connections).
Subscriptions come with a 30-day refund policy so you can try before you buy. But if you are asking for our advice, I'd recommend alternatives that provide better value for money. It doesn't help that, above all these flaws, Bitdefender also doesn't accept cryptocurrency. Are they really serious about their user's security at all?
Are There Good Bitdefender Alternatives?
There are in fact some great ones, and they are all standalone VPNs. Bitdefender VPN is a good fit for existing Bitdefender users (though I'm tempted to contest even that), but those of you looking for a VPN that boasts solid data encryption, a strict no-logs policy, a wide server network and speeds that make streaming (even of geo-restricted content) fun, you'd probably thank us for suggesting two truly reliable contenders – NordVPN, the behemoth known for its unbreachable security, and ExpressVPN, the one whose speeds more than justify its cost.
We've simplified these decisions for you with comparisons of both against Bitdefender VPN. Go on, take your pick depending on your personal requirements; these two seem to fulfil most!
Bitdefender vs NordVPN
NordVPN is a Panama-based VPN service considered to be amongst the most credible names in the market – its USP is its multi-layered security features. To protect your online traffic, it offers the standard 256-bit encryption coupled with 2048-bit encryption, DNS leak protection that always holds up, a dedicated IP address if you please, two kill switches and a zero-logs policy that they take very seriously – together, these security layers are a league apart from the meagre protection offered by Bitdefender VPN.
Get 70%+ Discount With NordVPN
Surely, both Panama and Romania are governed by relaxed rules, but what's the point of access to geo-restricted content without the speeds to stream it? This is where NordVPN wins again. With 5,800 servers in over 58 locations, NordVPN might well boast the widest server network amongst all the VPNs. It lets you stream in HD and torrent at high speeds without a worry of your privacy being compromised. Also, NordVPN's brilliant in-built SmartPlay DNS automatically unblocks geo-restricted content from most major providers such as Netflix, Hulu, Amazon Prime Video and BBC iPlayer.
NordVPN's interface also rates high on ease of use and their 24/7 live chat support is prompt no matter what time zone you are in. For multi-platform compatibility (including Linux) and 6 simultaneous device connections, NordVPN's three-year subscription comes out much cheaper than Bitdefender. It costs $3.49 per month and allows you to pay by Bitcoin or PayPal for additional anonymity.
If air-tight security and privacy matter to you, then NordVPN would be a smarter choice any day. You just need to compare its features (and not to forget server numbers!) with Bitdefender and this becomes obvious. To sum it up, here are the features that score a neat win for NordVPN over Bitdefender:
Double data encryption and zero-logs policy
Extensive server network
Great speeds
Dedicated servers for streaming and torrenting
Unblocks geo-restricted content
Multi-platform compatibility
Bitdefender vs ExpressVPN
ExpressVPN needs no introduction either. Here's another standalone VPN contender that would give Bitdefender a run for its money. ExpressVPN in fact costs more than Bitdefender's Total Security subscription, but then you'd be sailing through a sea of HD files at blazing high speeds, and that, trust me, is well worth the moolah.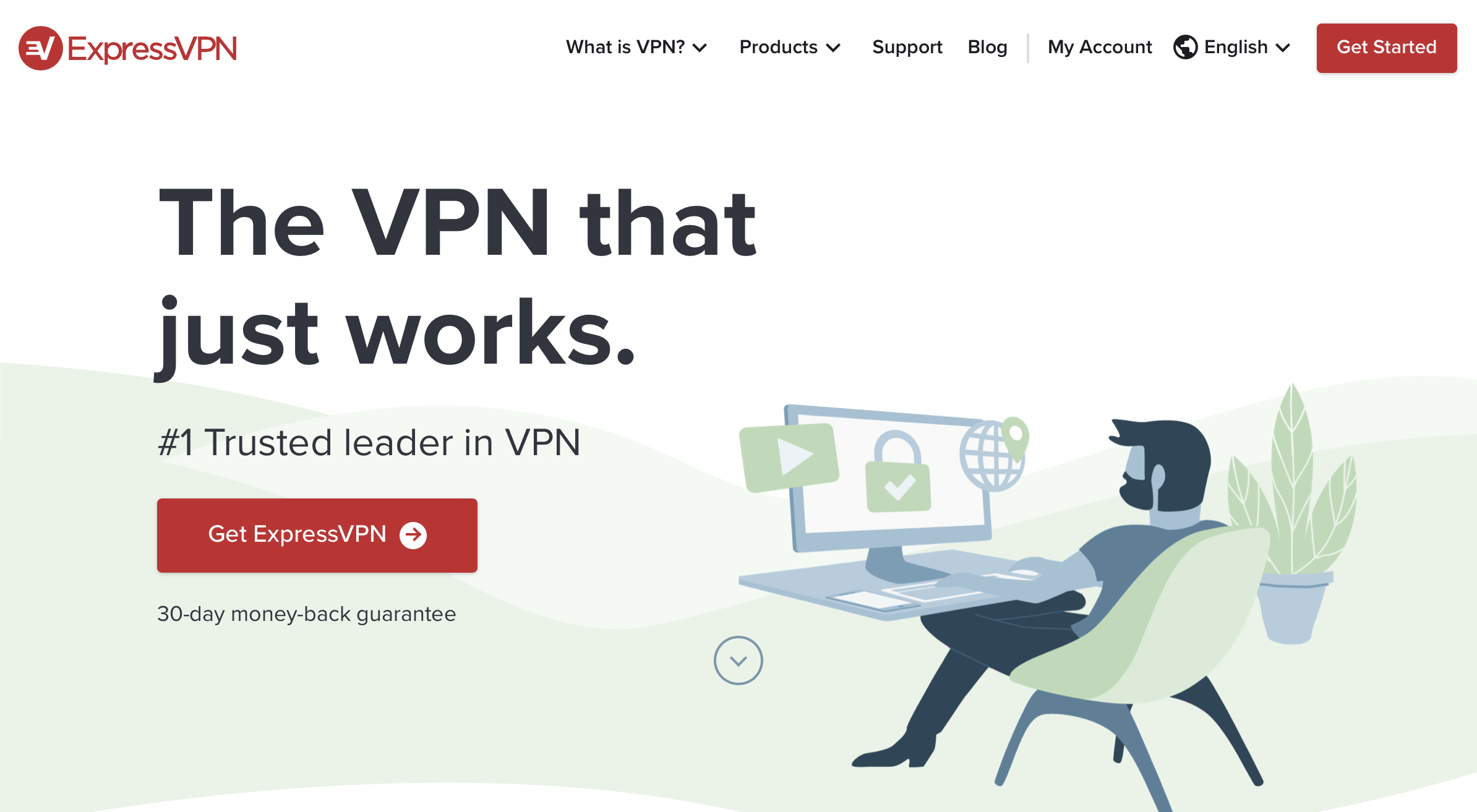 Click The Button below and sign up for ExpressVPN for FREE With A 30-day Money Back Guarantee!
Get 30 days Free Trial of ExpressVPN
Why we recommend ExpressVPN as an alternative to Bitdefender is for its mind-blowing speeds. This premium product is known to provide the best possible speeds for streaming in HD and for unblocking all major content services such as Hulu, HBO, Amazon Prime Video and BBC iPlayer. Netflix users, in particular, will fall in love with ExpressVPN for bypassing censorships as massive as the Chinese firewall. Their network includes over 3,000 servers, many of them located across two dozen American cities, so geo-restricted access has never been breezier. ExpressVPN is also equipped with 30,000 IP addresses for you to go digitally invisible without a trace. Torrenters aren't left out either; directions to the nearest dedicated server for torrenting are barely a quick message away thanks to their prompt 24/7 live chat support.
ExpressVPN offers the standard 256-bit encryption, but unlike Bitdefender it relies on the considerably more secure OpenVPN protocol (as opposed to Catapult Hydra). It includes DNS protection, a kill switch and patented TrustedServer technology that ensures that the no-logs policy is adhered to.
It might seem expensive when compared to Bitdefender, but the annual subscription – costing $8.32 per month – is a fair price for the range of features enumerated above (and still cheaper than Bitdefender's Premium Security subscription). The 30-day money-back guarantee and the payment option of cryptocurrency make it easier to decide, so does the fact that an ExpressVPN subscription would let you connect with 5 devices simultaneously. If binge-watching is your mission, ExpressVPN wins hands-down over Bitdefender VPN.
We've summed up ExpressVPN's winning features below:
Excellent speeds
Great for unblocking Netflix
All-device compatibility
Solid encryption and a strict no-logs policy
In-built kill switch
Dedicated servers for streaming and torrenting
Is Bitdefender Worth It?
To be more precise, is Bitdefender worth your money and privacy? The truth is that no matter what its features, the Bitdefender VPN is an add-on to Bitdefender's main product – its security software – and seems to have been designed with as much effort. So no, I don't think it is worth your money, not if you take in all the drawbacks listed above and the array of features offered by its standalone competitors such as the two alternatives mentioned in this article – NordVPN and ExpressVPN. The least we can expect from a good VPN is security and privacy, but Bitdefender VPN doesn't even provide a transparent logging policy for us to comment on. Save your dosh for a standalone service that lives up to a VPN's proper definition and provides you with long-term, hassle-free protection.
🔥Click The Button below and sign up for NordVPN for FREE With A 30-day Money Back Guarantee!🔥
Click Here To Get 70% OFF NordVPN
Read Next: