TLDR: If you're in a hurry the WPEngine is the Best WordPress Hosting! While Cloudways is better for developers as you can launch any server on it.
Get 4 Months Free Of WPEngine WordPress Hosting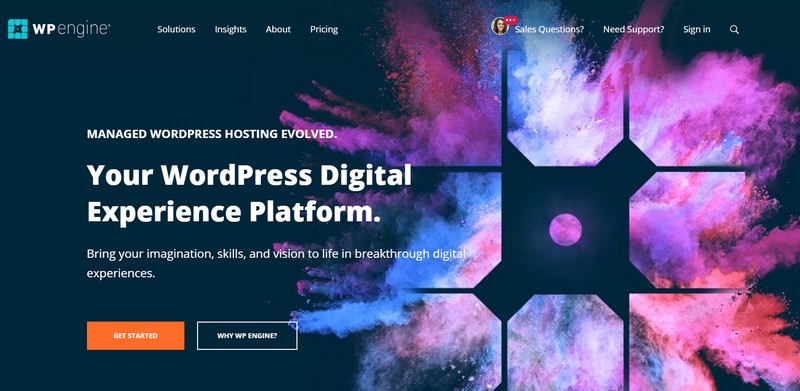 Most people use WordPress to build their websites as it is a great option for doing so and that is for a good reason. You can build literally any type of website from a blog to an eCommerce store on WordPress. If you use their self-hosted version you know that you will require a web hosting service which helps you upload your website to the internet. It can be hard to find a reliable web hosting service. Choosing one from the crowd of web hosts out there can become a real task if you don't have the right information.
Lucky for you we have dealt with the hassle of researching and finding some of the most reputable and reliable web and WordPress hosts in 2023. We have listed down some of the best and brightest hosts below with a little help from Reddit. We all know by now that Reddit has become the go-to source to find out about any recommendations or reviews on literally anything and that these reviews are honest and come from genuine users. But you must consider the below features of a web hosting service to match your needs and priorities.
Before heading into the different web hosting services and how they compare against each other, we'll go through some important facts such as the types of hosting available for websites and the most important speed metrics when it comes to WordPress hosting.
Why is Speed Important For WordPress Hosting?
The speed of your website is vital in 2023. It is one of the most important metrics when it comes to your online presence and your overall digital strategy. Other than just providing a great experience for your website's visitors, a fast website also has a huge impact when it comes to the SEO rankings of your websites.
A slow-loading website, more often than not, will suffer from the following problems:
A very low number of conversions.
A high bounce rate.
A low number of pages per visit.
Lastly, if your website is slow and involves a long conversion funnel, there will be a noticeable drop-off between the different steps and pages. It is vital for you to use a hosting service that is fast so you can avoid these problems.
According to Google, if it takes more than three seconds for a page to load on mobile, over half of visitors will leave it.
Fortunately, these days you don't have to break the bank to use a hosting service that is blazing fast! Keep reading to find the best and the fastest hosting service for your website.
TLDR: The Fastest WordPress Hosting Services in 2023
Here are three of the best overall WordPress hosting services, not only in terms of speed but also in terms of overall performance:
Essential Features of Good Web & WordPress Hosting
Bandwidth: Bandwidth measures a server's capacity to transfer data within a specific amount of time. A high bandwidth ensures that the website loads faster. Therefore, look for a web host that has a high bandwidth for maximum speed.
Disk Space:

As the website consists of many files that contain its content and visuals, these files need storage. This is provided by web hosts in the form of disk space. Make sure you select a hosting plan that provides you with the required disk space, especially if you need space for content submitted by users via your website.

Security: Cyberattacks are a real threat and to protect your website and data from any potential hacks the security provided by web hosts needs to be top notch. Especially if you collect financial or personal information from users you need to ensure that this data is protected. You should look for web hosts that offer SSL certificates that encrypt data sent through your website. Automated malware scans remove malware and identify threats. Any web host that offers this will enhance the security of your website. Firewall management ensures that your website is protected from the most common attacks.
Support: A web host with good customer support and technical assistance can go a long way in saving your time and effort. A web host that provides round the clock support is ideal in case you face issues that you cannot solve. Web hosts with extensive knowledge databases, live chat, email support, phone support, FAQ sections are the way to go. This will ensure that any issues you face are resolved on time.
Backup services: A good backup policy ensures that you are protected from any vulnerabilities and your website is restored with minimum downtime in case of any issues. Having regular automatic backups will protect you from data loss. A web host with a remote backup service will protect you against any data loss. In case your server goes down you will always have a backup.
Uptime: Uptime of your website affects search engine optimisation results and visitors opinion of your website. Make sure that the web hosting company that you choose ensures that your website is up 100% of the time so that it is available to visitors at all times.
Website Speed: Everyone today expects websites to load within seconds. Therefore the speed at which your website loads greatly affects the experience of the visitor. Web hosts that use servers with SSD ( solid state drivers) deliver quicker page speeds. Web hosts that offer CDN ( content driven network) ensure that servers are distributed geographically that speed up the delivery of web content by bringing it near the user's location.
Managed services: Any web host which offers this service will save you a lot of time if you don't want to spend time on managing servers on which your site is hosted. They will keep the server operating system up to date for you.
Scalability: This allows you to grow at your own pace based on your requirements. In case there is an unexpected spike in demand or increased activity on your website make sure your web host is equipped to handle it for you to ensure that your system does not go offline.
Affordable pricing: Look for web hosts that offer affordable pricing. High prices should be justified by the good quality service that the web host provides. The web host must be reliable and secure and must give you the value for your money.
Shared Hosting vs WordPress Hosting
There are two types of hosting services that you can use for hosting your WordPress website – shared hosting services and dedicated/managed WordPress hosting services.
As made evident by their names, a shared hosting service is a hosting service where your website will be hosted on a server along with other websites on a server and share the resources available while a dedicated hosting service will provide a dedicated server that will host only your website which means you don't have to share the resources of the server with any other website.
Shared hosting services are usually much cheaper than dedicated hosting naturally but due to the limitations of shared hosting services, the speed of your website will be much slower on them as opposed to dedicated hosting services. If you want the fastest speeds for your website, you need to use a dedicated WordPress hosting service as shared hosting services just cannot operate at the capacity provided by dedicated hosting services.
Best WordPress Hosting Reddit 2023
1. WP Engine – Best WordPress Hosting According to Reddit
WP Engine is a VIP-managed WordPress hosting platform that was launched in 2010 by Jason Cohen. With this, you can build faster, protect your brand and grow your business to give a remarkable online experience. It is specialized to host WordPress due to its rising popularity. They make use of a customizable panel to enhance customer experience, and their interface is clean and efficient. The platform comes with an array of hosting plans to get you going and also has a staging feature.
Get 4 Months Free Of WPEngine WordPress Hosting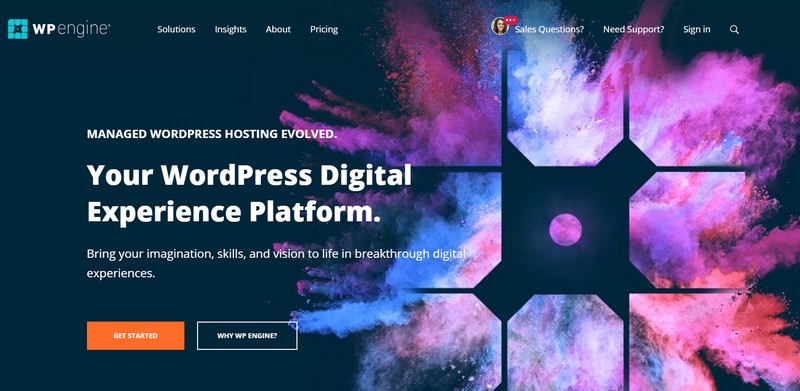 WP Engine has superior speed with 99.95% uptime ensuring that your website is always online throughout the year. Its staging environment lets you see what's working for you before publishing it on the internet. The provider has advanced security features to keep your data secure. They thoroughly test any major updates before updating them for your customers. It has a proprietary intrusion detection, DDoS attacks, block prevention system, brute force attacks, JavaScript, SQL injection, malware detection, and more. They also partner with several third-party firms to conduct regular code reviews or security audits.
The platform has both manual and automatic backups to protect your data as well as remove bulky third-party applications. Backups occur in the production, staging, and development stages by default. You can easily migrate your old website to the platform without any downtime. It has a dedicated support team that meets all customer satisfaction. Their support comes with 24/7 live chat, phone, or internal support tickets.
What Redditors had to say about it:
u/jonhenshaw: I've been using WP Engine for several years. I'm very happy with the service. They automatically make backup and restore points. They are fast and reliable, and they make it easy to do important things, like the ability to add free SSL certificates and auto renew them.
u/tech_b90: I recommend them to everyone if it's in their budget. As a dev, wpengine was really good. Response times from support were always super fast and handled what I needed. The backups and dev/staging/prod envs where stupid simple and a click of a button. Moving from staging to prod was a click of a button.
u/werty: I have 2 of the 10 site accounts. I love WP Engine. Support is great. Backup and restore points are also great. It is pricey but I think it is worth it.
HIGHLIGHTS
Load Time: It has a page load time of 1.6 seconds. It also offers a lot of server locations so that the website loads faster.
Security: WP Engine provides a free SSL certificate to safeguard the data sent from customers' computers. It also performs daily malware scans and has a firewall to prevent your website from any vulnerabilities. It also offers real time threat detection.
Uptime: It provides 99.99% uptime to make sure that customers are able to access your products or website at all times.
Customer Service: They have a telephone as well as chat support which is available round the clock. Their customer support is very knowledgeable and well equipped to resolve any issues that you may face.
Pricing
WP Engine has excellent pricing plans that can meet requirements for different applications. They also have a 60-day money-back policy guarantee across all its plans. Its 4 plans include:
Startup plan- $25 per month
Growth plan- $95 per month
Scale plan- $241 per month
Custom plan- customized pricing
Get 4 Months Free Of WPEngine WordPress Hosting

Pros
WordPress managed hosting
Superior speed with impressive loading time
Free website backup and restoring
Staging and production support
Free SSL and CDN
Excellent uptime
Advanced security tools
Transferable installs and billing transfer
Good customer support
A 60-day trial period
WP solution center
Real time threat detection
Custom plans
Daily backups
Cons
No domain registration
Email hosting not included
Certain plugins and themes are not supported
No free domain
Only hosts WordPress
Limited monthly visitors
2. WPX Hosting
Known for their speed and fast customer support, WPX Hosting is the popular web host for WordPress according to Redditors. It is an affordable WordPress service that offers great performance. They provide some of the best features like automated backup, free CDN, etc. They also have incredible and reliable customer support to solve all your problems.
WPX Hosting stands out from its other competitors when it comes to website load time. If you are looking for something affordable and have an image and content heavy website, this is a great option.
Save 50% on Your 1st Month With WPX Hosting
Use Coupon Code: Jeremy50
Note: Jeremy50 is case sensitive
What Redditors had to say about it:
u/whdbf: Yes you can try WPX you will love it…Mainly their support is awesome..It's better in terms of pricing..One of the fastest managed wordpress hosts..My wordpress sites loads under 0.5secs.
u/sandip88: I have migrated one time to WPX hosting & saw an immediate improvement in my website speed. My website which was loading around 2 sec is now loading under 1 sec. I haven't seen any web hosting provider's support replying under 30 sec. I think the WPX hosting customer support is the best.
r/juststar: WPX seems like the best deal by far. You can host 5 websites, it's the cheapest ($20/month) and according to some tests it's the fastest, plus it has the most bandwidth available (100 GB).
HIGHLIGHTS
Fast website load time: WPX Hosting is the fastest to load image heavy websites, heavy plugin sites, WordPress performance tester plugin and websites with high load. An image heavy website loads in about 1.13 seconds. This makes it a trusted host for lightning fast load time.
Great customer support: They provide on demand quality support. They have experts to help you with any issue that you may have. They respond immediately to any request raised. They have a very knowledgeable technical support team who know what they are doing. This service is available 24/7.
Free CDN: This is a content delivery network which means there is a server nearby to load your websites more quickly rather than loading content from the origin server. They have nearby servers all around the world in over 20 locations. They have also built their own CDN called WPX Cloud. WPX Cloud can handle high traffic and helps improve website security.
Free SSL: They provide you with free SSL to stop any bot attacks or malware and secure interception of data. WPX hosting has created an automated software that adds the free SSL Certificates to your websites hosted with WPX. This installation takes place within 60 seconds.
Free Migration: They offer free migration within 24 hours making it easier and quicker for people to switch.
Free Backups: They have free automatic backups that are done on a daily basis. These backups are kept in a seperate server for almost a month. You can also access the backup system any time you like.
Malware scans and hack clean up: WPX Hosting does this for free everyday to ensure that your website is protected at all times. They have custom and constantly updated WAF, daily system wide malware and malicious file removal, daily updates to server security rules and enterprise level DDOS protection
Staging Area: WPX Hosting allows you to merge your staging area with the live website once you have made the necessary changes to the staging site.
Pros
Affordable
SSL certificate implementation
On demand support team
3. Kinsta – Great WordPress Hosting For Reddit
Kinsta is a great web hosting provider with amazing uptime. In fact it has an SLA backed 99.9% uptime guarantee. Redditors highly recommend this web host. They have some amazing industry leading features like one click backup. They are powered by Google Cloud platform and have a really good cloud hosting infrastructure making it reliable at keeping websites online. Kinsta is fast and secure compared to other providers and is worth it if you have a high traffic blog, or are a high volume agency or even a small enterprise. This web hosting service is designed for everyone.
Click Here to Get Kinsta Managed Hosting
What Redditors had to say about it:
u/velarozo: I am on Kinsta. Customer service is Amazing! I had an issue with my website being infected with malware. Kinsta not only cleaned the site, but found and fixed a backdoor that the attackers installed. Now I can say I can free myself from technical things. Totally recommend them!
u/adxp: Kinsta has proven itself with using performance oriented technologies like Nginx and LXD containers. I have a few clients that moved to Kinsta and their performance increased significantly.
u/lefty121: I'm migrating my own sites to Kinsta. Kinsta is just a cut above. So far they've been amazing. Kinsta support is crazy fast and they're actually WP experts and not "techs" that don't know what they're doing.
HIGHLIGHTS:
Fast website load time: Kinsta has an average page load time of 1.60 seconds. It has a solid performance when it comes to supporting high traffic websites. Since they moved to Google Cloud Compute Optimized Virtual Machines they have faster site speed and greater performance.
Added features: Kinsta offers some features that other web hosts do not. Some of these are system level backup, staging area, access to new site technologies.
Customer Support: The customer support on kinsta can solve almost any issues that you may have and respond fast as well. They are always prepared to handle traffic spikes that your website may experience. They also have scripts to solve complex issues.
Back ups: They offer daily automatic backups which are stored for up to 14 days. Manual back ups take up to 15 seconds to complete. They also have options for hourly backup for additional restore points.
Free CDN: They provide free CDN and have it in 34 locations across the world. This means that visitors on your website can view your website faster from local server locations.
Free SSL Hosting and Certificate: Kinsta is integrated with Let's Encrypt. Its implementation can be done in 2 button clicks.
Free Migrations: Kinsta offers unlimited free site migration from certain web hosts. But charges do apply if you are shifting from other web hosts not included in the list.
Dashboard: Kinsta has a very user friendly dashboard. You can access your sites, resource usage, Kinsta DNS, analytics, users, activity log and knowledge base. The dashboard is very well designed and the layout makes it very easy to use.
Pros
Fastest hosting provider
Great customer service
Guaranteed uptime
Secure SSH tunneling
Cons
Doesn't offer domain registrations
No telephone support
4. Bluehost – Best Budget WordPress Hosting
If you are just getting started with WordPress or looking for a web host with reasonable pricing then Bluehost is the right choice. It is easy to use for beginners as it has simplified the process of setting up a website. This is a budget friendly drag and drop site builder. It is loaded with features to help you set up quickly. It also offers shared hosting plans at entry level prices.
Click to Get 67% OFF Bluehost Now
Bluehost Coupon Code 2023: Auto Applied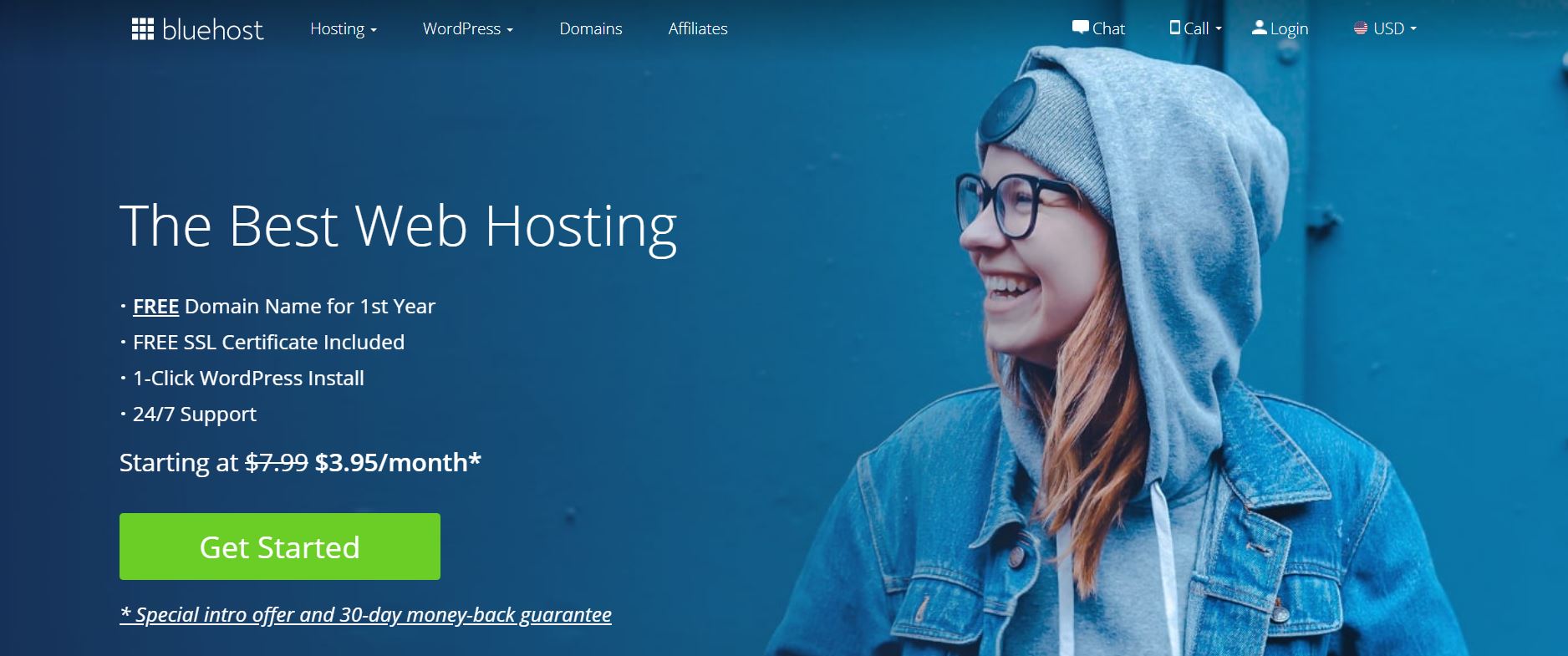 What Redditors had to say about it:
u/chucktownDan: I'm a Bluehost customer for going on 3 years. Reliability has been just fine, no issues to speak of. However, compared to some other providers, the price is what keeps me there.
u/jpsweeney94: I've been using bluehost for a while now and no complaints on my end… cheap and reliable, don't recall if I've ever even seen any downtime. Rarely, if ever.
u/shalevrais12: Bluehost's customer support, strong uptime, and affordable beginner plans make it a dependable hosting provider. If you're looking for old-fashioned reliability, Bluehost is a great choice. That's why it is rated one of the best overall hosting provider on the market.
HIGHLIGHTS:
Quick site set up: They have an intuitive and guided step by step setup. They also have a chat support system in real time in case you have any trouble setting up.
Free SSL certificate: They provide it for free to authenticate the identity of your website and encrypt all the important information.
Security: Bluehost has efficient security features and all Bluehost plans come with resource protection. They also have CodeGuard Backup Basic with a monthly fee that notifies you when any changes are made and does daily backups.
Customer Support: They have a very fast customer support that is very extensive. They have a live chat system with a waiting time of less than 5 minutes. They are  available 24/7. They also have an FAQ forum, in depth articles on everything web hosting related.
High performance servers: They have Dual Quad Processor Performance Servers that keep large websites functioning smoothly. It makes sure that there are no slowdowns.
Pros
Free domain name
Reasonable cost
Easy to use
Cons
High domain renewal prices
No free site migration.
5. Cloudways – Best Cloud Hosting Provider
This flexible cloud hosting provider is well known for its fast setup times, excellent customer service and keeping your site up and running without any down time. It also allows you to build a site without spending any money. This web hosting is worth considering as it offers both affordability and great functionality.
Click here to Claim this Exclusive offer
Cloudways Promo Code 2023: JEREMY20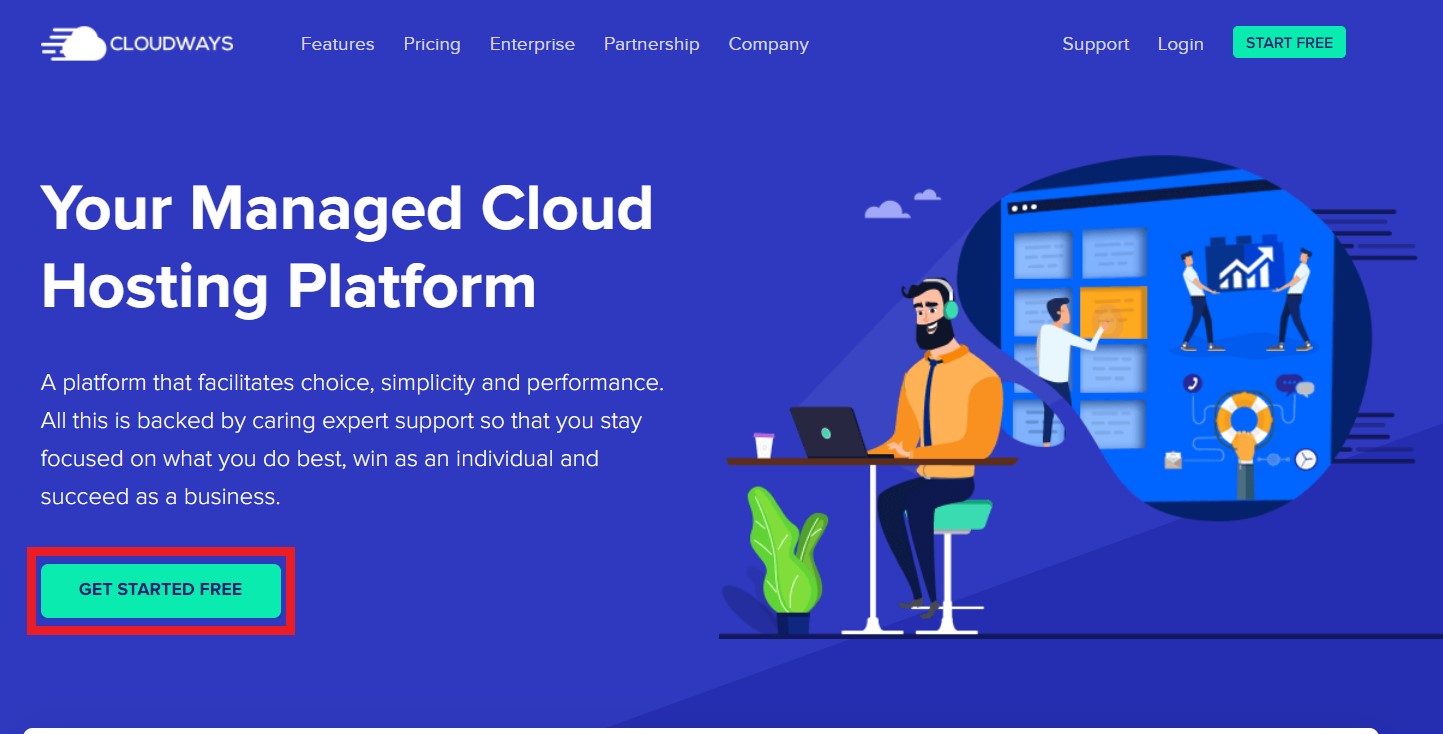 What Redditors had to say about it:
u/Ink-IT: Yes, I would recommend Cloudways, their dashboard is very well done and their support is very responsive. We've used them for a few years now and we've been very pleased with their offerings.
u/Ngantamsu: Yes I do think Cloudways is worth it. One thing people don't really mention about Cloudways is that they have some great WordPress features/benefits FOR FREE which other hosting providers would have you pay for. If you haven't made a Cloudways account yet, I'd recommend signing up with the Cloudways.
u/r34nimated: Cloudways is the best host I've found. I've been using them for about two years with Vultr, and couldn't be happier. Server is super fast, the chat support is top-notch, setting up / cloning apps is a breeze and the app dashboard makes changing settings dead simple. Highly recommended.
HIGHLIGHTS:
Excellent Uptime: It provides upto 99% uptime when you host your website on WordPress cloud servers. Cloudways uses VAM technology to optimize the site speed. It uses technology stacks like Apache, Nginx, Varnish, Redis SSD, etc. to further provide super fast page load times.
Server monitoring: Cloudways has server monitoring that helps you monitor the load on your cloud server. It monitors variables like incoming traffic, idle CPU, reads per second etc.
Handle Traffic surges: Cloudways offers vertical scaling that helps you adjust allocated server resources at all times. This is based on the Pay as you go system in case you are scaling for only a short amount of time.
Other tools and settings: There are options to configure services like MySQL, Apache, cache memory etc. It also provides backup restoration,  SSL certificate installation, GIT integration etc.
Security: It has great security measures and sophisticated firewalls. They deploy security hardening techniques to protect servers from hacks. They have application level security too.
Pros
Free automatic back-ups
Unlimited sites
Intuitive control panel & dashboards
Great customer support
Cons
No free CDN
Email hosting not included
We have given you a detailed insight into some of the best web hosts with the most essential features that your business may need. You can select the one that suits you the best based on your current and future requirements.
Which is the Best Hosting Provider For WordPress?
There is not a single hosting provider today that is best in all aspects, but it all comes down to your requirements. Here are my top picks if you have still not managed to crack it
WP Engine – Best WordPress Hosting Reddit
WPX Hosting – Popular WordPress Hosting Provider
Bluehost – Best Shared WordPress Hosting
Before making the final decision on the foundation of your website, have a look at your business or blog and see what you want in the host before making the choice that fulfills all your needs.
Best WordPress Hosting FAQs
1. What is the cheapest web hosting?
Shared hosting is the cheapest solution available in the market for small websites. It is an ideal option for those planning to start out. If you are on a budget, then the option is the way to go. But it is important to note that you don't have exclusive access to the server. It is most likely that you are sharing space with dozens of other websites. There may be a chance your website's loading speed is compromised due to this & hence why we recommend proper WordPress hosting.
2. Can you move your website from one company to the other?
Yes, you can easily migrate your website to another host. It isn't tricky and can be done within a few steps. You can also get in touch with the tech team of the platform, who will sort you out.
3. Can I host multiple websites on a single hosting plan?
It depends on the hosting plan that you have selected. Generally, most starter plans can handle only one website, but you can opt for an update to add multiple websites on the same hosting plan.
4. How to connect a domain name with web hosting?
The best and most common way of connecting your domain name is by pointing it to the web hosting provider's name servers.