Water is an essential part of our daily lives. We use it every day to hydrate ourselves or cook food or just freeze some ice cubes to use on a hot day. But not everyone has access to clean and drinkable water. Tap water is deemed undrinkable in many places due to dissolved impurities and contaminants in it. These impurities give tap water a horrible taste while making it unsafe to consume.
A filter water pitcher is the best way to ensure you are drinking clean and fresh-tasting water without any worry of contaminants. It has a built-in filtration system that will remove all sorts of impurities, bacteria, sediment, and other harmful particles from your tap water. These pitchers come in different shapes, sizes, colors, and price ranges so it's easy to find one that fits your needs. With a filter water pitcher, you can start a healthy lifestyle and get peace of mind knowing that the water you're drinking is safe and healthy for consumption. So if you want to make sure you and your family are getting the purest and most delicious water, investing in a quality water filter pitcher is worth it! Read on to learn more about the best water filter pitchers available today!
Things To Know About Filter Water Pitchers
Filter water pitchers can make water taste and smell better: Your tap water has a metallic taste due to dissolved compounds and chemicals such as zinc, chlorine, hydrogen sulfide, and other impurities in it. It is important to filter out these impurities to prevent water-related illnesses and diseases. Moreover, the peculiar taste of tap water discourages you from staying hydrated. Filter water pitchers are very effective in flavor and odor reduction as they remove several contaminants, making the water consumable and tasty.
They save you a lot of money: Most filter water pitchers are affordable, making them a cost-effective solution for anyone looking for improved water quality without breaking the bank, especially if you are a bottled water drinker. They filter gallons and gallons of water before you need to replace them. This means you don't have to spend on buying bottled water every day. Filter water pitchers are also more affordable compared to filtration systems that are built-in refrigerators.
They are compact and easy to use: Most filter water pitchers are the size of regular water pitchers. They require very little kitchen counter space and are pretty compact. They are easy to use as all that is needed is to fill the pitcher with tap water and then let it filter through its multi-layered filtration system to give you crystal-clear water.
They are so good for the environment: Bottled water generates a lot of plastic waste that stays in the environment for many years once discarded. Filter water pitchers can easily replace bottled water and are a more environmentally friendly choice as you won't purchase as many plastic bottles.
They can be taken on camping and travel: As filter water pitchers have built-in filtration mechanisms and are compact, you can carry them with you on travels. This means you have access to safe drinking water anywhere at any time.
Best Filter Water Pitchers According To Reddit In 2023
1. LARQ Pitcher PureVis
Larq is the best filter water pitcher according to Redditors and for a good reason. Larq has self-cleaning capabilities and a two-step filtration and purification system. This is something you don't see in other water pitchers. Larq's advanced filtration system takes care of your drinking water like no other. It eliminates bacteria and contaminants that may be found in regular tap water, so you can feel secure about the water you're consuming. This two-step purification process keeps your water safe and clean. Not only does it offer superior taste and quality but the self-cleaning feature makes Larq a brilliant choice for anyone who wants to enjoy drinking water without having to worry about cleaning out their filter pitcher regularly.
I actually travel with the LARQ pitcher & picked it cause I was tired of low mineral water (the fake flavor you get from purified water) and didn't want to become the kind of person that purifies water and than has to re-add minerals with supplements.
LARQ saved my life, I contacted them and make sure the filter preserved chemicals before I ordered it (and it does), so now I can have filtered, clean, tasty water while still having all the good natural minerals.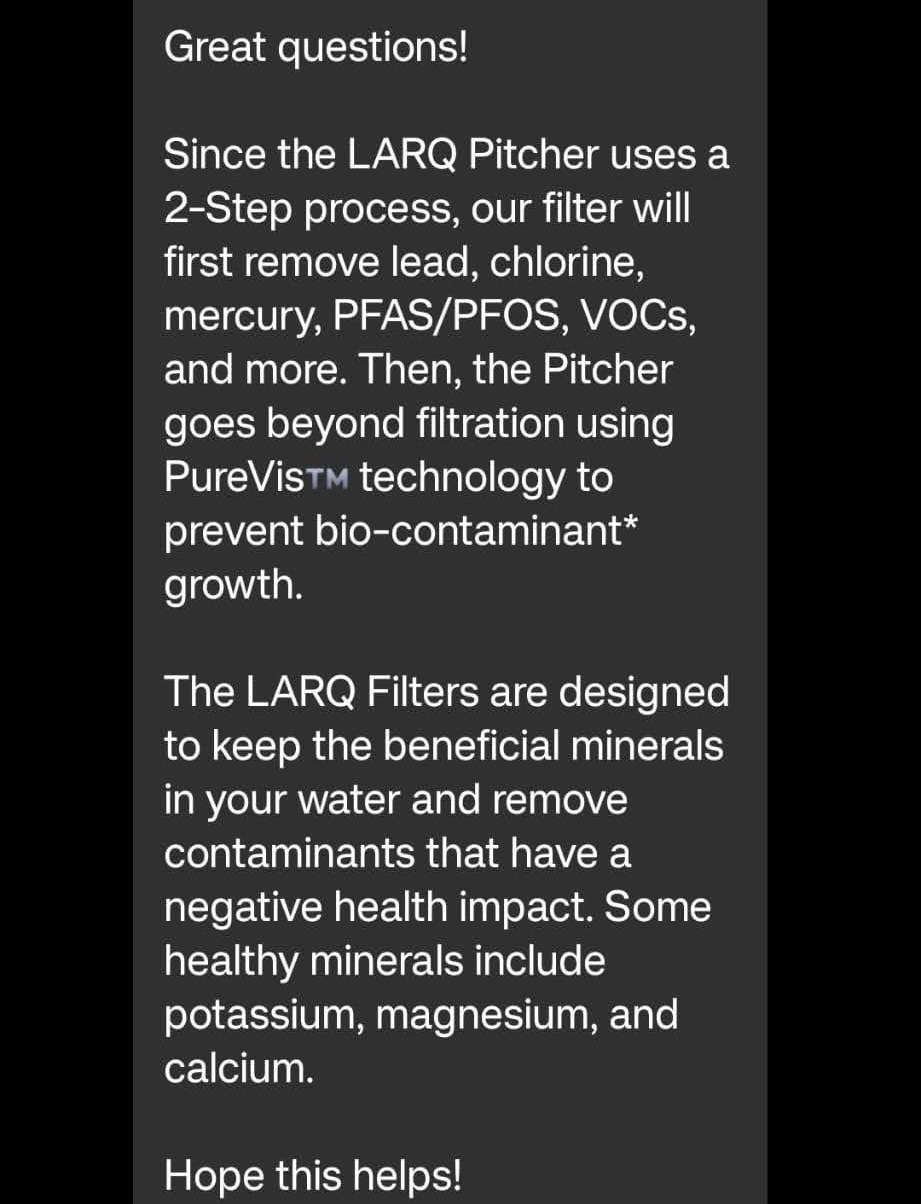 What Redditors had to say about it
u/someleafbird "I fkn love my Larq, my partner and I have one each to keep at our desks at work, and got a third for home. I'm also very thrilled about not having to spend money on bottled water often and can confidently drink water now. I love the design, and aesthetics too. Hella recommend"
u/jwang "Yup the Larq water pitcher is very nice! It's powered by a li-polymer battery and is on a timer to activate every 2 hours to keep the water bottle and water fresh. The tracking feature is a great idea and the company will be introducing future versions at lower price points but the product cost on the technology side today is quite high (UVC LEDs are very pricey)"
u/Mr_BananaPants "After using Larq for over a month now, I can tell you it does work. When I used a traditional pitcher, it became smelly after just 1 day. In the 1 month, I had Larq, I only cleaned it like once a month and it never became smelly. If I let water sit in it for 5 days, it's still not smelly."
Highlights
Two-step filtration and purification system: In the first step the carbon-activated plant-based filter uses Nano-zero filter technology to remove lead, chlorine, mercury, cadmium, VOCs, PFAS / PFOA, HAA5, pharmaceuticals, and more. It also removes microplastic particles down to 40 microns in size. In the second step, the PurVis wand emits a pulsing blue UV light that purifies the water and prevents biological activity and the biological growth of viruses, bacteria, and protozoa.
Self-cleaning capabilities: The self-cleaning process starts when UV light activates every six hours or every time you fill the pitcher. This kills any bacteria in the filter. This means that you don't have to wash the water pitcher often.
Intelligent filter life tracking: The LARQ Pitcher PureVis App has filter life tracking capabilities. You can track the battery life of the PureVis wand and the status of the filter on the app. It keeps you updated on all the water filtering stats by storing data even while disconnected from the app. The app is available for iOS devices only.
Dishwasher safe: You may have to clean the water pitcher once every six months or whenever you replace the filter. The pitcher is dishwasher safe, making it easier for you to wash it without much effort. Before you wash the LARQ Pitcher PureVis in the dishwasher, make sure to remove the PureVis wand and give it a full charge every time you replace the filter.
Design and Aesthetics: This water pitcher is sturdy as it is made from BPA-free, phthalate-free, and food-grade plastic. It looks modern and sleek, perfect for any household or office space. It has a swinging lid at the top that allows you to fill the pitcher and is very easy to handle. The lid closes inward which prevents water from leaking. It can hold up to 8 cups or 2 liters of water at once and can be recharged via a magnetic USB charger.
New Years Sale: Get 15% OFF The LARQ Pitcher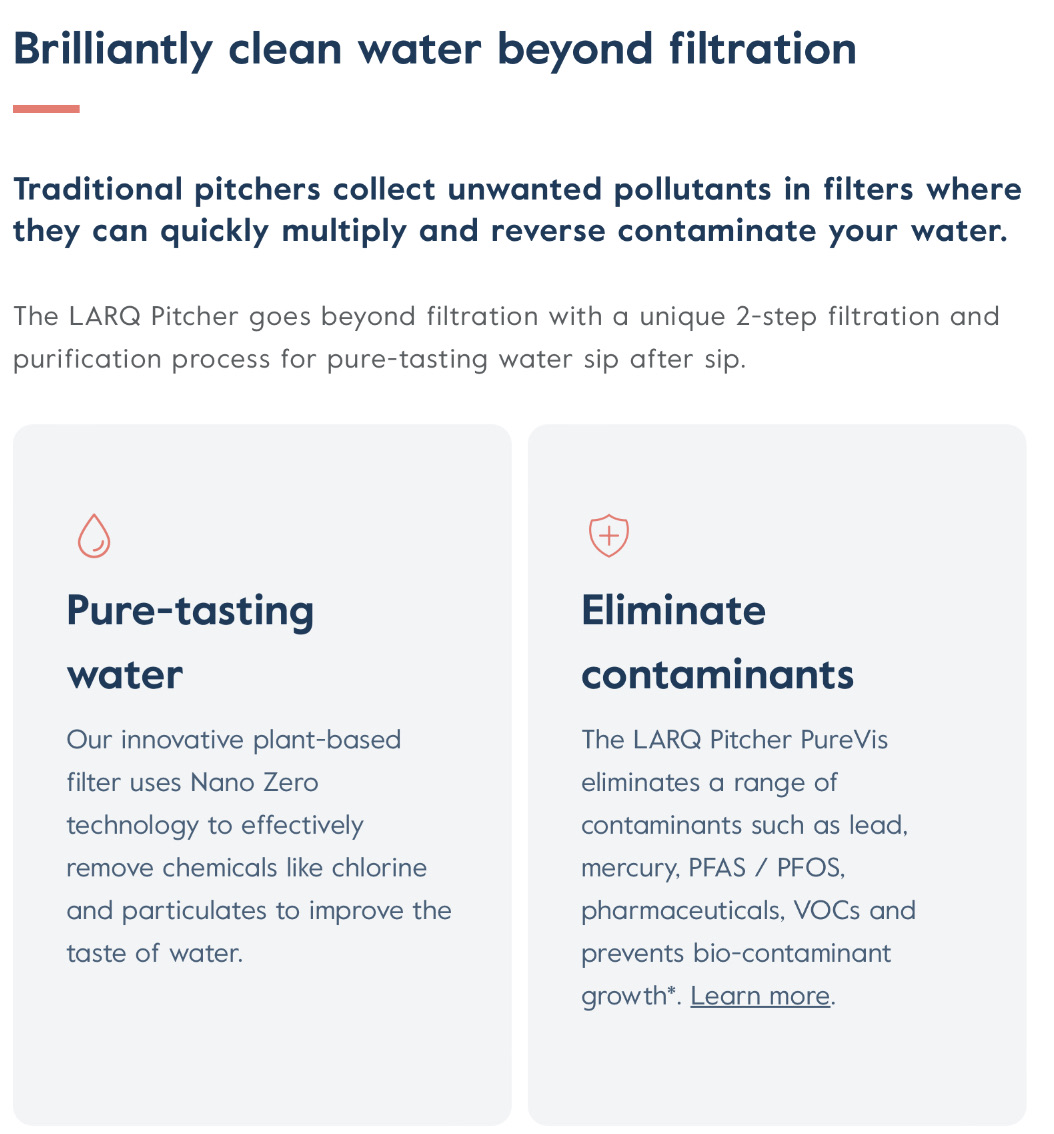 Pros
Includes a magnetic USB charger
Very easy to set up
Covered under a 1-year warranty
Uses UV technology for purification
Cons
Expensive
Replacement filters cost can add up
The smart app is available for iOS devices only
2. ZeroWater Pitcher
Redditors highly recommend using ZeroWater pitcher and say it has worked well for them. Known for their expertise in manufacturing water filtration products, they specialize in designing and developing filters that reduce the levels of chromium, lead, mercury, and PFOA/PFOS in the water. This filter pitcher also reduces chlorine odor and taste so you can enjoy your water as soon as it's poured.
What Redditors had to say about it:
u/musicbro "Zero water is the best filter by price and is available with Amazon and Walmart. It filters out almost every single thing. There's a YouTube channel that did a great comparison that included it that has shown the results as well."
u/modernhousewifeohio "Second the zero water pitcher. We have very hard water and very mineral-heavy water that tastes terrible and you can see stuff floating in your glass! I love the zero-water pitcher. I probably have to switch out our filter every 2 months (we drink A LOT of water) but I buy them in bulk off amazon and it is worth it."
u/incogaf "I love my Zero Water pitcher. It has a 5-stage filter, the water comes out crystal clear, and tastes great cold or room temperature. It comes with a pen that measures the microparticulate in the water. When it passes a certain number, the time for a new filter, couldn't be easier. And the filters last quite a while."
Highlights
Design and aesthetics: ZeroWater's easy-to-use design makes it a breeze to use. Just fill up the reservoir at the top and wait for the filtration process to complete. The extra large spout ensures an effortless pour while the ergonomic handle adds comfort and ease of use. Its contemporary look also makes this filter pitcher aesthetically pleasing enough to keep on display in any kitchen. The Ready-Pour technology is fantastic for an on-the-go lifestyle and allows you to dispense filtered water as the reservoir continues to filter. The pitcher is available in various sizes and capacities. All starter kits come with a pitcher and three total filters.
5-stage filtration process: This 5-Stage water filter by ZeroWater claims to remove 99.6% of total dissolved solids in your drinking water. The first stage removes contaminants like fine particles and sediments from water. The second stage is designed from a foam distributor that maximizes contact time that helps disperse the water more evenly across the entire width of the pitcher. This helps to remove more sediments efficiently. The third stage uses activated charcoal and oxidation-reduction alloy to remove contaminants and improve the taste. The fourth stage uses a negative and positive bed ion exchange resin that strips foreign objects from the water molecules. The fifth stage removes fine sediments and solids by using non-woven membrane layers.
TDS Meter: This meter measures total dissolved solids in (ppm) parts per million. TDS or total dissolved solids is the amount of all non-organic and organic sediments dissolved in the water. This meter is very helpful in understanding the quality of the water. It checks the level of total dissolved solids before and after filtering your drinking water.
NSF certified to remove pollutants: The 5-stage Ion Exchange water filtration is NSF Certified to reduce PFOA/PFOS, lead, and chromium. This means you do not have to worry about any contaminants in your water. This ensures you get the purest-tasting water in your home with fewer contaminants. It is certified to NSF/ANSI standards 42 and 53.
Easy to install: This water pitcher is very easy to install and start using. All you have to do is twist the filter into the bottom of the reservoir and tighten it until there is a complete seal between the filter, o-ring, and reservoir. Once this is done, you can fill the reservoir with cold tap water and place the lid on top. It will take no time for the water to pass through the filter. Once the water passes through you can refill the filter. You can store the pitcher in the refrigerator or on the countertop based on your temperature preference.
Filter replacement subscription: You can enroll in ZeroWater's subscription program of 2 packs of replacement filters where you can choose how often you receive the replacement filters. All recurring orders come with free shipping and the subscription service is set for a minimum of 2 total deliveries before you can cancel. The quality of water at your home determines the life of the pitcher.
Pros
Free TDS Meter
Ion technology is more efficient than simple carbon
Zero set-up cost
Affordable
Cons
Short life-span
Flow rate can be slow
3. PUR Plus Filter Water Pitcher
PUR Plus is yet another favorite water pitcher recommended by Redditors. The elements that make the Pur Plus Pitcher stand out are its comfortable-to-hold handle, flip-top lid (for one-handed filling), and its ability to filter out three times the amount of lead compared to other brands. The PUR Plus model comes in various sizes ranging from 7 Cups to 12 Cups. With its reliable performance and attractive design, the PUR Plus Pitcher is the perfect addition to any home or office.
What Redditors had to say about it:
u/greenlepricon "Yeah. I'm very frugal and I just moved to a new place. The tap water comes out with bits!! Managed 3 months and thought sod this I'm getting 'the Pur water pitcher. It's made every day so much nicer."
u/Sfjones1787 "I drink a lot of water, so Pur saves me a lot of money on water bottles. How often you need to change the filter will depend on how often you use it. I live in a 2-person household, and we both use it quite often. I find I only have to change the filter every 2-3 months. Also, if you buy the filters in bulk, you save a decent amount of money. Overall, I find it doesn't cost more and the water tastes better. Just make sure you change the filter regularly, otherwise, you'll be doing yourself more harm than good."
u/this1 "I live in Chicago, and the tap is fine. But I still use a Pur pitcher, with filters that specifically remove lead among other things. I love my Pur pitcher and have had it for nearly 10 years. I let the filters go for about 3-4 months because it doesn't get as much use with me and my GF as a family would. I buy the filters on Amazon pretty cheaply. Would recommend it."
Highlights
WQA certified to reduce lead: Lead is a heavy metal that is unsafe to consume at any level. It usually leaches from corroding water lines and home plumbing fixtures. PUR Plus is independently certified to remove lead from water. It uses a two-step process to purify your water. In the first step, the granulated activated carbon and ion exchange media reduce certain pesticides and heavy metals. In the second step, the advanced pleated paper reduces lead, particulates, and other contaminants.
Leak-proof design: The PUR Plus pitcher uses a LockFit Top Cap mechanism that ensures a secure filter fit. The easy-fill and stay-tight lid of the pitcher ensures the pitcher is not prone to any leaks. To place the lid securely into the place you need to rotate it 180 degrees once it is placed on the reservoir.
Dishwasher safe: The PUR Plus pitcher is dishwasher safe so you can clean it easily. You could pop it in the dishwasher every two months or before you replace the filter.
Filters significant amounts of water: The pitcher has a filter life of 40 gallons or two months. Once the filter life is over you will have to replace it. The Filter Change Light helps you with this by indicating the filter status. You can reset this light every time you replace the filter by pressing it for 5+ seconds.
90-Day warranty on Pitcher Filtration Systems: The PUR Plus pitcher is covered under a 90-day warranty by Kaz from the date of purchase. The filter is covered under a 30-day warranty against all defects in materials and workmanship.
Pros
Cheap
Filter Change light
Independently certified
Filter life of two months
Cons
Does not filter microbes
Filter change light contains a non-replaceable battery
4. Brita LongLast Pitcher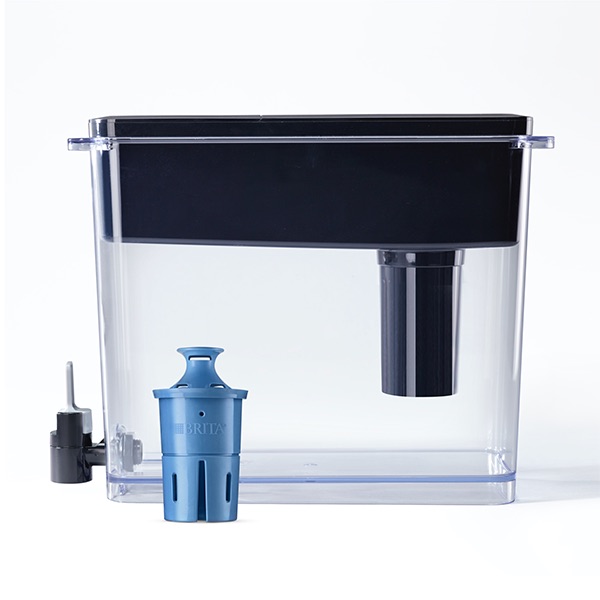 Brita is another popular brand that is trusted by most Redditors. They are market leaders in the pour-through water filter market. Brita sells many models of water pitchers but the Brita LongLast (also called Elite) Pitcher is the best model. Its stylish design adds an extra touch of class to any kitchen countertop and its stylish profile won't take up too much space. Overall, the Brita LongLast Pitcher provides the best value and features that make it a solid choice for anyone looking for a basic, yet effective water filtration system.
What Redditors had to say about it:
u/anschauung " Assuming you live in a developed country, your water is treated in some way, usually through chloramine, straight out of the tap. There's no way for bacteria to grow in a Brita filter unless your water is extra-dirty. The Brita itself does stop bacteria, but it's assumed that your local water supply has taken care of that already. What Brita water filters do is pull out sediments, metals like cadmium, and halides like chlorine. This results in much cleaner and smoother-tasting water. They're pretty good at it, so probably worth the investment if the flavor matters to you."
u/Bert7690 "Recently I decided to try the Brita water pitcher. I don't have to plan and stash tons of water bottles in the fridge to drink my water anymore. Now that we're happy with the flavor of the water, we're drinking a lot more of it. I'm glad we went with Brita, and I never want to go back. We fought with our water for a long time, trying to find the filters that would work, we avoided drinking water at home… and now we have convenient great-tasting water when we want. It might be worth it to try the filters, if only for your peace of mind or ease of drinking water."
u/smurfy_nz "I love my Brita water pitcher. The tap water where I live is perfectly fine to drink but it has weird tastes and I have a thing about chlorine (which the carbon filters mostly remove). It's also pretty (especially the cute lid). If you buy bottled water then it will save you a lot. Long term it's probably cheaper to buy a permanent benchtop filter though. Also, it depends on how many people are using it. I live alone so 1 cartridge lasts longer than if a family was using it."
Highlights
Advanced Filtration Technology: This technology cuts the taste and odor of chlorine to deliver great-tasting water. It is certified to reduce copper, cadmium, and mercury impurities, which can adversely affect your health over time. It uses a carbon filter to reduce impurities in tap water. The filter is made of activated carbon, which is effective at reducing chlorine taste and odor and the mentioned contaminants. The carbon filter works by adsorbing impurities as the water passes through it, trapping them in the filter and leaving behind cleaner, better-tasting water.
Design and Aesthetics: The Brita water pitcher has a very simple and easy-to-use design. It has a flip-top lid that makes refilling very easy and just a glance at the sticker filter indicator lets you know when it is time to change the Brita replacement filter. You can check the button on the lid to know whether the filter needs to be changed or not. The pitcher comes apart for easy cleaning.
Long-lasting filters: Named after the main feature, The LongLast filters- you guessed it!- last longer than regular filters. This means you don't have to deal with the hassle of replacing the filters every other month. You need to replace the filter just twice a year.
Good value and easy to find: Brita is a well-known brand and is present in various locations and countries. This makes finding replacement filters very easy. They are also good value for money as they are cheaper than most competitors.
Pros
Affordable
Filters last up to 6 months
Improves the taste of water significantly
Cons
Prone to leaking or cracking
Doesn't do much for hard-water minerals
Doesn't remove bacteria
5. Nakii Water Filter Pitcher
Most Redditors swear by this filter water pitcher for great-tasting water for their coffee. Coffee lovers on Reddit have found that using the Nakii Water Filter Pitcher has completely changed their coffee-drinking experience. Not only does the filtered water taste great in coffee, but it also helps them make the perfect cup of coffee every time. It enhances water flavor, allowing you to create delicious-tasting brews that are sure to please even the pickiest coffee connoisseur. It does this by removing all those pesky impurities from your drinking water which eliminates any bitterness or sourness that can often come with tap water.
What Redditors had to say about it
u/realmain "Ever since I started using a Nakii Water Filter Pitcher, the flavor of my coffee, and the ice I put in my Japanese Iced Coffee (style), it tastes so much better."
u/rmtusr "I picked up a Nakii too, makes nice-tasting water, with no sediment. I'm not concerned with purity. If it tastes good and makes good coffee, I'm in. The people over at Nakii HQ also seem nice."
u/tjmille3 "The Nakii's size and look are better. They filter water faster than others that I've tried, water tastes great. They do claim that each filter lasts up to 150 gallons, but people do say that it isn't the case for them. Mine lasts pretty long per filter, but I don't pay attention to how long. Longer, a lot longer than a Brita though. It's $28 for 3 filters. The filters are made in Japan, the pitcher is made in China, from what I've read at least."
Highlights
Long-lasting filters: Nakii claims that its filters last four times longer than others. It filters up to 150 gallons of water per filter. Thanks to the high-quality material that is used to create the pitcher. It can handle water contaminants on a higher level which helps extend the filter's lifespan.
Highest rate chlorine and mercury removal: With its Advanced Filtration Technology, the Nakii filter is the first in the USA to use the newest innovation for water filtration- Activated Carbon Fiber (ACF). ACF removes up to 98% of chlorine and mercury. It significantly improves the taste and odor of water and is rated the highest in the market to reduce lead, rust, sediment and suspended particles, unpleasant color, and limescale.
Tested and certified by WQA: These pitchers are manufactured by Water Innovations USA and certified by the WQA for NSF/ANSI 42 and NSF/ANSI/CAN 372 standards. This means they display high-quality filtration, chlorine taste, odor reduction, and lead-free compliance. This will give the best and most clearly filtered water for you and your family.
Fast filtration rates and space-saving design: The filter has a flow rate of 1.3 liters per minute. This is ensured by the ACF technology known for its fast adsorption speed. The free-flow design ensures extra fast and steady filtration. Its sleek design makes it suitable to fit right in your refrigerator door. The pitcher is made from BPA-free approved material which meets the standard of the NSF-372 tested and approved by the Water Quality Association.
Pros
Easy to hold and clean
Uses (ACF) Technology which is 10-12 times better than any other carbon filters
Works to reduce limescale and hardness of water
150-gallon filter lifespan
Cons
Does not remove bacteria, viruses, and perfluorinated compounds.
In conclusion, a water filter pitcher is an excellent choice for those looking to lead a healthier lifestyle. Not only does it provide clean, healthy drinking water but also ensures that you always have access to refreshing water whenever needed. The affordability of the device makes it even more desirable, as anyone can easily afford one and benefit from its health benefits without having to worry about spending too much money. With a water filter pitcher at your home, you can rest assured that no matter what the weather may be outside, you will always have cool, crisp, and safe drinking water available right in the comfort of your own home! It's worth noting that while the filter water pitchers do improve the taste and odor of tap water, they may not remove all contaminants that could be present in your water, so if you have specific water quality concerns, it's best to have your water tested by a professional lab to determine if a more advanced filtration system may be needed.
Read Next:
Peak Design Travel Backpack Review