With decreasing online privacy and increasing number of cyber attacks, the internet in 2023 isn't the same as before. Internet users now need to learn how to protect themselves when going online and moreover discover the benefits of a virtual private network.
Want to stay protected on open WiFi (Cafes & airports)?
Want to access geo locked content (Reddit, Youtube, Netflix)?
Then you need a VPN when you travel!
Fun Fact: Social media networks example Reddit and other websites are blocked in SE Asia (think Bali)
It's astonishing how many Internet users are still ignorant to the fact that they actually need to protect themselves online. This is a digital age where information is more valuable and getting a VPN is almost mandatory.
However, if you don't have a VPN yet and wondering what exactly it does or how it works then you have come exactly to the right place! In this article, I recommend the Best VPN for travel and will go over the basics of why you need a VPN when traveling overseas!
Best VPN For Travel 2023
Based on the tips discussed later in this article, I've narrowed down the best VPN services in 2023. If you're traveling and need a VPN to help you skim the internet securely then you can rest assured you will find what you are looking amongst the picks below:
NordVPN – Best VPN For International Travel 2023
ExpressVPN – Best Travel VPN For Streaming Video

IPVanish – VPN For Travel With Torrenting 2023
CyberGhost – Budget VPN For Travel 2023
1. NordVPN – Best VPN For International Travel 2023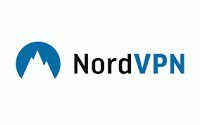 Service Overview: With NordVPN you can rest assured you will be protected almost anywhere you go even China! Moreover, it is one of the fastest and most secure VPN providers you can presently find on the market.
Pros
Fast + Reliable Servers
Great Security
Based in Panama
No USA/EU Tracking
Great UI
Android + iOS App
What Reddit thinks about NordVPN:
u/IAmMohit: "Nord VPN. Been using it for three years. Very satisfied. Has dedicated servers for Netflix."

u/mdkb: "I am in Aus and went for NordVPN after some research, and though I found it a bit fiddly at first, like I have to keep changing servers almost every day and hunt for something that works, even to get simple traffic or a ping working. It seems pretty good once I find a country that is working. speeds can vary but its working ok."

u/Naturist02: "I run NordVPN on Windows, MAC, and Linux Mint. I love it. Install NordVPN via the Terrminal on Linux. . It's easier to use. Also if you run it in Terminal it only works with the TCP connections."

u/monk12314: "I love Nord but a few notes: amazon, Netflix, and Hulu may not work for you (amazon never works for me no matter server (in us)) and I'd move away from Google as they have those annoying recaptcha every time I use them. Other than that Amazing service! Really don't let those negatives move you away I've loved them for 2 years already."
Top Reasons to Buy The NordVPN For Travel
Reason #1: Pricing Plans
Price is definitely an important factor for most individuals when they are looking to buy anything and same is the case with VPN services. NordVPN is my recommended choice when it comes to VPN and one that I use myself and although it is one most reputable and best VPN services its pricing is quite ordinary and affordable for most individuals.
I personally like how simple their pricing plan is as they stick to only one plan with prices that the longer you take it for.
Their pricing plan is as follows:
One month plan – $11.95/ Month There is no discount but the features are the same as the other packages.
Six-month plan – $7/Month here you get a discount of 41% with a total of $42 every 6 months.
Yearly Plan – $5.75/Month With a yearly plan you have to pay USD 69.00 every year. That means you are saving a whopping 52% every month! As compared to the monthly plan.
2-Year Plan – $3.28/Month such plans which are often called lifetime subscriptions are offered by only by a few VPN providers. Most of the VPNs have a maximum of yearly packages.
Personally, NordVPN's 2-year plan is an absolute no-brainer as you get an amazing discount of 72% with a total of $79 every 2 years!
Pro Tip: If you are still in two minds to commit you can opt-in for the trial of 3 days without any kind of subscription or even an account. This makes you check out their services anytime without the hassle of having to make an account.
Reason #2: High-quality and fast servers
The speed performance of a VPN as discussed earlier is very important if you'll be using it to do anything online.
NordVPN is pretty decent overall but you should note there will be a slight decrease in speed when the double encryption for data is enabled. To be frank there will be faster VPN services but if you're looking for a secure VPN service you cannot go wrong with NordVPN.
They also have dedicated server options specifically meant for streaming purpose s which will definitely be faster than the normal servers.
Reason #3: User-Centric Features
NordVPN also has quite a few features that aren't available with other VPN options. I personally like that the VPN service is created with its users in mind.
For instance, if you want to stream youtube, Netflix and other video extensive websites whilst traveling you can simply switch to the special streaming servers to get better speed.
They even have anti-DDos servers, double VPN and Tor over VPN.
Reason #4: Security & Privacy Policy
If you're looking for heavy security then NordVPN is one of the solutions that you should go with. The only trade-off it a sacrifice on speed. To be frank I rather have a slightly slower VPN that's more secure rather than a faster one that compromises on security.
Their basic protocol uses AES 256 bit for encryption
RSA 2048 for handshaking
SHA-2 for authentication.
They also use firewalls to protect their servers and they have a strict no-logs policy
Fun Fact: Since NordVPN is located in Panama they are able is a plus point when it comes to privacy and, as long as you keep your actions legal, you have nothing to worry.
One of the features we appreciated the most with this solution is the fact that it doesn't allow for any DNS leaks.
You also have a Killswitch that makes NordVPN a very secure service to use.
Reason #5: Cross-platform compatibility for NordVPN client software & App
The NordVPN interface is absolutely intuitive and easy to use. I personally find it very simple to activate and the cross-platform functionality allows me to have versatile use across multiple platforms.
This is extremely useful if you are new to a VPN service as you can use the client easily. The server selection with NordVPN is also really easy to use; all you have to do is simply click the "Connect" button at the bottom.
Reason #6 Server Locations
One of the key essentials of a travel-friendly VPN is its reach. By this, I mean in how many countries it works and when it comes to "reach" NordVPN 's servers cover a very wide area.
They have numerous servers in almost every part of the world even one of the most strict country when it comes to usage of VPNs like China isn't able to block out NordVPN.
In fact, NordVPN has 3454 servers in over 60 countries and that's a gigantic server network. Their servers are located in the continents in Europe and America along with the coverage in all other continents as well.
Final Verdict:
Yes. If you're looking for something that's more secure than fast with great reach across multiple counties. NordVPN has a good balance of security with speed and features that make it quite user-friendly and intuitive.
After personally using NordVPN for a few months I've had nothing but positive feedback about it I definitely recommend it for people who travel a lot.
2. ExpressVPN – Best Travel VPN For Streaming Video
Service Overview: ExpressVPN is highly regarded as a VPN for streaming video over the internet especially Netflix. This is huge as most countries block suck video streaming websites.
Pros
Cross platform
30 Day money back
Lots of payment options
Cons
Expensive
Slow to connect
Max 2 connections
What Reddit thinks about ExpressVPN
u/danielsuarez369: ExpressVPN is probably the best VPN out there. Honestly stay away from VPNs like PIA.

u/Cast87: My 12 month subscription (+3 months free) is coming to an end this month and I was just looking to see if there was a cheaper VPN available. I guess I'll stick with expressVPN, they might be more expensive but you pay for quality. Never had a problem with it, running on W7, W10 and Android.

u/TommyJarvis12: Yep, I have zero complaints with ExpressVPN. I've been using it for about 6 months now. You get 30 days free too.
Top Reasons to Buy ExpressVPN For Travel
Reason #1: Dedicated Apps and software
What makes ExpressVPN different from the competition is the fact that it offers dedicated apps not only for Mac, Windows, iOS, Android (which is the status quo across VPN providers) but they also offer applications and software for wireless routers, internet browsers and even specifically media streaming devices like Amazon Fire TV Stick
This is HUGE as some of the major drawbacks is setting up a VPN across all devices but with ExpressVPN you have a turnkey software or app that skips the whole setup process to something that will work after a couple of clicks.
Moreover, it takes a fair bit of technical know-how to set up a VPN server manually as opposed to simply downloading the app having everything connect automatically.
The dedicated apps are beautiful, user-friendly and highly functional in nature. I've shared a few snippets of the Windows app, iOS app and Android apps below: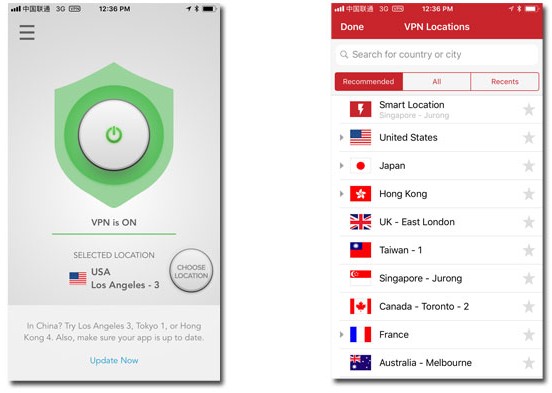 Reason #2: Security & Servers
Although there is a whole multitude of VPN services that offer a much larger array of available servers, your choices with ExpressVPN are pretty decent as well.
More so because Express VPN have connections all over the world and each of them is secured using 256-bit encryption layer.
Also, Switching servers are simple and most services have no cap and can be done multiple times.
Pro Tip: You do have the option to change encryption protocols to make it more and less secure usually the later results in faster speeds but the default will keep you pretty safe.
Reason #3: Pricing and Payment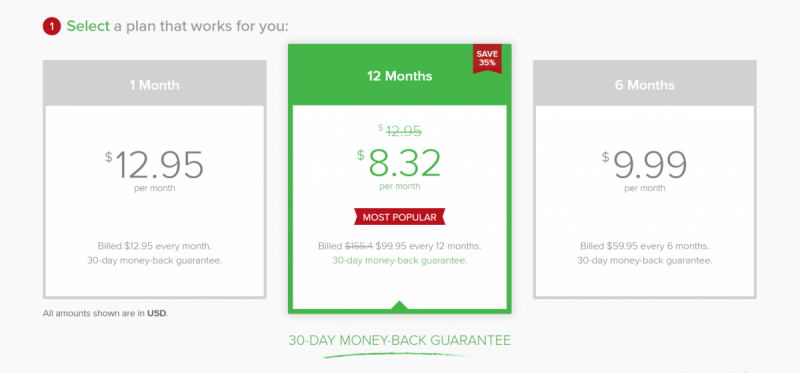 If you've done your research right you will find the Express VPN is a premium VPN.
Pro Tip: Cheaper VPNs may have very attractive prices but remember what's cheap is not good and what's good is not cheap. Also be sure to ask the 24/7 live chat support for any pre-sale questions before committing to it.
Final Verdict:
YES! If you're out looking for some that is reliable, either because you live in a country where the government is crazy or traveling to one or simply because you are becoming more aware of the importance of internet security, then give ExpressVPN a try. If you still don't like it you can get your money back within 30 days. You will also get a whole 3 months FREE with an annual plan using the button below:
3. IPVanish – VPN For Travel With Torrenting 2023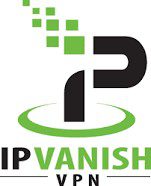 Service Overview: If you're looking for a secure VPN solution for many devices then IPVanish is perfect for you. Moreover it has servers in over 60 countries with AES 256 encryption which is a real plus. The only negative is slightly slower speeds.
Pros
Good mobile apps
No log policy
Strong AES 256 encryption
Free SOCKS5 Web Proxy
Cons
Speed is 18% slower
No Tor Compatibility
Top Reasons to Buy IPVanish For Travel
Reason #1: Free SOCKS5 Web Proxy
Most VPNs allow access to different protocols including the default OpenVPN which is the standard but the only downside is that you have to download a client directly onto your device in order to avail the unique certificate.
Fortunately, this process has been made simple with IPVanis as it gives you access to a special proxy server protocol called SOCKS or Socket Security. This protocol lets you enjoy the same benefits of a VPN without actually having to download any software on your devices.
This is very convenient as you now don't need to download an intrusive third-party tool to hide your IP and personal footprint.
Reason #2: Secure AES-256 Encryption
IPVanish relies on AES-256 encryption which is the same as that used by many of the world's leading security agencies and government organizations.
Fun Fact: AES-256 encryption is one of the best ways to prevent brute force attaches against WordPress websites which is a very common hacking method.
Reason #3: Five Device Connection Limit
One of the favorite "Features" of IPVanish is that they allow you to connect to up to five devices simultaneously.
Most premium VPN providers like ExpressVPN, limit the simultaneous connections to 3 devices. While this might not seem like a big deal to some, for those of you with many members (family, team), buying a second license can be a huge frustration and an annoying expense that quickly adds up
However IPVanish has a generous 5-device limit, so many users can use this for the price of one this is extremely helpful if you need the VPN to secure connections across a team or a family.
Reason #4: Torrenting Allowed
IPVanish allows P2P torrenting in fact It's blatantly encouraged. Unlike many VPN providers, IPVanish has no restriction on their customers using their service.
This may be looked down upon by many anti-piracy advocates but will be a great bonus for the average VPN user.
Final Verdict:
Although IPVanish provides a reliable service at affordable prices it doesn't offer anything that is truly exception the verdict simple is it depends on what you are looking for:
If you want a reasonable price: YES is a really good option as you can cover up to 5 members
If you want more worldwide reach with better to connect you're better off spending more for something like NordVPN
4. CyberGhost – Budget VPN For Travel 2023
Service Overview: CyberGhost offers great speeds for streaming purpose and you can also preset the VPN client pre-session to optimize it specifically for watching videos online.
The system can get around access blocks on most US TV channels' websites and also Netflix USA. The company runs more than 200 servers in the USA and these are located across 19 cities.
Pros
Cheap
Anti-fingerprinting technology
Kill Switch function
User-Friendly Design
IP masking
Cons
No advanced essential features
Not the fastest VPN
Top Reasons to Buy CyberGhost For Travel
Reason #1: Feature Rich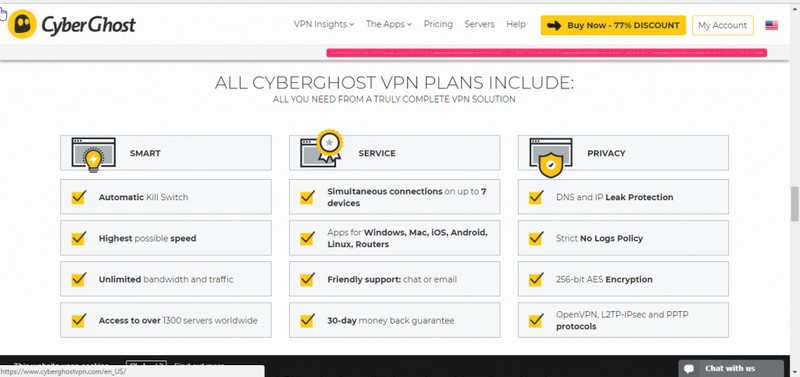 When it comes to the features, CyberGhost VPN is definitely packed to the bring with it.
Moreover, some of its features are pretty important that the VPN user would look out for. However, that being said, this option does miss out on some key features, which its competitors offer.
Anti-Fingerprinting technology: This is an important feature that is usually not found with other competitors basically it keeps the user more secure on the internet by protecting personal system data from leaking out. This is a very essential feature most of the other VPNs lack.
Automatic Kill Switch: A great function for extra security that comes into play when the data is wonky. It basically turns the system's internet off so no data could move in and out of the device. This prevents unnecessary leakage
Reason #2: Servers with a Global Reach
When it comes to servers, CyberGhost VPN surely has a ton boasting as many as 2779 servers! The server network is pretty huge indeed.
The company also deserves applause for the way it organizes the servers for easy accessibility so that users can conveniently and choose from the fastest or most crowded servers available in the market.
Reason #3: Security & Privacy
Most of the people looking for a VPN are definitely concerned with privacy. You can rest assured with CyberGhost you will remain secure as the service does a pretty good job keeping user activity secure and safe from the hands of malicious users.
Some of the security measures it takes are as follows:
AES-256 Encryption: The software boasts AES-256 encryption, which is considered one of the strongest mechanisms by experts. The VPN routes your data through a secure tunnel so it cannot be deciphered.
No-Logging: The software also has a strict no-logging policy, which implies the tools won't hold any logs of user activity or software uses. Many VPNs are notorious for storing user activity logs.
DNS Leaks: The software does not leak any users DNS data, which is, once again, a very common problem with many VPN tools.
Reason #4: Strict No-Log policy
Many VPN are quick to advertise "zero logging." but when you dig into the fine prints (usually in their TOS) you will soon realize this claim is far from the truth.
However, CyberGhost doesn't waiver on their logging policy and has a strict no logs policy on their website.
Reason #5: Seven Device Connection Limit
CyberGhost made a recent change to offer up to seven devices simultaneously! If you do some snooping around most of the VPN providers offer a one-device connection limit, even some other premium users offer up-to 3 devices.
Initially, CyberGhost bumped up their connection number to five, which was already quite cool but as of 2023, they increased their limit further to seven devices regardless of the plan that you choose to use!
Final Verdict:
NO, if you want something that is fast. Yes if you can deal with slower download/upload times for a lower cost.
There are also some nifty security and user features that make CyberGhost a pretty strong budget VPN option.
Best VPN For Travel 2023 Buyer's Guide: What is a VPN and how does it work?
VPN stands for a "virtual private network" and is basically a software that encrypts an Internet users' traffic and also mask their online identity by hiding their IP. Therefore, the main goal of VPN is to help you stay more secure and private when browsing the Internet. Think incognito mode but much better!
So how does a VPN exactly work?
Typically, when you connect to any Internet, the Internet Service Provider or ISP receives a request that redirects you to the website you have intended to visit. As your Internet traffic passes through the ISPs, they see everything you are doing online!
Nowadays cookies are very common and no they're not the ones you eat but the ones that can track your behavior(on the internet) and sell your details to advertisers and other third-party companies!
This is where VPN comes to the rescue. It redirects your Internet traffic through a remote server from the VPN, this way hiding your IP address and encrypting all of your information that is received or sent.
Switching your VPN ON will make all the data you send and receive travel via an encrypted tunnel so that nobody can steal your private data or track your activities online.
Below is a simple illustration of how a VPN protects you

Your Device
An encrypted VPN channel/tunnel
The Internet
What actually happens when you enable VPN?
Your ISP cannot see what you are doing on the Internet, meaning that are not able to identify what websites you go to or sign into with your private info. Moreover, they can no longer control the connection speeds (very common) or sell your private info to a third party website.
You will also be assigned a unique IP address from the remote VPN server which will keep advertisers and other trackers away from monitoring all your online activities! Furthermore, if you also have the ability to connect to a server that is located in a country other than where you live, so you now have the freedom to change your location to any place
This helps you to get passed geysers like the Internet censorship board and provide secure access to media content and other streaming services.
Your Internet traffic will also be encrypted, so you can stay safe and private even on an insecure public Wi-Fi network.
Fun Fact: If a malicious user somehow manages to access your private data, they will no longer be able to decipher it because it's encrypted by the VPN.
Note: Although your ISP won't know what you are up to on the internet your VPN provider will know. So when selecting a VPN provider, make sure to carefully read through their privacy policy and go through a VPN provider that strictly has logs of all your Internet activities.
Why it is important to use a VPN When traveling?
Using a Virtual private network is by far the most reliable way to protect your privacy and safeguard your online activities. A VPN basically  hides your IP and encrypts all the traffic so that you can send and receive, meaning that:
Tackers trying to track you will only be able to trace it back to your VPN server;
Even if someone manages to intercept your data it will be encrypted meaning they will not be able to decipher it.
Note: Remember it is important to use a VPN service that has a strict no-log policy and using two security protocols. (Premium VPNs like NordVPN uses 2048-bit SSL encryption and the 3072-bit IKEv2/IPsec)
Additional security features to have are DNS leak protection, double data encryption.
Buyer's guide to choosing a good VPN service
Now that you know what a VPN is and what it can do you want to look for a VPN service that is actually worth the investment something that is reliable, secure and intuitive.
I've jotted down some important pointers to consider whilst choosing a good VPN service:
The VPN's policy for keeping logs of your activities; (hint: look for one that doesn't)
What is the support externally and what are the tracking tools it employs;
Where is the VPN based? As the country, the service is based in will determine the requirements for data collection of its users.
What are the  service costs and what payment options does it offer;
Whether the VPN service offers any extra security, like DNS leak protection, Kill Switch or Double data encryption.
Has apps for multiple platforms: If you're traveling you're probably carrying one or a combination of these:
Mac/iPhone: look for MacOS and iOS versions of the VPN software.
Windows and Android smartphone: Look for Android support
Works in as many countries as possible – The last thing you want is to get a VPN that doesn't support the country you are traveling to as not all VPNs support all countries.
Pro Tip: China has the best infrastructure to block VPNs so if a VPN service works there it probably will work anywhere!
Has good speeds: Using a VPN usually slows down your connection because your data passing through the VPN tunnel before its direct destination. How much your speed decreases depends on distance, bandwidth restrictions and overloaded networks.
Pro Tip: Make sure that all of the devices you're taking with you whilst traveling support the apps.
Has as many endpoints as possible: The more endpoints a VPN service has the better as one endpoint can be blocked by a site you're using so you need a fallback end-point.
If you are still not sure which VPN server is the best for you, keep reading as I've highlighted the best VPN services for travel that are currently the best on the market.
Pro tip: Be sure to try some of the offers from VPN service provers like a free trial period so that you can have complete freedom to take their service for a test drive and simply quit if you are not satisfied.
Conclusion: Which VPN should you get For International Travel?
I hope you found this review of the best VPN for international travel helpful remember a VPN  in 2023 is almost becoming an essential whilst browsing the internet more so to be able to travel the world and actually be able to use the internet without much hassle.
For instance, most video streaming website like Netflix and other social media websites are legally prohibited in a couple of countries. Since you need a VPN for travel what you need it for and where is key to choosing a good VPN network.
As I've already mentioned earlier the best VPN provider for travel is one that has a wide reach and is able to perform well for most of the activities you usually do online.
Now, these activities may vary from user to user depending upon streaming to just social media browsing. It is up to you to determine what exactly you need the VPN provider for.
Read Next:
VPN Free Trial No Credit Card Reddit