TLDR; If you're in a hurry Surfshark is the Best VPN for Netflix according to Reddit!
🔥Click The Button below and sign up for Surfshark With A 30-day Money Back Guarantee!🔥
Get 83% Discount on Surfshark VPN
Three years ago, sitting in London without having ever cared for something called VPN, I recall chatting with the friend I was staying with. One of those lulls during an afternoon when you are trying to decide what to Netflix with.
I was convincing my friend to watch the show 'Cosmos: A Spacetime Odyssey'. Took me close to 45 minutes to wax eloquent about Neil Tyson's mysterious way of introducing the darkest subjects in the universe, but it worked. My friend and I switched the screen on, and then wasted – baffled – a fruitless half hour searching for the show, only to find out that it isunavailable in the UK (this was before Fox took the show off Netflix in 2018). Licensing issues are at the core of this let-down, but still, I couldn't fathom how it was okay to watch Tyson sitting in a resort in Sri Lanka but is impossible in one of the world's biggest cities.
Few months later I got myself a VPN. And, you've probably guessed this by now, the issue was so easily resolved that the incident has survived as nothing more than a silly memory for me.
Netflix – The Spoiler We Love
Netflix has become something like Mama Cinema for most of us, no matter where you sit reading this article. Until it came along – or rather, until it expanded from its original business of DVD rentals to online streaming – literally as little as a decade ago, we didn't even have terms such as 'binge-watching' or 'Netflix and chill' in our vocabulary.
Fast-forward to the present, and no one's surprised by AT&T's recent report claiming that Netflix hit an all-time high in its viewing traffic during the isolating days of Coronavirus pandemic (I'm one of those guilty of adding to the Netflix numbers!). It is safe to assume that Netflix is one of the few business enterprises that will not only come out unscathed, but in fact much richer from the awful period of depressing lockdowns.
Then again, it seems impossible to even imagine the time stuck at home without the Internet, and specifically without Netflix. What makes Netflix online film library special isn't just the existing cinema on offer, but the incredible original content that they have managed to support, produce and distribute in the relatively little time they've been around.
Having just consumed 'Narcos' whole – a Netflix original that I watched from the first plant growing in the first episode, right until the godfather of the Mexican cartel is thrashing at gunpoint and my eyes ache – I daresay that Netflix is about to spoil us a lot more. It is one trend about to become an unstoppable wave, reaching corners far beyond those restricted to video-fanatics.
The Naggy Side of Netflix
Every cloud has its silver lining, but it is equally true that every bit of silver comes at a cost. Netflix is no exception.
First of all, let's get some facts in place. If we are to go by UN's recognized list, there are about 196 countries in the world. Netflix, today, is accessible in 190 of these, which is a neat number provided you don't happen to be in one of the poor six being deprived of good cinema.
But that isn't even the naggy side I'm referring to in this section. What makes Netflix act like a nag is the difference in its content from country to country. And the reason for this is essentially copyright law. Each film studio signs a fresh, different contract with each country for each series or movie.
Complicating matters further is each country's local broadcasting rights, so TV rights might conflict and stop Netflix even from airing one of its originals. Also, this includes content that may be censored in one particular country due to its contradiction with local values. You can gauge the difference yourself when you consider that the US version of Netflix offers roughly 1,000 more shows than the UK one!
What all this means is that while your Netflix account might be tied to the Auto-pay function in your bank, what you actually get from it depends largely on where you are logging in from. Your problem summed up in three words? Geo-restricted content.
Flicking a solution
So how does one get around this geo-restricted elephant in the room? Well, you beat technology with technology. Napster may have died a premature death, but innovative tech solutions have grown in sync with the legally fussy times.
VPN, in case you are still figuring it out, is the abbreviation of Virtual Private Network. Nothing new; this technology has been around for years as a security protocol. It is what helped corporations establish secure connections and kept individual Internet users' data safe. All that is good, but it also does something less noble (depending on which side you are on) – it allows you to circumvent geo-restricted access.
Simply put, VPN is a software that encrypts your traffic – as in, it redirects your traffic (usage) through a remote server (a tunnel, as it's called) – thus masking your IP address, providing you more secure (and at times faster, since you are freed of controlled connection speeds) access, hiding your browsing history from even your Internet Service Provider and generally padding you up in a digital invisibility cloak.
At this point there are several questions you might have, such as:
How does VPN fix the Netflix problem?
How do you choose a VPN?
Which is the best VPN for Netflix?
Are there any free alternatives?
How and where to download and use VPN?
I go through each of the above doubts at length below. So keep an open mind and read on to discover the best way for you to go virtually poof!
Using A VPN To Watch Netflix
A VPN will basically put an end to your Netflix woes while travelling overseas. You can access all your favorite shows regardless of your location, and also show the finger to any local restrictions and unwanted censorial filtering. Sounds good so far?
Just a little drawback – Netflix is no less intelligent. They try their best to stay abreast with the game by actively blocking many VPNs, which includes most of the free ones (we'll get to this later in the article).
You've probably heard of the 'infamous proxy error' which shows up asking you to turn off your VPN while watching Netflix, that's the one. In fact as far as Netflix is concerned, their terms and conditions explicitly forbid accessing content that shouldn't be in the region you are in.
That said, there are genuinely sound VPNs also on the market, some of them with free-trial plans should you wish to check one out for a month before you switch to a paid plan. In most cases these VPNs are available for use in every country; only the server's availability might differ.
Before we move on to our selection of the best working VPNs, it is important that you keep the following points in mind while choosing:
Download speeds: Extremely important. This is video streaming we are talking about, and you don't to feel short-changed with sub-standard, pixelated images in the name of HD content (4K, in particular).
Security: There needs to be a 'no logs' policy in place, of course. Without it a good encryption is kind of incomplete.
Server coverage: The more the servers, the faster your connection. This holds true in most cases.
Device support: Goes without saying, since you'd be most likely watching films on a mobile device, it helps to have something compatible with Android and iOS.
Tech support: It isn't the most important part of the criteria, but it's always good to know there's someone available for troubleshooting just an email or a chat window away.
To make it easier we've compiled a detailed list for you below. Either of the VPNs below will do the job for you, but heck, if you are going invisibility-cloak shopping you might as well try some on before you decide! Right, on to the best ones.
Best VPN for Netflix
To reach the best, our first measure is to check what works. Netflix is quick in blocking most VPNs, so to ensure that the VPN in question isn't out of service by the time you finish reading the article we have checked each of these continuously over the last few months. The best options are all paid ones as mentioned below; they unblock Netflix for most countries and offer unlimited access unlike the free subscriptions.
1. Surfshark – Best & Cheap VPN For Netflix
Although barely two years old, Surfshark has proven itself to be the best cheap VPN for Netflix in very little time. It's something of a technological feat that this is one of the very few VPNs that work in the incredibly firewalled China. A multi-platform service, Surfsharkis real value for money for a bunch of reasons enumerated below.
What makes it the perfect choice?
Surfshark took off with its extremely attractive pricing and then established itself firmly with its reliably high security. For this reason alone it has earned a steady fan base.
Providing coverage across 61 countries, Surfshark does a good job of circumventing the problem of geo-restricted access in most popular regions. It claims to support 15 Netflix libraries – more than most other VPNs – and although the number of servers itself isn't as some high as some of the other VPNs, as far as streaming goes Surfshark doesn't disappoint.You can expect high speeds for watching HD or 4K quality videos.
Get 83% Discount on Surfshark VPN
What Redditors say about Surfshark
u/Willingplane: I use Surfshark and no problem with Netflix and a number of other services, but haven't been able to get it to work with Amazon Prime video service.

Have it installed on 16 devices, have been using for over a month and no crashes either, but don't torrent anyway.

u/n1ght_w1ng08: I'm also using Surfshark, but I setup OpenVPN on DDWRT. I agree with you there are occasional lags with the Windows App. But the Android one is stable.

u/HollyMullvad: First time surfshark user here. Using it for some days now, and i like it! On android i'm using their client and with the help of android 9.0 killswitch is possible. On my mac, i'm using Viscosity app to handle it using openvpn config files, so i can select specific servers, and it looks better on MACOS. also using littlesnitch to handle as a killswitch
Speaking of servers, Surfshark pitches the number at a little over a 1000. This means that you can count on fairly good speeds for streaming, without the hassle of repeatedly reconnecting in search of a functional server. The flipside is that you can't see how many servers there are in any particular location and hence cannot choose one for yourself. Also, I wouldn't recommend Surfshark for Linux users as there have been problems reported.
Besides the Netflix-specific features, Surfshark follows the usual No-logs policy, has Kill Switch to continue protecting your data, 256-bit traffic encryption and is compatible with unlimited devices. That is plenty you'd be getting for such a low price point.
Should you buy or try?
This is probably the best part about Surfshark: the price. At $1.99 per month for a two-year plan this is a steal; that is, up to 83% savings.
There is no free trial version as such, but the above-mentioned deal is refundable for up to 30 days after purchase, so go right ahead – try and buy both!
Get 83% Discount on Surfshark VPN
Pros
Affordable
High security
Good speeds
Cons
Fewer servers in network
No option to choose a server
Not the best for Linux
2. NordVPN – VPN With The Most Servers
NordVPN has been on top of the game for some time now; quite simply, this is the most secure VPN you can arm yourself with to access the full range of Netflix shows without giving a damn about location.
Get 70%+ Discount With NordVPN
What makes it the perfect choice?
Well, we're talking 5,800 servers spread across 58 locations – that's more than any other VPN service provider. Plus you can see and choose your own server especially for streaming. This means you can expect as good as non-VPN speeds even while using a VPN. High bandwidth for HD streaming; this is good stuff.
What Redditors say about NordVPN:
u/IAmMohit: "Nord VPN. Been using it for three years. Very satisfied. Has dedicated servers for Netflix."

u/mdkb: "I am in Aus and went for NordVPN after some research, and though I found it a bit fiddly at first, like I have to keep changing servers almost every day and hunt for something that works, even to get simple traffic or a ping working. It seems pretty good once I find a country that is working. speeds can vary but its working ok."

u/Naturist02: "I run NordVPN on Windows, MAC, and Linux Mint. I love it. Install NordVPN via the Terrminal on Linux. . It's easier to use. Also if you run it in Terminal it only works with the TCP connections."

u/monk12314: "I love Nord but a few notes: amazon, Netflix, and Hulu may not work for you (amazon never works for me no matter server (in us)) and I'd move away from Google as they have those annoying recaptcha every time I use them. Other than that Amazing service! Really don't let those negatives move you away I've loved them for 2 years already."
Besides unlocking loads of content, NordVPN comes equipped with DNS leak protection, a no-logs policy, 2048-bit traffic encryption, also a kill switch and, again, the best part – extensive options of servers to choose from. One specific aspect of NordVPN that I took to is the ease of the user interface, not to forget 24/7 live chat support for any technical issues along the way.
Unlike Surfshark though, you can use NordVPN on a maximum of six devices. It also has the option of double-encryption, though that comes at the cost of a speed compromise.
Overall, I'd say go for this one if good streaming speed is priority for you, if you intend to share it with friends or family, and if you don't mind shelling out for a longer subscription, because the monthly plan seems a tad costly when compared to what's on the market for the same price.
Should you buy or try?
NordVPN comes out pretty cheap if you opt for its 3-year plan at $3.49 per month. It becomes more expensive you go for a shorter subscription ($11.95 for a monthly plan and $6.99 per month for a 1-year plan).
NordVPN has a 30-day money back guarantee though, so you could also just give it a shot before buying into a 3-year commitment. This lets you use it across all platforms, but if you want to do just mobile devices, there is also a 7-day trial version.
Get 70%+ Discount With NordVPN
Pros
Excellent choice of servers
Fast performance
Reliable HD streaming
Cons
Monthly plan too expensive
3. ExpressVPN – Pricey But Powerful VPN For Netflix
A dedicated Netflix page is a good place to begin with; this additional little touch on the ExpressVPN site grabbed my interest despite the fact that I was a bit cynical at first because of the service's popularity. And it's true, ExpressVPN has been consistently topping all VPN for Netflix comparisons for a long while now. It's got its tech know-how in place, even if the starting price point seems steep next to the other service providers.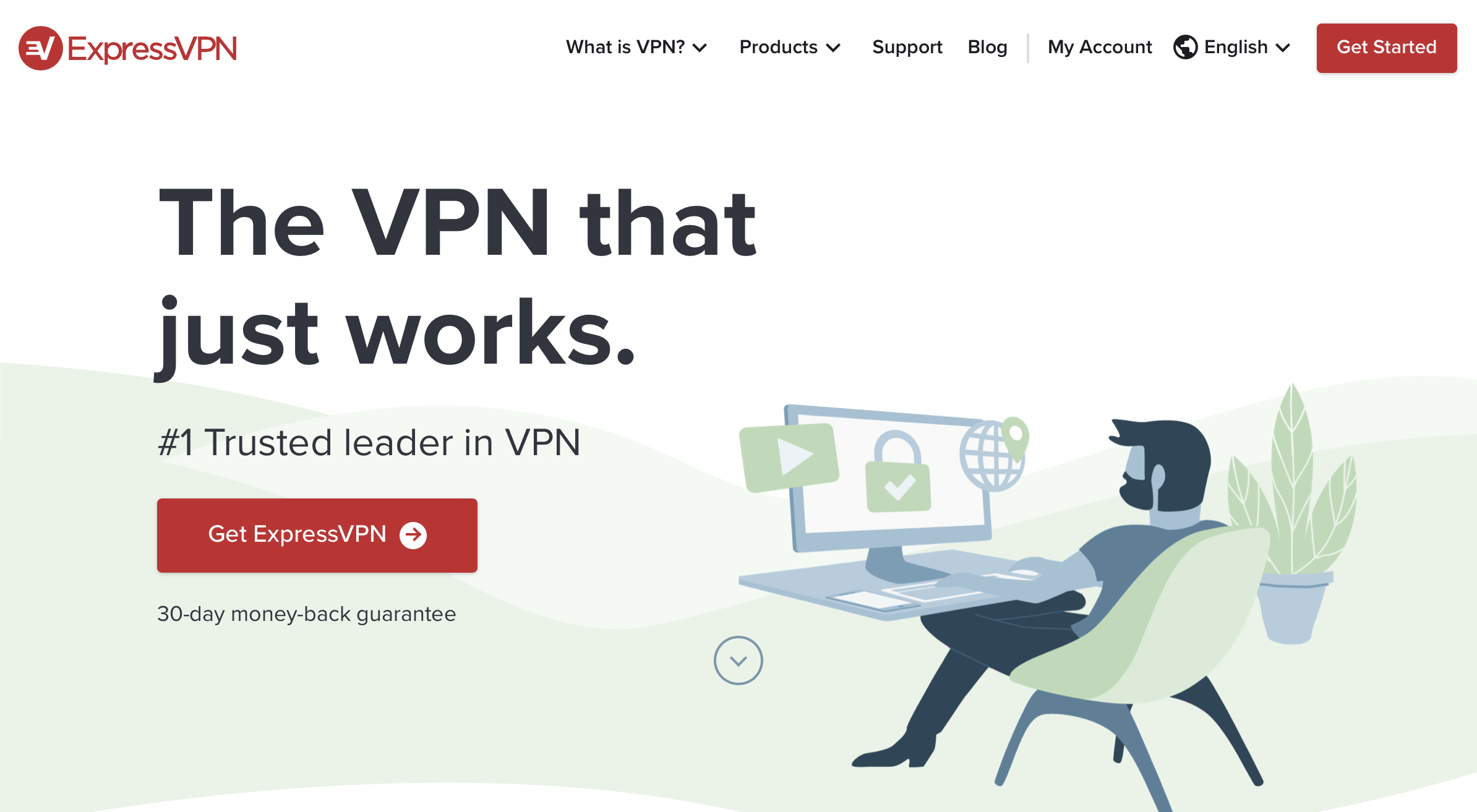 What Redditors say about ExpressVPN
u/danielsuarez369: ExpressVPN is probably the best VPN out there. Honestly stay away from VPNs like PIA.

u/Cast87: My 12 month subscription (+3 months free) is coming to an end this month and I was just looking to see if there was a cheaper VPN available. I guess I'll stick with expressVPN, they might be more expensive but you pay for quality. Never had a problem with it, running on W7, W10 and Android.

u/TommyJarvis12: Yep, I have zero complaints with ExpressVPN. I've been using it for about 6 months now. You get 30 days free too.
What makes it the perfect choice?
ExpressVPN has received favorable ratings throughout and for good reasons too. To put it in their own words, it is a 'blazing-fast VPN…(with the) power of an unlimited-bandwidth VPN built for speed'. This promise held up well when I tried a large number of locations to unblock content with.
ExpressVPN's statistics stand impressive at 3000+ servers in 94 countries. This, in itself, implies kickass speeds to binge-watch on, but before I move on to more specific features, let me tell you about one detail that is ExpressVPN's unique selling point – it doesn't just enable, but supports Netflix. You know that impatient ordeal of trying server after server before the right one clicks? This step is totally obliterated with ExpressVPN. Just open a chat window and ask, the agents are super quick in guiding you to the right server.
That aside, ExpressVPN has basics like no-logs policy, kill switch feature and reliable traffic encryption sorted, and it's an easy ride most of the way once you start out with their simple installation process. There's also the MediaStreamer DNS that performs the extra magic of unlocking Netflix on VPN-unfriendly devices such as game consoles and Apple TV.
Overall, I feel ExpressVPN seems designed with the express purpose of providing express speeds for a seamless Netflix experience. Invest in it and say your goodbyes to geo-blocks!
Should you buy or try?
At $8.32 per month for a one-year subscription, ExpressVPN also tops the price lists and this might be the one reason you reconsider the choice. There's the 30-day money-back guarantee though, so feel free to try it first.
If you are on Android you could also go for a 7-day trial version.
Pros
Excellent speeds
Solid Netflix support
All-device compatibility
4. IPVanish – Decent VPN For Netflix
Not quite the best, but IPVanish is a decent VPN for unblocking Netflix content. It does the job without costing as much as NordVPN or ExpressVPN, and at an acceptable speed too. But let's take a closer look.
Click The Button below and sign up for IPVanish for FREE With A 7-day Money Back Guarantee!
Click Here To Try IPVanish VPN
What makes it the perfect choice?
IPVanish is a good VPN service overall, but whether it is the best for Netflix depends upon how much you feel like shelling out each month on your VPN requirements. What makes it worthy of this list is the 1,300 servers in their network, spread across 75 locations, unlimited P2P traffic and more than 40,000 shared IP addresses (which is higher even than ExpressVPN's 30,000 IP addresses in circulation).
Two more factors make IPVanish a good choice of VPN. Firstly, if most of your Netflix favorites happen to be US content then IPVanish will be perfect. Secondly, it can be used on 10 devices simultaneously, which is more than what most VPNs offer and which makes it a nice group or family investment.
Overall, IPVanish is a popular service in the US. Stable apps, supportive of all platforms and servers that are easy to select. Lastly, if and when things start to fail, just message IPVanish's24/7 chat support and you'd be on your way.
Should you buy or try?
IPVanish is available at $3.25 per month for a one-year subscription. It becomes costlier if you go for a monthly plan.
One drawback is that they don't have a 30-day trial version; you'd have to make do with a 7-day money-back guarantee.
Click The Button below and sign up for IPVanish for FREE With A 7-day Money Back Guarantee!
Click Here To Try IPVanish VPN
Pros
Extensive server network
Usable across 10 devices
Good for US content
Cons
Average Netflix support
No 30-day free trial
5. PureVPN – Affordable VPN For Netflix
I wouldn't assume that PureVPN can ever hope to make it to the top of this list, but it's an affordable VPN for Netflix and with decent server network too. Worth a think.
What makes it the perfect choice?
What makes PureVPN a choice at all is that it unblocks Netflix content for several countries(US, Japan, Australia, Canada, France, Germany) and does it unobtrusively and without any errors. I think 2,000+ servers across more than 140 countries is a number you can't shake a finger at. The fact that PureVPN has been at it since the year 2007 means they've had time to build their network.
PureVPN provides multi-platform support, which is a big plus. You can expect other basics like leak protection, split tunneling, a kill switch and the option to make payment via Bitcoin if need be.
Features aside, one factor to consider before you buy into PureVPN is their dubious logging policies; the word going around is that they don't actually deliver what they promise.
My verdict? Go for it if you want to save a buck a month.
Should you buy or try?
Their best plan is the 2-year subscription at $3.33 per month. There's a 31-day money-back guarantee, and in this case I'd recommend trying it out before buying a subscription.
Pros
Value for money
Multi-platform support
Cons
Slow streaming speeds
Dodgy no-logs policy
Best Free VPN For Netflix
Truth first – there is no free VPN that can unblock all of the Netflix content. That said, if it's just one little trip you are going out of town for and would really prefer not to buy into a subscription for that, then yes, there are some free VPN alternatives to consider. But even then, if you will be out for less than a month, it makes sense to opt for a 30-day trial of one of the paid VPN services listed above.
Why I sound reluctant to dive into the freebie pile is Netflix's constant blocking of free VPNs. They track and identify IP addresses, block them, and then one must hunt for another server to sneak in from. This ends up as a vicious cycle chasing servers.
For permanent, unlimited service please scroll up, but for your casual use requirements below are some free alternatives not yet blocked by Netflix. Still working, yes, and will get you what you need within certain limitations as you'll see.
ProtonVPN: ProtonVPN might well be the best free VPN alternative at your disposal, though it also offers a paid service alongside. There is one important factor that makes the free version stand out – it doesn't impose any bandwidth restrictions. You'd be limited to average speeds, and usage on a single device, but they follow strict no-logs policy and are amongst the best as far as free VPNs go.
TunnelBear: TunnelBear is a VPN service now owned by McAfee, available in both free and paid packages. Because of the former's limited capacity, your Netflix streaming wouldn't exactly be mind-blowing, plus the traffic in this case cannot exceed 500MB a month, but it's a user-friendly VPN that supports up to 5 devices. I'd go for this if my focus was dirt-cheap protection for mobile devices.
Hotspot Shield: Another one with both free and paid options, though the free one isn't bad at all. Unlike TunnelBear, Hotspot Shield Free offers 500MB per day, that is around 15GB a month, which is in fact premium for a free service. Lets you use on up to 5 devices and the security is at par with paid services. Flipside? The free version isn't ad-free.
VyprVPN: VyprVPN can be bought at a price or downloaded free. In the latter, what makes it worthy is VyprVPN's patented obfuscation feature Chameleon protocol. It defeats VPN blocking by countries hell-bent on censorship, which will get you access to content you shouldn't have.
HideMyAss!: Oh dear, with a name like that you'd have to work hard at not feeling like a criminal for watching an honest show. They've got hundreds of locations covered though, which works well for Netflix. Quality of streaming isn't great, but you couldn't ask for more from a free trial version after all.
Find yourself a Netflix VPN
Hopefully, by now you have a clearer idea of what kind of VPN service providers are available in the market. Before you decide one, you might still want to know where to download the VPN you select, how to install and start using it to unblock amazing geo-restricted content and get on with bingeing.
It's an easy-peasy process. For both paid as well as free VPNs you can either visit their official website – where detailed instructions are given for the installation – or download it off Google Play or Apple Store. In the case of a paid VPN of course you need to hammer in your credit card details and make the payment before you launch it, but for the free versions this step is skipped.
Once downloaded on your operating system of choice, follow instructions for installation and then connect to the closest VPN server possible. You'll probably have to select one yourself, but it's easily done by checking with the live tech support. This selection is also important because Netflix is blacklisting IP addresses all the time, and the only way to know your VPN's latest solution is to ask. The nearer it is, the better the streaming quality. For HD, for instance, you'd need at least 5000 kbps to make it.
After you're connected with a server it's just a matter of logging into your Netflix account and start streaming to your heart's content.
The Verdict: Which is the best VPN for Netflix?
If you really think about it, choosing a VPN isn't in fact that complicated. Like I mentioned at the beginning of this article, there are certain parameters that guide the choice. Security and privacy are upmost. You'd want to be safe if you're going about hopping international copyright laws (at your own risk!).
Speed is another indispensable requirement. Streaming, as we know, gobbles up data, so unlimited data and an extensive server network spread across locations would go a long way in streaming HD for you. On the same note, do be aware of the number of countries where your VPN can unlock geo-restricted content.
Keeping these aspects in mind, and our detailed analysis of paid as well as free VPNs listed above, Surfshark comes off as a strong contender for the best VPN offering excellent value for money. The speeds you get for the price you pay are impressive to say the least.
I have used Surfshark, but ExpressVPN and NordVPN are also good buys as I could access most of the content on the occasions that I tried them out during overseas travel.
Get 83% Discount on Surfshark VPN
Perhaps the best way to make this decision regarding best VPN for Netflix is to patiently try out the money-back trial versions of the VPNs that appeal to you. Shortlist, install, launch, stream, filter and take your call on the winner. The financial stakes aren't that high – after all the paid versions don't exactly cost an arm or a leg – but to truly 'Netflix and chill' you do need the kind of service that can realize it with the right numbers of servers and speeds.
Ready to binge in a foreign land with local favorites? Happy invisibility cloak shopping!
Read Next: