TLDR; If you're in a hurry NordVPN is the Best VPN for Linux!
Click The Button below and sign up for NordVPN for FREE With A 30-day Money Back Guarantee!
Click Here To Get 70% OFF NordVPN
Linux is the most widely used open-source operating system in the world today, and we know that this popularity rests on its prioritizing security above all else. Linux is reliable, and it is ultimate freedom from what they call 'vendor lock-ins' – from being held at ransom by a Microsoft or an Apple for bandwidth-guzzling updates and routinely escalating costs for the minutest of app features. Most of all, it is freedom from the sneaky OS providers collecting personal data to sell to advertisers or sharing it with third parties including law enforcement agencies.
Being a Linux user, grown up on free, open-source operating systems, one is automatically prone to a mistrust of proprietary software. And yet, this comes at the hefty cost of already-limited choices in terms of software for Linux users. In such a scenario, at least as far as VPNs go, there are several to choose from depending on your budget and specific system requirements.
Most, if not all, Linux distros ('Linux distributions' or operating systems based upon the Linux kernel) are built keeping privacy in mind. Whether you consider popular distros such as Ubuntu, OpenSUSE, Fedora, Mint and Kali, or the Tor-based TAILS that doesn't leave the slightest trace, they all focus on keeping you anonymous. And this is precisely where a VPN comes into the picture – a VPN buffs up your system's existing security to an altogether new level.
Do I Even Need A VPN For Linux?
A VPN – Virtual Private Network – is a software that masks your virtual identity by encrypting your data, rerouting your traffic through a remote intermediary server (usually of your choice) and assigning you a new IP address each time, thus making it impossible even for your ISP to trace your activity. Here's how a VPN can change a Linux user's life:
More Convenience: Security is the prime motivation for wanting a VPN. To which, an advanced Linux user might argue that it can also be achieved by tinkering with OpenVPN or setting up your own VPN as a DIY solution. But a plug-and-play native client from a credible VPN would give you many more features, making you anonymous in layers and offering the convenience of not scratching your head over configuration (in case you are new to Linux) and sparing you precious time (in the case of advanced users) scrounging for scripts, packages and configuration files to make it all click by yourself.
More Anonymity: Setting up your own VPN would provide you complete control over its operations, but there are several important security considerations involved. In case you choose to go with a cloud service such as Digital Ocean or AWS, there is the constant threat of your data still passing through and being exposed to a third party. Your speeds could be affected too, since your own VPN would mean connection to a single server and location at a time. Knowing that such a VPN would at the most be used by a small number of users, in terms of security it isn't really a smart move because the activity can easily be traced back to you. VPNs with dedicated clients for Linux will instead assign you widely shared IP addresses, making you practically invisible online.
More Features: All of the above security issues – especially if you are using a public Wi-Fi, and not to forget the usual threats of hackers, advertisers and copyright trolls – would be easily resolved with a VPN meant for Linux. And besides security, VPNs come packed with a bunch of wonderful features – such as letting you unlock geo-restricted content on Netflix, Hulu and similar streaming services while travelling abroad; circumventing censorship on grave office and country firewalls; and most importantly (for some) making it infinitely safer for you to torrent at great speeds using the VPN provider's servers dedicated to torrenting.
How Do I Choose The Best VPN For Linux?
There are several factors you should keep in mind while selecting the best VPN for you as a Linux user. Most good VPNs are available as subscription-based services (we wouldn't recommend the free ones, they are known to follow dubious logging policies and can barely keep up with the Netflix firewall or the Hulu proxy ban), and so the longer the subscription plan you buy the cheaper it gets. Since this means long-term investment, it is best to take the time to consider the features and choose something you wouldn't regret later. Here's what all to keep in mind while choosing the best VPN for Linux:
Native App: What you need is a native app for Linux – by which I mean a proper native client – which would come with DNS leak protection, kill switch and several other features that you wouldn't necessarily get by employing OpenVPN or similar replacements in the absence of the Linux app in your chosen VPN. It will spare you time and technical know-how, while also making the whole experience more user-friendly.
Security: Solid data encryption is key to a good VPN. It should ideally provide 256-bit AES encryption as a bare minimum, DNS leak protection, and a large number of IP addresses to keep hopping and hiding your identity behind.
Privacy: A VPN's logging policy can make or break the security game. Keeping records of your online activity will make you vulnerable to several types of third parties that can misuse such data. Most VPNs we have recommended here for Linux users ensure that they follow a strict no-logs policy.
Speed & Performance: Server support is what eventually gets you high speeds. A wide server network will not only make you more secure, but will also save you from overloaded servers that lead to speed issues. This matters when you want to stream video, and for establishing quicker connections too.
Streaming & Torrenting: The visibility of your location will go a long way in determining how much of entertainment you can glean out of your connection. The best VPNs have servers dedicated to streaming and torrenting. These get you past geo-restrictions on content that doesn't have the requisite copyright for a particular location, as well as hide your whereabouts while you go about torrenting.
DD-WRT Support: The best VPNs for Linux users should undoubtedly have DD-WRT support. DD-WRT is a Linux-based open source firmware for routers that lets you set up the VPN directly on to the router. This means you can have all the devices covered in your home or office in one go.
Customer Support: Most users tend to ignore this aspect, but a technical glitch doesn't issue a warning before arrival, and at that last minute what might save you wasted time is prompt live chat support. Preferably 24/7 (all the VPNs listed in this article have it). This is also extremely useful when certain VPNs that have dedicated servers for streaming and torrenting can guide you to the best current server through customer support.
Best VPN For Linux 2023
After running regular and frequent tests on dozens of VPNs for 6 months, we finally whittled down the list of the best to the following five VPNs. Each of them has its strong points to weigh, and different pricing points to cater to a variety of users. What's common amongst all though, is a serious consideration for Linux users. We've left out the free VPNs from our selection precisely because they don't do much in the name of Linux-specific support or features to make life easier. So read on before you pick the best protection possible for your Penguin.
1. NordVPN – Best VPN For Linux in 2023
NordVPN is a reputed VPN provider in the market, most importantly for its layered security features that have earned it its reputation. Perhaps the only thing it lacked until 2018 was support for Linux platform. That changed with its launch of a dedicated Linux app two years ago, quickly lodging it on our annual lists of best VPNs for Linux.
Get 70%+ Discount With NordVPN
What makes it the perfect choice?
NordVPN's dedicated Linux app is entirely free of graphic distractions; rather, it retains the flexibility and power of command-line that Linux users would appreciate. It requires minimal setup time – just install, login, pick your server and you are safe enough to get going – far easier than manual configuration of servers. NordVPN's extensive database of tutorials with detailed instructions also makes it easy for you to do the Linux setup on your own, using OpenVPN, PPTP or IKEv2 protocols, should you choose to. Also, it allows you to switch between UDP and TCP.
That said, NordVPN's strongest feature is security. It offers double data encryption – the usual 256-bit AES coupled with 2048-bit encryption – and comes equipped with DNS leak protection, two automated kill switches, a zero-logging policy to keep your activity untraceable, and an ad-blocker and anti-malware filter.
Being a Panama-based service means NordVPN enjoys being governed by more relaxed jurisdiction. It has a whopping 5,800 servers in close to 60 countries, which means streaming speeds don't disappoint. We could also unblock geo-restricted content from most locations for streaming services such as Netflix, BBC iPlayer and Hulu, and realized that NordVPN actively encourages torrenting too.
Considering that it can connect up to 6 devices simultaneously, I'd rate NordVPN as amongst the very best VPNs for Linux.
How much does it cost?
NordVPN ends up too costly if you opt for a monthly subscription. But a three-year subscription is very well justified at $3.49 per month, and comes with a 30-day refund policy to allow you some trial time. The option to pay anonymously through Bitcoin and PayPal is a neat bonus on the side.
Pros
Military-grade encryption
Most extensive server network
Great speeds
Command-line interface
Vast user base of Linux tutorials
Cons
Monthly subscription too expensive
Lack of GUI could be cumbersome for beginners
2. ExpressVPN – Best & Most Powerful VPN For Linux
ExpressVPN has had a steady following of Linux users for a while now. It launched its dedicated Linux app back in 2016 with this tagline: 'Take back your internet with a risk-free Linux VPN' and thankfully, is still delivering as the fastest performer of all VPNs in the market for Linux.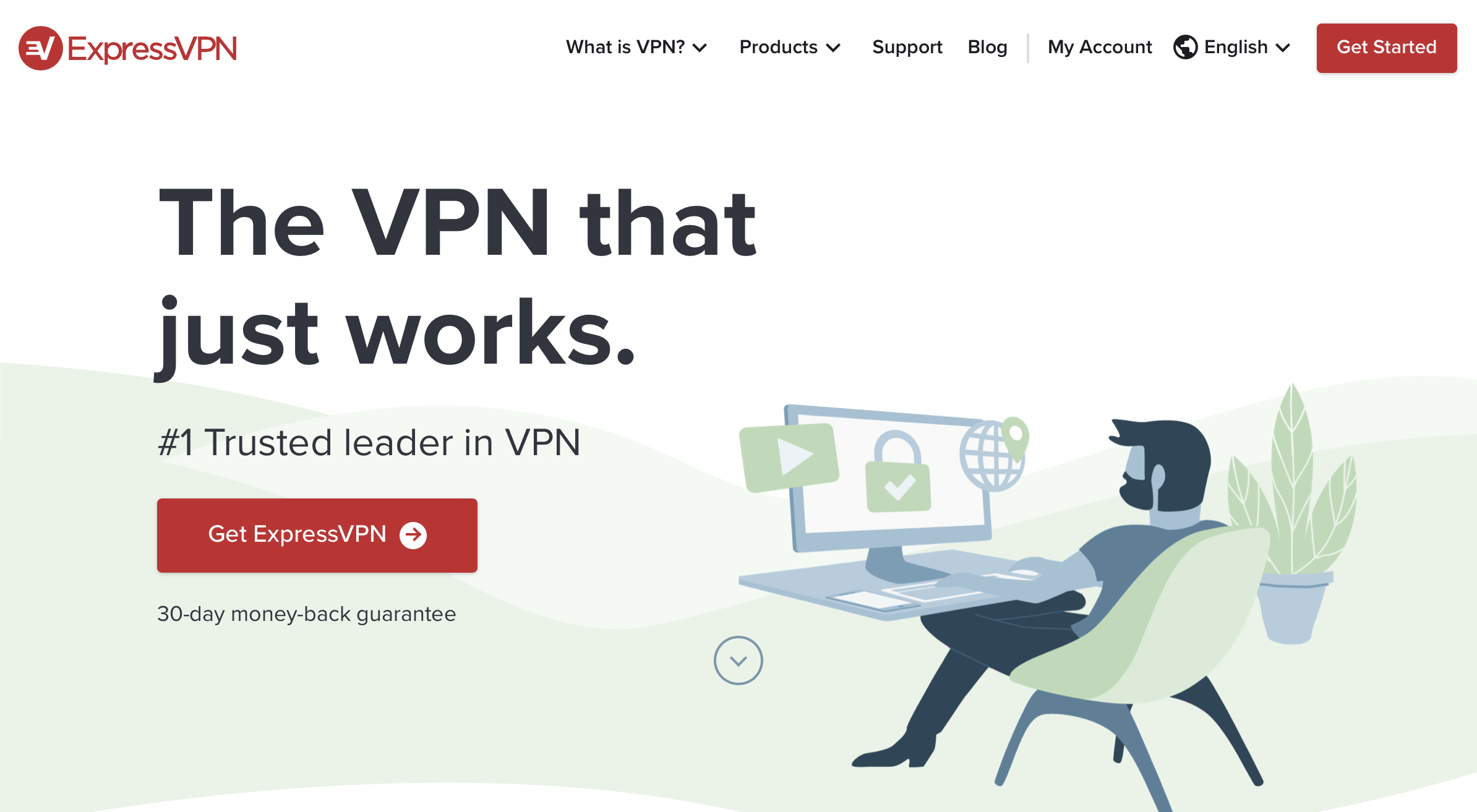 Click The Button below and sign up for ExpressVPN for FREE With A 30-day Money Back Guarantee!
Get 30 days Free Trial of ExpressVPN
What makes it the perfect choice?
Here we are recommending yet another VPN that functions on command-line interface instead of a full-fledged GUI, but as a former Linux user I know that most of us actually dig our text (believe it or not!). ExpressVPN has no GUI, but a very simple installation procedure that makes it a breeze to setup. It supports Ubuntu, CentOS, Debian, Fedora, Raspbian and Arch, and also offers setup instructions for other distros including Kali, Ubuntu Studio and Mint.
ExpressVPN's strong point is its speed. With over 3,000 servers spread across 94 locations, and server lists that are updated regularly, ExpressVPN scores high for those with a tendency to binge-watch videos. It revealed itself as the best VPN in our tests for unblocking all major streaming services at blazing speeds (Netflix users please make note!).
Streaming aside, ExpressVPN also has its security and privacy features covered with standard encryption, the TrustedServer technology to ensure that a strict no-logs policy is followed, and an in-built kill switch should your VPN connection drop.
ExpressVPN lets you switch between UDP and TCP depending on your preference and can be connected to 5 devices simultaneously. Overall, it's single-point investment that will cover you as a VPN on all fronts.
How much does it cost?
ExpressVPN is on the higher end of the spectrum when you consider other VPNs in the range, but then the high speeds and reliable performance more than make up for the expenditure. It costs $8.32 per month for an annual subscription, which would have been nicer if they also offered a GUI especially for Linux users, but this is it for now. Comes with a 30-day money-back guarantee, so try before you buy.
Pros
Supports most distros
Best speeds of all VPNs
Wide network of servers
Great for streaming
Cons
Expensive
No GUI (Graphics User Interface)
3. Surfshark – Best Cheap VPN For Linux
Get 83% Discount on Surfshark VPN
Surfshark entered the foray as recently as last year, but boy we were glad to get the news of one of the cheapest, most reliable VPNs in the market finally launching a Linux app. Surfshark is one of our favorites, and although still in its nascent stages, it is doing well for itself as a straightforward VPN for Linux users.
What makes it the perfect choice?
What makes Surfshark the perfect choice of VPN for Linux is the amazing speeds and solid security it offers at throwaway prices. Surfshark's Linux app is based on OpenVPN protocol and supports Debian and Ubuntu as of now. It lets you switch between UDP and TCP protocols, so that's good.
Besides its affordability, Surfshark also has us ensnared by its unlimited device support (so your whole office staff/family can hook up to the same VPN simultaneously). Its security features are no less, with standard AES-256 encryption, private DNS, no-logs policy and a kill switch. At the time they launched the Linux app, Surfshark mentioned plans to add features such as anti-malware and ad blocker as well in the future.
Surfshark has 800 servers in 50 countries, which doesn't sound as impressive as some of its competitors listed above, but during our tests it managed to unblock geo-restricted content on popular streaming services such as Netflix, Amazon Prime Video and Hulu, so we are not complaining. Surfshark's QuickConnect feature automatically connects you to the fastest server possible for your streaming and torrenting needs, and the speeds are good too, so we recommend it to anyone looking for a VPN while on the move.
How much does it cost?
Surfshark is, at least for now, unbelievably cheap for the array of features it offers. You can count on 83% savings on its two-year subscription plan which costs a minimal $1.99 a month. All their long-term plans are refundable up to 30 days, so you can give it a shot before you invest.
Pros
Value for money
Unlimited device connections
Good speeds
Unlocks geo-restricted content
Cons
Fewer servers
Choosing a server not possible
No GUI
4. Private Internet Access – Cheap Linux VPN
Better known as PIA, Private Internet Access is one of the oldest VPNs around, active since 2010 in providing reliable online anonymity. The reason why we rate it amongst the best VPNs for Linux though, is because PIA is amongst those rare VPN providers that offer a proper Graphic User Interface app for Linux users. The only one of its kind on our list.
Click Here To Get 71% OFF With PIA VPN
What makes it the perfect choice?
Not that Linux users are craving to make a beeline away from neverending commands, but it's nice to have your chosen OS get some respect and attention through a dedicated Graphic User Interface application. PIA does that, simplifying the setup and configuration down to true convenience, making it rather difficult to go wrong.
Regarding the other features of Private Internet Access (for Linux), we appreciate its Gigabit VPN port speeds and unmetered VPN transfer, which ensure that you don't have to hunt for low-usage servers nearest to you. PIA has you covered on the security front as well, with the option to choose your preferred encryption type, a SOCKS5 Proxy for better speed, an IPv6 leak protection on Linux and a kill switch, besides blocking ads, trackers and malware. PIA claims to keep no traffic logs, but its policy indicates that selective user data does get collected, and because it falls under US jurisdiction you wouldn't be wrong in feeling wary.
PIA has a decent network of over 3,292 servers across 48 countries, but unfortunately for us, Netflix actively blocks PIA (for Linux) users. During our tests we faced no issues torrenting and enjoyed food download speeds, but I'd suggest Netflix enthusiasts consider one of our other VPN options for Linux.
How much does it cost?
PIA comes out even more expensive than ExpressVPN with regards to its shorter subscription plans. At $9.95 for a monthly, and $5.99 per month for an annual plan, it only makes sense to invest in PIA if you are up for its two-year subscription, which is far more affordable at $3.49 per month. It includes a 30-day money-back guarantee so you can give it a try first, and allows you to pay anonymously.
Pros
Linux GUI app
Easy-to-use
Wide server network
Unmetered VPN transfer
10 simultaneous device connections
Cons
Not Netflix-friendly
Short-term plans too expensive
Partial logging policy
5. IPVanish – Good Linux VPN For Torrenting
Founded in 1999, IPVanish is well known to US-based users for being a consistent, affordable service. It has held firm protecting its users' traffic from end-to-end for well over a decade, and provided you don't care about a graphical client, IPVanish is a decent VPN choice for Linux users looking for something basic for their digital security.
Click The Button below and sign up for IPVanish for FREE With A 7-day Money Back Guarantee!
Click Here To Try IPVanish VPN
What makes it the perfect choice?
Unlike the other VPNs on our list, we must admit that IPVanish doesn't score well as far as ease of setup and configuration is concerned. It takes several clicks too many to get going, but once in, you can be sure it holds up to its promises. IPVanish supports a number of distros including Debian, Ubuntu, Fedora, Kali, Mint, Lubuntu and Pop! OS, and lets you switch between TCP and UDP as well.
It's a good VPN as far as security goes, offering AES-128 and AES-256 encryption, a transparent zero-log policy, and supporting most popular protocols including OpenVPN, PPTP, L2TP and IKEv2. (No static IP though, so those of you looking to run a web server should consider one of the other Linux VPNs recommended here.)
It owns over 1,400 servers across 75 locations, but as in the case of PIA above, cannot get past the Netflix ban. You can torrent with great speeds though, so the decision really depends on your streaming needs or the lack of them.
IPVanish will let you connect to 10 devices simultaneously, but better still is that it supports DD-WRT. So you can setup the VPN directly on your router and use it across all your devices without bothering with individual configuration. I'd go for this VPN if I had many devices at hand with security as my main priority.
How much does it cost?
IPVanish is rather costly for its monthly plan at $7.50 per month, but stretch the subscription to an annual one and you get to save 60% on the cost at $4.87 per month. Comes with a 30-day money-back guarantee, so I suggest you take it on a trial run before investing in a long-term plan.
Pros
Strong security features
Supports DD-WRT firmware
Good torrenting speeds
Detailed instructions for Linux
Cons
Cumbersome setup process
No GUI app for Linux
Doesn't unblock Netflix
Are There Any VPNs I Should Avoid?
As a rule of thumb, you can be sure that no free VPN service provider will actually maintain a VPN server for you without any hidden costs attached to it. These costs usually translate into data leaks that tend to end up in the wrong hands. We have tested all the free VPNs in the market today, and while some do offer excellent speeds, they nearly always disappoint when it comes to security. Same goes for VPNs that rely on a PPTP connection, which is quick enough to setup, but leaves you vulnerable to security breaches.
The Verdict: Which Is The Best VPN For Linux?
No matter how many supercomputers Linux powers, the Penguin community in a niche one with limited software choices saddled with limited features. In such a scenario, and having tested dozens of VPNs, the five VPN providers listed here are the best of the best for their attention to a Linux users' requirements. We suspect the features will only get better as these dedicated Linux clients evolve, but for now it's best to try out the VPN that sounds more like you before going for the buy. As I mentioned at the start of this article, make sure the VPN's security and privacy measures are leakproof, and that it supports the distro you run your system on. Provided these two factors are in place, the rest becomes a matter of money and speed.
Read Next: