TLDR; If you're in a hurry NordVPN is the Best VPN for China according to Reddit!
🔥Click The Button below and sign up for NordVPN for FREE With A 30-day Money Back Guarantee!🔥
Click Here To Get 70% OFF NordVPN
The Great Firewall of China or the golden shield project is among the most extensive Internet censorship scheme in the world. China controls the internet content in line with the policies of the ruling Communist Party of China. Apart from blocking block individual websites, the servers use multiple techniques to check URL's and web pages for blacklisted contents. The popular social networking sites like Twitter, Facebook, Whatsapp are banned in China, and they are replaced with locally controlled sites. By controlling the social-networking sites, China has a stronghold in influencing public opinion and sentiments. It is impossible to censor and hold back every information, despite the massive efforts of the Chinese government. VPN's are way to circumvent the censorship. There are VPN service providers who claim they can outsmart the Great Firewall of China and offer anonymity and privacy. Lets look into best VPN for China.
How Does The China Firewall Work?
DNS Spoofing: DNS cache poisoning or DNS Spoofing is the act of placing wrong information in the DNS cache. This makes the DNS queries return with the wrong address and the users are redirected to an incorrect website. The IP addresses are the unique ID's on the Internet, acting as an identifier for the web requests. The DNS resolver caches act as a directory of address. If the directory contains false information, the requests are redirected to the wrong address. Since there is no verification of the data by the DNS resolvers, the wrong DNS address remains in the cache until its corrected manually. Let's say your try to access twitter.com, your browser retrieves the IP address from DNS servers for the website. If the addresses are poisoned, the DNS caches the URL with wrong addresses, making the website inaccessible.
Blocking IPs: The Great Firewall can block access to specific IP addresses. If there is a request to access a website using IP address to circumvent the DNS spoofing, it can be restricted by blocking access to that specific IP address. This will block access to any site using the same IP address, in case of shared hosting.
Analyze/Filter URLs: The firewalls can be programmed to check URLs and block the request if they contain restricted keywords. For example a firewall can look at the URL and decide to block a website. The reason being it appears to look for information regarding circumvention of firewall.
Deep Packet Inspection: Deep packet inspection (DPI) is an advanced method used to monitor network traffic. The conventional packet filters examine the headers and doesn't detect the content. The DPI takes it to an additional level of packet filtering that identifies, blocks or reroutes the packets with specific content.
Connection Resets: The firewalls can block communication between two devices by connection resets. It sends a "reset packet," to the machines involved. The packets signal that the connection is not active anymore and therefore the machines cannot communicate with each other.
Blocking VPNs: After 2012, the firewall of China has been actively blocking VPNs. Most of the VPNs used to predominantly circumvent the restrictions of the Great Firewall. In recent times, the firewalls became sophisticated enough to identify encrypted VPN traffic and block the exit node of a particular VPN.
Best VPN for China Reddit
1. NordVPN
With over 5400 plus VPN servers spread across 59 countries, Nord VPN has the most extensive VPN network in terms of VPN servers.
Get 70%+ Discount With NordVPN
What Redditors say about NordVPN:
u/IAmMohit: "Nord VPN. Been using it for three years. Very satisfied. Has dedicated servers for Netflix."

u/mdkb: "I am in Aus and went for NordVPN after some research, and though I found it a bit fiddly at first, like I have to keep changing servers almost every day and hunt for something that works, even to get simple traffic or a ping working. It seems pretty good once I find a country that is working. speeds can vary but its working ok."

u/Naturist02: "I run NordVPN on Windows, MAC, and Linux Mint. I love it. Install NordVPN via the Terrminal on Linux. . It's easier to use. Also if you run it in Terminal it only works with the TCP connections."

u/monk12314: "I love Nord but a few notes: amazon, Netflix, and Hulu may not work for you (amazon never works for me no matter server (in us)) and I'd move away from Google as they have those annoying recaptcha every time I use them. Other than that Amazing service! Really don't let those negatives move you away I've loved them for 2 years already."
Location and Number of servers: NordVPN is based out of Panama which doesn't have any privacy invading data retention laws. This keeps the VPN out of the jurisdiction of fourteen eyes surveillance. The Nord VPN has 5900+ servers distributed around 59 countries including UK, Canada, US, Australia, Vietnam, Singapore, Thailand, Hong Kong and Taiwan. The presence in Asian countries will ensure fast access to Chinese content.
Static/Dedicated IP address: Static IP addresses come in handy for streaming services. Its highly unlikely that a service provider flags/blocks a standalone machine carrying the same IP address. They can be used in combination with the other servers for multiple purpose.
Security and Encryption: NordVPN layers the 256-bit AES encryption with a combination of perfect forward secrecy, 2048-bit DH key and SHA2-Authentication. In addition to that, it also offers double VPN, in which your traffic is routed through two VPN servers.
Support and Compatibility: NordVPN is compatible with all major devices, including Android, Windows, and iOS. NordVPN offers browser extensions for Firefox and Chrome, which you can use on either desktop or mobile
Concurrent connections: NordVPN allows six concurrent connections which includes computers, phones, tablets and other devices supported by the service provider. Nord VPN supports router installations which allows you to access unlimited concurrent connections which includes gaming consoles, Smart TV etc.
2. Surfshark
Surfshark, with its headquarters in the British Virgin Islands, which has privacy friendly regulations. It doesn't fall under the jurisdiction of the Fourteen Eyes Alliance. It has more than 1040 servers distributed across 61 countries.
Get 83% Discount on Surfshark VPN
What Redditors say about Surfshark
u/Willingplane: I use Surfshark and no problem with Netflix and a number of other services, but haven't been able to get it to work with Amazon Prime video service.

Have it installed on 16 devices, have been using for over a month and no crashes either, but don't torrent anyway.

u/n1ght_w1ng08: I'm also using Surfshark, but I setup OpenVPN on DDWRT. I agree with you there are occasional lags with the Windows App. But the Android one is stable.

u/HollyMullvad: First time surfshark user here. Using it for some days now, and i like it! On android i'm using their client and with the help of android 9.0 killswitch is possible. On my mac, i'm using Viscosity app to handle it using openvpn config files, so i can select specific servers, and it looks better on MACOS. also using littlesnitch to handle as a killswitch
Security and Encryption: Surfshark follows a robust AES 256-bit encryption method and provides additional ChaCha encryption for Android users. It supports different security protocols including OpenVPN, IKEv2 protocols and Shadowsocks for Windows. Shadowsocks will be helpful in bypassing the restrictions in China.
Kill Switch/IPv6/DNS Leak: The surf shark comes with an automatic kill switch during connectivity issues. It offers protection against IP and DNS Leaks.
Double VPN: It features MultiHop mode which offers the protection of Double VPN. It routes users web traffic through two VPN servers. This may slow down the speeds, but offers an extra layer of protection.
Blind Search: BlindSearch which comes with surf shark is an ad-free search engine neither tracks nor records your search history.
Camouflage Mode: Surf shark has a camouflage mode available for Android, Windows, and iOS users. It is designed to make your web traffic non-VPN to evade deep packet inspection.
No log policy: Away from the purview of 5/9/14 Eyes alliance, Surfshark promises a no log policy which prohibits collection of connectivity and usage data.
Ad Blocker: Surfshark features CleanWeb, an inbuilt advertisements and malware blocker.
Support and Compatibility: SurfShark comes with support for Linux, Windows, Mac, iOS, Android and Chrome. The application is compatible with smart TVs, Apple TV and Fire TV.
3. ExpressVPN
With 3000 plus servers spread over 160 server locations across 94 countries, Express VPN is one of the widespread VPN service providers. With servers located in Hong Kong, Express VPN offers faster internet access from China.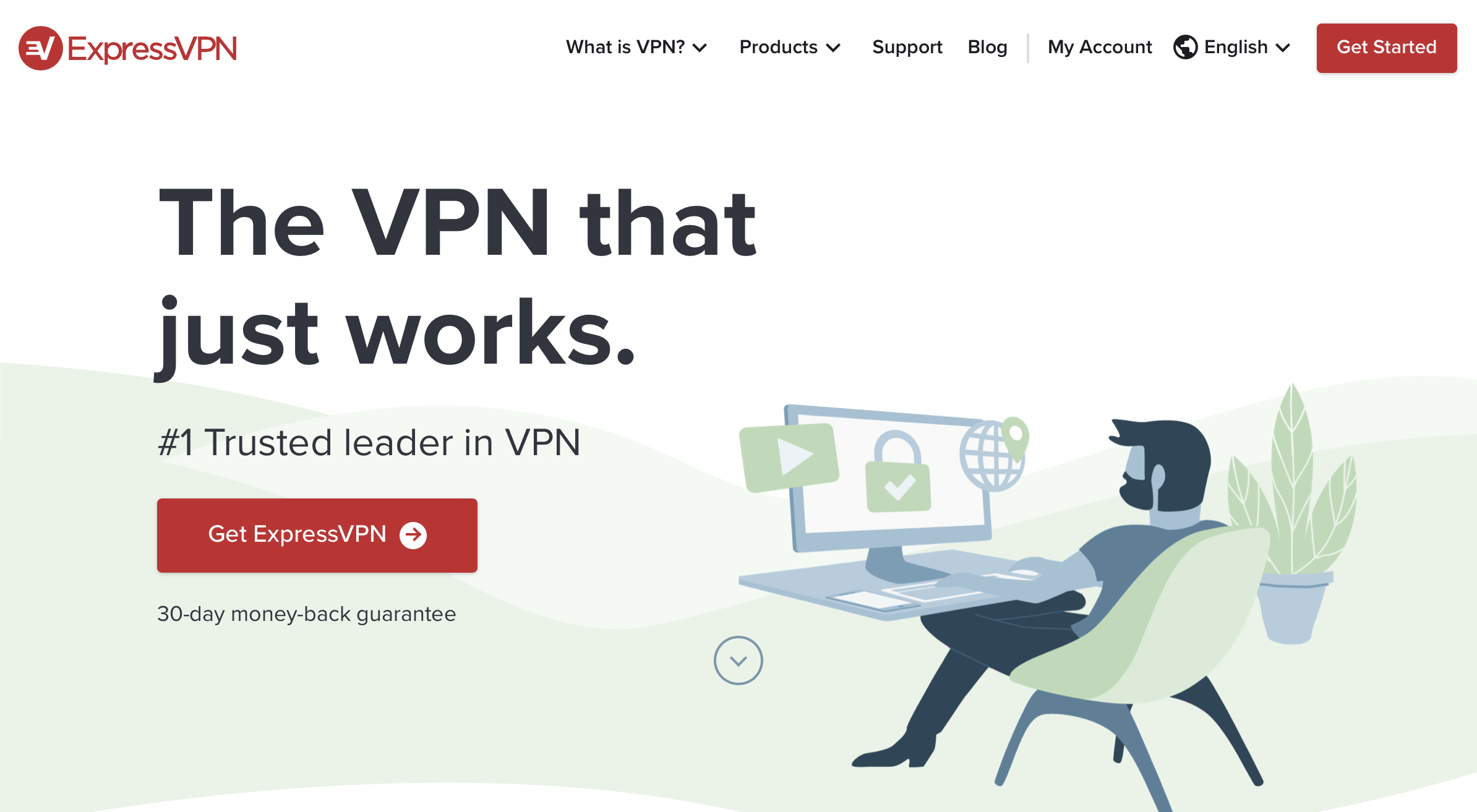 Click The Button below and sign up for ExpressVPN for FREE With A 30-day Money Back Guarantee!
Get 30 days Free Trial of ExpressVPN
What Redditors say about ExpressVPN
u/danielsuarez369: ExpressVPN is probably the best VPN out there. Honestly stay away from VPNs like PIA.

u/Cast87: My 12 month subscription (+3 months free) is coming to an end this month and I was just looking to see if there was a cheaper VPN available. I guess I'll stick with expressVPN, they might be more expensive but you pay for quality. Never had a problem with it, running on W7, W10 and Android.

u/TommyJarvis12: Yep, I have zero complaints with ExpressVPN. I've been using it for about 6 months now. You get 30 days free too.
Jurisdiction: The Headquarters of ExpressVPN is located in the British Virgin Islands. It is a country with minimal data retention laws outside the purview of the fourteen eyes surveillance.
Security, Privacy and Anonymity: ExpressVPN holds a strict no activity logs and no connection logs policy. ExpressVPN protects your web traffic with 256-bit AES encryption. It is a combination of AES 256-bit cypher and a 4096-bit RSA key with a layer of SHA-512 authentication.
Instant kill switch: In the case of connectivity issues, ExpressVPN features an automatic kill switch, which locks your traffic to prevent IP leaks. ExpressVPN protects its user from the threats to privacy, like DNS/IPv6 leaks.
Split tunnelling: Express VPN comes with a feature that lets you selectively encrypt a part of your traffic accessed through different applications. Users can have access to the local content and circumvent geo-blocks by using VPN at the same time.
Server security: ExpressVPN was the first one to announce the Trusted Server Technology. It ensures the VPN servers are employed on RAM and not on hard-disk memory. This reduces the data risks as the information on the server is deleted with every reboot.
Support and Compatibility: Express VPN extends its support across most of the devices. It is compatible with gaming consoles, Smart TV's and Mac, Windows, iOS, Android powered devices. One can install VPN on the router too. It comes with browser extensions for Chrome and Firefox.
Simultaneous connections: Installing Express VPN in routers will give simultaneous access to unlimited devices, otherwise one can connect up to five devices to the VPN.
4. Private Internet access
PIA comes with a network of 3,400+ servers in 47 countries. With gateways in India, Japan, Singapore and Hong Kong, PIA can offer fast internet access in China.
Click Here To Get 71% OFF With PIA VPN
Features:
PIA supports P2P networking and enables circumvention of geological content restrictions. Its security features an automatic kill switch and protection from IPv6/DNS leaks.
Security, Encryption and Protocols: While the major VPN servers use AES 256-bit encryption, PIA uses an AES 128-bit encryption. It offers support to multiple protocols like WireGuard, OpenVPN, L2TP/IPSec, SOCKS5 and PPTP.
No Log policy: To maintain anonymity and privacy, PIA adheres to a strict no logging policy. Despite being based out of the USA, PIA took a firm stand on the data requests.
Builtin Adblocker: PIA's VPN service comes with an ad blocking feature known as MACE. The MACE feature is designed to block adware, trackers, and malware whenever the VPN is active. The feature is available on Linux, Windows, Mac and Android powered systems.
Anonymous Payment: PIA facilitates anonymous payments by accepting popular brand gift cards from Best Buy, E-bay, Starbucks, Walmart, etc.
Concurrent connections: Private Internet Access lets you access 10 simultaneous connections. Like other VPN's, installing the VPN in router gives access to unlimited parallel connections.
5. IPVanish
IPVanish is relatively new and has crossed over 1,400 servers in 75+ different countries around the world. It has over 40000 IP address at its disposal. With considerable coverage in Asia of 57 servers, it can support its operations in China.
Click The Button below and sign up for IPVanish for FREE With A 7-day Money Back Guarantee!
Click Here To Try IPVanish VPN
Zero-Log Policy: IPVanish has a strict Zero-Log policy. IPVanish comes with the assurance that they don't collect any personal information that connects the user to the internet traffic or activity.
Sugar-Sync Storage: IPVanish is collaboration with SugarSync offers 250 GB of encrypted Sugar-Sync cloud storage. Sugar-Sync is a cloud storage provider offering storage and synchronization services with support in Android, iOS, macOS 2X, and Windows-powered devices.
Concurrent connections: IPVanish supports access up to 10 devices. But with its compatibility to router extends VPN support to unlimited number of devices.
Security and Encryption: IPVanish safeguards your data with a 256-bit AES encryption. AES, Advanced Encryption Standard is a VPN cipher algorithm used to encrypt your internet traffic. IP Vanish extends its security by offering DNS/IPv6 Leak prevention and automatic kill switch.
6. PureVPN
PureVPN is a premium service that operates 2,000+ servers across 140+ countries in over 180+ locations. It offers unlimited bandwidth, P2P compatibility, and military-level encryption and port forwarding. Pure VPN is one of the VPN service providers with an extensive coverage in Asia and especially in China. It has servers in Guangdong and Shangai. PureVPN's application includes an inbuilt adblocker. Pure VPN allows up to 5 simultaneous connections.
Security and Encryption Protocols: The servers of Pure VPN support variety of security protocols like PPTP, OpenVPN, L2TP/IPSec, IKEv2. It offers IPv6 leak protection, DNS leak protection, WebRTC Leak protection, automatic kill switch and split tunnelling.
P2P Servers: Pure VPN offers optimized Peer-2-Peer servers to enable fast file sharing.
Log Policy: PureVPN adheres to the promise of No-log policy after a data leak incident. It has updated his logging policy aftermath and strictly adheres to it. It doesn't store any personal information that connects you to the Logs of Browsing Activities, Connection Logs, Assigned VPN IPs, Original IPs, VPN Timestamps, Browsing History and DNS Queries.
Dedicated IP add-on: PureVPN offers a dedicated IP address feature as an add-on for the customer to manage your online reputation. Dedicated IP addresses mapped to a single device adds to the authenticity.
Support and compatibility: Pure VPN works on Windows, Mac, Android, iOS and comes with browser extensions for Firefox and chrome. It installs on routers and extending its support to TV's and gaming consoles.
Best VPN For China Reddit 2023 – Verdict:
When it comes to VPN's and China, it has always been a race. VPN service providers try to outsmart the Great Firewall of China and vice-versa. The might of China can outsmart the VPN service providers and it can happen the other way too. While NordVPN and Express VPN are tough competitors with well established network, there are smaller VPN's proving to be worthy competitors. IPVanish and PureVPN share a history of data sharing/leaking, which raises a few eyebrows when compared to the front-runners. Surfshark is also a worthy competitor with its array of features and an expanding network. When it comes down to VPN's, it is prudent to utilize the trial periods/money back guarantees, test the services first hand and decide accordingly.
Read Next: