TLDR: The new Peak Design Travel Tripod is the Best Travel Tripod according to Reddit in 2023
CHECK THE GUARANTEED BEST PRICE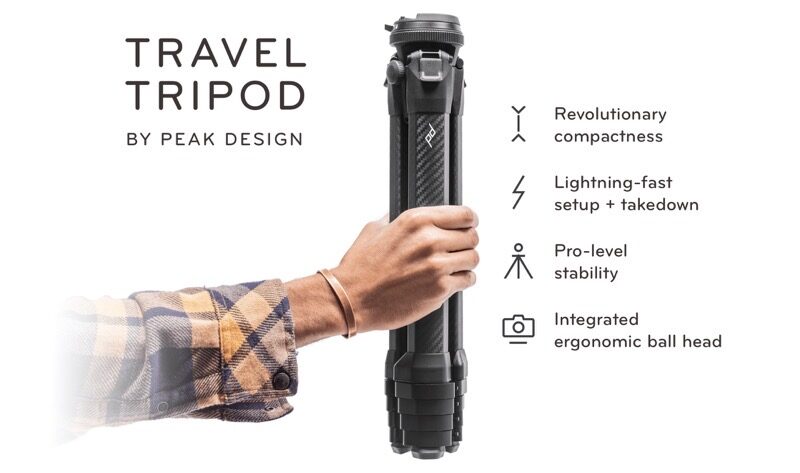 Most cameras these days come with many advanced features and tools. These features also include some image stabilization techniques. Be it digital image stabilization, sensor-based image stabilization, or optical lens stabilization. This has changed how people capture images now. It has up to some extent eliminated the unstable due to shaky hands. The resulting pictures or videos are much more stable now.
So this begs the question, are tripods really necessary?
Well, there's only so much technology can go. Even though you might get away without having to use a tripod, you won't be able to capture professional photos. In fact a tripod, among other things, can be the difference between an average looking picture and a sharp and professional-looking picture. And let's not forget how hard it would be to capture landscape photos and timelapse without a Tripod. So yes, like it or not, a tripod still plays a significant role in photography. But we aren't talking about just any normal traffic. Instead we are more focussed on Travel Tripods i.e tripods that have been optimized for easy carrying during travel.
Reasons to use a Travel Tripod
Even though all travel tripods are tripods themselves, there's some difference between the two. I mean there are a few constraints we have to work within the case of travel tripods. First of all they need to have a compact size and also be lightweight. This is because they are supposed to carry along during traveling. It makes it easier to carry and pack in this way. Secondly, since they will be smaller than normal tripods, they won't be as functional. It is considered that the more heavier a tripod is the more stable and steadier it makes the camera. However, this also makes it harder to carry it around because of it being bigger and heavier. So it's important to strike a good balance between both these. ANd this is what most good travel tripods do. In theory, every tripod can be a travel tripod. You just have to find some way to carry it along. It might be inconvenient but it can surely be done. But for those looking for convenience, a travel tripod is the way to go. They are much smaller and lightweight. They have a compact form-factor and can be easily folded to fit in some travel backpacks. But the caveat is, they won't have the same height and will not bring that much stability with it. One can live with these limitations, especially considering the convenience they are getting with travel tripods. Still if you are someone who can't have these compromises, there are a few backpacks you can opt for that let you carry full-fledged tripods. However, for this article we will be sticking with the best Travel Tripods. But before we get to that part, let's see what are the factors that a travel tripod should have.
Things to consider while buying a Travel Tripod
There are a few factors that are associated with travel tripods. One should take these factors into consideration before buying a travel tripod. The ideal travel tripod should perform well with respect to all these factors. These are the build quality, the height, foldability, and the weight of the tripod. Let us learn a little about them in detail.
Build Quality: Since you will be carrying the tripod around the globe along with you, a travel tripod should have good build quality. You are bound to come across scenarios where there might be a risk of damaging the tripods. Having a tripod made of high-quality materials will ensure that it sustains all these factors. For this, the tripod should be made of Aluminum and carbon fiber. They are very durable and hence are the most common materials you will find in most travel tripods. Having Carbon fiber will give it additional rigidity as the fiber is stronger, lighter than others. However, having carbon fiber would also mean that the tripod will have a higher price.
Height: As we discussed earlier, travel tripods can't have the same height as normal tripods. This is because of the size restrictions that are associated with travel tripods. So a travel tripod should try and be as close as possible while still being able to not break the restrictions. Along with the maximum height up to which the tripod can extend, the tripod extends, the minimum height of the tripod should also be considered. Having a smaller tripod might restrict you in some ways but the bright side is that it is lightweight and portable.
Foldability: Some tripods can be folded into a much more compact form factor. This allows you to have slightly larger tripods. This means that you can have somewhat large tripods while still being able to store it in your backpack. So while considering a travel tripod, you must consider how much it can fold and whether it can fit in your backpack. You might get a less stable and steady tripod but it will be easy to carry.
Weight: A Tripod isn't the only thing we carry while travelling and things can get heavy at some point. In fact, the camera gears themself weigh a lot on their own. Not to forget your other accessories and even your clothes and laptops. All this will have already made your bag heavy. So if you have a heavy tripod on top of these, then it might be very difficult for you to carry your bag around. So you would want to have a tripod that isn't that heavy. It might get expensive, but you will get extra comfort in return.
There are a few other factors as well like the tripod being more durable and sturdy in build. Other factors like the number of sections and leg locks also count in these. But these factors are more related to normal tripods and not travel tripods. So now that we have gone through most things that one should know about travel tripods before buying one, let's take a look at the best travel tripods you can buy in 2023.
Best Travel Tripods Reddit 2023
1. Peak Design Travel Tripod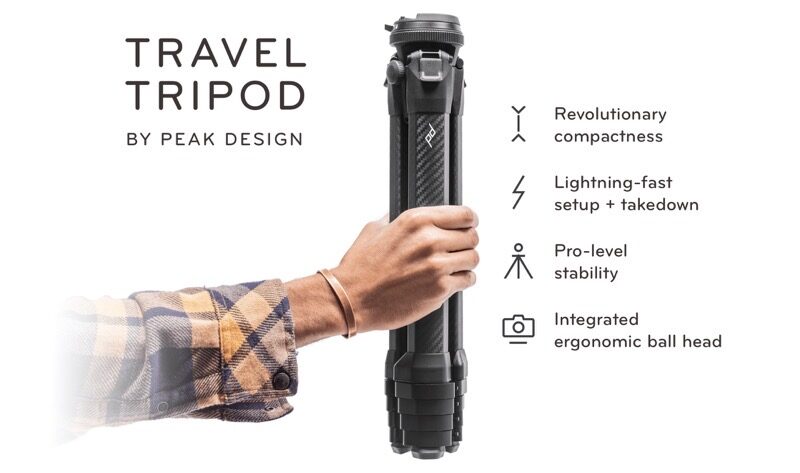 The Peak Design Travel Tripod is the first tripod in our list of best travel tripods. It is also our "Editor's Pick". The Travel Tripod has an innovative design with a rigid build and great performance. With this you get pro-level stability along with high load capacity. The tripod can load up to 20lb weight capacity. This makes it completely optimized for a full-frame DSLR and a telephoto lens as well at the same time. You can position your camera inches off the ground using the low and inverted modes. The tripod comes with non-slip, shock-absorbing feet, and an integrated load hanging hook as well. With this you get very solid stability and vibration dampening. The tripod is designed for lightning-fast deployment. This means that its unique design allows you to set the tripod up very quickly and easily. You can also pack it back at the same speed. The tripod also has an ergonomic camera quick release that is secure and fast. The leg cams are low profile and have Fast-locking capabilities. You don't have to flip over the legs in order to deploy it. The Ball Head on the Travel Tripod is very ergonomic and compact. It is omnidirectional i.e you can rotate it ultra-smoothly in every direction. You don't get a lot of knobs in it. It's very simple. Just a single adjustment ring. There are no protruding knobs. That's it. The locking ring is very simple but will give you complete security. There are also a few anchor points on the tripod. These are for the Peak Design straps. You can use these to carry your tripod externally if you have a Peak Design backpack. This will keep it secure. In order to store your phone, there is a mobile mount on the tripod. This built-in mount is a stowable mobile mount and can securely grip almost every phone. The Peak Design Travel Tripod is made up of impact-resistant and waterproof materials. This makes the tripod very durable. You can carry it with you to anywhere, even in sloped hills. It can easily sustain all those situations and last a time. In case you need to do some clean up of damage recovery, you will be glad to know that all the parts are replaceable. They are also serviceable and cleanable. So you don't need to worry about anything. Tripod is also equipped with an extra padded waterproof case. This keeps the tripod protected.
What Reddit Things About this Travel Tripod:
u/sryiwasdaydreaming – I have the aluminum peak travel tripod and love it. It's definitely a tad expensive though. I like the size and ergonomics of it. I saved up and splurged on it because I couldn't find any others I liked
u/removed – I have the carbon fiber one and it's the best tripod I've used.
u/shooterntx – I have had the Peak Aluminum Travel Tripod ($349) since release. It's been a light and sturdy tripod for everything I've thrown at it including some Astro. Love the innovation shown in the head. It goes everywhere I go.
Pros
Rigid and Durable
Can fit in most bags after folding
Innovative design
Hex key and smartphone clip Storage
Reversible center column for low-angle shots
Cons
Not that tall
A hex key is required for quick release
Expensive
Ball head design is Unusual
2. Benro FGP18A SystemGo Plus Travel Aluminium Tripod
The Benro FGP18A Go Plus Travel tripod comes with a versatile center column. Constructed from aluminum tubing with machined aluminum and magnesium alloy components, the FGP18A Go Plus has the compactness of a travel tripod. It has a foldable travel design which makes it a very compact tripod that is easy to travel with. The center column of the tripod is wrapped around by reverse folding legs that are combined together. This makes up to be a more compact unit. So the tripod is easier to carry around. The versatile center column of the tripod is removable. This means that it can rotate in a 180-degree arc by removing it from its vertical position, which is its standard position. Once you get a desirable position you can lock it at that particular point. Hence you can adjust the setting and get the perfect angle for low-level macro photography. The three-position leg also helps this case.
The tripod is also equipped with a built-in monopod that supports your still cameras, video cameras, and other accessories. The monopod gives your camera the required precision for it to function effectively. It also ensures that you get an incredible degree of stability which is perfect for capturing images and videos. The Integrated Monopod lets you detach a leg which then turns into a monopod. The leg locks of the tripod are easy to use and twist around. The tripod also has a screw-in rubber & stainless spiked feet. Finally, there's also an extra padded tripod carry case so that it remains protected.
With a 180 Degree rotating center column you get a lot of possible camera positions. From vertical and horizontal positions to inverted positions, you get them all. The rotating center column brings in a lot of possibilities when it comes to camera positions. You also get improved stability and faster deployment thanks to the quick leg lock system. It also provides some dust resistance to the tripod. The Benro Go Plus is a modular tripod which means that it supports a lot of other accessories and connectors. This helps create the perfect support system anywhere. For instance, the SystemGo accessories compatibility means that the tripod can be turned into a portable workstation. So, no matter where you are, you can have a workspace for yourself thanks to the modularity of the Benro GoPlus.
Pros
Monopod option
180 Degree rotating center column
Modular i.e can attach other accessories
Padded Tripod carry case
Robust design
Can be folded into a compact form
Constructed from aluminum and magnesium alloy components
Cons
Partially Dust resistant
Carbon version is double the price
Max Height is a little low
3. Gitzo GK1545T-82TQD Series 1 Traveler Kit
The GK1545T-82TQD is part of the Gitzo Traveler kit. The kit consists of the GT1545T Tripod and the GH1382TQD Center Ball Head. The Gitzo GT1545T tripod is a carbon fiber tripod. The GT1545T is an ultra-compact, 4-section tripod. It also features the Gitzo pioneered 180° leg folding system. The legs can be reverse-folded around the center column and the head. So it can be folded down to 42.5 cm and made even more compact. The tripod can be adjusted to be perfect for macro shots. You can do that by spreading the leg angles and insert the included short center column which results in more efficient use of the folded space. You get a lightweight tripod when carrying it around and the extra height and stability during shoots. You get the perfect balance between both.
The legs of the GK1545T-82TQD are constructed with Carbon eXact tubing. They have a slimmer size and are very stiff and strong. They can support the heaviest of the cameras. The "Traveler G-lock' featured in the tripod is very compact and helps in using the space more efficiently. The G-Lock also ensures that you get the required security in a much more compact form factor. The GK1545T is equipped with compact and removable rubber feet. So if for some reason you need to change the feet, you can easily remove and change it. There's also a shoulder strap included with the tripod. This helps you in carrying it around comfortably. The Traveler G-lock also makes the tripod much taller than its predecessor. So along with "ultimate smoothness and precision of movement", you also get a very secure locking mechanism.
The Traveller Kit also comes with the GH1382TQD Center Ball Head. It is a very slim tripod head constructed from "high-quality, high-resistance steel and aluminum components." The head features an independent pan lock instead of featuring the friction control knob. Having an independent pan lock means that you get a very "uncompromising ball smoothness". The head has a WS2 coating which makes sure that there are no compromises in the smoothness and hardness of the external and internal components. Third-party head mounts can be attached to the upper disc of the tripod. But for that you will have to remove the GH1382TQD head. While it can be easily removed, having the GH1382TQD head would mean better fitting of the head between the folded legs. This is because it has been made specifically for that. There's also an Arca-Swiss compatible plate (GS5370SD) supplied with the head. This is compatible with all the D profile plates made by Gitzo as well as Arca-Swiss style plates made by other brands.
In order to assist the user in keeping a straight horizon, a bubble level is used. A screw-knob is used to keep the quick-release plate locked in its place. However, there's no friction control knob on it. What you get is "a perfectly balanced and versatile tripod head" like all the other Gitzo Center Ball Head. The tripod has strong but light carbon fiber legs and can support up to 22lbs load. The maximum height of the tripod is 64.37 inches. It can be reduced to 55.31 inches with its Center Column Down while the Closed Length 16.73 inches. It is recommended to be used with 135mm lenses and the maximum it can go is 200mm.
Pros
Interchangeable Head
Lightweight
Compact
Good Balance and Stability
High load capacity
Cons
Expensive
No bag included
4. Sirui T1205X 5-Section Carbon Fiber Tripod
The Sirui T-1205X is a 5-Section Carbon Fiber Tripod that is perfect for taking along with you while traveling. It is a very lightweight and compact tripod. It can be extended up to a maximum height of 51.4″ when required. You can also fold it down to a mere 13.4″ once you are done. This makes it easy to fit it in and easy carry around. The tripod weighs about only 1.8 lb which makes it even more travel friendly. Coming to load capacity, the forged aluminum chassis construction and relatively thick upper leg sections make sure the T-1205X can support loads up to 22 lb.
The complete package of the tripod is very compact and lightweight. You can easily fit it in most common backpacks very comfortably. You can fold its legs upward and bring it down to only 13.4″ which is very close-packed. This won't get extended much even after attaching a head to the tripod. This is because most additional head mounts won't surpass the height of legs that extend past them. Combine all these with the lightweight of the tripod and you get the perfect travel tripod. The legs of the Sirui T1205X are composed of 8x carbon fiber. This makes it ideal to use with most head mounts and almost any type of camera. This includes cameras like point & shoot cameras, camcorders, 35mm cameras, DSLR, etc.
The Sirui T-1205X is equipped with a short center column. The center column is also reversible. This enables you to set it up for low-angle shooting as well as macro photography. You can take the camera really close to the ground thanks to the reversible center column. You can go as slow as 5.1″ from the ground which is really impressive. This is with the short center column installed and its legs set at a wide-angle. They can be up to 80° wide. The chassis of the tripod is constructed from forged aluminum. Because of the forging you get a much more compact metal which makes the metal grains more consistent and continuous by enhancing their integrity. So compared to tripod chassis cast by the traditional casting process, you get much more durable components. This translates to better performance and long-lasting life. The corrosion & wear resistance of the tripod has been improved by "an anodizing surface treatment that increases the thickness of the natural oxide layer on the surface of metal parts." This also increases the surface hardness and enhances color durability as well.
The Sirui T-1205X also comes with Silicone twist locks. It has an Anti-leg rotation system. Having this makes it much easier and faster to set up the tripod in an instant. There's also an automatic-leg angle lock mechanism that gives you speed and convenience. You can independently lock the legs into place at two different angles. The short center column means that you can reach lower positions down to 5.1″ from the ground. There is a Leg warmer on one of the legs. This warmer helps protect the legs of the tripod and also makes it easier to handle in extreme weather conditions. You can add a ballast to the center column hook which will give you a hefty setup in windy conditions. The tripod includes a padded travel bag that has a sturdy shoulder strap which makes it easier to carry along.
Pros
Lightweight
Sturdy Build
Anti-leg rotation system
Leg warmer on one leg
Includes a travel bag with a sturdy shoulder strap
Cons
5 section legs
Ball head not included
Too lightweight for use in windy conditions
5. Vanguard ALTA PRO 263AB 100 Aluminum Tripod
The Vanguard ALTA PRO 263AB 100 is an Aluminum Tripod. It comes with a Magnesium Alloy BallHead. The SBH-100 Ballhead is supposed to provide stability and durability to the tripod and make it a reliable tripod. There are three different settings that the aluminum alloy legs of the legs can be set to. These settings are at an angle of 25°, 50°, and 80°. The tripod can be extended up to 5.67′ (1.73 m) height and also be collapsed down to 28.125 (71.5 cm). The tripod is lightweight and weighs about 5.38 lbs (2.44 kg). The ALTA PRO 263AB 100 is rated to support up to 15.4 lbs (7 kg) of weight.
The tripod features a Multi-Angle Central Column (MACC) system. Using this system you can move the central column from multiple angles. The central column has a Hexagonal shape and can move from 0 to 180 degrees. With the capability of going from 0° to 180°, the tripod lets you achieve different positions, be it vertical or horizontal. This makes extreme low-angle photography possible. So you can easily take wide-angle shots and macro-photography by adjusting the angle from 0° to 180°. There's also an Instant Swivel Stop-n-Lock (ISSL) system. This system helps in repositioning the central column securely and quickly with minimal movements. So you can reposition the central column very easily in just a few seconds, and also manage to keep the tripod stable, thanks to the Multi-Angle Central Column (MACC) system.
The Vanguard ALTA PRO 263AB comes with a few other features as well. One of the more prominent of these is the magnesium die-cast canopy that is present in the tripod. This canopy features a bubble level to provide more accuracy. Other than providing accuracy the bubble level also assists the photographer in keeping a straight horizon. The legs of the tripod have quick-flip leg locks that let you securely lock it quickly. The tripod also has non-slip, spiked rubber feet so that it can be used in multiple terrains. The spikes on the feet are retractable. There's also a removable hook that you can use to hang your other camera accessories. The anti-shock ring gives you advanced camera vibration and shock control. The easy-release buttons let you quickly set-up the tripod. All of the legs are equipped with all-weather foam grips. The Carbon fiber units also feature twist locks.
The Vanguard Alta Pro 263AB also comes along with the SBH-100 Ball Head. This SBH-100 features a precision-cut ball head and is constructed from lightweight magnesium alloy which makes it durable. The SBH-100 Ball Head is very smooth, like a fluid. The ball head can be rotated 360 degrees. It also includes a quick-release plate and two bubble levels. There's also a fine-tuning function that you can play with. The bubble level assists the photographer in keeping a straight horizon and also provides more accuracy. The combination of all this gives the tripod increased stability and extra loading capacity, which makes it perfect for accompanying you when you are traveling.
Pros
Lightweight
Compact
Quick to set up
Quick-flip leg locks and rubber feet with retractable spikes
Premium magnesium die-cast canopy
Includes a Carrying case
Cons
Center column can't be retracted
Ball head could have been better
No 3-Way Head
Bottom Line – Found your next travel tripod?
Travel tripods aren't like any other tripods. There are a few restrictions that come with it. They are required to have a compact size and be lightweight as well. While these restrictions make it easier to carry and pack the tripod, it hinders the functionality of a tripod up to some extent. This is why travel laptops need to strike a good balance between both these things. The tripods we listed have all managed to do this perfectly. Sure, there may be a few caveats but you will hardly miss your regular tripod. So, if you are on the lookout for a travel tripod, then any of these can more than serve your purpose. But if you were to ask me, I would opt for the Peak Design Travel Tripod. But that's just my opinion and you are free to choose any of this. None of these tripods will disappoint you.
Read Next: