If you work at an office or sit at your desk at home all day, you might want to reconsider sitting for long durations. Prolonged sitting can have serious negative impacts on your health. Studies have shown that individuals who sit for extended periods each day are at a higher risk of developing diabetes, heart disease, and early mortality. Sitting for long periods also burns very few calories and has been linked to weight gain and obesity. However, standing desks provide a potential solution to this problem. With many workplaces focusing more on employee well-being, standing desks have become quite popular.
A standing desk, also known as a stand-up desk, is a type of desk that lets you work comfortably while standing up. These desks are adjustable and let you modify the desk's height. This allows you to alternate between sitting and standing. These are sometimes referred to as height-adjustable desks or sit-stand desks as well. You can now counteract the negative effects of excessive sitting with the help of standing desks.
Who is A Standing Desk for?
Standing desks are great for anyone with a bad posture. Sitting for extended periods makes it easy for you to slouch or hunch over which leads to bad posture and lower back pain. When you stand, you are encouraged to maintain an upright posture which reduces the strain on your neck and lower back.
Standing desks are also great if you want to increase your productivity levels. They help boost your energy levels and improve productivity. When you stand, your blood circulation improves, which prevents your muscles from tightening. This helps you be more focused and alert, making it easier to concentrate. Sitting for long durations can lead to swelling of feet and legs as well. This is because your blood circulation is very poor. Standing desks encourage you to move around often reducing the pressure on your veins and arteries.
Moreover, standing decreases your risk of weight gain. Sitting for long periods is linked with obesity. This can be countered by standing, which can help you burn calories. Another study suggests that standing for a while after a meal can reduce your blood sugar spike significantly when compared to sitting. This can help prevent diseases such as diabetes.
Another great reason to get a standing desk is that they tend to have a positive influence on your mood and energy levels. Moving throughout the day and alternating between sitting and standing helps reduce stress and fatigue. This improves your overall mood which can greatly impact your productivity.
How Do I Pick A Standing Desk?
If you're exploring the possibility of using a standing desk, you may wonder how to choose one that fits your needs. Let's discuss some important considerations while buying a standing.
Height Range: One thing you need to consider is the height range of the desk. Ensure that the desk height range is large and fits your needs.
Desk Depth: Another thing to consider is the desk depth. A 30″ depth is generally recommended as a minimum for sit-stand desks, taking into account the need for you to spread out your work. However, if the workspace isn't a concern, you can consider desks with smaller footprints. It's worth noting that there are several options available for the shape of the work surface.
Noise level: Consider the noise level of the mechanism when selecting a standing desk. If the desk is loud, you may not utilize it for fear of disturbing others. Look for desks with an unobtrusive mechanism to minimize noise levels.
Mechanism of the desk: There are several methods for raising and lowering sit-stand desks, ranging from hand cranks to electric or pneumatic lifts. Electric or pneumatic lifts are the best options as they are quiet, efficient, and easy to use.
Adjusting speed: Consider the speed of the standing desk when selecting one, as the quicker the speed, the more likely you are to adjust the work surface throughout the day. Desks with a relatively fast raising and lowering speed encourage frequent adjustments.
Access to plug-in points and electricity: If you select an electric standing desk, make sure that you have easy access to electricity. This will ensure that the desk can be used conveniently without requiring any additional equipment to support its use.
Weight capacity: It's important to consider weight restrictions when selecting a sit-stand desk, as each desk has its limits. Make sure to choose a desk that can handle the weight of your equipment and any other items that you will be placed on it. This will ensure that the desk remains stable and safe to use, reducing the risk of accidents or equipment damage.
Pricing: Finally, when selecting a sit-stand desk, it's important to consider pricing, as it can vary significantly within the height-adjustable desk category.
To make an informed decision, it's best to balance the desk's functionality with the factors discussed above. By considering all of these factors, you can choose a sit-stand desk that best meets your needs and budget, while promoting better health outcomes for yourself.
While selecting a standing desk may seem like a daunting task, I have simplified the process for you by researching top recommendations on Reddit and considering all the essential factors discussed earlier. I have compiled a list of the best standing desks on the market that meet a range of needs and budgets. Take a look at this list to find the standing desk that best fits your requirements.
How tall should your standing desk be?
The height of the standing desk will depend upon your height. Some other factors you need to consider are the size of your monitor/screen, and the placement of the mouse and keyboard. This will make it easier to determine the optimum height of your standing desk.
The usual height or the average is 30 inches but this may highly vary depending on your height. However, if your height is around 5'11" then look for a desk with a height range of 44 inches. You can also refer to a height chart. You need to look at your body proportions before determining the elevation. Here are a few steps that you can follow to ensure that you get the height of your standing desk just right:
Stand up straight and keep your head upright and your shoulders pulled back.
Now bend your elbows 90 degrees.
Once you do this, adjust the height of the desk enough so that your fingers are touching the keyboard.
Adjust the monitor screen to a height that is comfortable for you.
You may also wear different footwear some days such as heels or sneakers. So make sure to keep that in mind while setting the desk up. It is worth noting that, if you are someone who needs to adjust the height of the desk frequently, you can invest in an electric standing desk that has "height recall buttons".
Ensuring that you adjust your desk to the appropriate height will save your wrists, elbows, and shoulders from any stress and pain.
Best Standing Desk Reddit
| Features | Uplift V2 | DeskHaus Apex Pro Standing Desk |
| --- | --- | --- |
| Price | Starts from $599 | Starts from $927 |
| Desktop Colors | 25 colors and material types | 3 colors |
| Height Range | 24.3″-49.9″ | 22.5″ – 48.5″ |
| Weight Capacity | 355 lbs | 600 lbs |
| Warranty | 15 years | 20 years |
| Other features | 5 desktop sizes, power grommets, 4 frame colors and styles, 4 keypad styles, wireless foot switch, 4 caster styles, Bluetooth adapter | 3 switch styles, 5 foot size, handswitch options, 4 work surface options, 5 additional accessories |
1. Uplift V2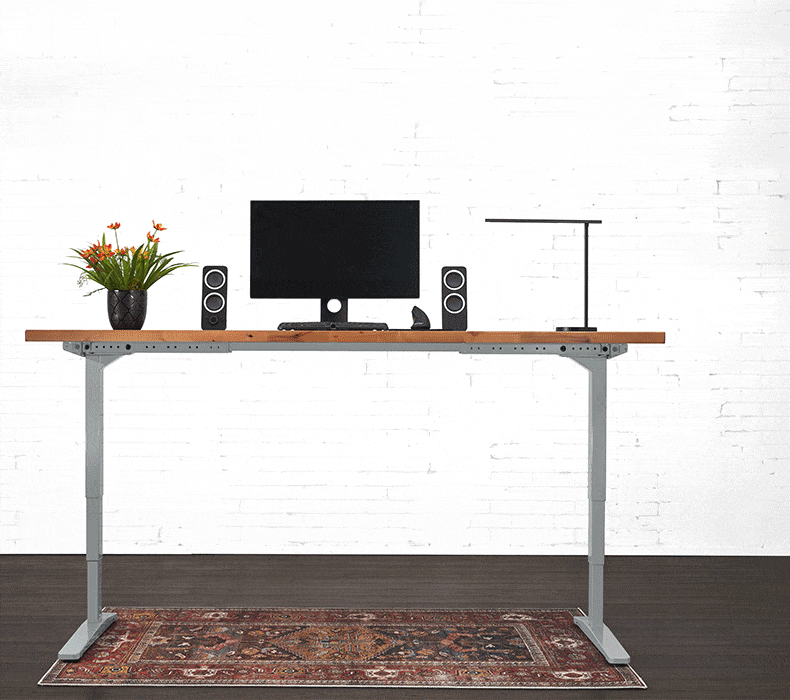 It has an excellent height range to performance ratio among all other standing desks that I have reviewed. You can personalize your desk to your specific preferences, right from the desk's frame and keypad, down to the smallest details. You have complete control over how it looks and functions. Moreover, the desk comes in various color options, and a range of accessories are available to make it even more tailored to your needs.
It's important to note, however, that all this customization will cost you extra. That said, even the basic model of the Uplift V2 provides excellent value for money as it comes with a 15-year warranty, guaranteeing its longevity. At the time of this review, this standing desk starts from $599 on the company's official website. You are required to customize every aspect of the standing desk before you place your order. This shows that the Uplift V2 was made keeping customization in mind to meet your varied needs.
You can select the desktop style among laminate, bamboo, and wood. The cost may vary depending on what material you choose. Of course, desktop styles with wood cost more. You will then have to select the desktop size. You have five options to choose from. While the size 42″ X 30″ doesn't cost extra, you will have to pay extra for the other options.
You get to choose from four frame types as well. The V2 Frame is the most popular, and the V2-Commercial Frame travels about 3″ lower. The C-Frame design gives you more legroom while the T-Frame design is symmetrical; both are extremely stable and durable. The V2 C-Frame and V2 T-Frame are included in the base price.
The desk customization process extends to selecting the type of grommets that suit your needs. These grommets are designed to provide a neat way of running cables from your computer under the desk. Additionally, you can choose a storage grommet or even one with a power plug, depending on your preferences. Moving on to the keypad you can choose from five different keypads in three unique colors. The Uplift V2 includes a free cable management tray with every order, making it even easier to keep your desk organized and clutter-free.
Another interesting feature of the Uplift V2 is its Wireless Foot Switch. It is a hands-free height adjustment feature for your desk and acts like the Basic Keypad and provides up/down control and can be used in conjunction with any keypad.
You can also buy the Bluetooth Adapter as it is needed to use the free Uplift Desk App.
The Uplift Desk App comes with a ton of features. You can set convenient sitting/standing reminders, set a daily standing goal, track progress, raise and lower your desk from your mobile device, and save favorite sitting and standing heights to raise or lower your desk. And finally, you can choose from four caster options. You can mobilize your desk with lockable casters or choose heavy-duty casters for rough surfaces.
When it comes to design and performance, the Uplift V2 is minimalistic with zero clutter. The performance of the Uplift V2 is truly impressive, with its fast and responsive motors that effortlessly adjust the desk to your desired height. Additionally, programming the keypad with your preferred sitting and standing heights is a breeze, making this desk a delight to use.
What Redditors had to say about it
u/veepeedeepee "I've got an Uplift V2 and it's sturdy as hell. I think the base model is just outside your budget, however, but IMO worth every penny."
u/ZSamuels28 "Did tons of research on this as well and recently went with the Uplift V2. Definitely worth it."
u/thugnaps "I bought an uplift last year and have not had any issues. I had previously bought an autonomous at another job but avoided it this most recent time around because of those same shipping delays."
Flaws but not deal breakers
While the Uplift V2 has tons of customization options available to allow you to tailor your standing desk exactly to your needs, this can get expensive. So unless you are on a budget, you should not have any issues splurging on customization options.
The Uplift V2 lacks cross support for extra stability. If you are looking for extra stability, the V2 commercial comes with cross-support and provides much better stability. However, this is not a deal breaker as it is the most stable standing desk without cross support compared to other brands.
These were the flaws I found with the Uplift V2 but it remains the best standing desk you can buy as it provides both, value for money with just the right amount of features and customizability.
2. DeskHaus Apex Pro Standing Desk
The DeskHaus Apex Pro Standing Desk is another solid option as Redditors love its sturdiness and longevity. The Apex Pro is an incredibly robust piece of equipment! The Deskhaus Apex Pro standing desk is an electrically height-adjustable desk that offers a variety of features designed to improve your work experience. From its sturdy frame to its wide range of height adjustments and cable management system, the Apex Pro is a top-of-the-line standing desk that offers a sleek and modern design.
Equipped with four powerful motors and a lifting capacity of 600 pounds, this frame is capable of supporting almost anything you can throw at it. Thanks to its outstanding front-to-back stability, the Apex Pro is more than capable of handling even the most substantial and complex desk setups with ease. This makes it a great option for those who need to support multiple monitors or heavy equipment. The desk frame is made of high-quality steel, ensuring that it can withstand years of use without any wobbling or shaking.
It is available in three colors: white, black, and silver. However, if you want a custom color then you will have to pay extra charges of up to $150. In addition to these features, the Deskhaus Apex Pro offers a wide range of height adjustments. The desk can be raised to a maximum height of 47.6 inches, allowing you to easily switch between sitting and standing positions throughout the day. The height adjustments are controlled by an LED touchpad controller that is easy to use and offers a variety of features. The controller allows you to adjust the desk height, as well as save your favorite settings for quick and easy adjustments.
Another standout feature of the Deskhaus Apex Pro is its cable management system. The desk comes equipped with a cable management tray that attaches to the underside of the desk, keeping your cables organized and out of sight. This feature is particularly useful for people with multiple devices and cables, preventing clutter and maintaining a clean workspace.
The Deskhaus Apex Pro's sleek and modern design is sure to complement any home or office decor. The desk is easy to assemble, and the instructions are clear, making the setup process quick and straightforward.
Overall, the Deskhaus Apex Pro standing desk is a high-quality option that can significantly improve your work experience. With its sturdy frame, wide range of height adjustments, cable management system, and sleek design, this standing desk is an excellent investment. Whether you are seeking a standing desk to enhance your posture or want a top-of-the-line workstation that can accommodate your equipment, the Deskhaus Apex Pro is an exceptional choice.
What Redditors had to say about it
u/Sonarav "I have no regrets about getting Apex Pro from Desk.Haus. Not cheap, but likely will for a long time and super stable."
u/Effective-Art800 " The Deskhaus Apex pro has good reviews with the more stable and highest weight capacity. It's a real game-changer with its dazzling adjustable height range that accommodates people of all shapes and sizes"
u/chuckfr "I agree. Deskhau's Apex Pro is a beast. It has 4 legs and a crossbar. I would imagine their desk to be the most durable and the least wobbly. Plus, their 4-legged desk is rated for up to 600lbs whereas most other desks can only support up to 350lbs. To top off everything the DH desks are back by 20yr warranty."
3. Fully Jarvis Bamboo Standing Desk
The Fully Jarvis Bamboo Standing Desk is a high-quality, adjustable standing desk that offers several features designed to improve your overall productivity. Redditors seem to love the fact that this desk is made from bamboo grown in sustainable forests, free from pesticides. What makes this desk stand out is that it is highly customizable and offers a wide height range of up to 51 inches but for an additional cost. The basic model can go from 30 inches to 49.3 inches tall.
The desk is available in many different sizes to accommodate a range of workspace needs, and it can be adjusted to a range of heights to allow you to work comfortably in either a sitting or standing position. The height adjustment is powered by a dual-motor lifting system, which is smooth and quiet and can be controlled using a simple touchpad on the front of the desk. They provide desk frames in three distinct height ranges to accommodate your individual working preferences. This allows you to select the ideal frame height that best suits your needs, whether you prefer to stand tall, utilize a standing board, perch on a stool, sit at a higher position, or prefer to sit lower.
Thanks to the use of high-quality materials and construction, as well as the addition of a crossbar underneath the desk surface this desk is quite stable and wobble-free.
The Fully Jarvis Bamboo standing desk comes with two options for adjusting the desk's height. The first option is the Up/Down toggle handset, which utilizes a natural arm motion for a seamless adjustment experience. The second option is an upgraded OLED touch programmable handset, which provides even greater access to customizable features and functions. This option also includes a height indicator screen for precise adjustments.
In terms of aesthetics, the Fully Jarvis Bamboo standing desk is a beautiful piece of furniture that looks great in any workspace. The bamboo material is warm and inviting, and the desk is available in several different finishes to suit your style. The desk also has a minimalist and chic design that will fit in well with any office decor.
While the above features make it a great choice for anyone, one thing you need to keep in mind is it may be difficult to assemble this standing desk. It can take around 30-60 minutes and an extra helping hand to get the job done. However, this desk makes for a good choice though not the first choice.
What Redditors Had to Say About
u/Sandm0nst3r "I've assembled 5 Fully Jarvis desks and they've been in use for 2-5 years now with no problems with any. I don't have experience with other brands but recommend it."
u/zachman123 " I just bought a Jarvis frame as well, and used my butcher block top. I had no issues except that the control box was hard to slide into the frame but eventually was able to. My shipping was much faster than expected. I'm ever so slightly disappointed at a tiny bit of front/back wobble, but otherwise quite happy with my purchase."
u/Livid_Entrance2099 "If you're in the US, fully is probably your best chance right now. Great discounts this past weekend.. for a total of 37% off the Jarvis. For a moderate size that's roughly $300-$500, or the same price as the cheap stuff on Amazon."
4. SHW Electric Height-Adjustable Computer Desk – Best budget option
While you may be on a strict budget, I recommend you invest in a good quality standing desk which is on the pricier side. And I say this for quite a few reasons. Firstly, the stability of the standing desk becomes a real issue when you get one that has questionable quality. They end up having poorly fit glides, lack of cross support, and cheap metal components that usually play a huge part in providing the right stability.
Secondly, they have low-quality electronics, glide systems, and inner components as this is mostly where the company sees an opportunity to reduce costs. These components don't provide the kind of longevity that good brands do and the performance of the desk drops quite significantly over a while. Overall, it is recommended that you spend at least a minimum of $500 if you want a standing desk that lasts longer and has the most important features.
But if you really cannot afford a pricer option mentioned on this list, I recommend the SHW Electric Height-Adjustable Computer Desk. It costs under $250 and is a much more affordable option. What makes it a decent choice is that it is surprisingly functional and sturdy. It does come with a table management tray and digital management keypads and memory presets which is quite impressive for the price tag. It can be adjusted to any height between 28″ to 46″. It also has one uncovered grommet at the back corner. It comes in one standard size 47.25x 24" and has a limited weight capacity and is available in four different colors.
But bear in mind that the motor does slow down over a while and it comes with only a year's warranty. But you can extend the warranty period up to 3 years at an additional cost. But if you are looking for a budget-friendly option then this standing desk is hands down the best option under the $250 price tag.
What Redditors had to say about it
u/tac0hunter "We bought one of the SHW ones. It ended up being decent but only for some time. The motor makes a very loud clicking noise now and a bolt that holds the motor becomes loose every day. But it's probably the only good affordable option I could find."
5. Vari Electric Standing Desk – The Competition
The Vari Electric Standing Desk is a great rival to the Uplift V2. It has a spacious work surface and can be assembled within minutes. It has a great sturdy build and an amazing cable management system. It comes with a ton of other features too. But when compared to the Uplift V2 it is a little more expensive.
This standing desk comes in three different configurations that you can choose from. Their bestseller 60X30 model starts at $850 and increases in price depending on the different customization options. The desk has T-Style legs that provide enhanced stability. It also features four programmable memory settings that allow users to easily adjust the height of the desk. The desktop is made from durable laminate material with chamfered edges. It is compatible with the Vari Cable Management Tray, which helps keep cords and cables organized. Additionally, the desktop has a thickness of 1.25 inches and is 72 inches wide.
Overall, this desk has a quite powerful electric motor with a heavy-duty frame that lets you do continuous height adjustments from 25″ to 50.5″ making it perfect for tall people. Here's what Redditors had to say about it:
u/Haunting_Abalone_398 "I've only owned one so far, but the vari v2 72×30 has been great for my gaming station so far. It's sturdy, has dual motors, and is under 900."
6. Herman Miller Renew Sit-to-Stand Desk
Herman Miller Renew Sit-to-Stand Desk is another great option. Herman Miller is known for its best-in-industry office furniture. So you know that you cannot go wrong with this brand. But it does come with quite an expensive price tag of $2105. Every single element of the renewal is thoughtfully considered and highly customizable. If you want the best and have a larger budget then this makes for an outstanding office furniture.
The desktop of the Renew desk has a sleek appearance, with a thin edge that slopes back 1.875″ under the surface. The eased-edge design also offers a sloped front edge that reduces sharp edges, providing support for forearms. You can choose between a veneer or laminate material for the desktop, with a range of colors and finishes available. To keep your workspace organized, you have the option of choosing from simple or deluxe cord management solutions. Apart from facilitating height adjustment, the Renew desk also comes with an integrated power access feature that assists in managing power access for all your work tools. It comes with a 12-year warranty.
Herman Miller is a renowned leader in furniture design worldwide and the Renew Sit-to-Stand desk is a testament to their expertise in this field, featuring a well-thought-out design that makes it effortless to switch between sitting and standing positions while you work. Here's what Redditors had to say about it:
u/boonepii "I have a 72"x30" sit/stand Herman Miller desk I bought from their factory clearance center. It's f***ing amazing. I paid $750 but now they can go for way more. It's super solid up high and on the carpet. Goes low and really high. Also, have one of their chairs. I am sold on their quality."
The iMovR Lander Lite Desk is yet another good option. It has a spacious desktop so you have a lot of room for all your equipment. It is pretty easy to assemble as well as it is 90 percent pre-assembled. It also has an adjustable keyboard tray to change the angle of your keyboard and mouse. It has pre-programmed heights to set the desk at your preferred height. You can also set reminders to sit or stand. You can use the Bluetooth-connected app to change the height of the desk as well.
It does have extra features that cost extra such as the monitor arm, a grommet with a plug, and USB ports. The base of the Lander Lite is super strong and can be fitted with single-stage, two-segment legs or dual-stage, three-segment legs. It can lift to 225 pounds. Moreover, it comes with a 10-year warranty on base components and a 5-year warranty on the tabletop. The motors used on the desk are barely audible without sacrificing speed.
Overall, it is a pretty solid choice but again it costs more than Uplift V2. Moreover, the Uplift V2 has a shorter shipping period compared to iMovR. Here's what Redditors had to say about it:
u/Syncretistic "I like my iMovR Lander Lite. Solidly built and had a lot of options. Also loved that it came mostly assembled. It is also pricier."
In conclusion, standing desks are a great addition to any workspace, offering a range of benefits. My review of some of the best standing desks on the market highlights the key features and performance of each desk, making it easier for you to find the perfect fit for your needs. Whether you opt for the premium features of the Uplift V2 or the other options on the list, investing in a standing desk can help you have a better work experience.
Read Next: