Sling backpacks are great for those looking for a light and hassle-free backpack to wander about effortlessly whilst carrying all the essentials for the day.
Sling packs are gaining popularity extremely fast and for good reason, in fact, most backpackers are making a switch from the traditional day backpacks to the more convenient cross-shoulder sling pack options
In this article, I will be reviewing the best sling backpacks for travel after which you will have a very idea of whether it is a good idea to get one for you.
Since this is a slightly longer review you can use the content guideline below for an easy reading experience:
Best Sling Backpacks Review
Best Sling Backpacks Overview:
Things to look for in a Good Sling Backpack:
Final thought on the Sling Backpacks
Best Sling Backpacks Overview
What are Sling Backpacks?
TL;DR: Sling bag backpacks are minimalist effortless low profile backpacks that work best to carry around everyday essentials and tech with the least amount of hassle.
A sling backpack is a triangular backpack with a single strap that goes across the front of the torso and is worn over one shoulder. The word "sling" suggest tossing the bag over the shoulder by one strap.
A good sling backpack has god padding on the strap that prevents the bag from slipping and is designed well to distribute the weight across all the shoulder and back.
Pro Tip: It's best to carry a sling bag across the chest as the cross effect pulls the bag strap towards the base of the neck instead of slipping off the shoulder.
Things to look for in a Good Sling Backpack:
Although a sling backpack is a small low-profile backpack it's important to get one that's good and below are some of the features to look for before getting you sling:
The Right Sized Sling
This will vary from one to the other and is dependent on how much you carry on a daily basis. I recommend making a list of all the essentials you really need as slings aren't big in size and can vary from 0 to 10-liters in capacity.
Functional Body
I recommend choosing a design on the purpose you need the bag for whether it's to carry cameras or just bare essentials. There are many specialized slings for instance traditional heritage and others with apertures for headphone jacks it depends on what you need the sling for.
Strong Material
It's best to get a sling that's strong and durable preferably made of cotton, silk or wool for good comfort.
Pro Tip: It's best to get a waterproof sling if you're going to store tech.
Comfortable Straps:
There's only a single strap on a sling which is why it's best to go for a beefy (padded) strap that will be easy on the body.
Internal Organization:
Just because slings are small doesn't mean you should ignore internal organization moreover because its contents will be moving about more than that in a backpack.
A good sling bag backpack will have a good internal organization with smaller pockets on the outside and inside that work well to store all the bare essentials without having them floating about aimlessly.
Best Sling Backpack Reviews
In this section, I will review my top picks of Sling Bag backpacks for travel without any fluff by this I mean I'll keep things short and sweet without beating about the bush and getting too geeky with irrelevant technical specifications.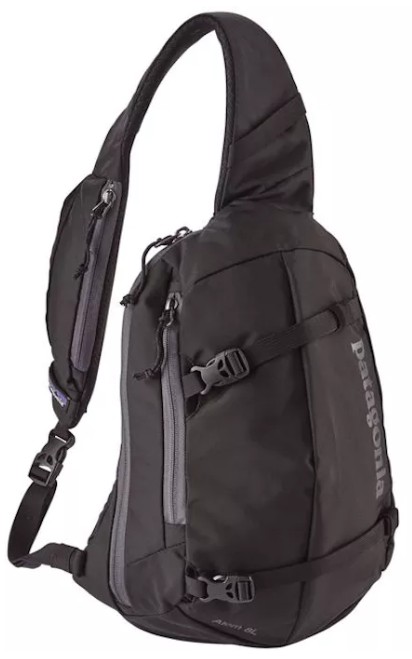 Technical Specifications
Weight: 10.1 ounces
Capacity: 8 liters
Best Use Case: Travel
Patagonia is a perfect sling for travel as it's simple, durable and has a capacity to hold just enough essentials for the day.
What I like
The convenient stretch-mesh pocket on the chest/shoulder strap is accommodating enough for most phone sizes and can be adjusted to fit quite easily. It also has adjustable compression straps that make it easy to load various sizes.
The material on this sling is made of durable water-repellent coating that keeps your stuff dry in the presence of light rain.
On the whole, I love the minimalist but functional design on this sling bag backpack as it works perfectly to make it easy to carry everyday essential around quite effortlessly especially whilst traveling.
What I Don't Like
Don't try stuffing this sling up as you'll experience off-balance and end up taking a majority of the weight especially if you don't have the back properly adjusted.
Moreover being at only 8 liters it may not be enough for some people however if you are a minimalist traveler this is going to be just perfect for you.
One of the best tactical sling bags out there that's built for heavy outdoor use. If you like durability you will love the Tactical Rush 10 sling as it's pretty much the most durable sling bag right now.
Technical Specifications
Capacity: 18L
Best Use Case:  Adventurous Travel (hiking, cycling tactical etc)
What I like
I love the strong and rugged construction on this sling It's made of strong rugged nylon materials that can withstand extreme use especially whilst doing adventurous stuff.
What I Don't Like
Since the sling is more durable than normal it can be a little bulky especially when the bag is overloaded. The shoulder strap isn't very rugged and has been reported to tear down at times.
A versatile sling backpack that's comfortable, light a spacious for hiking, travel and even sport like cycling.
Technical Specifications
Capacity: 12L
Best Use Case: Adventurous Travelers
What I like
One of the things I like the most is this the how versatile this sling is, for instance, it can be folded up and packed away into its own zippered pocket so you can keep it inside your main backpack whilst traveling and use it as a daypack when you settle down.
It also features an exterior shoulder strap where you can keep your smartphone, water bottle pocket and an anti-theft pocket for important stuff like a passport.
The internal organization at 12 liters is good enough for day travel and conveniently small so as to not be a burden on your back.
On the whole, I think the Outdoormaster packable is a great well-balanced sling backpack for travelers.
What I Don't Like
There's nothing particle that I don't like but I feel the material could be a little bit more rugged and durable.
Technical Specifications
Weight: 11oz
Capacity: 6 liters
Best Use Case: Travel (females, Safety conscious)
The Pacsafe style safe is a compact sling backpack that's slightly smaller than the Patagonia sling but holds the same capacity. It is pretty versatile and can be worn as a sling or a backpack and has anti-theft features making it a secure option for safety-conscious travelers.
What I like
This sling is perfect if you are a more safety conscious traveler who likes to keep an eye on their stuff.
What's different about this sling is the attention towards anti-theft features, for instance, it is embedded with N lock security hooks that allow you to attach the bag to a secure fixture to avoid people snatching your stuff.
Even the zippers are designed to prevent pickpocket as they are attached to discreet hooks for a more secure fixture.
The sling even has a hidden pocket on the backside of the bag to keep most of the important small items close to your body and also has an RFID-blocking material to prevent electronic identity theft.
What I Don't Like
Firstly this sling is slightly more expensive than other options however for the safety features unique only to this backpack it's worth the price.
Although this sling is pretty secure don't expect to pack a lot as it's quite small. You will have trouble trying to fit anything more than just bare essentials inside it. However, if you're going to as a daypack you won't really need to pack a ton in the first place which is fine.
Technical Specifications
Weight: 3 lbs
Capacity: 9 Liters
Best Use Case: Tactical, Hiking
What I like
This one is a little different from the conventional sling as it's meant to be used as a concealed carry sling and also to stash a gun. So this isn't something for everyone it's for those that want a more tactical sling pack.
The capacity on this sling is bigger than most slings it's large storage compartments are big enough to pack snacks, water, light layered stuff, and other essentials. It also has two external compartments that make it easy to access stuff like snacks.
Lastly, you have plenty of options to choose from just in case you don't want to go for the original camouflage sling.
What I Don't Like
This sling is more tactical hence bulkier than the standard sling backpack. For a 9-liter sling it's definitely heavier than it should but then again it isn't exactly a standard everyday sling.
The Timbuk2 is a big 21-liter sling pack meant to be used to carry tech and most essentials you'll ever need for a day hike or commute.
Technical Specifications
Weight: 1 lb / 15.4oz
Capacity: 21 Liters
Best Use Case: Travelers with Tech, Work
What I like
Like I've mentioned internal organization is important especially in sling backpacks because of how they're worn across the body and The Timbuk2 classic messenger has a great internal organization. In fact, this is one of the biggest features on this sling making it extremely easy to distribute the weight of your carry across your body.
Lastly, the adjustable shoulder straps come with air-mesh strap pads making it super comfortable for most purposes.
What I Don't Like
Since the sling has a capacity of 21 liters It can tend to get a little bulky. The closure straps are too long and tend to rub against your legs resulting in chaffing. (annoying)
Also, the laptop compartment could do with some extra padding especially because sling bag backpacks are more vulnerable.
A good low profile backpack to carry along to a music festival or party. The design is simple, practical and also looks pretty.
Technical Specifications
Weight: 12oz
Capacity: 6-8 L
What I like
The Kavu Rope sling is a perfect sling pack to take to casual events like a music festival. It's simple but well organized with 2 zip compartments and two small velcro stash pockets.
Washing isn't a problem as it's made of cotton canvas that is naturally resistant to dust, grit and stale beer droplets.
What I Don't Like
Wearing this sling isn't very practical as it's intended to be worn on the right shoulder only so takes some time to get used to especially if you are right-handed.
This sling is perfect for those that carry a lot of gear (think cameras) as it's specially made for holding gear and more importantly securely.
Technical Specifications
Weight: 3.2lbs
Best Use Case: Travelers with lots of gear
What I like
Most slings aren't big enough to carry bulky gear like a lens, DSLR cameras etc however with the Think Tank sling the compartments are very spacious and have beefy padding embedded in them for extra protection.
The internal organization is big enough to carry essentials and gear and also has a rain cover and silenceable velcro that's always nice to have especially whilst carrying around all that gear.
What I Don't Like
I like how the Think Tank Retrospective 30 is big enough to fit gear and essentials comfortably however as expected to carry all that will definitely be tasking on the shoulders.
Also at almost $200 this is definitely the most expensive sling on the list but is also the only sling that is capable of holding expensive gear comfortably which is definitely upwards of a thousand dollars.
Final Thoughts on Sling Backpacks
Now that you know what to look for before picking a good sling for travel you should be able to make a more informed decision.
On the whole, I think sling bag backpacks are great travel companions they are compact, minimalist and nifty little backpacks that make sense for practical everyday use.
However, if you're still having doubts regarding which sling pack is good below are my recommendations:
Thank you for reading through the end if you have any queries do leave a comment below.
Read Next: 

Tortuga Setout Backpack Review