TLDR: If you're in a hurry the Camtasia is the Best Screen Recording Software according to Reddit in 2023!
If a picture's worth a thousand words, a video is worth a million – especially if you're an online content creator in 2023!
With the meteoric rise in popularity of YouTube, Vimeo, Udemy, and other content sharing platforms over the past decade, the use of screen recorders has seen a parallel rise in popularity. This has been primarily because ofhow easy they make demonstrating ideas and concepts instead of just talking about them in theory.
Even if you aren't an online content creator, as a teacher or a coach or anyone looking to demonstrate or teach anything done on a computer, a good screen casting software will make your job a lot easier by letting you capture a video that can be replayed by anyone who finds learning visually easier.
How to Choose the Best Screencast Software?
A quick google search for 'best screencast software' will return over 17,50,000 web results and over 15 recommended screencast software by Google.
With so many options on offer, finding the right one can be downright frustrating if not demotivating.
Which is why, to make it easier, I've gone ahead and done all the hard work for you!
In this article, I'll give you a quick rundown of each software and address the following key points for each option that'll help you decide if it's the right choice for you –
Ease of Use – If it isn't easy to use, it's not worth messing with – even if it's free!
Editing & Enhancing Capabilities – A good screencast software MUST have good Video EditingAND Video Enhancing capabilities to even be considered on this list.
OS compatibility – Having Multi-OS compatibility is a huge plus point. When you're part of a team, there's bound to be users with certain preferences.
Pricing – While Free is great for casual use, if you're serious about creating quality content, you're looking to pay for access to the good stuff. A good screencast software should justify its pricing with features that are worth the costs.
With that out of the way, let's look at some of the best screencast software out there today.
Best Screen Recording Software Reddit
1. Camtasia – Best All-In-One Screencast Software According To Reddit
What Reddit Has To Say About Camtasia:
u/Ok_Proof8281 – Relevance isn't the issue. It is preference and context. I make screen recording tutorials and Camtasia is perfect for recording, editing and publishing that kind of content. I've made back the licensing fee 10 times over since the initial spend, so for me its worth it.
If you're making movies, then CS might not be what you need.
Do your research and see the alternatives and which has the most for the best value based on what you need.
u/sirjamtrousers – Why is Camtasia so underrated? Seriously I fricken love using Camtasia. Ever since I started using it The whole process has been streamlined for me. Now I can edit my audio tracks, video, and render all in one
Originally launched in 2002 as 'Camtasia Studio', Camtasia has grown and evolved with the market making it a fantastic choice for both Windows and Mac users that want to create professional looking videos.
Camtasia is without a doubt the best Screencast Software in the market today because it goes beyond being just a screen recorder and also doubles as a full-fledged Video Editor.
It addresses the basic requirements of a screen recorder with recording options that let you record either a partof the screen or the entire screen, record from the webcam, and even combine both to add a more personal touch to your content.
What's great is, it records each stream separately so you can choose to edit each one individually and combine them however you like it when you're creating your final video.
Moving beyond the basics, it comes with editing features that not only let you trim, split and merge videos but also lets you use multi-track advanced video editing features that allow you to stack multiple images and videos in a single screen to create a multidimensional video.
Where Camtasia really shines is in its video enhancing abilities with features like pre-made video templates, in-built effects, and transitions, music tracks, etc. It also makes it easy to add eye catching annotations, zoom, pan,and tilt your video recordings, and even lets you use a green screen while recording to replace the background in your videos.
Camtasia also makes it easy to add Quizzes directly into the videos, so your content is more active, engaging,and interactive, helping you enhance the learning experience for your users.
When it comes to Audio editing capabilities, Camtasia does an equally good job with features that allow you tomodify audio track speed, toggle compression, and features that let you remove background noise from your audio.
Once you're done editing your videos, you can easily export it into formats like MP4, EVI, GIF, and store them locally or on the cloud as well.
With so much functionality on offer, you would expect a steeper learning curve, however, Camtasia does a great job making it super easy for you to get started using the software.
For anyone looking to get started, they offer a Free Trial Version of the software so you can get familiar with it before you decide to pay for their Premium plan starting at $249 for a Lifetime Single User License for up to 2 devices.
While it isn't the cheapest on the list, it's definitely the best screencast software in terms of features and functionality and if your needs go beyond its basic 2 device option, Camtasia also offers bulk discounts for all organization sizes.
I highly recommend trying Camtasia before opting for any other options, you'll be sure to find that nothing matches up to it.
Key Takeaways –
Ease of Use – Super Easy to Use
Editing & Enhancing Capabilities – Advanced
OS compatibility – Windows and Mac
Pricing – $249 for a Lifetime Single User License for up to 2 devices
2. ScreenFlow – Best Mac Only Software Screencasting Software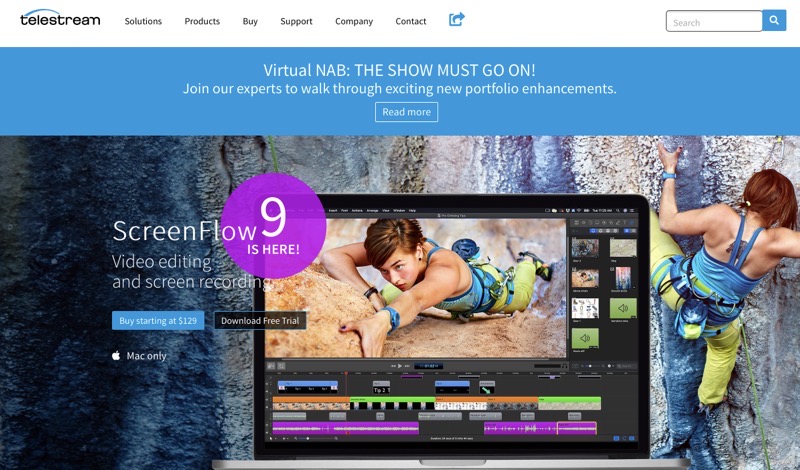 What Reddit Has To Say About Screenflow:
u/avguru1Technologist – I love ScreenFlow. It's great to do screen captures and voice-overs without needing a full editor, Like Resolve. The prebuilt effects/transitions, plus smooth zoom in and outs are fantastic.
u/cellarmonkey – Screenflow is awesome. I've edited countless screen-based tutorials with it. I also sometimes do partial edits in screenflow, export a ProRes file, and then work it into live action footage in Premiere. It's a great program if you play it to its strengths and don't expect too much from it (like a full NLE). And yes you can edit with the free version all you want. One you activate a license, it will allow you to export without the watermark in any screenflow project file.
An upgrade will remove the watermark on subsequent exports.
Restricted to MacOS users, ScreenFlow is another powerful yet easy to use software for creating video content.
Although its lack of Windows compatibility is a major restriction for many, ScreenFlow makes up for it with premium functionality at a comparatively reasonable price point.
ScreenFlow addresses the basics quite well with core functionality offerings like screen + webcam recording and the ability to record audio for system and microphone separately.
Similar to Camtasia, it gives you access to a variety of special effects, annotation options, transitions, zoom/pan/tilt functionality, etc. However, compared to Camtasia, Screenflow's extent of functionality is a bit limited as it falls short when you're looking at the sheer number of options both provide.
Another functionality not offered by Screenflow is the ability to create and add quizzes and hotspots inside videos which can be quite useful when it comes to improving engagement and learning retention.
ScreenFlow does get the upper hand when you look at Stock Media Options with its massive 500,000+ library of images, videos, and audio clips. However, it comes at an additional price that needs to be paid for separately.
ScreenFlow lets you export content in multiple formats like MP4, ProRes, GIF, etc and even allows you to directly publish to popular Video Hosting platforms like YouTube, Vimeo, etc.
Pricing starts at a reasonable $129 for the basic software and $175 for software with access to it's Stock Media Library. Its free trial demo lets you use its entire functionality but exports content that's watermarked and isn't the best option if you're planning to use it commercially.
All in all, if you're a MacOS loyalist with basic or intermediate requirements, ScreenFlow just might be the right choice for you, but if your needs go beyond the basics and you need multi-platform compatibility, Camtasia is still a better alternative.
Key Takeaways –
Ease of Use – Easy to Use
Editing & Enhancing Capabilities – Intermediate to Advanced
OS compatibility – Mac Only
Pricing – $129 for basic software
3. Screencast-O-Matic – Online Screen Recorder
Click Here To Get Screencast-O-Matic
Screencast-O-Matic is an online screen recorder and screencasting software that makes it super easy for beginners looking for bare minimum functionality to record, edit, and share screencasts with others.
Creating videos with Screencast-O-Matic is extremely easy and the entire process is completely intuitive withits core functionality providing the ability to record screen and webcam feed separately while also allowing you to record audio simultaneously.
Screencast-O-Matic doesn't come close to the functionality offered by Camtasia and ScreenFlow, however, it does offer basic Video editing and enhancement features like splitting/trimming videos, adding design elements and basic effects and transitions.
Now while Screencast-O-Matic doesn't hit the mark for functionality, it takes the crown for ease of use by a huge margin. The learning curve is non-existent as the product was designed to make it easy for students and teachers to use and does a great job at it.
Perfect for cash-strapped users, Screencast-O-Matic offers a free option that provides bare minimum features for an already basic screencasting software.
Pricing starts from as low as $1.65 per month (billed annually) for their Deluxe plan, which is perfect for those who want only basic screen recording and editing functionality.
For anybody looking for a smidge more, they have a Premier plan that costs $4 per month (billed annually) that offers all features from the Deluxe plan plus access to the New Stock Library along with Hosting and Backup features.
A simple and easy to use option, Screencast-O-Matic is perfect if you're looking for basic video recording and editing abilities.
But if you're looking to create professional quality content that helps you generate income, I'd recommend you look at either Camtasia or ScreenFlow instead.
Key Takeaways –
Ease of Use – Super easy to use
Editing & Enhancing Capabilities – Intermediate
OS compatibility – Windows, Mac, and iOS
Pricing –$1.65 per month for Deluxe Plan and $4 per month for Premier (Both Billed Yearly)
4. Screencastify – Popular Screen Capture For Chrome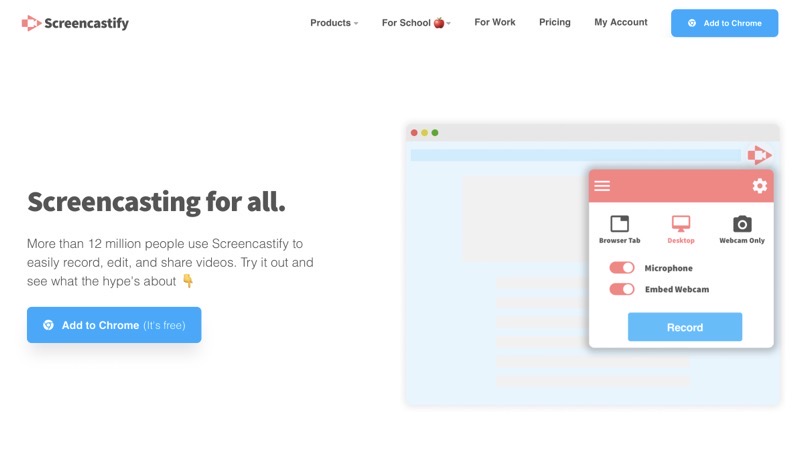 Click Here To Get Screencastify
What Reddit Has To Say About Screencastify:
Screencastify is a godsend!!!
I just found out about this computer application through our district's technology specialist. I just made my first screencast video with audio (showing where to go in google Classroom, explaining assignments for all kids who need that extra help, etc.) and I think it's going to help relieve the stress some students and parents have navigating all of the new technological things. Plus, it gives you the option to show your face to your students so they can see you while you teach your way through the assignment!
You all should check Screencastify out especially if your kids have to navigate through several screens/processes for their work.
u/tacopirate2589 – I've been using this for all of my video lessons! I upgraded to the premium subscription and it's absolutely worth it. For those that aren't using it yet, I recommend uploading your videos to YouTube first THEN to Google Classroom. The majority of my students had issues viewing the video when I posted it straight to classroom.
Screencastify isn't a full featured software, it's a Chrome extension that lets you record and capture activities on your screen with the option to record or insert video using your webcam.
If you're looking for a simple extension that'll integrate with your browser and let you quickly record on-screen activities, Screencastify is perfect for you. However, if you're looking for anything beyond basic video editing or want video enhancement features like special effects and transitions, Screencastify won't come close to meeting your requirements.
To its credit, Screencastify does get the basics right and lets you use every feature it offers with complete ease.Even when recording, it lets you use tools to write/draw/erase, record time, and even spotlight any section of your screen.
Although it lets you play audio in a tab while recording, it doesn't do the best job of recording said audio, and users have reported the sound as being difficult to hear.
With Screencastify, you can export all videos you create in Full HD and as MP3, MP4, GIFs to Google Drive,and even YouTube directly.
Screencastify offers a Free option that allows you to record up to 5 minutes per video that includes a watermark, not bad for something that's free but not something you should aim to use if you're looking to create content professionally.
Its paid option starts at $49 per year and gives you unlimited video recordings with access to full functionality including Priority Support if you come across a hurdle while using it. They also offer special pricing to Teachers, Students, and Staff from Educational institutions at $29 per year per person and custom pricing for entire institutions that are looking to sign up with them.
Screencastify isn't something I'd recommend for full fledged content creators, but if you're a teacher or a student after a simple tool, this will work perfectly for you.
Key Takeaways –
Ease of Use – Easy to Use
Editing & Enhancing Capabilities – Intermediate
OS compatibility – Chrome extension on both Windows and Mac.
Pricing – Starting $49 per person per year
5. OBS Studio – Open Source Screen Capture Software
Open Broadcaster Software Studio or OBS Studio is an easy to use fully open source software that lets you capture, edit, and stream video in real time.
Being Open Source, OBS Studio is quite popular with online content creators that are looking to create simple videos such as tutorials and developers who need to create instructional videos for using their software/apps.
OBS studio gives you high performance audio and video mixing, unlimited scenes to switch between using custom transitions, audio mixer with noise suppression, and gain control as well as a modular 'Dock' UI that you can rearrange as per your liking.
Where it falls short is its inability to provide any significant editing or video enhancement abilities.
While you could expect a lot more of OBS, considering that it's 100% free and open source, the basicfunctionality it offers is good value.
Now is it the best screencast software out there? Not by a long shot.
But if you're looking for a quick and easy solution for simple tasks like a company webinar or a quick tutorial, it just might work for you.
Key Takeaways –
Ease of Use – Moderately Easy to Use
Editing & Enhancing Capabilities – Basic
OS compatibility – Windows, Mac, and Linux
Pricing – Free and Open Source
6. Apowersoft Screen Recorder – Web Based Screen Recorder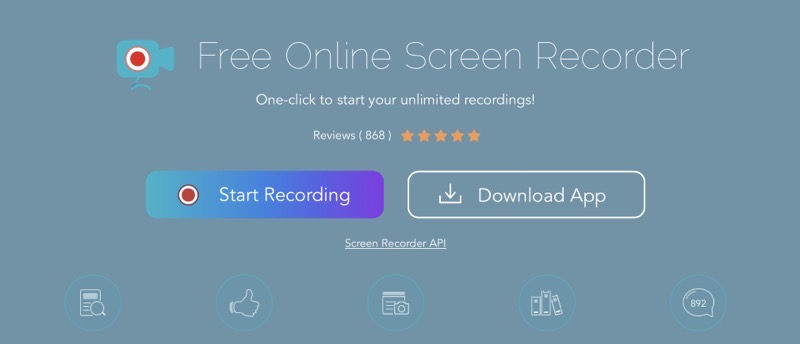 Another Freemium option, Apowersoft Screen Recorder is a great multi-platform screen recorder that takes just a couple minutes to set up from scratch.
Just log on to their website, download the launcher and start using their free version straightaway.
It offers basic functionality of flexible screen recording, webcam video insertion, capturing audio and video separately, and real-time editing of the screencast.
Apowersoft isn't a standalone software and comes individually packaged as separate apps offering individual functionalities. The easiest way to access all apps is to purchase their Apowersoft Unlimited Premium plan that gives you access to all apps for a reasonable $59.95 per year.
Their Free version only gives you access to screen recording and basic editing functionality, however, it doesn'tinsert any watermarks and allows unlimited video creation even in its free version.
Overall a great option for anyone looking for a free software, but not the best paid option out there.
Key Takeaways –
Ease of Use – Moderate
Editing & Enhancing Capabilities – Basic
OS compatibility – Windows, Mac with Screen capture on Android and iOS
Pricing – $59.95 per year
7. Icecream Screen Recorder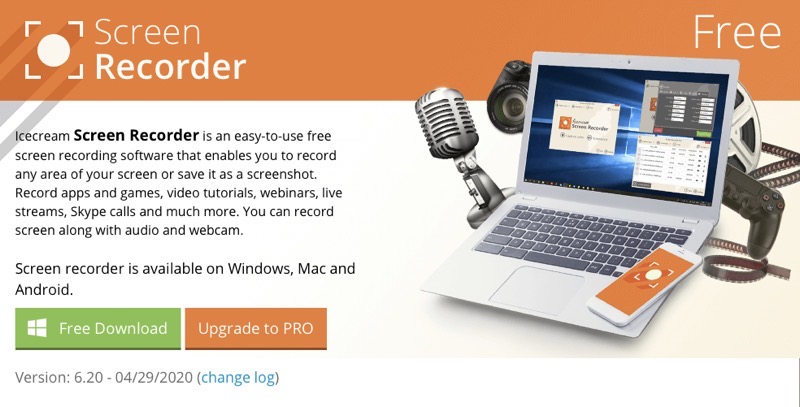 Click Here To Get Icecream Screen Recorder
Icecream Screen Recorder is the last one on our list of best screencast software. A freemium option that's easy to use, Icecream Screen Recorder lets you record selected areas on a screen or entire screens with audio and webcam support.
Addressing key feature requirements of a good screencast software, it lets you record selective parts of a screen, entire screens, record webcams and webinars and gives you useful video editing functions like mouse effects, hotkeys, speed control, scheduling and more.
For video enhancements, it only allows basic effects and transitions and offers minimal functionality with a simple toolbar that lets you add basic shapes and text on the screen.
Coming to its pricing, the free option only lets you record videos of up to 5 minutes of recording time that can be exported in a WEBM format only. However, their paid option is a reasonable $29.95 for a lifetime license which gives you access to multiple formats, codecs, and the works.
Now, while it makes its way onto our best screencasting software list, it definitely doesn't address the key requirements of video enhancement that are a must for creating quality content.
If you're after a simple tool that's cost effective, Icecream Screen Recorder should hit the mark for you.
Key Takeaways –
1. Ease of Use – Easy to use.
2. Editing & Enhancing Capabilities – Basic.
3. OS compatibility – Windows, Mac, Android.
4. Pricing – $29.95 for a lifetime license
Best Screencast Software Reddit Verdict
If you're wondering why I haven't listed the likes of Final Cut Pro or Adobe Premiere, it's because those applications are best reserved for extremely advanced users because they have a steeper learning curve that is ideal for professional videographers and editors.
For online content creators looking to create content for platforms like YouTube, Vimeo, Udemy, etc, this list of the Best Screencast Softwares easily covers all bases and addresses every key requirement.
Dominating the list with a power packed feature list and comprehensive functionality, Camtasia is my top choice for anyone looking for quality, reliable screencast software. With a lifetime paid license and multi OS compatibility, Camtasia easily justifies its cost with its range of advanced video editing and enhancing features.
They offer a 30-Day Money Back policy for new purchases which means if you're uncertain, you can buy its premium version and use it in all its glory without worrying about being stuck with a software you don't like.
I'm fairly certain once you've tried it, no free or paid screencast software will come close to the ease of use and functionality it provides and you're sure to be hooked to Camtasia.
Read Next: