Action cameras are great! They can be used for a whole multitude of things and the one company that seems to be dominating this market is GoPro. They make some of the most popular action cameras available today, the GoPro Hero 7 Black is the latest on the market currently.
There's only one issue getting a GoPro doesn't come cheap! It will set you back half a thousand dollar which for many is a lot of money for a camera they'll probably end up losing.
So what does one who can't afford a GoPro do? That's simple; get a GoPro alternative! There are still other alternatives or knock-offs to the GoPro that are just as good!
The best part? You can get them at a fraction of a cost! If you're simply looking for something to just bring along on a trip that will do its job then you need to consider getting a GoPro alternative.
Best GoPro Alternative Reddit 2023
1. AKASO V50 PRO Native – Best GoPro Alternative according to Reddit 2023
If you are serious about finding a good cheap GoPro alternative then look no further than the Akaso V50 Pro action camera. In the past few years, Akaso has made a massive name in the action camera space as a GoPro competitor by providing great alternatives to the GoPro cameras at a fraction of a cost.
Akaso is taking things to the next level in 2023 with the Akaso V50 Pro Native! Not only does the camera look amazing but it comes included with all the accessories (like spare batteries, multiple mounts, a waterproof case and even a remote control all for FREE) you will need for all the incredible shots you plan on taking with your Akaso V50 Pro!
Great Features include built in WIFI so it makes it so much easier to share your pictures on your Instagram!
Also optical Angle View that lets you adjust the view angle of this action camera according to your needs between Super Wide, Wide, Medium and Narrow. This action camera also has the LDC image correction feature, which offers image distortion improvements.
What Reddit Thinks about this GoPro Alternative:
u/RC_Squirrel – I just used my v50 elite in Fiji. It held up well but the video needs a lot of color correction. The built in dive setting did ok but orange bleeds out badly. I'll see if I can post some short clips of the raw video so you can see for yourself

u/flowrider1969 – I have the V50 Elite and it's been good. My only complaint is that the low light is not great since I film a lot in the forest mountain biking
Akaso V50 Pro Native Review
The video on the Akaso V50 Pro is absolutely amazing featuring video of 4K at 30 frames per second. It can record fast-moving action shots with clear and crisp quality thanks to the built-in EIS (ELECTRONIC IMAGE STABILIZATION) with a 6-axis gyroscope making the Akaso v50 Pro the best GoPro Alternative in 2023!
Pros
4K Video
Slow motion
Image Stabilisation
Wide angle lens
Free waterproof case
Red light built
Great price
Akaso V50 Pro vs GoPro Hero 6 vs Yi 4k
So how does the Akaso V50 Pro fare against the GoPro Hero 7? Well, consider that it's nearly 1/4th of the price of the GoPro Hero 6 Black, the Akaso V50 holds up amazing against the Hero 7!
It also has features that you like the red light filter built in which is still unheard of on any GoPro Camera!
One of the weak points of the camera is it's a little weak compared to the GoPro Hero 7 Black in shooting in low light. But considering the price in the sub-100 dollars, I find that's fare for the Akaso v50 Pro.
2. Garmin VIRB Ultra 30 – Best Premium GoPro Alternative For Action Sports 2023
The Garmin Virb Ultra 30 is the flagship action camera by Garmin which is a very strong competitor to the GoPro.  Like the VIRB XE, it uses a GoPro-like form factor. The Garmin VIRB Ultra 30 is an upgrade over the previous generation with some distinct upgrades G-Metrix features that gave Garmin's action cameras something unique compared to the competition.
What Reddit Thinks about this GoPro Alternative:
u/BF1shY – I got it recently, battery suits my needs. I record at 4K 30FPS with GPS Gmetrix on and it records my 1hr+ commute to work no problem. I think you can get 2-2.5hr on 4K with gmetrix no prob
Garmin VIRB Ultra 30 Review
Pros
4K video
ANT+
Voice control
High FPS
Cons
No image stabilisation in 4k
Expensive
Waterproofing:

The action camera comes with a waterproof case that will keep it dry to a depth of 40m, as it uses a double-locking mechanism. It does not have a waterproof rating. There is no IP ratings quoted, but 40m is good enough depth unless you are diving with it. It even comes with anti-fog features to prevent any condensation on the inside. How cool is that?

Battery life: The battery life varies as per the use of the device. The battery life will vary whether the action camera is shooting in FULL HD or 4k video. The VIRB Ultra 30 it will last about 2 hrs and 15 minutes when shooting in FULL HD which is a little longer than the XE. This is a shorter time compared to the original 3 Hours of the original VIRB. The duration drops by an hour in 4k. The battery is removable which means you can carry extra battery packs for commercial shoots that will last longer or simply for an extra bit of juice.

The Device:

Although the Ultra 30 may seem bulky at first this is because of the huge waterproofing casing it comes with. Outside of its housing the VIRB Ultra 30 is actually pretty tiny. There are ports for micro-HDMI and micro-USB and an extra trio of contacts on the bottom for unreleased accessories. The microphone connects through a port that then connects to the outer casing providing better audio when inside waterproof housings.

Functionality:

Although the

Ultra

30 is a touchscreen it has inbuilt voice activation. Simply say the command "OK Garmin" and later tell the device to "Take a picture", "Start recording", "Stop recording" or "Remember that" (to mark highlights) and it will do that conveniently for you.

Shooting Quality:

The devices come with 12-megapixel resolution and a sizeable 1/2.3-inch sensor. you can

shoot in 4K

with a Garmin action camera

comes with a significant increase in enhancement which results in

30 frames per sec.
You can also shoot at 2.7K video quality at 60 frames/sec, 1080p at 120 frames/sec, 720p at 240 frames/sec, and 480p at 300 frames/sec. This matches the GoPro Hero 5 in quality!
Garmin VIRB Ultra 30 vs GoPro
The Garmin VIRB Ultra 30 is definitely an accomplished action camera with features that almost rival the GoPro. However the GoPro is going to be pretty hard to knock off its pedestal of best action cameras, but the Ultra 30 has all the most key features that the GoPro Hero 5 Black has to offer and for a similar price tag, alongside a wealth of sensor connectivity capabilities that the latter doesn't offer.
Garmin now has one of the best action cameras on the market in the shape of the VIRB Ultra 30, particularly for extreme sports thanks to all of the extra telemetry data. The VIRB Ultra 30 makes for a solid alternative to the GoPro Hero 5 Black. The VIRB Ultra 30 is the best action camera from Garmin so far, adding great 4k and plenty of high-speed options and a whole multitude of bonus sports features.
3. Sony FDR-X3000/R – Best GoPro Alternative With Image Stabilisation
If having shake-free footage is your number 1 concern than the Sony FDR-X3000 might just be the camera for you! It combines brilliant 4K resolution with Balanced Optical SteadyShot image stabilization for advanced camera-shake compensation!
What Reddit Thinks about this GoPro Alternative:
u/PabloW92 – i just bought one about a month ago and I'm very happy with it. It is not perfect though, but it's the only small camera with mechanical stabilization and the inhouse microphone beats the shit out of any gopro or dji osmo or whatever is in the market right now. i dont need to shoot 4k so 120fps 100mbps 1080p works for me
Sony FDRX3000 Review
The biggest selling point of the Sony FDRX3000 is the best in class image stabilization, unlike all the other cameras in this list and even the GoPro Cameras the Sony FDRX3000 doesn't come with digital image stabilization instead it uses a Balanced Optical SteadyShot Professional 4K with ZEISS lens and Exmor R CMOS sensor camera control
Balanced Optical SteadyShot is significantly more effective at cutting the effects of camera shake internally, the camera's lens and sensor are joined and moved together controlling the entire optical path as one floating unit! Thanks to which you get shake free 4k Clear Videos!
The FDR-X3000 is splashproof and freezeproof. With the supplied Waterproof Housing it's dustproof, shockproof and waterproof to 197ft / 60m. Other great features include High-Quality stereo sound with wind noise reduction!
Pros
Best Image Stabilisation
Optical Steady shot
4k video
Great Sony lens
Cons
Expensive
Low battery life
bulky
Sony FDRX3000 vs GoPro Hero
The Sony FDRX3000 is significantly more expensive than any other camera on this list! At nearly $400 it's a tough sell to anyone, however, if shake-free video is a huge concern then maybe this might be the camera for you!
The Sony FDRX3000 isn't really a "Cheap GoPro Alternative" it's more of a professional grade GoPro!
Image quality:   The images from this device are Ultra-sharp and colorful 4K in bright conditions with Full HD at 60mbps which does not fail to impress.
8.2 megapixels with Balanced Optical Steady Shot (B.O.SS) image stabilization, which works across all resolutions and recording modes. Action cameras rarely allow you to get close-ups but the FDR-X3000R is equipped with a 3x zoom which makes it possible to get closer than a regular action camera. However, getting to focus is tricky as there is no auto-focus feature.
Some of the other shooting functions include loop recording, burst shooting for stills, 4K Timelapse capture, high-speed recording in Full HD for slow-motion action though that does require some work post-editing, and also the ability to do live streaming via Ustream.
Suppose you've pointed your phone at the device. You can use the devices own NFC and Wi-Fi Direct network to gain connectivity so you've got a fast, easy-to-use and full featured control hub – which is more than can be said about the unreliable live view using the remote. However, do remember to turn off Wi-Fi on the FDR-X3000R when you're not using it, because it will drain the juice out of the battery fairly fast. Ditto the collection of GPS data; its presence on an action cam seems overkill.
You can use the app as it is possible to transfer photos in full resolution as well as in sharing-friendly two-megapixel or even basic VGA sizes of 640×480. You can place gridlines on real-time previews from the camera and also delve into everything from a PAL/NTSC toggle view, and even activate or cease all the lamp operation. That app is also by far the fastest way to be able to switch between Image formats and qualities.
4. Yi 4K+ Action Camera – Decent GoPro 4K Alternative
The YI 4K+ is one of the world's first action camera that records video at 4K/60fps. It also comes with Electronic Image stabilization at 4k/30fps so you are guaranteed smooth footage without the need for high-end stabilizers or post-production editing.
What Reddit Thinks about this GoPro Alternative:
u/Fearwater5 – I have this camera and I am VERY happy with it. So far I have taken it out on a drone a couple times for footage and I couldn't be more pleased with the result. If anyone is interested in the footage let me know and I'll see what I can do.
YI 4k+ Review
YI 4K+ is one of the most advanced action camera available today, with amazing features including Live Streaming, Voice Control, RAW image capture, EIS (4K/30fps) and the ability to shoot in 4K/60fps makes YI 4K+ one of the best action camera, ever.
The accompanying app for the Yi 4k+ makes using this action camera an incredibly easy task! However, one major downside I find with the YI 4k+ is the lack of built-in waterproofing which is present on the GoPro Hero 5 Black which is almost priced at the same point!
Yi 4k+ vs GoPro Hero 6 vs Akaso V50 Pro
It's a little pricey compared to the other GoPro Alternatives in this list however for the featured offered it's kinda price is understandable. The video on the YI 4k+ is comparable to the GoPro Hero 6 as can be seen from the video review of the YI 4k+ below
I would only recommend the Yi 4k+ for someone who wants to grab footage for a semi-successful youtube channel. A hobbyist is better off buying the Akaso Pro V50 Pro for half the price of the YI 4k+
Pros
4K 60 FPS
Great colour quality
Cons
Bad audio quality
Needs waterproof case
No GPS
Basically, if you know GoPro, you know what the Yi 4K+ is all about. It's a pocket-friendly action camera that records up to 60fps in 4K resolution, up to 120fps in 1080p and up to 240fps at 720p, making it the world's first 4K 60fps action camera, although it's now been joined by the recently announced GoPro Hero6 in that respect. 
5. Yi 4K Action Camera – Decent 4K GoPro Alternative 2023
Xiaomi's Yi camera raised a few eyebrows when it was announced, the new YI 4k Action Camera is an amazing upgrade that solved all the issues of the previous generation. The original YI camera was rated the best value your money in 2016 and Xiaomi has just improved on that in this edition making it a great GoPro Alternative for half the price! Having been a Xiaomi user in the past, I am always impressed by their products and this one is no different, a few of my close friends use this camera.
What Reddit Thinks about this GoPro Alternative:
u/i_Am_susej – If I was in the market for a new gopro I'd be buying this 100%
YI 4k Action Camera Review
The YI 4k Action Camera has a 12MP Sony IMX337 Sensor with a 155-degree wide angle lens that can record video in 4K at 30fps and 720p at up to 240fps. It has a 330ppi high-resolution display on the back with a high sensitivity retina touchscreen for an intuitive experience.  The screen is also protected by Gorilla Glass which really helps to resist scratches and daily impact.
The battery is also amazing, it has the world's leading rechargeable 1400mAh high-voltage 4.4V lithium-ion battery that can record up to 2 hours worth of 4K/30fps video on a single charge. With Built-in Electronic Image Stabilization (EIS) and Lens Distortion Correction (LDC) the YI 4K action camera is a steal at its price, the only negative would be that the camera needs an additional case to be waterproof.
Other features include WiFi (dual-band), low energy Bluetooth, microSD support and YI Action App for instant photo and video editing.
YI 4k vs GoPro Hero 5 Black vs Akaso V50 Pro
If you are looking for an alternative to the older GoPro Hero 5 Black, the YI 4k is a pretty great cheap camera. It is an older model from Xiaomi so you can get it for a great bargain on Amazon.
Pros
4K 30 FPS
155 degree lens
Built in speaker
dual microphone
Easy to use
Cons
No included accessories
Waterproof housing sold separately
Yi 4K Action Camera is definitely one of the higher end action cameras. With an ability to shoot video in 4K resolution and some high-end features. The Yi is almost exactly like a GoPro it looks like a GoPro and event the font in the menu is suspiciously familiar.  It can also shoot at the same high speeds as the Hero4 Black. Also, the pattern of the beeps for starting and stopping recording is the same. So what is the difference then? The price! The Hero4 Black costs about around $500 whereas the Yi 4K costs around $250. But wait, there's more.
The Hero4 black does not have touch screen often whereas the Hero4 black has a touchscreen on it. The Yi 4K Action Camera has a touchscreen on the back and looks like the Hero4 Black. The catch is there is only one button on the Yi 4k which is used to start/stop recording. To change modes you have to go through the touchscreen.  
The Yi is also made of durable materials and is the same height and depth as the Hero4 it is slightly wider than its muse. The extra width is made possible to accommodate a slightly larger battery.
6. CAMPARK Action camera – Best 4K GoPro KnockOff 2023
No products found.
No products found.
No products found.
If you are really tight on your budget and just want a cheap GoPro alternative? Then the Campark Act74 is exactly the camera you are looking for. At less than $60 this camera is the best value for money for someone on a tight budget.
What Reddit Thinks about this GoPro Alternative:
I used to use a campark act74. It was fine quality wise but I hated the need to put in a fresh battery every 90 mins or so.
Campark Act74 Review
With the Campark Act74, you pretty much get what you pay for. It is a 4k Sports Action Camera that records video footage in 4K/30fps and takes photos at 16M, there's nothing great that can be said for the video footage but it isn't terrible either!
A few great features also include 2 Inch HD Screen, a WIFI Remote Control, Waterproof (with a case as well as dual long-lasting batteries which is great for a camera at this bargain
Campark Vs GoPro
The Campark Action Camera is best compared with the GoPro Hero edition which is currently about 4 times the price of the Campark. The GoPro Hero costs $200 but only takes video at 2k/60fps while the super budget Campark Act74 records video in 4k for about the same amount of money the majority of us might spend on coffee a week or maybe that's just me ;)!
For what it is ie A cheap GoPro Knockoff, the Campark does the job! Just don't expect too much and if you can spare a little more cash, you're still better off getting the Akaso Pro V50 or the Ek7000 which is reviewed below!
Pros
4K
Wifi remote
Included accessories
Waterproof
Super cheap
Cons
Bad battery life
Heating issues
This action camera comes in a good bundle includes waterproofing case and can be used to capture sports activities.
Video quality: It can shoot 4k resolutions at 25 frames per second.
Image Quality: It is equipped with a cool 170 Degree ultra-wide angle lens which is on par with GoPro Hero5 and the device can take photos up to 12 Megapixel. This is perfect for diving and those looking for depth footage like on mountains etc.
7. DBPOWER N6 4K Action Camera – Cheap 4k GoPro Alternative 2023
No products found.
No products found.
No products found.
Reason to Buy: You need something cheap to take with you scuba diving at depths reaching even 98 feet. It's a good action camera for boating, snowboarding, motorbiking or some other action event. The ultra-wide lens is a great view of products It is a very user-friendly device that can help anyone make professional looking footage regardless of their skill level.
Pros
Extremely Cheap
4K Video
Sony Image sensor
Wifi output
Cons
Bad battery
Long charging time
The Battery: The batteries which come with the action camera are of both 1050mAh lithium. You will get about 70 minutes of use time at 1080p which is less than most competitors. It usually takes about 3 hours to charge full which is kind of long for a small battery. Also, they do give you two batteries which make it better for you to use it for long periods as spares. The added battery doubles the use time. Charging it may also be a slight issue for you since you must also charge each battery separately. This means 6 hours of downtime charging time. It would be great to see a dual charger for this camera. Or even a charging dock. You will also have to charge each battery by plugging the cord into the camera which is very inconvenient as there is no way to charge the battery separately.
The verdict: For the price of $35 you really cannot go wrong with this product. It has some really interesting features like waterproofing up to 90 meters that can compete with some premium products. I think this is a really good option for those who are diving and don't want to risk taking a $500 GoPro with them in the ocean.
8. FITFORT 4K ACTION CAMERA – Budget GoPro Alternative 2023
No products found.
No products found.
No products found.
Reason to buy: Slightly cheaper at $50 you can get yourself a sweet 4k video action camera. Its specs may not be as impressive as the GoPro but the Fitfort still does a decent job at 25 fps at 1080p footage at 60fps. It is also not for sport but simply for those who want to capture their travel and don't plan on using for adventure sport.
Pros
4K Video
2 x 1050mAh
170-degree lens
Cons
No voice  control
No touchscreen
Limited space
25 FPS for 4K
The Fitfort is for those who are just simply looking to get something that works like an action camera but doesn't care or need high specifications. They just need something for leisure and don't plan on using the device as much. The Fitfort 4k will do everything an average action camera can do and does have some notable features but don't expect to do something extraordinary.
The Verdict: The Fitfort has some quality features but I feel like it lacks in other important areas like video recording in 4K. Maybe if this isn't something you need then definitely this is a good option to go for. For the price, you simply cannot go wrong.
9. Akaso Brave 5 – Great Budget 4K GoPro Knockoff 
In 2017 the Akaso Brave 4 was my go-to recommendation of the best GoPro Alternative in 2017, however, as the year came to an end Akaso released the new Akaso Brave 5 giving a massive and releasing a great camera at the $100 mark!
Akaso Brave 5 Review
With an incredible camera that takes the 4K/30fps, 2K/30fps and 1080P/60FPS video resolution and 20MP photos, the Akaso Brave 5 at the sub-100 price gives the new GoPros a run for their money.
Great features worth pointing is the built-in gyroscope for anti-shaking and image stabilization so that your video is much smoother and you aren't giving all your Instagram followers a migraine from watching your snorkeling videos, combined with the built-in waterproofing (without a case) the Akaso Brave 5 is a great camera to pick up if you spend a lot of time snorkeling or kayaking!
The Brave even comes with a touch screen display to put them on par with the new GoPro along with wireless connectivity so you can copy your pictures to your phone in an instant.
Pros
Waterproofing without case
Cheap
4K Video
Built in gyroscope
Akaso Brave 5 vs GoPro Hero 6 Black vs Akaso V50 Pro Native
So how does the Brave 5 compare with the Hero 6? Well, in all honesty, it's more like an alternative to the GoPro Hero 5 rather than the GoPro Hero 6.
If you aren't that worries about the lack of a mic port (which I'm sure most of you won't) you are fine getting the Brave 5, but if have a few more dollars and want a real alternative to the GoPro Hero 7, you're better off the with V50 Pro Native.
10. AKASO EK7000 – Popular GoPro Knockoff
With a rating of 4.5/5 stars on Amazon, the Akaso is favorite among many action sports athletes. Just a quick look at the box gives you 'GoPro' vibes as this is the greatest knockoff you can get for the GoPro. I mean just look at the box! But at less than 100$, at a quarter of the price of the latest GoPro, Akaso EK7000 is a huge bargain for its functionality!
Akaso EK7000 Review
With 4K ultra-HD video recording at 30fps and a 12MP Lens, Akaso is exceeding expectations with the EK7000 of what is possible in the > $100 market. It includes 2 batteries, each with a record time of 90 mins.
The camera comes equipped with Wifi and includes a wifi remote control, however it lacks Bluetooth and it does include a 2″ LCD display however it isn't touchscreen. The surprising part is that it comes with a bunch of accessories included in the box, from a waterproof case up to 100m underwater to Bike mounts and Tethers.
Akaso EK7000 vs GoPro Hero 5 Black
The Akaso EK7000 was my go-to pick as a GoPro Alternative at the start of 2017, given that it's a little outdated you might be better off with the V50 but since it's an older model you can usually get it for an amazing deal on Amazon!
Pros
Budget knockoff
4k video
GoPro Mounting
Great battery
Remote control
Cons
Only waterproof with case
no image stabilization
no voice control
From the design of the device to the materials it comes packed with the Akaso EK7000 Action Camera has a striking resemblance to the GoPro. It is definitely a GoPro knockoff. It even uses the same GoPro mounting system.
The Akaso is definitely one of the better low-cost GoPro competitors which have taken off in popularity because of the amazing features it has to offer.
Why you should consider getting a GoPro Alternative
The problem with GoPros are it they're not for everyone. Some of us are simply looking for an action camera that will do its job I don't really need something high end like a GoPro. Moreover, there are some better options than the GoPro for a slightly cheaper price which come with some high-end features. This is why it is not recommended to blindly just get a GoPro without considering other options.
What you also need to consider in an action camera is what the functionality you need is or the specification you are looking for. Whether you really need something high end and will be using the action camera a lot or whether you just need something to try out for a short trip. This will determine whether you are looking for a high-end action camera, mid-range action camera or an entry-level action camera. If you are considering this fact then you will realize the infamous GoPro really isn't for you and maybe you should be looking at something else maybe something cheaper more entry level for just personal use or maybe something mid-range that will just do the job at a good price.
What you also need to know is the GoPro is a device vulnerable to getting lost! All those fancy underwater shoots look great on the screen but the divers are trained to use action cameras for their professional work and invest in expensive GoPro mounts to get the work done. Even then you never know what can happen. My point is GoPros get lost easily! Can you afford that liability? If not you're better off with something cheaper that will get the job done.
What to look for in a GoPro Knockoff?
An action camera isn't some device you would just buy off a shelf. It is something you could use for commercial purposes or something you would rely on to capture your precious travel memories. Naturally, you need to know what to look for in a good action camera. The reason for this section is to give you a clear idea of makes it a good action camera. It will tell you how to buy one and give you the right mindset you need to have whilst making that decision of investing in an action camera. After all, you won't be looking to normally buy another action camera. So here is it the top features or things to look into before buying or investing in a good action camera:
Waterproofing: Naturally you would want your action camera to work wherever you go even the water. This is important to have if you are going to be traveling close to the shore. Moreover, underwater shots look great so why not.
Also, we're not just talking about some splash proof here legit waterproof which means it would have a certain depth mark. It can be useful to have greater depth if you will be diving or if you are looking for something more shallow then look for a waterproof casing. Which will often do the job too?
Battery life:

You don't want to get an action camera that will not last long. The last thing you need is to keep having to charge the damn thing on your trip so it's best to get something with a better life of at least 3 hours and most importantly has the option of

removable battery packs.

This is important because you can easily get 2-3 battery packs and not worry about the action camera dying. There are many GoPro knockoffs that have this option.
Durable materials: You will be using the action camera are unpredictable situations. You never know what can happen on a trip which is why it is important to have one that will stand the test of time. If you get something that is not made of durable materials that will result in your action camera getting spoiled so be sure to check for information on how well it works against natural things like snow, dust, hail, cold temperature, and heavy rain. You want to be able to capture every dam thing with that device!
Recording Video/Image quality:

Let's face it no one likes pixelated pictures so it's best to get something that will not be a potato and actually get some good images/videos. You are looking for something with

1080p Full HD

recording options or even better a

4K recording option.

If you have these then rest assured all your footage will seem like that by a professional.

Frame rates: This how well your action camera captures fast motion image through its lens. The best on the market right now is the Yi 4K+ capturing around 60 FPS equivalents to the GoPro Hero6. This is quoted in the form of frame rates by action camera manufacturers are expressed as fps or frames-per-second. It simply tells you the number of still images put on the screen every second passed. Ideally, it should be around 50 to 60 fps, the same as that from a TV picture, but many action cameras are bad on this and offer only about 10 or 15 fps for 4K resolution video. This produces flickery videos and images. So you need to watch out for this when buying an action camera. There is an inversely proportional relationship with resolution and frame rate.
Field of View:

This is also called FOV which every action camera has the ability to provide through it wide-angle lens. The focal length is in the region 17mm to 20mm. Depending on the sensor you can get a field of view of around 140 degrees. However, beware this gives a "fish-eye" effect where straight lines become curved the nearer they get to the edge of the frame. This can be simply removed through an editing application.

Image stabilization:

This is a relatively high-end feature but it is important to know what it does being so important. It is what basically eliminates camera shake and if you think about it that's very important if you are moving mostly you will be if you are cycling, climbing or skiing. The problem is with a moving camera/video the result is blurred frames, making the result jittery and wasting all of that 4K resolution.

Mounting Options:

This is often something overlooked by many but it is a very important option as you will want to get a device that is easily attachable to multiple parts of your body through mounts. No most travelers do not roam around with selfie sticks that are so touristy and annoying, to be honest. So you best get something with good support for mounts for the head, chest etc.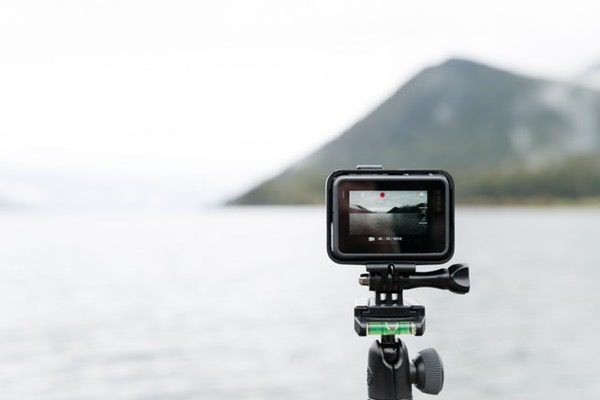 I hope that this list of the best cheap GoPro alternatives in 2023 helps you pick a cheap budget action camera that provides you great bang for your buck and helps you find one that fits your needs. Let me know what you think about the suggestions in the comments below.
Read Next: 
Best Travel Camera Reddit 2023
Last update on 2023-12-02 / Affiliate links / Images from Amazon Product Advertising API