GoPro Alternatives Top Picks: 1) AKASO V50 Pro Native [NEW] 2) Yi 4k+ 3) Campark Act74 
When you say the words "action camera", the first thought going through everyone's mind is usually GoPro! GoPro has truly made a name for themselves in this niche of outdoor action cameras. However at the price point of $700, despite being pretty darn awesome; Is the new GoPro Hero 6 the best bang for your buck? Maybe not, so here are the Best GoPro Alternatives in 2018!
Best GoPro Alternatives 2018 Comparison Table
---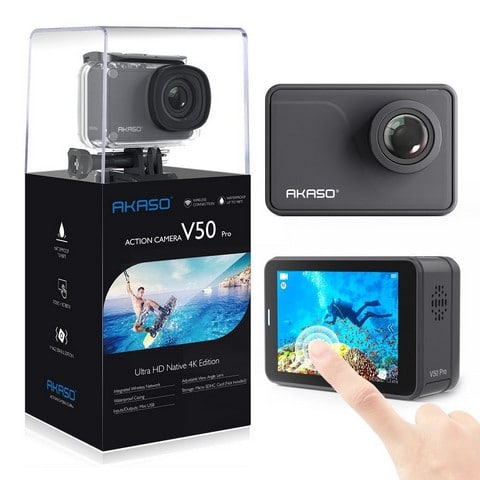 If you are serious about finding a good cheap GoPro alternative then look no further than the Akaso V50 Pro action camera. In the past few years, Akaso has made a massive name in the action camera space as a GoPro competitor by providing great alternatives to the GoPro cameras at a fraction of a cost.
Akaso is taking things to the next level in 2018 with the Akaso V50 Pro Native! Not only does the camera look amazing but it comes included with all the accessories (like spare batteries, multiple mounts, a waterproof case and even a remote control all for FREE) you will need for all the incredible shots you plan on taking with your Akaso V50 Pro!
Great Features include built in WIFI so it makes it so much easier to share your pictures on your Instagram!

Also optical Angle View that lets you adjust the view angle of this action camera according to your needs between Super Wide, Wide, Medium and Narrow. This action camera also has the LDC image correction feature, which offers image distortion improvements.
Akaso V50 Pro Native Review
The video on the Akaso V50 Pro is absolutely amazing featuring video of 4K at 30 frames per second. It can record fast moving action shots with clear and crisp quality thanks to the built-in EIS (ELECTRONIC IMAGE STABILIZATION) with a 6-axis gyroscope making the Akaso v50 Pro the best GoPro Alternative in 2018!
Akaso V50 Pro Native vs GoPro Hero 6
So how does the Akaso V50 Pro fare against the GoPro Hero 6? Well, consider that it's nearly 1/4th of the price of the GoPro Hero 6 Black, the Akaso V50 holds up amazing against the Hero 6 as can be seen from the Video review below!
It also has features that you like the red light filter built in which is still unheard of on any GoPro Camera!
One of the weak points of the camera is it's a little weak compared to the GoPro Hero 6 Black in shooting in low light. But considering the price in the sub-100 dollars, I find that's fare for the Akaso v50 Pro.
Akaso V50 Pro Native Video Review
Check out the Akaso V50 Pro Native and read more reviews on Amazon
---
2. YI 4K+ – Best Mid-range GoPro Alternative
The YI 4K+ is one of the world's first action camera that records video at 4K/60fps. It also comes with Electronic Image stabilization at 4k/30fps so you are guaranteed smooth footage without the need for high-end stabilizers or post-production editing.
YI 4k+ Review
YI 4K+ is one of the most advanced action camera available today, with amazing features including Live Streaming, Voice Control, RAW image capture, EIS (4K/30fps) and the ability to shoot in 4K/60fps makes YI 4K+ one of the best action camera, ever.
The accompanying app for the Yi 4k+ makes using this action camera an incredibly easy task! However, one major downside I find with the YI 4k+ is the lack of built-in waterproofing which is present on the GoPro Hero 5 Black which is almost priced at the same point!
Yi 4k+ vs GoPro Hero 6 vs Akaso V50 Pro
It's a little pricey compared to the other GoPro Alternatives in this list however for the featured offered it's kinda price is understandable. The video on the YI 4k+ is comparable to the GoPro Hero 6 as can be seen from the video review of the YI 4k+ below
I would only recommend the Yi 4k+ for someone who wants to grab footage for a semi-successful youtube channel. A hobbyist is better off buying the Akaso Pro V50 Pro for half the price of the YI 4k+
Yi 4k+ Action Camera Video Review
Check out the Yi 4k+ Action Camera and read more reviews on Amazon
---

If you are really tight on your budget and just want a cheap GoPro alternative? Then the Campark Act74 is exactly the camera you are looking for. At less than $60 this camera is the best value for money for someone on a tight budget.
Campark Act74 Review
With the Campark Act74, you pretty much get what you pay for. It is a 4k Sports Action Camera that records video footage in 4K/30fps and takes photos at 16M, there's nothing great that can be said for the video footage but it isn't terrible either!
A few great features also include 2 Inch HD Screen, a WIFI Remote Control, Waterproof (with a case as well as dual long-lasting batteries which is great for a camera at this bargain
Campark Vs GoPro
The Campark Act74 is best compared with the GoPro Hero (2018) edition which is currently about 4 times the price of the Campark. The GoPro Hero costs $200 but only takes video at 2k/60fps while the super budget Campark Act74 records video in 4k for about the same amount of money the majority of us might spend on coffee a week or maybe that's just me ;)!
For what it is ie A cheap GoPro Knockoff, the Campark does the job! Just don't expect too much and if you can spare a little more cash, you're still better off getting the Akaso Pro V50 or the Ek7000 which is reviewed below!
Campark Act74 Video Review
Check out the Campark Action Camera and read more reviews on Amazon
---
4. Akaso Brave 5 – Great Alternative ~$100
In 2017 the Akaso Brave 4 was my go-to recommendation of the best GoPro Alternative in 2017, however, as the year came to an end Akaso released the new Akaso Brave 5 giving a massive and releasing a great camera at the $100 mark!
Akaso Brave 5 Review
With an incredible camera that takes the 4K/30fps, 2K/30fps and 1080P/60FPS video resolution and 20MP photos, the Akaso Brave 5 at the sub-100 price gives the new GoPros a run for their money.
Great features worth pointing is the built-in gyroscope for anti-shaking and image stabilization so that your video is much smoother and you aren't giving all your Instagram followers a migraine from watching your snorkeling videos, combined with the built-in waterproofing (without a case) the Akaso Brave 5 is a great camera to pick up if you spend a lot of time snorkelling or kayaking!
The Brave even comes with a touch screen display to put them on par with the new GoPro along with wireless connectivity so you can copy your pictures to your phone in an instant.
Akaso Brave 5 vs GoPro Hero 6 Black vs Akaso V50 Pro Native
So how does the Brave 5 compare with the Hero 6? Well, in all honesty, it's more like an alternative to the GoPro Hero 5 rather than the GoPro Hero 6.
If you aren't that worries about the lack of a mic port (which I'm sure most of you won't) you are fine getting the Brave 5, but if have a few more dollars and want a real alternative to the GoPro Hero 6, you're better off the with V50 Pro Native.
Akaso Brave 5 Video Review
Check out the Akaso Brave 5 and read more reviews on Amazon
---
5. Sony FDRX3000 – King of Image Stabilisation
If having shake-free footage is your number 1 concern than the Sony FDR-X3000 might just be the camera for you! It combines brilliant 4K resolution with Balanced Optical SteadyShot image stabilization for advanced camera-shake compensation!
Sony FDRX3000 Review
The biggest selling point of the Sony FDRX3000 is the best in class image stabilization, unlike all the other cameras in this list and even the GoPro Cameras the Sony FDRX3000 doesn't come with digital image stabilization instead it uses a Balanced Optical SteadyShot Professional 4K with ZEISS lens and Exmor R CMOS sensor camera control
Balanced Optical SteadyShot is significantly more effective at cutting the effects of camera shake internally, the camera's lens and sensor are joined and moved together controlling the entire optical path as one floating unit! Thanks to which you get shake free 4k Clear Videos!
The FDR-X3000 is splashproof and freezeproof. With the supplied Waterproof Housing it's dustproof, shockproof and waterproof to 197ft / 60m. Other great features include High-Quality stereo sound with wind noise reduction!
Sony FDRX3000 vs GoPro Hero
The Sony FDRX3000 is significantly more expensive than any other camera on this list! At nearly $400 it's a tough sell to anyone, however, if shake free video is a huge concern then maybe this might be the camera for you!
The Sony FDRX3000 isn't really a "Cheap GoPro Alternative" it's more of a professional grade GoPro!
Sony FDRX3000 Video Review
Check out the Sony FDRX3000 and read more reviews on Amazon
---
6. YI 4k Action Camera – Decent 4k Alternative to GoPro Hero 5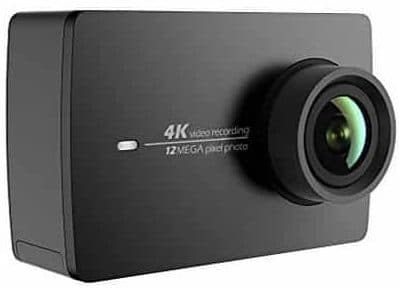 Xiaomi's Yi camera raised a few eyebrows when it was announced, the new YI 4k Action Camera is an amazing upgrade that solved all the issues of the previous generation. The original YI camera was rated the best value your money in 2016 and Xiaomi has just improved on that in this edition making it a great GoPro Alternative for half the price! Having been a Xiaomi user in the past, I am always impressed by their products and this one is no different, a few of my close friends use this camera.
YI 4k Action Camera Review
The YI 4k Action Camera has a 12MP Sony IMX337 Sensor with a 155-degree wide angle lens that can record video in 4K at 30fps and 720p at up to 240fps. It has a 330ppi high-resolution display on the back with a high sensitivity retina touchscreen for an intuitive experience.  The screen is also protected by Gorilla Glass which really helps to resist scratches and daily impact.
The battery is also amazing, it has the world's leading rechargeable 1400mAh high-voltage 4.4V lithium-ion battery that can record up to 2 hours worth of 4K/30fps video on a single charge. With Built-in Electronic Image Stabilization (EIS) and Lens Distortion Correction (LDC) the YI 4K action camera is a steal at its price, the only negative would be that the camera needs an additional case to be waterproof.
Other features include WiFi (dual-band), low energy Bluetooth, microSD support and YI Action App for instant photo and video editing.
YI 4k vs GoPro Hero 5 Black
If you are looking for an alternative to the older GoPro Hero 5 Black, the YI 4k is a pretty great cheap camera. It is an older model from Xiaomi so you can get it for a great bargain on Amazon.
YI 4k Action Camera Video Review
Check out the YI 4k Action Camera and read more reviews on Amazon
---
7. AKASO EK7000 – Budget Alternative to GoPro Hero 5

With a rating of 4.5/5 stars on Amazon, the Akaso is favorite among many action sports athletes. Just a quick look at the box gives you 'GoPro' vibes as this is the greatest knockoff you can get for the GoPro. I mean just look at the box! But at less than 100$, at a quarter of the price of the latest GoPro, Akaso EK7000 is a huge bargain for its functionality!
Akaso EK7000 Review
With 4K ultra-HD video recording at 30fps and a 12MP Lens, Akaso is exceeding expectations with the EK7000 of what is possible in the > $100 market. It includes 2 batteries, each with a record time of 90 mins.
The camera comes equipped with Wifi and includes a wifi remote control, however it lacks Bluetooth and it does include a 2″ LCD display however it isn't touchscreen. The surprising part is that it comes with a bunch of accessories included in the box, from a waterproof case up to 100m underwater to Bike mounts and Tethers.
Akaso EK7000 vs GoPro Hero 5 Black
The Akaso EK7000 was my go-to pick as a GoPro Alternative at the start of 2017, given that it's a little outdated you might be better off with the V50 but since it's an older model you can usually get it for an amazing deal on Amazon!
Akaso EK7000 Video review
Check out the AKASO EK7000 and read more reviews on Amazon
---
GoPro Alternatives Buyers Guide 2018
There are some basic factors to consider before buying an action camera especially if you're going to buy a GoPro Alternative. Here are the factors I consider when making my purchases or recommendations for the cameras below.
Brand: is it a brand new brand or has it been around the space for a while? It's possible to right now go to aliexpress and buy some cheap ass GoPro knockoffs, but how trustworthy are they really going to be. Brands like Akaso and Yi have been around for a while and are trustworthy enough that you can trust them
Battery Life and Spare Batteries: You won't always have a charging port next to you at all times. A portable power bank can extend the battery life of your action camera, but nothing is worse than waiting for the perfect shot only to find that your battery is dead when it's time to take the picture of you swimming with that cute little turtle.
Reviews: I always read reviews from past users and from professional photographers before I pick any gear. I wouldn't know what people in the past did, but now we have Amazon reviews and we can read what people who used it in the past have to say about it. I personally recommend reading the good and bad reviews which deciding on a purchase, also sometimes the 3-star reviews tend to good when it comes to giving you an overview.
Specifications: Lens quality and size makes a ton of difference. Other factors like waterproof, durability and photo specs are very important when it comes to picking a new action camera.
I hope that this list of the best cheap GoPro alternatives in 2018 helps you pick a cheap budget action camera that provides you great bang for your buck and helps you find one that fits your needs. Let me know what you think about the suggestions in the comments below.
Cheers,
Jeremy