Verdict: The Kindle is a very amazing device with tons of features and is worth buying. I would recommend you to go for the Kindle Paperwhite. It is one of the best E-readers available according to Reddit in 2023.
u/aloofyfloof – I've read 2.5 books this year already and last year without reading on a kindle I read around 5….the kindle is so comfortable and portable. I take it with me almost everywhere. I read on my lunch breaks. I read before bed. It's great.
The traditional way of reading books is without any doubt is the best way to readThe traditional way of reading books is without any doubt is the best way to read. Nothing can beat it. That crispness of the pages. The sound the pages make when they are turned. Nothing can even come close to that. And not to forget that heavenly smell of a new book. I can keep going all day.
What I am really trying to say is that books are great. But in this age of digitization and minimalism, it isn't the best option for everyone. So what is the next best option? The answer is eReaders.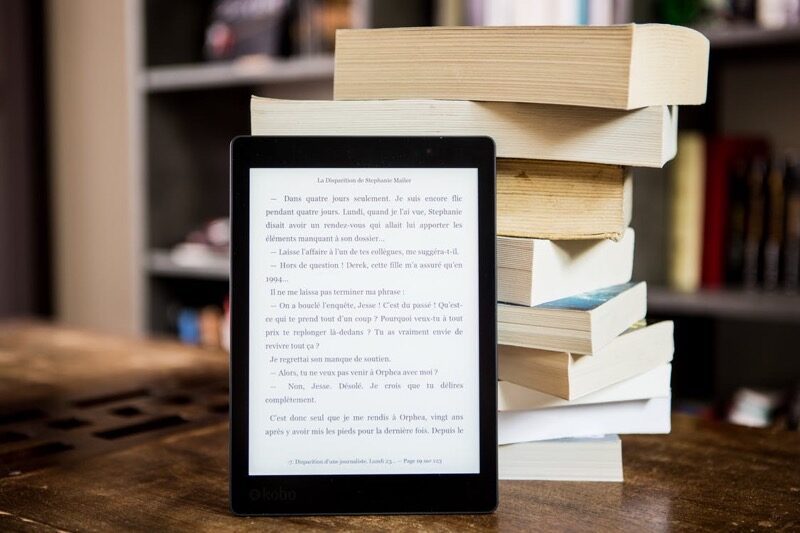 It all began in 2007 when Amazon launched its first Kindle device. That device was sold out in less than six hours. eReaders have come a long way since. They have way better hardware, much crisper display which looks more and more like paper. They can last weeks on a single charge and can store thousands of books in them.
You can literally have a library in the palm of your hand. Even though there are many eReader manufacturers out there, Amazon is still the leading brand. There are many other great alternatives to Amazon's KINDLE.
Today we will be looking at a few of the best eReaders available in the market currently. We will consider every aspect of all these eReaders. We will also list out their pros and cons. So without any delay let us begin.
Best eReader Reddit 2023
1. Kindle Paperwhite – Best Overall eReader Reddit 2023
It really shouldn't come as a surprise that Kindle is the first eReader in this list. After all it's one of the best devices out there. It is also the most popular among all of the Kindle series. There is a reason for that.
While the Basic Kindle model is an entry-level device, that just about meets the bare minimum that an eReader should have. Paperwhite on the other hand has way better specs that enhance the reading experience. Paperwhite is very lightweight and is also the thinnest among all of the kindle eReaders. Here are a few of its highlights.
What Reddit Thinks about the Kindle:
u/wisperingdeth – I have the new 2021 Paperwhite and can thoroughly recommend. And yes the Kindle is definitely worth it if you want to get into reading more. You'll find you start to get addicted as it is so comfortable to read on, and convenient to buy new books from the store.
u/aloofyfloof – I've read 2.5 books this year already and last year without reading on a kindle I read around 5….the kindle is so comfortable and portable. I take it with me almost everywhere. I read on my lunch breaks. I read before bed. It's great.
u/djturner92291d – I made the purchase and will never look back. I look at the "daily kindle ebook deals" every day and almost always find SOMETHING I was interested in. The tech is relatively cheap. Honestly, I used to love physical copy as well, but you can't beat the convenience of kindle.
u/ShinyArtist – I definitely found it to be worth it. I started out with a basic kindle (which was more basic than the current one, eg. It didn't have light or thumbnails and it wasn't touch), and loved it. After 5 years, I upgraded to 7th generation paperwhite and 3 years after that, I upgraded to the 10th generation paperwhite because I wanted more space for books and audible (I have limited space on my phone for audible).
Higher Pixel Per Inch (PPI)
Kindle Paperwhite comes with a 300 PPI display. This is almost twice as much as the Kindle basic, which had a 167 PPI screen. What this means that the screen on the paperwhite will be much more crispy and sharper than the screen on Kindle basic. It will also result in a much cleaner look. The text is also finer in the Paperwhite.
This difference in the resolution will result in way better reading experience than before.
Extra LED lights
Gone are the days when we couldn't read in the dark without turning on the lights and disturbing the others around us. Most eReaders come with built-in LED lights. While the earlier version of the Kindle basics didn't include any LED lights, the newer ones have four built-in LEDs. Paperwhite on the other hand has 5 LEDs for an even better reading experience.
The Paperwhite has a glare-free screen which means you will be easily able to read in strong lighting condition or even outside in the sun, plus five built-in LEDs. The Kindle Basic has four.
The key difference between an eReader and a regular Smartphone is that these builts in lights shine evenly throughout the screen. So the light doesn't strain our eyes and hence enable us to read for a long period of time. The paperwhite has 24 different brightness levels. SO you can adjust the brightness to read in any lighting condition you want without straining your eyes. This means, even in a dark lightning condition, you can comfortably read without hurting your eyes.
Waterproof: Just like its premium ereader, the Kindle Oasis, Kindle Paperwhite also has an IPX8 waterproof rating. This means that the device will be fine even after being submerged underwater for an hour. The depth threshold for this is 8 meters, so anything deeper than that and the Paperwhite might not be able to sustain it. This however is more than enough for an average user.
Now while some might argue that being waterproof isn't that big of a deal, it really is. It might never face such a scenario, but knowing that your device is safe if something like that ever happens is such a relief.
Hardware and Build: The Paperwhite is built with soft plastic and all its edges are slightly curved. This makes for a more comforting hold and will also feel better while resting in our palms. It is also weighted perfectly. It's neither too heavy nor too light. It is of just the right weight to feel both comfortable and sturdy while holding it.
The back of the device has a matte finish. While it feels very good to touch, it however is very prone to pick up fingerprint smudges. But because it is waterproof, you can easily wash it.
When it comes to hardware buttons, the Paperwhite is very minimal. It has only one button. That button is a Power Button which is placed in the bottom edge. Adjacent to the Power Button is a micro-USB connector that is used for charging. There is also a small indicator light that blinks once the device is being charged or is plugged in.
Battery Life: This is one aspect of E-Readers that is the most impressive. Its battery can last several weeks. Paperwhite isn't any different.
Even after including five different LED lights and much a higher resolution screen, the Paperwhite still manages long battery life. With average usage of 30 minutes every day, while keeping the device in airplane mode, its battery lasted for up to 6 and a half weeks. That is a pretty solid battery life.
Audible support: The Paperwhite also comes with audible support. So this means, along with reading you can also use it to listen to your favorite audiobook. The Kindle doesn't have any headphone jack or a speaker. So you will need to be connected to a Bluetooth headphone to be able to listen to those audiobooks.
Supported Formats: Like all other Kindle devices, the Paperwhite supports the following formats
HTML
MOBI
PDF
TXT
Rich Text Format (RTF)
Pros
Great screen with higher PPI
Long-Lasting Battery
Built-in LED lights
Waterproof
Audible support
Slim, light and durable
6-inch Carta e-paper display
Glare-free display
Cons
No physical buttons for turning pages
No headphone jack
No Charger included
Pricing: The Kindle Paperwhite comes in two different Variants. The 8 GB variant and the 32 GB one.
The 8 GB variant starts at around at $130 while the 32 variant usually costs $160. You will also get access to millions of eBooks if you opt for the free 3 months trial of Kindle Unlimited.
Verdict: Kindle Paperwhite is the budget option from Amazon. It sits between the Kindle Oasis and Amazon Kindle Basic. It isn't as premium as the Oasis, but it has got all the essential features like a beautiful display, waterproof design and also has Audible support. This is the perfect package with almost all of the best Kindle features at a very reasonable price. So our suggestion is you can totally go for it.
2. Kobo Libra 2 – Best Mid-range eReader
Over the years, Kobo has emerged as the biggest competitor to Amazon's Kindle. They have a range of devices that provide great value best value for e-reader hardware. The Libra H2O is Kobo's mid-range e-reader. These are the reasons it made this list of the best e-readers.
The Kobo Libra is smaller in size compared to the Kobo Forma. With a 7" screen it is somewhat easier to carry around, but the difference is not big enough to impact the readability.
What Reddit Thinks about this ereader:
u/ecniv_o – In short, it's great! I love the page turn buttons, I love the grip, and I love the size + aspect ratio. The screen is very crisp! The backlight is great for reading in sub-optimally illuminated nooks around the house.
u/uthwodja – I absolutely love my Libra. The buttons make make different noises and have different clicks depending on where you press them. The larger screen is something you will appreciate immediately. I also had worries about the screen light being uneven etc but the screen and its light is practically flawless. It is a beautiful device, and with the Kobo cover, it is really beautiful! I highly recommend it!!
Design: When it comes to its design, the Libra H20 is a lot similar to Kobo's premium ereader Forma. It seems to have taken a lot of its design elements from the Forma. Its body dimensions are 6.3 X 5.7 X 0.3. It weighs around 6.8 ounces. The lightweight and medium-sized form factor of the Kobo Libra H2O makes it the perfect sized device for one-handed use. It's a pretty comfortable size, due to its larger size, it might not fit in most pockets. The back of the device is made out of plastic. It comes in either a black or a white matte finish plastic body. The back body also has a nice stippled texture which makes it very comfortable to hold.
Screen: The Libra H2O has a 7-inch screen. It has a 300ppi E Ink Carta display. This is the same display by most other high-end ebook readers. It also features a color-changing front light. The light changes switch its color from blue to yellow. The bezels on the Libra H20 aren't symmetrical. One of the sides features a much larger bezel than the other side. This is because of the presence of the physical buttons. This side is also a little angled for better accessibility. The buttons are used to flip through pages. The screen also supports rotation. This makes the Libra H20 reversible. This means used both right-handed and left-handed. The display will automatically rotate to match the orientation.
Battery: The Libra H20 comes with a 1,200mAh battery. It will last for around 5-6 weeks with a usage of 30 minutes per day. For a more intense usage, it can provide enough juice to completely a 500-600 page book. That is more than enough an average user can expect. So in short the battery life is pretty decent.
Unlike the Kindle Paperwhite doesn't have audible support. It also doesn't have a speaker or can't play any kind of audio.
Supported Formats: When it comes to supported formats, Amazon's Kindle devices support either, MOBI format files or Kindle books bought from Amazon. The kindle also supports Pdf files, but formatting never works properly as intended. This makes for a more restricted environment.
In contrast, Kobo devices support a large number of different kinds of book formats. They can natively read EPUBs, MOBIs and PDFs. They also support commonly used comic formats like HTML, Rich Text Format (RTF), CBR and CBZ and many other graphic formats. It also supports formats like JPEG, GIF, PNG, BMP and TIFF. So basically they support books you bought from anywhere other than Amazon. This is largely due to Amazon's copy protection, which can be cracked but not without facing legal issues. That isn't worth the effort and I would suggest against doing so. Along with these options, you can also browse and read books from the public library collections.
Less Storage, Lower Price: The Libra doesn't have the 32GB storage option like the Forma. And you can only connect to the internet through Wi-Fi at 2.4GHZ speed. The cellular connection is not available yet.
Connectivity: Kobo ebook readers don't have any cellular support. So the only way you can connect them is to the internet is by using a 2.4GHz Wi-Fi connection.
Reading Experience: The Libra H2O lets create different collections containing related titles. You can then arrange and add your books to this collection. By default, you get a simple list view. The e-reader has 12 different fonts with a wide variety of sizes and font weights. You can highlight, annotate and get dictionary definitions by clicking a word. You can also add bookmarks and go to the table of contents at any time. It shows page numbers that are more relevant to a whole book. As a result of the wide-grip bezel due to the physical page-turn buttons, your fingers stay away from the screen area.
However, it doesn't have Amazon's additional X-Ray indexing content or Goodreads integration.
At the end of the day, the ebook reader you choose will depend on the ecosystem you are in. If you have subscribed to most of Amazon's services like Goodreads and Audible the Libra H2O won't be the smartest choice for you as compared to the Kindle. But if you are someone who is not stuck in the Amazon ecosystem, the Kobo Libra H2O will be your best choice.
Pricing: The Libra H2O comes in only one variant. The 8 Gb one. The device is priced at around $170. It is very affordable considering the specs it has and the value it is providing.
Pros
Physical page-turn buttons
Lightweight design
Water-resistant
Color-changing front light
A huge number of supported formats
Cons
No Audible Support
No library subscription option
Can't read Kindle books
Less Storage option
Verdict: The Kobo Libra H2O has a lot of the features that the Kindle Oasis has for a much less price point. It has a super-light body, physical page-turn buttons, a color-changing front light, and is also water resistance. If you someone who is looking to break free of the Amazon ecosystem is looking for a good first ereader, the Libra H20 is fo you.
3. Amazon Kindle Oasis – Best Premium eReader 2023
Amazon's Kindle Oasis is the king of all the eReaders. It is the best device that you can buy. It is expensive but is totally worth it. If the price isn't a factor then this is the absolute best ereader one can buy. This already beast of a device got even better with an updated third-generation version. Let us see what all features it has and why it is worth your money.
What Reddit Thinks about this ereader:
u/Banh-mi-ngon-1992 – Yes the oasis is much better. I never liked to read in a small screen. Also, if you are going to read comics, you shouldn't even consider the paper-white, just go for the oasis
Highlights
Screen: 7inch (300ppi)
Dimensions: 159 x 141 x 8.4 mm
Weight: 188g
Connectivity: Wifi, optional 4G, Bluetooth, micro USB
Storage: 8 or 32GB
Rated battery life: six weeks reading 30 minutes a day
Format supported: AZW/AZW3, TXT, PDF, MOBI
Screen: The Kindle Oasis has a 7-inch screen. It has a resolution of 300 pixels per inch (PPI). The display in the Oasis is a monochrome display. The screen is color-temperature adjustable. This means that it will automatically adjust its brightness to best match the condition of the outside environment. This makes it both easier to read in the dark as well as in to use, due to normal conditions. The tinted color profile of the screen makes it look more like an actual paper than any of the other devices ever did. So that's a step up. The screen is also an auto-rotating screen. The front of the screen has a light with 25 LEDs. This results in more even lighting. There's also an adaptive light sensor that automatically adjusts the brightness according to the lighting condition.
Design and Build: The overall design of the Oasis is brilliant. This is expected given how expensive it is. It has an asymmetrical design pattern that has the perfect weight. This results in the Oasis perfectly resting in one hand providing a much comfortable hold. The body s made up of an anodized aluminum case. Unlike the Paperwhite, the Oasis has physical page-turn buttons. They provide a much better experience than the touch only displays found in the cheaper Kindles. The Oasis is IPX8 waterproof so you don't have to worry about it getting wet in the rain or accidentally dropping it in water. Since it is water-resistant to IPX8 standards, it'll be able to survive up to 60 minutes at depths of 2m in water. So accidental drops in the bathtub or the pool should be fine.
Like the Paperwhite, the supports Oasis also supports Audible. That means you can listen to your audiobooks using a pair of headphones. However, the Oasis doesn't have any built-in speakers or a headphone jack. So you will have to connect a pair of Bluetooth headphones in order to listen to those audiobooks.
Battery Life: The Oasis comes with a micro USB charging socket which is a little strange considering most Smartphones, laptops, tablets and Apple devices are now including USB-C.
Even after having a larger screen and a higher resolution, the battery life is surprisingly good. Amazon claims a battery of six weeks of 30 minutes of reading a day at brightness level 13 set to airplane mode. This translates to 15 hours of reading. On a daily basis, the Oasis should last for long enough to read a 600 pages book without having to charge it again.
Supported Formats: Like all other Kindle devices, the Paperwhite supports the following formats
HTML
MOBI
PDF
TXT
Rich Text Format (RTF)
Pricing: Kindle Oasis also comes in two different variants. The 8 GB variant and the 32 GB variant. While the 8 GB base version costs around $250, the 32 GB variant is priced at Around $280. The price is pretty high but this is expected given the number of features it has.
Pros
Waterproof Design
Great screen quality
Adjustable backlight
Great battery life
Audiobook playing feature
Auto-Rotating Screen
Can adapt font and text size
Cons
Expensive
No speaker
No headphone jack
Verdict: The Kindle Oasis is the best eReader you can buy. It is expensive. But it more than justifies its price tag. It has got a brilliant display that is crisp, sharp and feels very close to a real paper. It also comes with 25 built-in LED lights. The screen has an auto adjustable brightness level that suits according to the lighting conditions. You will have a great reading experience on the Oasis. SO if you are looking for a premium ereader and are ready to spend this much then go for it. This is worth every penny of your money.
4. Kobo Forma – Best eReader with Bigscreen
The Kobo Forma is Kobo's answer to the Amazon Kindle. It is a premium e-reader with some great specs. If you can go past the expensive price point of the Forma, it really provides a great reading experience. So let us see what the Forma has to offer.
What Reddit Thinks about this ereader:
u/KokomoFred – I have had my Forma for a week, and I love it! Lighter than my Aura One and Kindle Oasis, and I really enjoy the larger screen.
The power button is… quirky, but not a problem. The trick to power it up from off is to hold it down for a second until you see the light, then let go
Screen: The Kobo Forma has a pretty big 8-inch display. The resolution of the screen is 300 pixels per inch (PPI). This size is somewhat similar to what most paperback books are. So that gives a really good reading experience. The screen is crisp and clear. The larger display also means more closer experience to that of a real book.
The display here is an E Ink display, so everything will be in black and white.
Design and Build: Even though the Kobo Forma has a large 8-inch display it is surprisingy lightweight. It is light enough that it can be held using one hand. The rear of the device is perforated. This gives a better grip. One edge of the e-reader is slightly bent, which makes it feel somewhat peculiar to hold. But you get used to it once you use it for some time.
The Kobo Forma has an asymmetrical design. It has an extra-wide bezel on one of the sides. The extra bezel is because of the buttons that are mounted there. The two large buttons on the side are used for cycling through the pages. The device can be used in both right-handed and left-handed mode. The Forma will automatically rotate it's the screen as the device is rotated to match the orientation. The device can still be operated using the touch controls, but the physical buttons feel way better.
The Kobo Forma has a curved edge on the bezels where the buttons are mounted. It is a little thick but has a curved and grippy, soft plastic material throughout the body. This makes it very comfortable to hold the Kobo Forma on one hand even though it is one of the largest devices.
Just like the previous Kobo devices, the Forma also has an IPX8 waterproof rating. This means it can survive about 60 minutes in a depth of six feet of water. So you don't need to be worrying about the device getting damaged from a splash of water.
Customizability: The Forma comes with KOBO's text formatting system, TypeGenius. Out of the box, the Forma comes with 11 different fonts. All of these are adjustable so you can change the font-weight and sharpness to your liking. You can also easily import your own fonts. The page layout can also be tweaked to change the line spacing and also the margin spacing. This is a great feature for anyone who is looking to customize their reading experience.
Battery: The Kobo Forma comes with a1,200 mAh. The battery is very impressive. It should last around three to four weeks on a single charge with an average usage of 30-45 mins per day. On a more regular basis, you should easily be able to read a 500 pages book without having to charge again.
Pricing: The Kobo Forma also comes in two different variants. The 8 GB variant and the 32 GB variant. While the 8 GB base version costs at around $250, the 32 GB variant is priced at around $300. The 8 GB variant is priced just like the Oasis while the 32 GB variant is $20 more than the Oasis.
Pros
Comfortable reading experience
Waterproof build
Dustproof design
Auto blue light reduction
Strong battery life
Physical Page turn buttons
Large 8″ display
Cons
Very expensive
A Lacklustre design
Limited availability of E-Books compared to Kindle
Verdict: The Kobo Forma has everything one needs for a perfect reading experience. The only caveat is its expensive price point. This is the perfect device for those people who are looking for a premium E-Reader but don't want to opt for any of Amazon's options.
5. Nook Glowlight 4 – Best Budget eReader 2023
The Nook Glowlight 3 is Barnes & Noble's attempt at competing with the Kindle Paperwhite from Amazon. While it is priced similar to the Paperwhite, it is up for sale every now and then which makes it a very lucrative option.
What Reddit Thinks about this ereader:
u/robinhoodc – The NOOK Glowlight 3 is a decent ereader. The glowlight works well and the page turn buttons are nice. There is plenty of storage for side loaded books. I have been able to sideload a half dozen ebooks and some PDFs using Calibre or Adobe Digital Editions. However, if you have a large number of ebooks and try to organize them in shelves, I have heard others complain that the shelves get lost every time they connect to their PC. So this device might not be a good choice for you
Design: Barnes & Noble kept it simple with the GlowLight 3. The device at first glance resembles any other e-reader and while that may seem like a bad thing, it's really not.
The standard e-reader design is thick black plastic and a plastic e-ink screen. Some more expensive e-readers use glass and metal but the plastic has its upsides. It's durable for starters. E-readers are great devices to give to kids who like to read because they're pretty limited in function which will keep your kid on track. The GlowLight 3 stays in line here with a device that's both kid and parent-friendly.
Other than the materials, the GlowLight 3 is a rectangle with a power button centered at the top and a micro USB charging port at the bottom for when your battery is running low. It's also got page turn buttons on both sides of the device so that you can comfortably use it whether you are left or right-handed.
Display: The Display of the GlowLight 3 is on par with most other budgets e-readers. The screen has a 300 pixel per inch (ppi) resolution. The display is an E-ink display. The screen is clear, crisp and feels very close to a real paper. This also means it makes up for a very good reading experience.
The main highlight of the display is the GlowLight that it has. Hence the name. What Glowlight does is that it will adjust the color and brightness of the device based on the outer condition. The display can change its color from white to a more warmer Orange color. So the display will automatically choose the settings that best suit the lighting condition. You can also change this manually if you want. As a result of the Glowlight features, your eyes will not have any strains be it in the morning or at night while reading in the dark.
Design: When it comes to the design of the GlowLight 3, Barnes & Noble kept it pretty simple.
The GlowLight 3 has a thick black plastic with subtle texture on the back. It may be made of plastic and not glass or metal like most premium devices are, but the plastic body means that it is more durable. The GlowLight 3 has a rectangle with a power button on the top. For charging purposes it has included a micro USB charging port at the bottom of the device.
The bezels on both sides are very thick. This is because of the presence of physical buttons on both sides. You can use these buttons to flip through the pages. Using physical buttons is much better than using touch controls. The page turn buttons are present on both sides of the device so you can use it both left or right-handed.
Battery: The GlowLight 3 has a battery that is very similar to the batteries most e-readers of the same size have. A single charge will last for weeks on an average usage of 30 mins per day. For more regular usage, it should be enough to read a 600 pages book without needing to charge again.
Pricing: The Nook Glowlight 3 comes in only one variant. The 8 Gb one. The device is priced at around $200. It has a very affordable price but considering the specs of other similarly price e-readers, it falls behind.
Pros
Crisp screen
Long battery life
Inventive Night Mode
ePub support
Comfortable to hold
Runs on Android
Supports third-party apps
Huge Barnes and Barn library
Physical page turn buttons
Cons
Sluggish and Laggy User Interface
Broken features
Poor build quality
Limited store selection available
Verdict: The Barnes & Noble Nook GlowLight 3 has a crisp 300-dpi display and has also got physical page turn buttons. This makes it a very pleasing device to read with. But it doesn't have a great build quality and the performance isn't up to mark. We wouldn't have recommended it, but Barnes & Noble puts the Nook GlowLight 3 up for sale every now and then at $99.99. This is a great price. So if you manage to get hold of that, then this will a device totally worth that.
So this brings us to the end of today's article. We looked at the best eReaders that you can buy. I hope this article is helpful for you and that you can make a great decision.
Read Next:
Last update on 2023-05-30 / Affiliate links / Images from Amazon Product Advertising API