Email marketing is a powerful marketing tool that allows users the opportunity to promote their businesses, products, and services to build a good business relationships. Email marketing allows your customers to be more aware of product availability or any new releases. It also acts as a softer sell to educate your audience about your brand and keep them aligned with your ideals. Email marketing can be in the form of advertisements, business requests, or donations to build loyalty and trust amongst your customers.
Top courses from $14.99 when you first visit Udemy

The rising trend of email marketing has made it very important for businesses to be good at email marketing. One of the best ways to learn email marketing is by enrolling or following an online course. A good email course will help you understand what email marketing is and the medium to engage your customers and readers to build a community around your brand and help increase your sales. In this article, we have the top marketing courses based on the reviews posted by Redditors.
Why are Email Marketing skills important?
The average ROI through email marketing is $36 for a single dollar you spent in the market today. In 2019, email users were 3.9 billion, and the number is expected to grow to nearly 4.48 billion by 2024; that's a huge portion of the world's population. It is believed that consumers project email marketing to be the top-most marketing channel in the next 10 years, and digital commerce is slowly and steadily picking up pace. These are a few reasons why email marketing will crown the leaders in the coming years.
The Best Platform to Learn Email Marketing?
The internet is a marketer's best friend. The internet has various platforms where you can learn different aspects of email marketing without needing a faculty or physical institution to attain and practice.
The advantages of learning from the internet are huge. With the internet, you can study anything from anywhere, whenever you feel so. You can also redo and go through all the lessons, which is not possible with a physical institution. Users also have to pay lower fees as compared to enrolling for a full course in an educational institution.
But how do you find the right courses to study email marketing in 2023?
How do I choose the best marketing courses for me?
The best email marketing courses are selected based on an array of parameters listed below:
Experience- Assess your email marketing skills and select the right course based on your experience level. Find a course that will challenge your syllable and help you learn new things.
Price- Email marketing courses can vary based on prices. You can find some free courses, but they may not offer the best value. The free courses cover general features, while paid ones come with valuable bonuses.
Duration- Email marketing courses can be completed in as little time as 10 hours, while others vary up to 40 hours. It is important to select a course that works best for your schedule and one you can complete easily.
Certification- Certifications are a good way to improve your credibility, especially if you're starting out. Some of the email marketing courses come with certifications that give accreditation to your CV.
Syllabus- The syllabus is related tightly to the experience level you bolster. Ensure that the course you choose teaches the necessary resources you need, and make sure that less relevant things in the course are smaller and are not critically important.
Support- This is not a major issue if you are going for a free course, but ensure that you get the required support for a paid course before shelling out the money. Also, see if they offer money-back policies in case you don't like what the course offers.
Best Email Marketing Courses Reddit
U/ONN- "Use this list below to get your email marketing skills brushed up.
Google Digital Marketing Courses (free or paid Certification)
Reliablesoft Academy (Paid with Certification)
SEMRUSH Academy (Free with Certification)
ClickMinded Digital Marketing Course (Free and Paid with Certification)
HubSpot Online Marketing Courses (Free with Certification)
Udemy Digital Marketing Course (Paid with Certification)
Simplilearn Digital Marketing Specialist (Paid with Certification)
Copyblogger Online Marketing Course (Free)
Udacity Digital Marketing Course (Paid with Certification)
Optinmonster Digital Marketing Training (Free)
Hope this helps".
U/sowmyasri129- "The best digital marketing courses are
Google Digital Marketing Courses
Reliablesoft Academy
Semrush Academy
ClickMinded Digital Marketing Course
HubSpot Online Marketing Courses"
Best Email Marketing Courses
1. Think Outside the Inbox: Email Marketing (Google)
Being the tech giant that is Google, there is no doubt its courses are some of the best in the industry. The Think Outside the Inbox course is part of the Google Digital Marketing and eCommerce professional certificate. The certificate offered by this course gives a positive impact on the careers of those enrolled within six months. The course covers important aspects of email marketing and helps you build important skills to enrich your trade.
During the first week, you'll be introduced to email marketing, and learn how to meet your business goals. It will also teach you about frameworks to meet marketing goals and showcase how to apply best practices in email marketing. The next week will cover the most common types of email marketing and allow you to learn about the acquisition of emails, promotions, newsletters, retention emails, etc. You'll also learn how to craft email copy, write subject lines and help create preview texts.
In the third week, you'll be introduced to useful tools used in email marketing and learn to create segments, write engaging emails and work with email marketing tools. Finally, in the last week, users will conduct a mock email marketing campaign. During this mock test, you'll use all that you've studied and complete the campaign.
The course is the fourth out of the seven courses in the Google Digital Marketing and e-commerce professional certificate. Overall, it is a great course, and it is highly recommended to follow all the courses offered by Google Digital marketing. They also give a certification that you can proudly put on your cv for your clients and customers to look at.
Why enroll in this course?
The course taught by Google employees is highly actionable and can be completed within 24 hours. Here is a thing or two you will learn at the end of the course
Introduction to email marketing
Types of email marketing
Different tools used for email marketing
Collect and analyze various parameters of the email marketing campaign
Create your own email marketing campaign
Course Specifications
Vendor- Google via Coursera
Type- Online training
Cost- $39 per month
Level- Beginner
Duration- self-paced time frame or 24 hours
Certification- Digital Marketing and eCommerce Certification
2. Email Marketing Course – Reliablesoft Academy
The email marketing course offered by Reliablesoft is catered towards beginners in the marketing space. The course gives you a simple walkthrough explaining what is email marketing and why it is an important marketing channel. This helps you get started with the most critical email marketing tasks.
By the end of the course, you'll learn
How to create an email list
Learn proven techniques to grow your email list quickly
Several ways to increase engagement with your emails
A few tips to study email market automation
Lean about the cost-effective tools of email marketing you can use
Ways to increase your list to get bigger by reducing your costs
The email marketing course offered by Reliablesoft Academy comes as a part of the digital marketing course bundle that has ten courses in total. The platform covers the topic consistently so that you have a smooth experience throughout your email marketing journey.
You should also consider the course if you want tips and advice to perform the most critical email marketing tasks, like increasing your open rate, automation, list building, etc. The course works well in conjunction with other channels with a unified digital marketing strategy.
Once you complete the course bundle, you'll get a digital marketing certification that can help improve your profile and CV. Further, you can register for this course risk-free as it has a 60-day unconditional money-back guarantee that makes trying this platform easy and efficient.
Course Specifications
Vendor- Reliablesoft Digital Marketing Academy
Type- Online training
Cost- Normally $600, but currently $119 due to 80% off.
Level- Beginner or intermediate
Duration- self-paced time frame
Certification- Digital Marketing Certification
3. Email Marketing Certification Course – HubSpot Academy
HubSpot Academy offers free email marketing certificate courses that are aimed to meet the demands of digital marketing professionals. The company helps businesses grow their marketing, CRM, and customer service tools. This is a trusted learning platform that is designed primarily for online businesses.
The course offers a total of 9 lessons with 28 quizzes and over 3 hours of content across the entire section. This is a great way to learn and get a free email marketing certificate from a reliable source to add to your CV.
Why enroll in this course?
The course begins by teaching users how to build an excellent email marketing strategy that can help grow their business. It also teaches the fundamentals of email marketing, and it's a good fit for you if you are a beginner.
The lessons offered in the online course are:
Understanding Email marketing
Create a versatile contact management and segmentation strategy
Sending the right email gives them a better chance of converting your leads into customers.
Understand email deliverables
Create high-performance email
Outline the versatile design of your marketing emails
Test updates for your emails that help you learn any updates to those emails
Develop relationships through lead nurturing and know to implement them
The course is available in English, German, French, Spanish, and three other languages. Not only this, there are dedicated instructors for each of the above-listed languages. Finally, the HubSpot Academy course certification is 100% free. The certification badge can be embedded on your website, and it can be added to your LinkedIn and other profiles. All these features make the course an ideal choice for professionals who are proficient in digital marketing.
Course Specifications
Vendor- Hubspot Academy
Type- Online training
Cost- Free
Level- Beginner
Duration- 3 to 4 hours
Certification- Yes, with an exam
4. Mailchimp Email Marketing Course – Udemy
From $14.99 when you first visit Udemy
Mailchimp is a popular email marketing platform, which is one of the best marketing courses for learning different aspects of email marketing. The platform offers a free plan for up to 2,000 contacts and integrates efficiently with any online business platform within the market. Mailchimp platform is easy to use and helps you to get started building your email list. The main point that makes this course unique is that it focuses on the Mailchimp platform and allows you to hit the ground running when you are utilizing this platform.
Why enroll in this course?
If you have just started email marketing, then Mailchimp is the right platform for you. Some of the modules that are included in this course are:
Introduction to email marketing and basics
Mailchimp setup, audience organization, and management
Tutorials based on Mailchimp features
Integration of Mailchimp across different channels
Build squeeze pages to capture emails at a higher rate
Understand key metrics of A/B split test campaigns with Mailchimp
Best subject lines to start creating an email
Set up email lists
Create email content that converts potential clients into customers
Email marketing analytics
Additional resources, updates, FAQs, and bonus material
The top feature of the course offered by Udemy is the 30-day money-back guarantee, so if you're not satisfied with what you're getting, then you can easily get a refund. Further, you also get a certificate once you complete the course that can be downloaded, and you don't require to answer any exam.
Read: Is Udemy Legit?
Course Specifications
Vendor- Udemy Course Envy
Type- Online training
Cost- $49.99
Level- Beginner
Duration- 4.5 hours
Certification- Yes
5. ClickMinded Email Marketing Course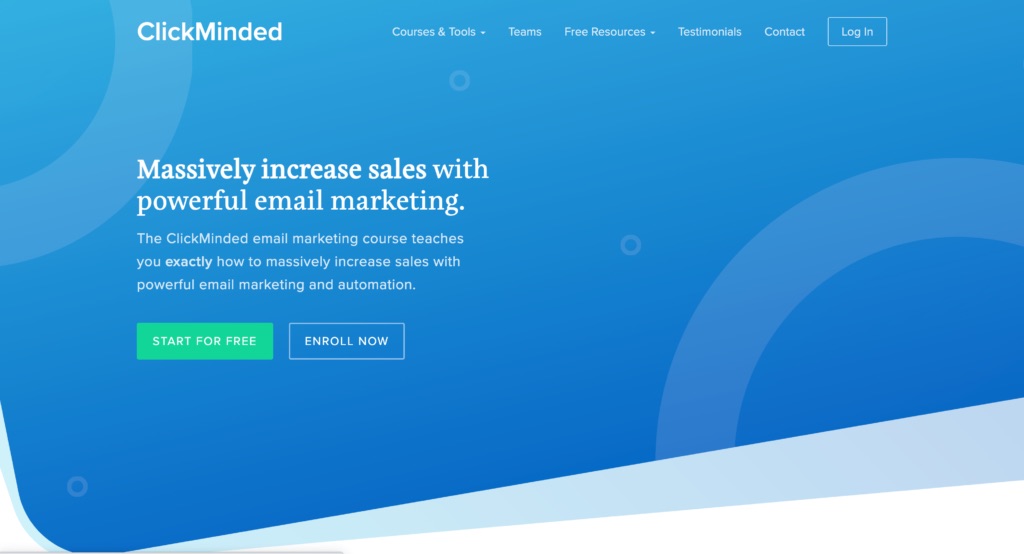 ClickMinded email marketing course covers a total of seven online courses that have email marketing, sales funnels, SEO, content marketing, etc. You can purchase each of these courses either individually or as a bunch at a steep discount. The course is slightly higher and more expensive compared to other courses in this list. However, all the packages are included with lifetime access and can be upgraded to keep up to meet evolving trends. The versatile course allows users to implement best practices to successfully manage their email marketing and automate it. It is designed for beginners as well as experts that are handling larger businesses.
Why enroll in this course?
The course teaches high-level strategies to provide tactical walkthroughs. Some of the lessons of the course include:
Fundamentals of email marketing and why it is different from regular channels
Distribution and principles of email marketing
Implement lifecycle strategies
Win back users who have stopped interacting with your email
Learn about 4 data types- implicit data, explicit data, engagement, and user personas
Utilization of tags and custom fields
10 powerful segmentation strategies
Decision-based workflow to automate email subscribers
Create a world-class email campaign
Effective copywriting techniques
Steps to send error-free emails
8 metrics to measure and optimize your email campaigns
Different email marketing tools to increase deliverability
Taught by Airbnb email strategist Lucas Chevillard, it has step-by-step instructions that offer higher-level strategies and in-depth tactical walkthroughs. All these features allow users to run powerful email marketing campaigns and make everyday people into potential customers. Once you've completed your course, you will have to pass an exam after answering quizzes and other tests to get a certificate. The certificate can be integrated directly into your LinkedIn and other social channels.
Course Specifications
Vendor- ClickMinded
Type- Online training
Cost- $997 for lifetime access to email marketing and $1,997 for lifetime access to all seven courses
Level- Mixed
Duration- self-paced or 7-8 hours per course
Certification- Yes, after taking the exam
6. Advanced Email Marketing Certification Training – SimpliLearn
SimpliLearn is one of the leading platforms for online boot camps and certifications. The advanced email marketing certification training course offered by the platform teaches users about tools and strategies to sharpen their digital marketing skills. This is one of the most advanced courses on this list and is ideal for marketers having good experience in the space and are looking to expand their horizons.
The platform covers several advanced marketing strategies and guides that help create effective ads, brand building, develop long-term strategies, and more. It covers 10 lessons and allows you to have control of different metrics, which is not possible with other social channels. The course offers various features, practice tests, quizzes, and several workplaces. Further, it comes with lifetime access with 24/7 assistance.
Why enroll in this course?
The email marketing certification training allows users to learn tools and strategies that will allow them to enhance their reach on email and hone their digital marketing skills. The lessons of this course include:
Introduction to advanced email marketing
Write better subject lines
Developing emails that help drive results
Optimize email content
List different management strategies
Automate emails
Learn to create optimal landing pages
Create an email campaign checklist
GDPR for digital marketers
To receive the certification of the course, you must complete 85% of the course with a complete simulation test, and you need to have a passing percentage of 60, and users have to complete 3 projects. Overall, it is an excellent course to get advanced insights into different email marketing channels.
One thing to know is that when you check the platform out, you'll not have a chance to purchase the course on their site. Here, you are prompted to send your contact information, and from there, you'll have to talk to a SimpliLearn expert who will help you to get started.
Course Specifications
Vendor- SimpliLearn
Type- Online
Cost- $499, with $1,100 for lifetime access
Level- Advanced
Duration- 20-30 hours
Certification- Yes, after passing the stipulated tests
7. Email Strategy and Optimization Course – LinkedIn Learning
LinkedIn learning email strategy and optimization course is a recently released course, and you can be assured that it has current and the best marketing practices. This is one of the short email marketing courses on the list that allows you to learn the basics of copywriting for emails quickly and efficiently. The platform is well-suited for intermediate customers that want to optimize their email marketing process.
The course is broken down into 6 modules, and each of these modules is about 10 minutes of work. The concepts are taught through a combination of videos and tests. Upon completion of the course, you'll get a certification that can be added directly to your CV to improve your credibility in the industry. The course also comes with a 30-day money-back guarantee, making it worth the investment, especially if you are selecting a monthly membership.
Why enroll in this course?
The email marketing strategy explains the basics of email marketing as well as helps plan some advanced strategies. The course can be purchased for a fee of $49.99 with a $29.99 monthly subscription. Some of the topics covered in this course are:
Discover the power of email marketing
Learn the secret to know about writing emails
Fit email to your marketing plan
Identify various types of emails
Optimize your email content to cater to different customer needs
Monitor and revise your email content
Advanced strategies which are curated for affiliate marketing
Learn to write About us pages and FAQs.
Course Specifications
Vendor- LinkedIn Learning
Type- Online
Cost- $49.99 or $29.99 monthly membership
Level- Beginners to intermediate users
Duration- 1 hour
Certification- Yes
8. Email Strategy Free Course – YourPrimer
YouPrimer is a platform that is owned by Google and has a large library of online courses. The course offered by this platform is beginner-friendly and helps users have a better grasp of the basics of email marketing to build a solid foundation. You can access the courses via the Google Primer app on either your Apple or Android device.
The platform is very user-friendly, and it is the best platform to keep your professional growth right in your pocket. This course helps you grasp the basic features of email marketing, and you can learn everything to help grow or retain customers to increase engagement in the market.
Why enroll in this course?
The platform doesn't have any enrolment process, you just have to download and log into your Google account. Once you are in the app, users will have access to the entire library of online courses. Some of the syllabi covered under the course are:
How a business email address is important for your business
Keep your customers interested with email marketing
Tips and tricks to craft effective emails
Non-spammy way to build a strong email list
How to make email marketing your secret weapon
Build an excellent marketing team
Follow multivariate testing to get your emails in shape
How to reach potential customers
The course offered by YourPrimer doesn't offer any certificates, but it helps gain valuable insights to grow your business. If you're an entrepreneur starting out, then this course can help you build your business from the ground up. You can easily follow these steps directly from the app on your phone. However, like other courses, they don't offer any video content, making it less desirable and effective for highly visual learners. After you've finished the course, it further suggests 5 more advanced email marketing courses to move on to learn more features.
Course Specifications
Vendor- YourPrimer
Type- Online
Cost- Free
Level- Beginners
Duration- 35 minutes with no video
Certification- No
9. Email Marketing Basics – Google Digital Garage
Google Digital Garage is a non-profit organization that offers a free online email course library for digital marketing. The platform can help increase your skills, like email marketing, data analysis, and building customer relationships. The platform is very efficient to work with and easy to navigate, with each module having one short video. The best of it all is that you can register by signing up with your Google account.
Why enroll in this course?
The Digital Garage course is part of a larger module called Promote a Business with Online Advertising. The course doesn't only give you access to email marketing basics but also the rest of the course. Some of the syllabi covered under the course are:
Basic understanding of email marketing
Learn to craft great marketing emails
Manage a successful email marketing campaign
Measure your email marketing success
The course doesn't offer certification or an instructor; however, there is a quiz at the end of the course. This allows users the ability to retain the information and they can implement it with their new skillset.
Course Specifications
Vendor- Google Digital Garage
Type- Online
Cost- Free
Level- Beginners
Duration- 30 minutes with 3 hours for a full course
Certification- No
10. Email Marketing Masterclass for Beginners – Wishpond
Wishpond Email Marketing Masterclass is a simple course that is catered to meet the demands of beginners. The website is easy to navigate but doesn't have an overwhelming amount of information. They help professionals easily access free online marketing education through their website. It also helps users build a solid foundation in the industry. From the beginner course, you can swiftly move to advanced courses that will help you create landing pages and master marketing automation.
Why enroll in this course?
The email marketing course is very quick and can be finished within 30 minutes which is taught by a digital marketing expert. The course has 7 videos with 1 survey, 7 discussion forums, and 7 downloadable items. The course covers the below-listed topics:
How to create email marketing funnels and campaigns
Understand common email marketing mistakes
How to create an email marketing funnel
Grow your email list
A/B testing to check the parameters of your campaigns
How to meet your marketing goals
Wishpond's free masterclass is an excellent choice to start the email marketing journey for beginners. Enrolling in the course is simple and helps users create a versatile landing page or marketing automation. The platform doesn't offer any certification but is a great choice to grow your business online on a budget.
Course Specifications
Vendor- Wishpond
Type- Online
Cost- Free
Level- Beginners
Duration- 30 minutes
Certification- No
Do you need Email Marketing for your business?
Email is the best way to connect and build a strong relationship with your current and potential customers. Email is something that you own, and it isn't dictated by any algorithms or rules of social media.
The best way to enhance your email marketing strategy is by building an extensive list, increasing your open rates with excellent subject lines, and keeping your audience engaged with valuable email content. All these factors are crucial pieces of the email marketing puzzle. This may look like a complex process requiring expertise; however, online courses offer the fastest way to increase your knowledge across the digital space.
In this list we've covered in our article, we have some of the best email marketing courses having different pros and cons, and I'm sure you'll find the perfect course fit for your needs.
Best Email Marketing Course FAQs
1. Who should follow an email marketing course?
In social media, where social media marketing is another essential factor is email marketing. Social media has some uncontrollable aspects similar to algorithms, etc. However, email marketing gives you complete ownership and gives you control to deliver it. If you are a digital marketing professional, then the best practices of email marketing are crucial, so you need to complete one or more courses if you're looking to build potential clients and customers.
2. Is email marketing certification worth it?
Email marketing is a valuable asset; the certification courses allow users to learn the art of email marketing fast. This allows you to implement them efficiently instead of going through trial-and-error methods. The courses help you learn how email marketing is influencing your sales and causing a major impact on your business's bottom line. Further, a digital marketing professional with a certificate shows potential employers or clients that they are well-qualified and dedicated to the field.
Gain More Skills:
Best Virtual Assistant Courses
3. What are the requirements if you want to learn an email marketing course?
There are no major requirements to learn email marketing. If you have minimum knowledge to browse the internet and have access to a laptop, computer, or smartphone, then you are good to go.
4. Who can enroll in email marketing courses?
Email marketing courses can be enrolled by different individuals, from graduates to business owners, web designers, marketers, job seekers, freelancers, entrepreneurs, and many others.