TLDR: If you're in a hurry the Travelpro Platinum Elite Luggage Bag is the Best Carry On Luggage according to reddit! It's expandable, has magnatrac self-aligning 360-degree dual spinner wheels and a lifetime limited worry free warranty.
Travelpro Platinum Elite Softside Expandable Carry on Luggage, 8 Wheel Spinner Suitcase, USB Port, Men and Women, International, Vintage Grey, Carry On 19-Inch
This carry on luggage has PrecisionGlide System delivers precise control and effortless roll on eight MagnaTrac self-aligning spinner wheels led by a height-adjustable PowerScope handle with comfortable Contour Grip.
Expandable international carry on suitcase with external USB port and dedicated powerbank pocket meets FAA regulations for carry on and checked baggage. Powerbank not included.
These suitcases with wheels have an interior tie down system that includes built in accessory pockets and TSA compliant, removable quart sized wet pocket for toiletries. Leather top and side carry handles plus bottom cup provide carrying options.
As you prepare for your next trip, what appears to be an easy decision to upgrade your carry-on luggage, gets complicated when you try to match your preferences and budget. Then you take a look into the ocean of products in the market space, things get chaotic. That's when social media and discussion forums come in handy.
Personal testimonies, experiences, recommendations, & feedback are commonplace on Reddit. After diving into the forum and analyzing what the Redditors have to say about their experiences, I have come up with some of the best carry-on luggage on the market.
Before jumping into the products right away, we'll start with the most critical factors that played a role in the decision-making process of these Redditors. You'll be able to use it as a guide and narrow it down to your choice easily, just in case the top choices don't seem to fit your criterion.
Best Carry On Luggage FAQ Reddit
Style/Purpose: The first question we have to ask ourselves before choosing a bag is the purpose of travel. One could be flying frequently to attend business conventions, meet clients, and will be required to carry pressed formal outfits. Their luggage requirement would vary for someone who frequently travels for vacations and adventures.
A photographer/content creator will have a different set of requirements than a digital nomad who travels for longer periods. Do you pack a lot of souvenirs when you return? Or Do you need the flexibility of compartments/packing cubes
Your personality and style matter the most.
What's your type? Do you use the same bag for every trip or have one for every type? Having a clear idea of your purpose, your destinations, and the duration of your travel makes the decision process easier.
Size: Where do you travel often? International destinations, Europe, or within the USA? Yes, that matters a lot. The carry-on luggage allowances could vary between international and domestic carriers.
Even with different International flight carriers, you'll notice a slight difference between limits. Air France allows bags with dimensions totaling up to (21.6 x 13.7 x 9.8) 45 inches, while Lufthansa's carry-on luggage maximum limit is set at a total of (21.65 x 15.7 x 9.05) 46 inches.
The domestic carrier, United Airlines & Delta Air Lines sticks to 22 x 14 x 9 inches, but American airlines allow sizes up to 22 x 14 x 10 inches. Count this in before choosing your carry-on luggage. Don't let these details mess up your travel experience later on.
Type/Material: Then comes another big question? Do I go for a hard-sided carry-on or the softer ones? The hard-sided are mostly known for their durability and solid form factor. They are reinforced with additional padding to survive years of usage.
Most of them are designed as two sturdy halves which are bound by a zipper or latches; an even more secure locking system. If you are someone who over-packs, you won't be able to do that successfully in a piece of hard-sided carry-on luggage.
In contrast, the soft-sided carry-on bags deploy a stronger fabric as one big piece with a zipper keeping the stuff intact.
These are the ones that allow you to overpack. The several side pockets and external compartments will come in handy.
Weight: Your choice on the type of carry-on (Hard/soft) and the carrier decide on how much are you allowed to carry without shelling out extra or spending time waiting for your luggage at the conveyor belts.
On average, hard-sided luggage is heavier than soft ones. If you can afford to go light on your trips, you should do fine with heavier carry-on. Go for the soft-sided bags if you tend to pack heavy but prefer to avoid baggage queues and rush out of the airport as soon as you land at your destination.
Number of Wheels: There are two-wheelers and spinners' aka the four-wheelers. While both have their advantages, it mostly comes down to personal preference. For years two wheel luggage was the gold standard for carry-on bags before the frequent-flyers realized the comfort of four-wheeler cases in crowded airports.
You can slide them behind you like a two-wheeler, push them from the front or run along them on your sides. If this is you and you are a frequent traveler, then look for the spinners with replaceable wheels, it will save you from a lot of hassles.
Warranty Period: Reputable brands tend to have longer warranty periods. This is decided by how much you can afford to spend at the outset. A few extra bucks of investment will save you from shelling out on repairs or replacements. Watch out for lifetime warranties of TravelPro, Briggs & Riley carry-on bags.
What are the hard-sided luggage made of & how do they differ?
You'll find hard-sided luggage made of ABS ( Acrylonitrile Butadiene Styrene ), Polycarbonate, Polypropylene, Polyethylene Terephthalate (PET), and Aluminum.
Aluminum is one of the heaviest and most durable ones. They are also the pricier ones.
PET is sparsely used to make hard-side luggage. It's prevalent among some of the budget luggage brands. While they are recyclable and more environmentally friendly, they are not known for their durability.
Polycarbonate is a very popular material for hard-side carry-on. They are one of the most flexible, which makes them more resistant to cracks. The flexibility makes it durable too. The durability comes with a cost and it would cost you more than polypropylene, polycarbonate, and ABS. It happens to be the heaviest of these plastic materials as well.
As rare as PET are the cases made of polypropylene. It is one of the lightest materials used in hard-side luggage. It's a combination of lightweight and flexibility which puts it in the same price category as Polycarbonates.
ABS is a mix of three different kinds of plastic. It's more rigid, which makes it less flexible and durable. It is suited for short-distance travel, catering to travelers on a budget.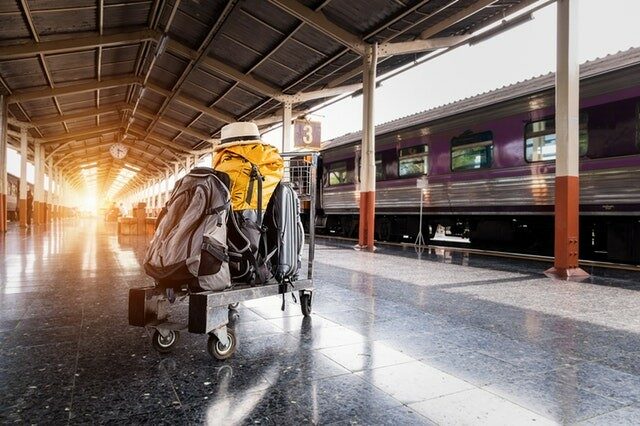 What are the materials used in making soft-side luggage? Are they durable?
The soft side bags are made of Polyester, Nylon, Canvas, and Leather. Polyester and Nylon are more commonly used, while Canvas and leather are sparsely used, catered towards a niche, high-end market.
Both canvas and leather carry-on luggage are not weather resistant. Yet under proper care can be durable and can last a lifetime. These are heavier than the nylon and polyester ones
You can find Polyester luggage among the budget and mid-range options. It is one of the lightest materials used for making soft side luggage. High-quality polyester survives frequent travels for years, but it should be handled with care.
Different types of Nylon are used for making soft carry-on luggage. Ballistic and Cordura are some of the familiar ones. Nylon bags are mostly lightweight, and durable, one of the reasons you'd more often find them in high-end products.
Best Carry On Luggage 2023
1. TravelPro Platinum Elite – Best Carry On Luggage 2023
Most preferred by flight crews and frequent travelers, the TravelPro Platinum Elite is one of the best carry-ons you can lay your hands on. The reduced size of the stow handle and the additional exterior pocket with a USB outlet were the most admired aspects of the design of this 7.8-pound bag, which fits into most overhead cabins with ease.
The contoured grip handles with 4-stops and the smooth sliding system make it easier for people to hustle between airports on a day-to-day basis. Let us look at the other features that make this a great value for money.
Highlights
Large wheels with plenty of clearance can come to use when you've to roll them along in challenging, uneven terrains.
The Nylon material with Duraguard coating makes it withstand regular usage, it has even survived some of the harsh luggage handlers.
Stands out in organization capability, with the mix of intelligently placed interior pockets, and mesh panels. They don't take up space but come in handy when you need them.
The compression strap system does a better job than the more common two straps. The expandable section increases the size of the main compartment, closer to the bottom, prevents the bag from becoming too heavy on the front side and falling over often
The removable toiletry bags and suit keepers are well thought out and would be appreciated by any frequent flier. The hidden ID tag that lets you identify your bag, in case you had to check in, and the charger are extremely useful additions.
The telescoping handles are sturdy and look durable. You'll also have a top, and side handle. The hidden handle at the bottom might come to help when you're stuck in hasty situations.
What some of the Redditors say about their TravelPro Elite
u/betel: "Huge fan of my travelpro spinner. Big enough to pack for a week, small enough to fit on the smallest regional jets. ~200,000 miles and ~5 years on it so far without a single problem."
u/Stampertje94: "As you said, travel pro = bang for the buck, I have had a flight crew for around 5 years now and still love it."
u/Fo_eyed_dog: "That's true. Flight crews seem to like Travelpro. In fact, now that you brought it up, I think that's what made me purchase it."
Pros
Duraguard coating
USB Charger
Abrasion resistant
Removable wet pocket
Folding garment bag
2. Briggs & Riley Baseline – Best with Guarantee & Overall value
The 22-inch soft-side carry-on luggage is one of the top-rated products in the market space. Its sturdy zippers, the suit compartments that keep the clothes wrinkle-free, and the ratcheting CX compression system allow you to sneak extra luggage without being so apparent.
Not only these, but it also boasts a plethora of other features that make it one of the preferred carry-on despite its heavy price tag. Briggs & Riley does a great job in getting the issues fixed, for the entirety of the bag's lifetime.
Highlights
Despite the lower clearance, pulling the luggage around the rough terrain isn't that difficult. It maintains balance with its intelligent weight distribution and doesn't flip over easily. The rubber underside of the telescopic handles and easy adjustment button works in a snap. Handles are among the sturdiest on the market.
Even if you are over-stuffed, the zipper works like magic. The pen holders, several pockets, and organizers are extremely helpful. One of the larger pockets can fit a 17-inch laptop. The hidden stash pocket behind the handle is perfect for temporarily holding the car or house keys. You don't have to search for them in all the hastiness during your travels.
The unique compression /expansion system allows the entire top rim of the bag to expand giving you additional packing room. The dual compression system makes even the overstuffed bag look little.
The canvas material looks old-fashioned yet survives years of frequent, rugged use. The fabric exterior is reinforced at critical points and the corners have plastic material keeping them firm. The wheels seem secure, and sturdy and don't make any squeaky noise when you roll them fast.
Pros
Lifetime warranty
Double swivel wheels
Compression system
Built-in garment holder
Organization packets
Cons
Expensive
Old-fashioned look
Let us see what some of the Redditors had to say about the B&R baseline
u/syncboy: "The Briggs & Riley repair guarantee is what makes it great though. No matter what the damage, they will fix it forever for free. I've had an airline break a handle and they fixed it for free."
u/apruesing: "After 7 years, 516 flights, 158 cities, 7 countries, and over 1,300 days on the road I can +1 baseline. I have had 0 repairs. But the lifetime warranty (including airline damage) has me covered in case I do have an issue. I couldn't recommend this more."
u/cb445544: "Wheels roll well, don't squeak, and are sturdy. I drag this downstairs smack the sides and over curbs. Cross a mile of NYC, through water, in the rain. Never stops. I'm really looking for a way to break it.
Great zippers. Usually, those things break when you check bags. These don't fall off, bend, or stop zipping."
3. RIMOWA Classic – Best Hard-Side Carry On Luggage
Popular among consultants, and business travelers, this hard-side luggage is a classic. Looks simple, but is known for its durability. If you're planning to carry a load for 2-3 days of business attire, this works the best.
The double-spinner wheels make even the heaviest of luggage move smoothly.
Breeze through the airport crowd, and outmaneuver them despite the luggage, credit to those long-lasting, flexible wheels.
The telescopic handles are strongly riveted into the suitcase, making them durable for rough usage. It has more features that make them one of the favourite among the most classic travelers.
Highlights
The aluminum-magnesium alloy can look like it can get dented easily, but it is hard to crack, which makes it one of the most durable materials. Those corners are further reinforced which takes their impact resistance to the next level. There is little to worry about when it comes to the life of the hard shell.
The latch closure takes away vulnerabilities of the zipper, which are the first to go in a lot of cases. The latches are secured by TSA locks, which makes them secure even when you are not having them under your watch. The rubber wedges on the latches make sure they are not as loud as other metal latches, attracting unnecessary attention.
The interiors are simple, classic, and yet among the most functional and craze among the old schoolers. The top compartment has a flex-divider system and zipper pocket that allows you to customize the height. The bottom compartment has traditional shoe pockets, a great option for business professionals.
Pros
No Zippers
Impact resistance
IATA approved
Double Spinner wheels
TSA Locks
Let's see what most Redditors had to say about their Rimowa Classic
u/NickHi2Ca: "I have a Rimowa Classic in Cabin S. If you travel enough, you would appreciate a really nice wheel. With that said, I think Rimowa has the best buttery smooth wheel system."
u/sierranevada007: "The build quality is unmatched. Rimowa luggage is sturdier, more durable, and more reliable than anything else. Your handle will never jam. Your wheels won't do weird things. It won't tip while you're trying to pull it upright. It will spin exactly as you want it. It is simply the best luggage out there."
4. Tumi alpha-3 – Best Luxury Soft Side Carry On Luggage
If you want something at the premium end of the soft-sided carry-ons, there is hardly any reason to look beyond the Tumi cases. This is carry-on luggage that brings together a combination of business and pleasure travels with its efficient design, flexibility, and durability.
The omega closure system not only has the looks but also reliability. Durafold impact-resistant caps add strength to corners that are more vulnerable to damage.
Fitted with top-quality nylon, the carry-on luggage stands testament to its idea of beauty with utility. It has incorporated innovations to make the product stand out among its peers.
Highlights
The integrated USB port is a conjecture of the classic style soft side luggage with the latest features. Innovative dual entry to the primary space allows quick access and saves you a great deal of time when you are in a hurry.
Dual compartments which are rare in soft side luggage, organization pockets, zippers, floating dividers, and padding makes your packing more secure and easy. Additional packing space, and interior and exterior pockets of different sizes are reminiscent of a well-thought design.
Combination of Polyester, FXT ballistic nylon, and leather to match the quality with the looks. It's one of the rare soft side carry-ons that can survive the ordeal of luggage handlers, even if you have to check-in.
The Zipper mechanism leaves you with easy replaceability, taking out the need to repair the whole zipper setup, every time something pops up. The double-spinner wheels look sturdy with good clearance. They're quiet and glide smoothly on those airport floors.
The multi-stage handle makes it easier for people of different heights to use it conveniently. The aluminum handles look like they can take a beating. Over the regular top and side handles, TUMI adds a bottom handle made of fabric, which makes it very flexible to carry, even if it's toppled over.
Pros
Integrated TSA Lock
USB power port
Plenty of storage pockets
Dual Spinner wheels
Molded impact-resistant sides
Cons
Very heavy
Only 5-year warranty
Let's see what some Redditors had to say about their Tumi Alpha
u/Puslinch-Komet: "Tumi Alpha Continental Dual Access (by far the best bag for carry-on and expandable) for long trips and a Rimowa Essential sleeve compact for a few days. I average 6 flights a month and am very happy with this combo."
u/Miserable-Ad3016: "How many times a year are you flying? I fell in love with my Tumi. The quality and durability are second to none. If you are traveling 50+ times a year for the next few years"
u/jmeek12345: "Good god yes on the Tumi. It's by far the best roller I have had in 20+ years of consulting and personal travel. Worth every penny."
5. Delsey Chatelet – Best Stylish Hard Side Carry On Luggage
Does style matter to you? Named after one of the central districts in Paris, the Delsey Chatelet signifies everything stylish and trendy. It comes in a polycarbonate casing with accents of leather adding a sense of aesthetics to otherwise generic-looking carry-on items of luggage.
Not limited to style, the carry-on brings on some top-tier features and functionality that make it one of the preferred choices among women. In the next section, we'll see what makes it special.
Highlights
The exquisite design and material composition of the Delsey justifies the "Paris" association factor. This carry-on is all about style. Hardbody luggage has elements of trend strewn all over it. The handles, smaller pockets, logo, and leather combination make strong fashion statements.
It doesn't solely focus on the style. The Delsey gets the functional part of the carry-on right as well. The zipper opens into two halves with deluxe-looking interiors. Both sides are zipper enclosures, which means you can open the case on either side and don't have to worry about your clothes tumbling over.
You can also find zippered smaller pockets that find room for jewelry. The extra cloth bags come in handy when you have to organize the used laundry. The spinner wheels and braking system deserve a mention.
You don't have to worry about parking your luggage on slanted surfaces. Easy-to-click brakes spare you attention and energy for other activities. The faux leather handles increase the style quotient. They look sturdy too. The diamond pattern in the polycarbonate case does well to hide those minor scratches and marks.
Pros
Stylish design
Easy Break system
TSA code lock
Durable polycarbonate
10-Year warranty
Cons
Short on packing space
Expensive
Check out the opinion of a Redditor about his Delsey Chateley
u/cashreedhar: "I have a Samsonite and Delsey and both had a fair amount of long international trips. From my experience Samsonite is good and sturdy, however, the wheels aren't very friendly which is an important factor while traveling. It also slightly changed its' shape. Delsey on the other hand is the best purchase I made. The wheels spin like the day I bought it, the zips are smooth and in my opinion, it has better weight distribution which makes it easy to pull."
I have tried to get the gist of all the recommendations from reddit. If you are clear about your requirements and if they match with our choices, things get easy for you. The products are top quality and have been recommended by a lot of users. Even otherwise, you can use the guide to narrow down your choice from the plenty of other options available in the market.
Last update on 2023-12-02 / Affiliate links / Images from Amazon Product Advertising API