Backpacking Europe is a fun and exciting trip for sure but can be pretty daunting to plan for! Especially finding the best backpack with so many options out there definitely be pretty overwhelming. This is why I've written this guide to help you find the right backpack for your Europe trip.
Before I begin just remember there is no one bag that fits all situations so make sure you look at what is it that you will most likely need the backpack for whether it's outdoors, commute or whatever and only then make that decision to get a backpack for your euro trip.
Best Backpacks for Europe
NOMATIC 40L Travel bag
Note: I have personally used this backpack for years and have written a more detailed review of the Nomatic 40L Travel Bag which I recommend giving a read.
Who is this for?
Nomatic backpacks are built for minimalist travelers that value functionality over anything else.
It has the most sophisticated internal organization system with pockets for almost everything. I love the attention towards tech with the tech-specific compartments.
Best Reasons to buy the Nomatic Travel Bag:
Reason #1: Utilitarian versatile design:
This backpack is perhaps the only one that pulls off the hybrid backpack-messenger bag combination so well! It features a nifty strap system that makes it extremely easy switch from a travel bag to a messenger bag when required.
The internal organization is designed with utilities, for instance, it features compartments for tech(laptop and tablet), shoes, Laundry bag and almost anything you have in mind meaning!
Reason #2: Comfortable external components:
Durability in this backpack is HUGE! In fact, I've used it in the rain and had no problems with it due to the secure waterproof exterior.
Reason #3: TSA-friendly and Anti-theft:
Like I mentioned before, theft is common in Europe so it's smart to get a backpack that's got anti-theft features.
The Nomatic Travel bag comes with RFID safe pockets and TSA approved locks to lock up valuables that require more protection like confidential documents etc.
Dimensions: 9″ H x 21″ W x 14″ D
Laptop: 19″ x 12″
Volume: 40L
Weight: 4 lb. 8 oz.
PROS
CONS

Extremely Functional and utilitarian in nature
Good durable, weatherproof materials.
Optimized for maximum legal carry on

Space can be inadequate for some travelers
Final Verdict: Should you get the Nomatic Travel Bag?
Honestly, this backpack isn't cheap but if you're going to be traveling around Europe with tech and want something that's built specially for that you cannot go wrong.
I definitely would pay a premium for a special tech-friendly backpack than one a cheap generic one that doesn't really work for me.
Tortuga Setout Backpack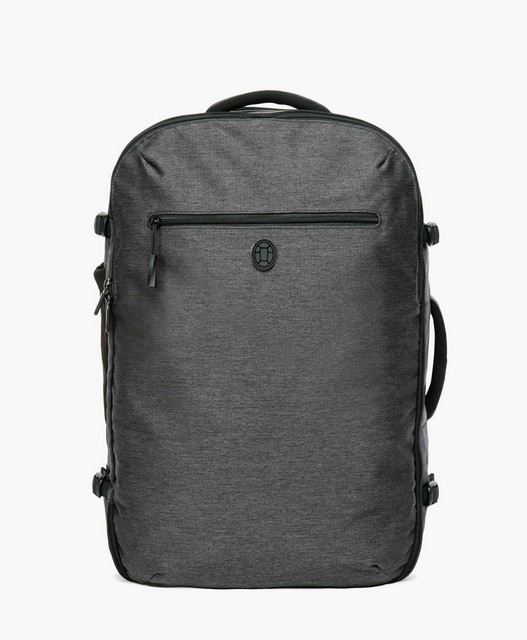 Note: For a full detailed review I recommend going to my Tortuga Setout Backpack Review.
Who is this for?
A premium versatile backpack for travelers that want a 45L carry-on that's good enough to fit gadgets and gear with good internal organization and functional external components.
Best Reasons to buy the Tortuga Setout:
Reason #1: Good Suspension system:
Tortuga backpacks have some of the best suspension systems that work perfectly to distribute the weight of the backpack across your entire body.
The shoulder straps are embedded with an injection molded foam with a series of holes for even weight distribution and good ventilation.
Reason #2: Comfortable external components:
I particularly love the attention to detail on the external components of this backpack. There's a lot of padding literally everywhere like on the hip belt, back panel, and even side handles.
Dimensions:  22" x 14" x 9".
Laptop: Up to 15-inch
Volume: 45L
Weight: 3.3lbs
Torso: 17-19"
PROS
CONS

Affordable pricing for premium features
Adjustable suspension system with beefy comfortable padding

A little less rugged and durable as the Outbreaker
Final Verdict: Should you get the Tortuga Setout?
This backpack is a perfect combination of size, weight, and nifty features. It's one of the most balanced backpacks perfect for most medium to long Europe trips and to be frank, It's hard for a carry-on to get any better than this.
Kelty Redwing 44 Backpack
Who is this for?
This backpack is the best backpack in terms of value for money as It sports premium features you barely get in premium backpacks and is versatile enough to be used for casual and outdoor activities.
On the whole, the Kelty Redwing is perfect for those travelers that need something that won't break the bank and is comfortable enough to carry most essentials including gadgets.
Best Reasons to buy the Kelty Redwing 44 Backpack
Reason #1: Maximum Legal Carry-on:
This backpack is under the maximum legal carry-on for most airlines making it convenient to travel between places which is something you will definitely be doing on a Eurotrip.
Reason #2: Good Value for Money:
The Kelty Redwing is available at a fairly reasonable price as compared to other competitors making it one of the best value for money backpacks for a Europe trip. For this reason, this backpack is a popular choice among backpackers and budget travelers in Europe.
Dimensions: 63.5 x 38.1 x 30.5 cm
Volume: 44L
Weight: 1.18 Kg
PROS
CONS

Reasonable pricing
Good for outdoor-centered and casual commute

Not suitable for packing tech
Not the perfect carry-on size
Final Verdict: Should you get the Kelty Redwing 44?
This backpack is comfortable, easy to use, versatile enough to be useful in different environments. Moreover, the reasonable pricing on this backpack makes it a no-brainer for anyone looking for a casual backpack that works and won't break the bank.
Osprey Farpoint 40 Euro Travel Backpack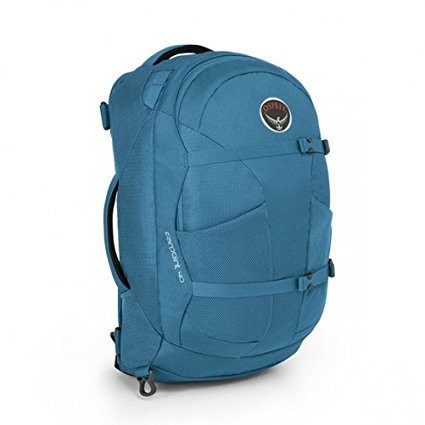 Who is this for?
This backpack is designed to be a travel backpack for world travelers that need something that can securely pack all their travel gear and essentials and at the same time comfortable enough to carry around for a long time.
Best Reasons to buy the North Face Borealis:
Reason #1: Extremely Comfortable and easy to carry
Most people shy away from backpacks because they can get uncomfortable on the back however the Osprey Farpoint 40 is constructed and designed to be extremely comfortable on the back.
Reason #2: Well balanced travel backpack
The reason for Osprey's popularity is because it's a backpack that sports features in all aspects it's comfortable, versatile, constructed and designed to be lightweight and features a good internal organization.
In my opinion, the Farpoint 40 is the most well-balanced travel backpack that perfect for a Europe trip.
Reason #3: Great for Adventurous Travel Gear and tech
Osprey Farpoint is capable of packing camping, hiking and tech gear quite easily making it ideal for those travelers that travel with tech and gear.
Even if you aren't an adventurous traveler, the chances are you are going to be doing at least one adventurous sport during your trip so it makes sense to get a backpack that works for that.
Product Specifications
| | | |
| --- | --- | --- |
| Metric | M/L | S/M |
| Capacity | 40L | 38L |
| Weight | 3.17 LBS. | 3.11 LBS. |
| Dimensions | 21 x 14 x 9 inches | 20 x 14 x 8 inches |
PROS
CONS

Clamshell opening for quick packing and unpacking
Lifetime guarantee
Comfortable external components

Internal Organization is lacking
Final Verdict: Should you get the Osprey Farpoint 40?
The Osprey Farpoint 40, on the whole, is a premium backpack that can comfortably pack all your contents (including gear) without breaking the bank (or back)
eBags Mother Lode Weekender
Who is this for?
The Weekender was specially built to be a hybrid convertible, a carry-on suitcase for urban travelers. the straps allow it to be carried as a backpack, but it's not supposed to be used on a trail. It is an excellent backpack for a few weeks in Europe.
Best Reasons to buy the eBags Mother Lode Weekender:
Reason #1: Great internal Organization
This backpack features large compartments with many pockets, zippers, and detachable organizers for well-organized packing. The partitions are removable so you have the ability to customize how to pack for maximum efficiency.
Reason #2: Great Versatile Design
The weekend is a convertible backpack meaning it can be used as both a backpack and a suitcase. It also has side handles making it possible to carry around as a messenger backpack
Dimensions: 22″ X 14″ X 9″
Laptop: Up to 19"
Volume: 40-44L
Weight: 3.75 pounds
PROS
CONS

Strong construction made of rugged materials with a utilitarian design.
Great internal Organization that can be customized to a great extent

Back harness is a little basic.
No hip belts or internal frame
Shoulder straps are a little thing and cannot be fully adjusted
Final Verdict: Should you get the eBags Mother Lode Weekender?
The Weekender is a TSA friendly backpack with nifty features that work together to make your travel easy and hassle-free.  I recommend this bag in particular for short weekend trips in more urban settings.
Gregory Z40 Backpack
Who is this for?
This backpack is great for the more adventurous travelers and backpackers that are going to be either hiking or doing something in the outdoors whilst in Europe.
Best Reasons to buy the Gregory Z40 Backpack
Reason #1: Extremely Comfortable: (Suitable for women)
One of the biggest selling points with this backpack is the comfort it has to offer. It's got an excellent suspension system that's combined with EVA foam for extra ventilation that prevents it from overheating or chafing.
The backpack also features a steel internal framing which keeps the back panel completely secure against your back.  Even women find this backpack to fit them quite well!
Reason #2: Rich with Nifty features:
What's different about this backpack is the features it sports and that too for a reasonable price. It has some neat features that make it extremely user-friendly like a removable top lid to reduce weight on a short hike, rain cover for extra protection and even a sleeping bag compartment.
Reason #3: Highly durable and Weatherproof:
If you're an adventurous traveler you will need a backpack that can handle extreme weather conditions and the Gregory Z40 is a backpack that's made especially for that so you can rest assured it will definitely last you a long time.
| | | | |
| --- | --- | --- | --- |
| Metrics | Small | Medium | Large |
| Volume | 38L | 40L | 42L |
| Torso | 16″ – 18″ | 18″ – 20″ | 20″ – 22″ |
| Hips | 28″ – 36″ hips | 30″ – 38″ hips | 32″ – 40″ hips |
PROS
CONS

Very comfortable with an excellent suspension system
Durable and rugged weatherproof design
User-friendly features

The hip belt is a little rigid and can be inadequate for large men
Lack of gear attachment points
Final Verdict: Should you get the Gregory Z40?
This backpack is built for adventurous travelers that are most liking going to go hiking or on some expedition into the wild. Moreover, this backpack is designed to mitigate weight and be extremely comfortable on the back.
On the whole perfect if you want something that works in the outdoors and value comfort.
GoRuck GR3 Packable Backpack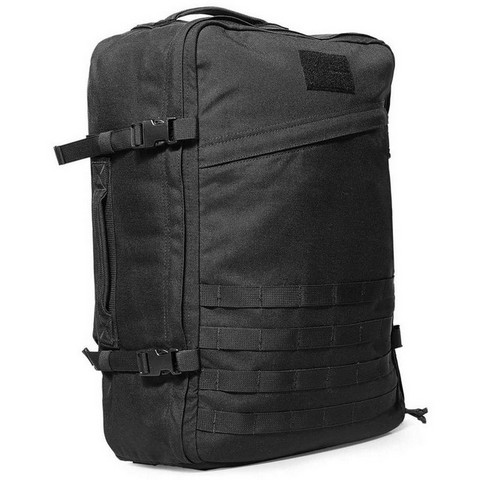 Note: If you're looking for a more detailed review of this backpack I recommend reading my GoRuck GR3 Review here.
Who is this for?
This backpack is perfect for most travelers that value durability over anything else. While this is the most expensive backpack on the list it's the strongest made of military-grade materials and tested to endure the most extreme conditions.
Best Reasons to buy the GoRuck GR3
Reason #1: Extremely Durable make and construction:
Unlike other backpacks, the GoRuck is made of strong military-grade materials like 1000D Cordura Nylon, Y2k zippers etc.
What's more is the durability testing process includes testing against multiple stress points subject to 400 pounds of pressure So you can rest assured your backpack can withstand everything.
Reason #2: Functional Design with multiple external components:
Goruck having strong roots in the military produces products that are not only durable but also very functional. The GR3, for instance, is designed to be the most functional carry-on backpack with adjustable external components for comfort and carry handles for versatility.
Dimensions: 22″H x 14″W x 9″D
Laptop: 19.5″H x 13″W
Volume: 45L (65L expandable)
Weight: 5.15 LBS
Material: 1000D CORDURA®
PROS
CONS

Extremely functional and durable in Nature
SCARS lifetime warranty

Bulkier than other backpacks of the same size
Expensive price tag
Final Verdict: Should you get the GoRuck GR3?
The GORUCK GR3 is honestly an overkill for most travelers but it's also an extraordinary backpack with top-notch materials and construction if that is something you value then this backpack is perfect for you.
What makes a backpack suitable for a Euro Trip?
Backpacking Europe is an amazing experience but you're always going to be moving around, dealing with budget airlines and staying in cramped accommodations and also occasionally targeted by pick pickpockets. So it's evident you need a backpack that's versatile, tough and flexible enough as you.
Wait shouldn't I get a backpack over a suitcase?
Some of you may be wondering if it's possible to travel out of a backpack whilst traveling Europe and the answer to that YES!
I've been traveling since 2016 and have personally lived out of a backpack throughout (even in Europe!) this is because backpacks are easy to carry around making you pretty mobile and more importantly they don't weigh a ton.
Most people pack much more than they really need which is why they feel like they need a suitcase but if you really look into what you will really use whilst traveling you'll realize you don't need as much as you thought.
Bottomline backpacks are the smarter and hassle-free way to travel and is always my recommendation to anyone looking to travel the world especially Europe!
Before I get into what to look for in a backpack for your euro trip here are the three types of travel backpacks:
Top Loading Backpacks: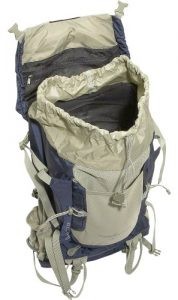 This backpack is closed by a drawstring and is covered by a protective flap originally designed for mountain/country hikers but commonly used by many Europeans themselves.
I like how easy it is to stuff a top loading backpack but honestly, it isn't ideal for world-travelers or those traveling for more than 2 weeks as the organization isn't as good and can get messy.
Front-Loading Backpacks (personal Favorite)
This is my personal favorite that opens like a traditional suitcase but doesn't weight like one. They are a combination of a suitcase and a backpack.
I definitely recommend this for most people traveling through Europe and are going to be packing a lot because these backpacks are designed to not only pack a ton but also keep them well organized. Moreover, there are some really good options which I will get into in a bit.
Convertible Backpacks
These are very similar to a front-loading backpack with the only difference being they can be used as a messenger backpack. They are quite versatile as they can be used in both travel and professional settings making them ideal for some travelers
In my opinion, it isn't something most travelers need as it's pretty impractical to use a 40L+ backpack as a messenger but for those that don't need a huge backpack I can see this being very useful.
Daypacks
After traveling for a while I've now realized how important it is to have a smaller backpack you can take with you every day; a daypack. This is because it can get pretty uncomfortable to carry around a heavy backpack as you only need a little for the day.
Pro tip: Look for a small daypack that's easily stowable i.e one that easily fits inside a larger backpack.
Factors to consider before picking a backpack for a Europe Trip:
What backpack Size works for you?
Backpacks are measure in liters ranging from 20L to 100L+ with the ideal size for a Europe trip being around 40L-50L. Personally, I wouldn't go above 60L as I don't pack as much and most travelers don't need so much either.
A good way to get the right backpack size is to look at the length of your trip, for instance, you don't need a huge backpack for a 6-month trip, in fact, it's the same as a 2-week trip because laundry is available almost everywhere.
Pro Tip: Look for a backpack that's under the maximum legal carry on size to avoid the hassle of checking in and pesky fees.
How comfortable are the external components?
Although backpacks are easier to carry around as compared to suitcases they can be a nightmare if they aren't comfortable on the back. It's important to pick a backpack with comfortable shoulder straps (with padding) and other external components like hip straps and sternum straps. It's very important that they're adjustable as most backpacks need a bit of fine tuning to break into the body.
How strong is the construction? (also durability)
Like I mentioned before a backpack is a traveler's home so you want to make sure it's strong enough to keep your contents safe.
Backpacks particularly for a Europe trip hold more than normal and are subject to unpredictable conditions so makes sense to get a backpack that's made of strong durable materials and strong construction.
How good is the internal organization?
I cannot stress how important it is for a backpack to be able to pack and unpack easily because whilst traveling especially in Europe you will be doing a lot of this!
Like I mentioned before front-loading backpacks with a clamshell opening are the easiest to pack and unpack which is why I recommend them to most travelers looking to travel efficiently.
How secure is the backpack?
Petty theft is common in hostels, trains, and buses in Europe so it's a good idea to invest in a backpack with anti-theft features like RFID sections, lockable zips, slash-proof material you get the idea through these backpacks will be slightly more expensive it's better than losing your valuables which are worth much more.
Other factors that make a good Backpack for Europe:
Strong zippers: I prefer waterproof zippers with the ability to lock for more protection.
Strong Internal Frame: This makes sure the shape and contents of your backpack remain intact and in one place.
Lightweight materials: Backpacks can easily weight 6-10lbs which is a major chunk of the travel weight allowance so it pays to get a lightweight backpack in the 3-5lbs range.
Color: If you happen to check-in your bag (Budget airlines) then it makes sense to get a backpack that's different from the usual black color to avoid having it picked up by someone else.
Final thought on Backpacks for Europe
A backpack is definitely an important part of every travel journey so it's important to take some time to research and look into the best backpack for your travel lifestyle.
For many of you doing this (backpacking) for the first time just know you're most likely going to use the backpack for months if not years, so make sure you really need the backpack before deciding to commit to it.
Thank you for reading through the end if you have any queries do leave a comment below.