Beaver builder is a big name in the WordPress industry and in fact one of the best drag and drop WordPress page builders. What's different about this builder is it gives you the ability to create a website using a page builder that doesn't generate any shortcodes.
Beaver builder is a more high-end page builder suited for those that want to build websites using drag and drop builders but with the ability to hand over the website to a developer in the future. Let's dive into my Beaver Builder review and see what separates them from the rest.
Click Here To Get The Best Price On Beaver Builder!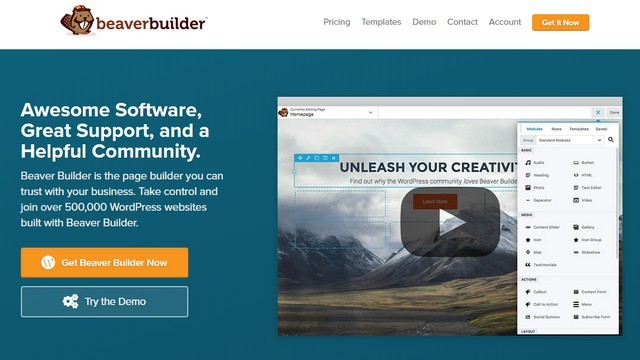 Beaver Builder Review
Beaver Builder is an incredibly popular page builder, and unlike its competitors, Beaver Builder is really popular even among WordPress developers, it's site builder makes it easy to build and design websites without the usual headaches.
Read to figure out why…
About Beaver Builder
Beaver Builder is a drag and drop landing page builder, that been around since 2014 making it one of the oldest WordPress Page Builders (that were actually good)
Fun fact: Wpengine.com is built with Beaver Builder
In a nutshell, the entire purpose of Beaver Builder is to make building landing pages easily in WordPress. You shouldn't have to know to code to be able to build a landing page.
When it came out in 2014 Beaver Builder it was one of the best landing page builders, it was honestly the best "drag and drop" landing page builders that were actually good.
Let me start with some of the best Beaver Builder features that make it the best page builder and why it's worth purchasing in 2020
Beaver Builder Review 2020
1. Drag and Drop Live Editor
Beaver Builder has a great drag and drop live editor that allows you to position text and images with a front end editor.
It's a WYSIWYG (What You See Is What You Get) which allows you to edit it in real time.
2. Pre-Made Templates
Beaver Builder has 30 incredibly designed WordPress themes and templates and you can use and edit so you can design your blog pages to look exactly the way you want it to.
All of Beaver Builder's WordPress Templates are 100% mobile responsive.
3. No Lock-in
Beaver Builder's page builder plugin can be used with any theme and you can switch themes without losing your content. Even if you decide to stop using Beaver Builder, your content gets ported right back into the WordPress editor.
4. Shortcode Friendly
The Beaver Builder page builder supports shortcodes and widgets so you can use other favorite plugins, so it's easy to integrate other plugins or tools into Beaver.
5. Great modules
Beaver Builder has great modules that include features like:
Subscribe Form
Testimonials
Pricing Table
Post Carousel
Number Counter
and soo much more!
6. 24/7 Great Support
As an Beaver Builder user, you can get 24/7 support to help you with any problem you have with your site! So it doesn't matter if you're a beginner, their support team will be there to back you up!
Beaver Builder Pricing
Beaver Builder is pretty darn cheap for what it offers. However sadly it doesn't have a Lifetime plan like Elegant Themes, so you do have to pay yearly.
Beaver Builder is available in three pricing plans:
Agency Plan
Unlimited Sites
Page Builder Plugin
World-Class Support for 1 Year
Premium Modules & Templates
Beaver Builder Theme
Multisite Network Settings
White Labeling
Price: $399 / Year
Pro Plan
Unlimited Sites
Page Builder Plugin
World-Class Support for 1 Year
Premium Modules & Templates
Beaver Builder Theme
Multisite Capable
Price: $199 / Year
Standard Plan
Unlimited Sites
Page Builder Plugin
World-Class Support for 1 Year
Premium Modules & Templates
Price: $99 / Year
Is Beaver Builder Worth it?
The answer is it depends;
If you are a developer or plan on working with the developer in the near future than Beaver Builder is definitely a great idea for you. Else one of the alternatives below may be a better choice for you.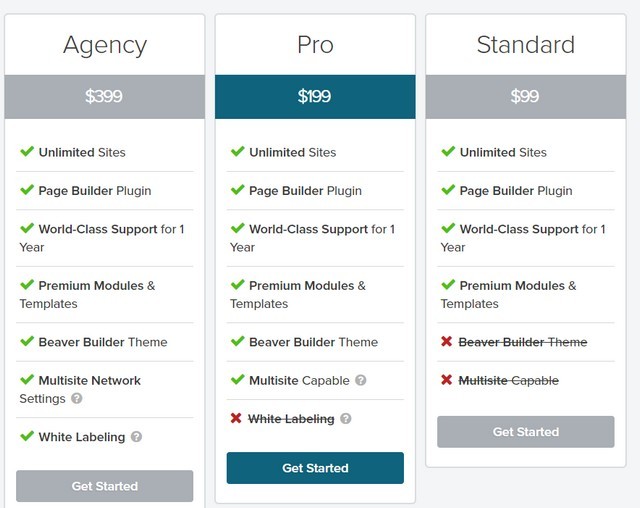 Beaver Builder Alternatives
1. Elementor Pro
It's obvious that Elementor would be the top of this list! When it comes to a page builder, there's little competition to Elementor when it comes to delivering on the goods in the WordPress Page Builder Space!
It's, in fact, one of the most popular drag and drop WordPress theme builders that can make you instant page edits without touching any code. (which is great for a non-dev like me)
Elementor is a WordPress Page and Theme Builder that was founded in 2016. In just 3 years, Elementor has more than 2,000,000 active installs and is loved by many and has over 3,000 five-star reviews.
Get The Best Deal on Elementor Pro Now! Simply click the link below!
Click Here to Get Elementor Pro
2. Divi Theme by Elegant Themes
Divi is great for beginners who want a simple drag and drop builder to build websites.
My friend Mark was able to go from "no idea about WordPress" to building websites for hotels and businesses thanks to the Divi Theme.
Exclusive Offers For JeremyNoronha.com Readers
JeremyNoronha.com readers can get a 20% Discount on Elegant Themes. Simply click the link below and signup and the discount will be applied automatically.
Hurry Up! Limited Time Offer.
Read Next: