When looking for the right website page builder, the first thought that comes to my mind is: is it easy to use?
Followed by its features, its capability to make website page creation a breeze and affordability.
Because let us admit, we are looking for a plugin that is efficient and can get the work done.
Not something that you will spend needless hours figuring how to use; or worse, fixing the bugs.
So in this blog, I am going to review Beaver Builder that stands true to all of the above-said criteria.
Beaver Builder has been around since 2014 and is the most trusted and reliable WordPress plugin. It is not only intuitive but also an excellent option for developers.
This review will walk you through the nitty-gritty of this web page builder.
Click Here to Try Beaver Builder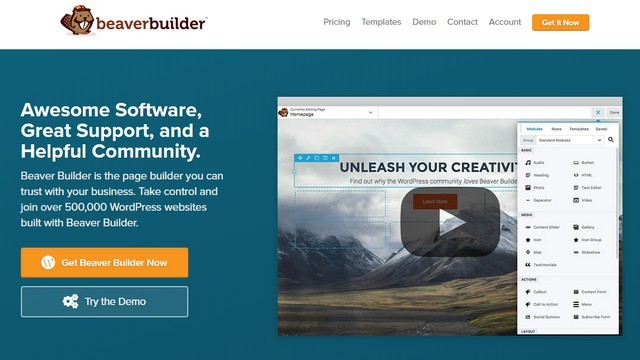 After reaching the bottom of this blog, you are going to know if this is the right page builder for your business.
Lastly, I am going to hand out a summary stating the right plans for solopreneurs, small businesses, and eCommerce owners.
Beaver Builder Review
So stick till the end, and let's begin by understanding Beaver Builder.
About Beaver Builder
Beaver Builder is a drag-and-drop website page builder plugin for WordPress.
Since its inception, it has gained an influx of popularity from beginners and developers alike. It is known for its simplistic interface, layout tools, and a wealth of features.
Beyond that, Beaver Builder is one of the most trusted and reliable web page builders available today.
The plugin allows you to create website pages by simply dragging and dropping the elements onto the fresh canvas. What's even better is the fact that you are not required to write even a single line of code.
Beginners, with no knowledge of coding languages, find no ifs and buts in creating website pages with Beaver Builder.
You can experiment with the blank, white page or pick any template, to begin with.
Now you would be wondering: is Beaver Builder only for beginners?
Not at all!
The resourceful layout tools allow developers to further enhance and customize the themes and pages.
At the end of the day, Beaver Builder is a page builder that's intuitive, content-rich, and comes with excellent UI and customer support.
You can use this to build your own website from scratch, customize the existing content, or create a ton of sites for your clients.
Now let's dive right into the features of Beaver Builder and review them.
Click Here to Try Beaver Builder
Beaver Builder Features
1. Set-up and Interface
The first impression of the plugin we get is that it is well-integrated with the WordPress UI.
It is like a plug-and-play extension, meaning it is intuitive and helps you create stunning websites fast.
Once you have installed the plugin, you can proceed with creating the pages in WordPress as usual.
Then, launch the Beaver Builder plugin, and you will be presented with a white canvas with a sidebar that rolls out from the right side of the screen.
So there you have the plugin installed and ready to use!
In the sidebar, you get four options:
As you can see, it is quite intuitive, and you can get the hang of it in a couple of minutes.
Navigating Beaver Builder is not difficult either, with clean sidebars and interactive dashboard, the extension makes work easy for its users.
Now let's see how page creation is done and if that's as easy as setting up.
Click Here to Try Beaver Builder
2. Creating Pages
Installation was pretty quick, the real game begins with creating the pages.
Ideally, you will begin by dropping in the rows from the sidebars.
Followed by columns within each row. Then, you are going to add elements in each of these columns.
You can add as many or as fewer rows and columns or elements you wish to.
Now the best part is that you can see all the changes happening in real-time. This means you can drag and drop any elements and see how it looks.
Moreover, when you drop any row/element, a box pops up that allows you to change or adjust the style of that particular element.
It is like having a tiny box on the top of your screen that you can hide in the corner or clip it right in the center, you decide.
This flexibility allows you a better view of the screen.
Especially if you are a non-designer, you are going to find it comfortable to use.
Lastly, with the ease of editing and designing, you can make a page that reflects your brand and business.
Overall, the UI of the Beaver Builder is excellent. It is clean and neat and makes designing a breeze.
You can also use the existing templates to kickstart page building.
Talking of templates, let's shed some light on it.
Click Here to Try Beaver Builder
3. Templates
You know, it is very natural to get intimidated by the blank canvas.
While it is great if you already have some prior experience, using a reference point does no harm.
Moreover, despite lacking experience, a lot of users create stunning pages. Simply put — you can draw inspiration from the templates.
The best part is: you do not have to leave the platform for this.
With over 50 templates, it should not be long before you get-set-going.
Here are the pages for which you get templates in Beaver Builder:
Landing page
About us page
Contact page
Service page
What's even better? You can import a template for all of these with one-click.
Now, you do not have to use them as-is, you can customize the existing templates by editing the elements or adding your touch.
Either way, using the templates is pretty easy with Beaver Builder. You get even more functionalities with the Beaver theme that are otherwise not available with other themes.
Overall, Beaver Builder does a great job on the template front.
Therefore, starting out shouldn't be too daunting. You can deploy the templates right away or can gain a reference point from it.
Click Here to Try Beaver Builder
4. Modules
Coming to the module sections, here are some of the many elements you have got:
Testimonial
Callout
Contact form
Photo and video
Map
While there is a restriction in the Lite (free) version, there is no limit to using these elements in the premium versions.
The interface is user-friendly and will not take you long before you see yourself getting comfortable with using all the elements.
Moreover, you can save the templates created and find them later along with the pre-made template library. Another impressive and noteworthy feature is the flexibility to:
Modify brightness of the UI (you can also switch to Dark Mode)
Include layout CSS and Javascript
Make changes in the responsive editing section
Clearly, all of this gives me more reasons to invest in this robust plugin.
Overall, Beaver Builder enables hassle-free page editing, working with the interface, and creating or customizing website pages.
5. Mobile Responsiveness
When you are building your website, do not forget to check the responsiveness on the mobile and other devices.
To make your pages mobile-ready, switch to the responsive editing option available in the Beaver Builder.
This way, you can eliminate elements that may look too large for mobile. Or adjust smaller components to fit the screen. This gives you a good sense of how your website will look like on mobile and other devices.
Why is this important?
Stats show that mobile counts for approximately half of the entire website traffic.
Therefore it has to be your priority to optimize your website for mobile.
Beaver Builder makes it effortless for everyone to create mobile responsive web pages with a straightforward interface.
6. Active Developer community
While I am pointing out the ease of use for complete beginners, it would not be fair to not shed enough light on the developer's aspect.
Beaver Builder impresses the developer community with accessible layout tools. It is not easy to find a page builder that lets you play around with the elements and create a website as you want it.
This is not the case with Beaver Builder.
The Beaver Builder plugin is developed and maintained by the developer community. When you are doing something so passionately, it reflects in your products. The same goes for Beaver Builder. The love it gets from the developer community is something to indeed pay heed to.
Apart from this, their dedicated Facebook group discusses all-things-developers.
If you are a developer working on your client's websites, you are going to relish the functionalities Beaver Builder provides.
So these were the features by Beaver Builder. Honestly, they do really well in providing a great experience to its users. Without any hiccups, you can create stunning, functional web pages.
Let us now walk through the pros and cons of Beaver Builder
Click Here to Try Beaver Builder
What I Like About Beaver Builder
1. Stability
A lot of page builder plugins come with way more bells and whistles than Beaver Builder.
However, one of the most important, yet overlooked things is the stability the developing team offers.
You have to make sure the plugin runs successfully in the long run and does not crash when you need it the most.
The best part about Beaver Builder is when people invest in this plugin, they keep renewing its license to use it for years on end.
Single most reason: stability.
You are wanting a plugin that is meant to heighten your life. Not make it more troublesome. Beaver Builder delivers well on the stability front with absolutely no breakdown issues.
2. Security
Another influential factor for any plugin has to be the security it offers. Beaver Builder does a great job of security as well.
While its competitors have had experienced security threats, Beaver Builder has never really faced any such issues. This is quite a fantastic indicator of its iron-clad security.
This way, you are relieved because you know that your and your visitor's data is kept confidential.
3. Regular Updates
Any plugin that is not regularly updating its services is basically not worth using. With time, you will need more updated and a bug-free plugin for your ever-evolving requirements.
Beaver Builder does it exceptionally well. We can see it in the way they have rolled out the Beaver theme and the Beaver Builder theme.
Another important update was the Beaver Builder 2.0 that took the community by storm. The UI has significantly improved since, and this is yet another reason to go with Beaver Builder.
Another thing to note is they had one of the most significant drawbacks: the extension lacked an undo option. This filled the team's inbox with complaints.
Fortunately, that too has been solved with the latest 2.3 version of Beaver Builder.
This also shows us the thoughtful approach the community adapts.
4. Support system
Lastly, the best part about Beaver Builder is their ever-supportive team.
Despite the plugin being intuitive, one can get excellent customer support and needful resources.
Beaver Builder has got a bunch of friendly support systems that answer your queries and resolve them within an impressive timeline.
With all the pros discussed, now let us look at the cons of Beaver Builder.
Click Here to Try Beaver Builder
What I Don't Like About Beaver Builder
Even the best of plugins have some drawbacks, and the one in the spotlight is no exception.
Even though the cons depend entirely on the individual user since it differs from version to version.
However, some of the cons that user have had with Beaver Builder are as follows:
Inefficient content areas: you may experience difficulty making your content width stretch and fit the screen size.
Despite having a specific feature for this, the users struggle to re-size their content to be website ready. This may not be an issue if you are using the Beaver Theme.
Limited functionality in the free version: if you are planning to go with the free version, in the long run, it would not be sufficient. However, the paid plans are worth every dime.
It lacks the ability to add custom CSS code to the content modules.
Speaking of which, let us glance through the Beaver Builder pricing.
Click Here to Try Beaver Builder
Beaver Builder Pricing
When it comes to pricing, you can try out Beaver Builder for free, initially. This lets you get the feel of the plugin and also get the hang of it. Afterward, you can switch to the paid versions that are split into 3 categories.
Let's take a look at the Lite and paid plans of Beaver Builder.
Beaver Builder Lite
If you are still not sure about investing in the paid version of Beaver Builder, you can get started with the free plan.
The free version is free, sleek, and intuitive. It lets you create a page even if you are doing it for the first time. Or, if you just feel like testing the tool before investing, this is for you.
In the free version of Beaver Builder, you get 5 modules, including HTML, video, and audio. Apart from this, you can use responsive editing to make it responsive to other devices.
The interface is the same as the one you get in the premium version. The only difference is that the free version cuts back on a lot of essential elements like the button.
Again, this is when you are looking at a short term usage of the plugin. If you want more features, in the free version only, then you have to take a look at their PowerPack lite for Beaver Builder.
Once you are fully satisfied and confident in investing in the plugin, you can simply upgrade to the paid versions.
Beaver Builder Premium
Now that you are fully satisfied with the free version, upgrading to the premium Beaver Builder version is pretty simple.
All of your themes saved templates, and data stays intact when you upgrade. Therefore, it should not be a problem switching to a higher package.
Here, you get a wealth of features and can experience the Beaver Builder to its fullest potential.
In the premium version, you can:
Build multiple websites
Access all templates — over 50 including landing and content pages
Access all 29 modules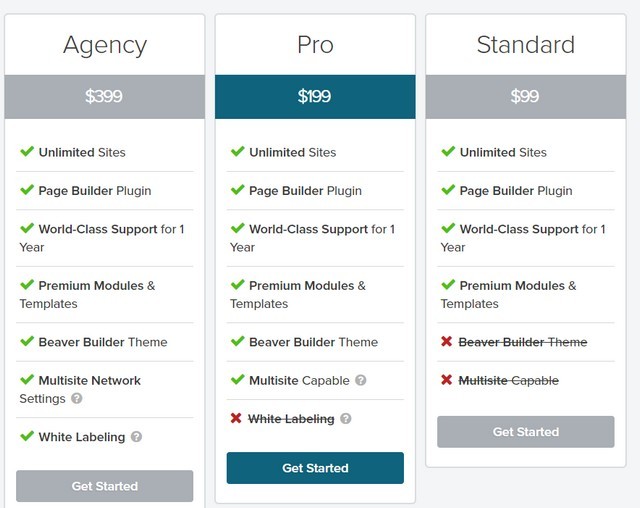 Here is what the pricing for Beaver Builder looks like:
Standard: $99
Agency: $199
Pro: $399
What do you get?
With all of the packages, you get:
Unlimited websites
World-class support
Premium modules and templates
In the Agency and Standard packages, you also get the Beaver Builder Theme and white labeling option.
Apart from that, you get everything in all the three packages. Which is a great deal considering the ease of use you get. Not only this, but all of these packages save a ton of your time and effort.
Simply, you can take all of this time and invest in your own business than to keep fixing the bugs.
Click Here to Try Beaver Builder
Beaver Builder Coupon Code
They're many websites on the internet making misleading offers such as:
Beaver Builder Coupon
Beaver Builder Discount Coupon
Beaver Builder Discount Code
Beaver Builder Discount
Beaver Builder Coupon Code
Beaver Builder Coupons
Beaver Builder Code
Beaver Builder Promo Codes
Beaver BuilderPromo Code
Beaver Builder Voucher
However, the truth is that does Beaver Builder not offer any coupon codes! But you can renew  you Beaver Builder yearly subscription at a 40% discount which is automatically applied.
Click Here to Try Beaver Builder
Who can use Beaver Builder?
As promised, here is a quick guide for which plan is right for you.
If you are just stepping your first foot in the website development space, are a small business owner or a solopreneur: go with Beaver Builder Lite. It should be just fine for you to begin work.
You will get the hang of how the pages work and how to play around with the elements. Moreover, if you feel like the functions are not enough, then you can simply upgrade to any one of the premium versions, with all of your data being intact.
Next, if you are an eCommerce or a medium-large business owner: go with any of the Beaver Builder premium plans. All of the premium versions of Beaver Builder support WooComremce via which you can add elements and pages to your eCommerce store.
Lastly, this is an excellent plugin for developers as well. As we have seen in the above sections, how the active community consists of and supports developers, this should be a strong point in making the right decision.
In the agency module, you get to remove the Whitelabel option, which gives out a sense of strong professionalism.
Click Here to Try Beaver Builder
Beaver Builder Review – Final Verdict
Overall, Beaver Builder is an excellent theme for developers as well as the newbies alike.
While it eases the creation and designing process for the beginners, it does not overlook the developer aspect either.
The plugin has got something for everyone. From solopreneurs to eCommerce owners, everyone can get the benefits of creating customized pages with the elements of their choice.
Moreover, you can begin with the Beaver Builder Lite and upgrade later.
The best part about Beaver Builder is the active developer community. Not only is the tool developed and maintained by the developer community, but they support them via their FB group as well. And because they are using the products themselves day in and out, the issues are resolved before you even think of them.
There is no denying the fact that there are a ton of other page builders available; however, Beaver Builder really shines on the stability, security, and innovation front. Creating pages with Beaver Builder is elementary. Anybody can do it by simply dragging and dropping the elements on to the screen. You can see the changes being made in real-time, which gives you a good idea of the look and feel of the page.
This makes it an ideal, investment-worthy plugin for WordPress websites.
Click Here to Try Beaver Builder
On the Closing Note
Here is Beaver Builder at a glance:
Search engine optimized
Mobile responsive
Developer support
Secure and stable
Responsive website pages
Despite a few drawbacks, Beaver Builder is still one of the top choices for web builders out today.
Overall, if you are still on the fence, I would recommend starting out with their free plan, try out the fantastic features and invest in Beaver Builder to make creating web pages a breeze.
Click Here to Try Beaver Builder
Read Next: