Avada and Divi are two of the most popular, multi-purpose WordPress themes. But, what exactly is a multi-purpose WordPress theme? Well, basically such themes contain multi-purpose templates, allowing you to use them for different types of websites.
For a long time, these all in one themes didn't exist and back then, you had to buy a new WordPress theme for every project you started on your website. This of course cost money but not only that, you had to spend a lot more time too as with each new theme came new options so you had to learn to use the design of that specific theme before you could do something real.
Get a 10% Discount on Divi! Click the link below and the discount will be applied automatically.
Divi vs Avada
In this article, you will learn about both Avada and Divi, their pros and cons and ultimately be able to decide which one is the best for you. Let's begin with Divi.
About Divi
Divi is a very important theme in the history of WordPress themes. It was launched in 2013 by Elegant Themes and it set a new standard for multi-purpose WordPress themes.

Click Here To Get 10% OFF Divi
Divi was an easy to use theme because it was also aimed at website owners who didn't know much about the technicalities of these themes. They were able to easily make good looking websites in a matter of a few hours, so Divi was indeed successful in what it was aiming for and that is precisely why it even became the new standard.
Pros
Can be used on Unlimited Websites
Real-time preview of editing
Amazing support
Theme builder available
Really flexible
Cons
Custom shortcodes don't transfer to other page builders, making it harder to switch
Lack of a social counter
Divi can be used to make virtually any kind of website. It is easy to use and the page builder it has is really powerful so it fulfills all developers' needs but not only that, people not familiar with coding can also utilize it easily without any issues.
Divi also has a real-time preview when editing which is a very neat feature as you don't have to bother going back and forth editing just to see if what you are trying to do actually works.
Let's talk about the theme builder. You can control the layout and design of your entire website with this one tool. With this tool, you can use the visual page builder to create a custom design for your site. All that, without having to write a single piece of code!
With Divi, you also have access to pre-built layouts and websites catalog, containing over 100s of them.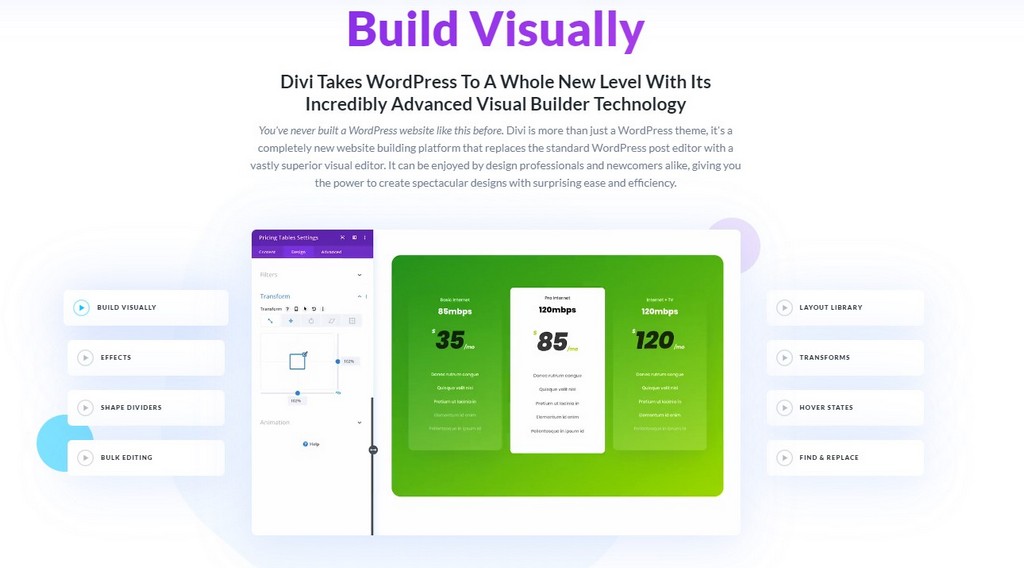 Since Divi is Elegant Themes' main product, it gets constant updates which ensures that Divi is up-to-date with technology and bugs are also rooted out quickly because of this. This is actually an important thing as without updates you may need to switch to another, more up-to-date theme but thankfully you don't have to do that.
With Divi, you get the following features:
Drag and drop builder
Responsive editing
Custom CSS control
True visual editing
Inline text editing
Design options galore
Save and manage unlimited custom designs
Global elements and styles
Undo, Redo, and Revisions
How much does Divi cost?
Divi costs $89 per year and with this you get all the features available. If the yearly fee puts you off, don't worry, there is a one-time fee as well. By paying $249, you get Divi for lifetime!
Get a 10% Discount on Divi! Click the link below and the discount will be applied automatically.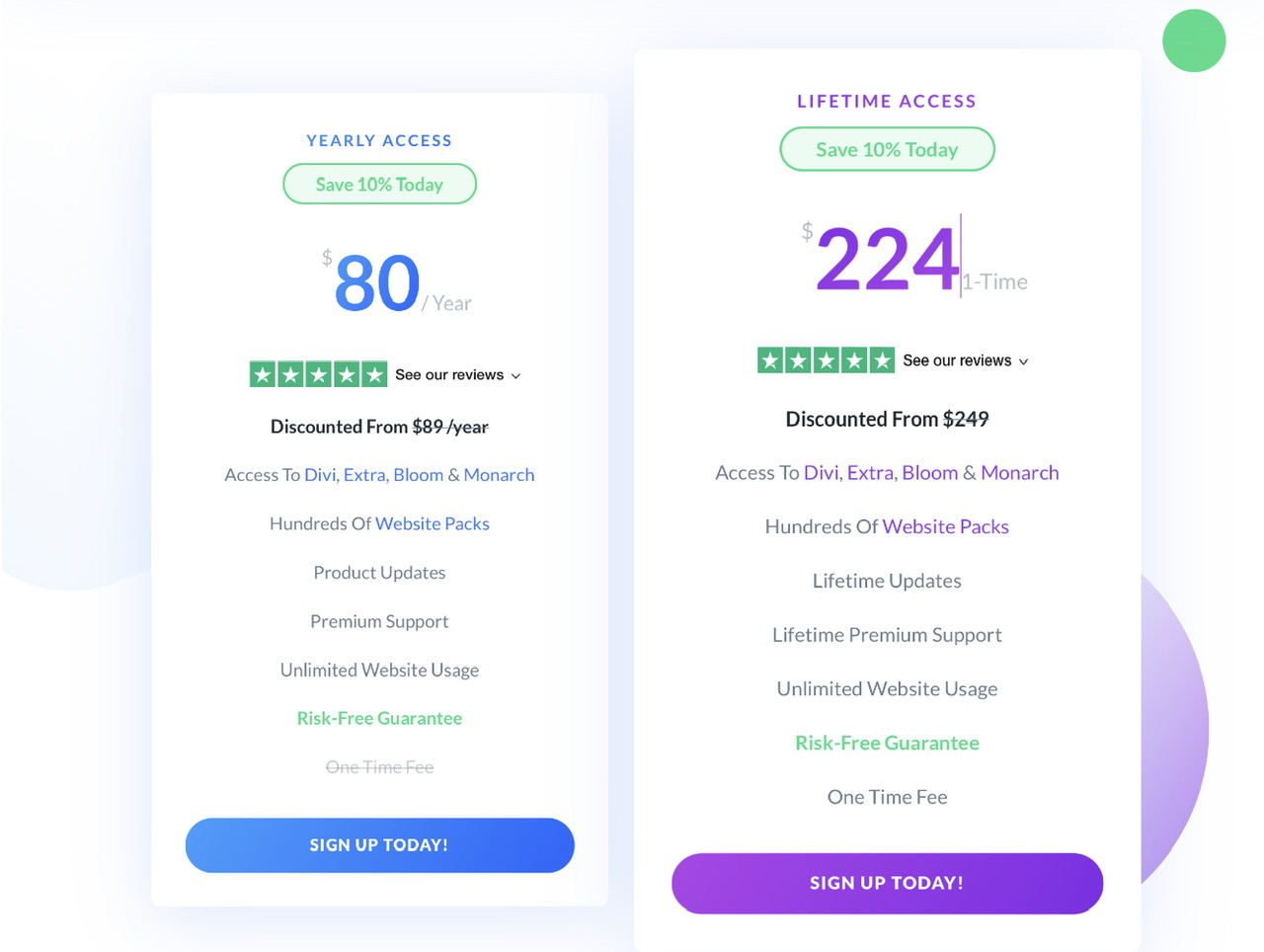 You can also try out the Divi demo builder for free on their website.
But wait! There is more, by paying this fee not only do you get access to Divi, but you also get access to 3 more products! They are:
Extra Magazine Builder: The Extra theme builder is useful for blogs and online publications. With this, you can build great looking articles and customize your category pages with unique post feed elements.
Bloom: It is an email opt-in plugin. If you are going for good marketing, surely you would require a big email list. Bloom helps you collect emails using opt-in pop-ups, fly-ins and in-line forms.
Not to mention, Bloom seamlessly integrates with all of the most popular email marketing platforms.
Monarch: It is a social sharing plugin. Whatever you are doing with your website, surely you will be interested in having a social following.
Monarch helps display options to share your pages easily with other people through popular social media platforms.
Now that we have looked at the general outline of Divi, let's dive deep into the workings of Divi and how convenient it can be:
With Divi, you only just need to install it into your website. There is absolutely zero need for any other WordPress plugin to get going. Though it is recommended that you check for updates and add your username and API under the theme options area so that you can update straight through the admin area.
Like I said before, there is no need to for any other plugins, the Divi builder is up and running as soon as you install Divi to your website. You will immediately find the builder when you are editing posts, images, etc.
The Divi builder is both a front-end and a back-end editor.
To get started, click here to try Divi, just click on "Use Divi Builder", you will find it in your post editor. It is straightforward to create your theme now, just drag and drop content modules, rows, columns, etc. See? It's simple!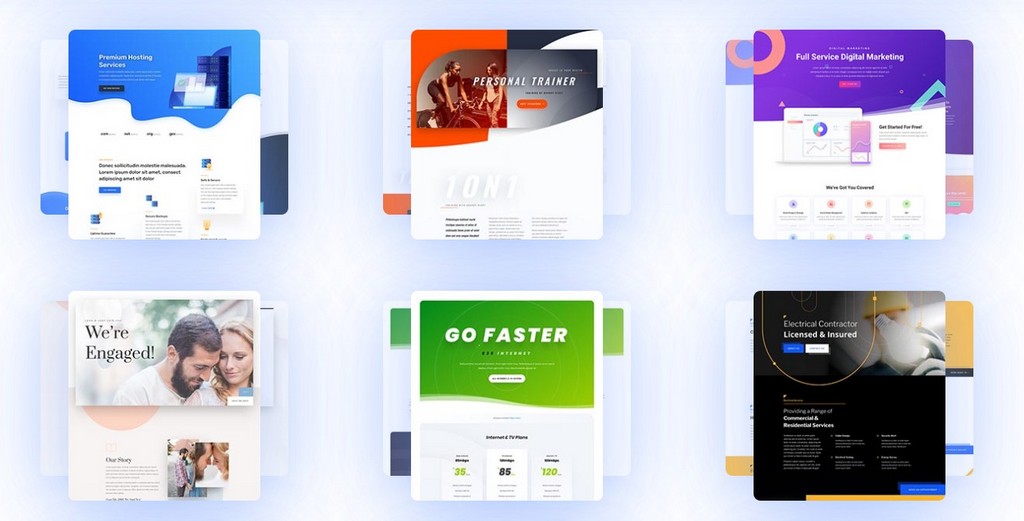 You have a great deal of control over everything, a simple click of a button can clone or remove stuff as you feel like. There are separate settings for each part too, thus giving you the ultimate control on how everything is supposed to be displayed.
Sections contain the rows. You can add any type of sections you want, whether that be full width sections, standard sections or speciality sections.
The rows contain the columns. And the columns themselves, contain the content modules.
You can also select the option to create your layout totally from scratch. You might find that a bit too hard but don't worry, there is a huge selection of premade layouts available to you. Just choose one, use it as a base and edit it according to the vision you have for your theme. There are in total 141 premade layouts that come with Divi, with more being regularly added.
These premade templates save you a lot of time. There is a template available for almost everything, be it news article templates, blog posts or homepage designs. With a selection this wide, you are sure to find a template that works for you. You don't need any coding knowledge to use these either. Just plug them in and viola, you have your site ready.
The Theme Customizer allows you to view the real-time results of your fiddling with the different elements of a page like the buttons, widgets, header, footer, color schemes and many more. The results being displayed in real-time is a huge benefit as it saves you a lot of time and hassle. You can just adjust things in the moment rather than going back and forth over and over.
Divi provides a total of three custom WordPress widgets, not that big an amount but they are good enough and you can also easily find alternatives by looking around in WordPress.org.
There is another set of great features the Divi builder offers you and that is the features to undo, redo and check the history of all changes you made. You are certain to utilize these at some point in your web developing adventures as mistakes happen, nobody is free from them. Divi at least lets you rectify these mistakes hence why these options are so great and convenient.
I mentioned before that Divi has both front-end and back-end editors. To access the front-end editor, just click on "Use Visual Builder" in the admin area. The Visual Builder is the front-end editor and the interface is somewhat different from the default builder.
There is an option in the builder called "Wireframe View". What this view does is that it hides your design and loads your layout as seen from the default builder. This allows you to quickly switch between the back-end editor and the front-end editor, that is, the Visual Builder.
I have talked enough about Divi, let's look at Avada now.
About Avada
Avada is the number one selling WordPress theme and there are major reasons behind its success. For starters, it is super flexible.
With Avada, you can create practically any type of website. There is a huge number of demo sites that you can use and just add your own content to it and boom, you have your website ready in a matter of minutes!
What if you don't like the pre-built demo websites? Well, it is simple. You can just build your own website from scratch as well.
Pros
Super flexible
Really smooth looking design
Big selection of demo websites
Custom fonts
Efficient and fast working with Fusion
Cons
Real-time editor unavailable
Only usable on one website
Avada provides a good number of features. Some of them are:
The Fusion Builder, Avada's built-in drag and drop builder
A huge variety of theme and page options
Good menus that allow you easy accessibility
The Fusion Core plugin, extends the list of options and tools
Easy translation options
How much does Avada cost?
Avada charges you $60 for a single website. Yes, a single website, unlike Divi, you can't use Avada on an unlimited number of websites. Avada is a single end user product and you can't charge end users for it.
What this means is that if you are building a theme for a client, you can't sell him it. You can, however, just transfer him the license.
If you want to charge end users, you will need to pay a whopping $2950. A big enough price that most aren't willing to pay. Don't worry though, as you can just go for the $60 purchase if you are never going to sell themes.
Now let's talk in-depth about the workings of Avada:
As soon as you load up Avada, you will find that it recommends you two plugins to install. This is unlike Divi, where it needed no additional plugins to get going.
The two plugins Avada recommends are the Fusion Builder and the Fusion Core plugins.
The Fusion Builder is a back-end drag and drop editor that you can activate in your pages using the "Use Fusion Builder" option. The Fusion Builder is really fast. It quickly loads up and is easy to navigate around. You can simply load premade layouts from the option displayed on an empty canvas. If you are having any trouble, just watch the guide video displayed there.
Just like with the Divi builder, you can just as easily delete, clone, move and configure the content elements, columns, containers, etc.
The main advantage the fusion builder has is that it is insanely fast. You can very quickly drag and drop things, it saves a lot of time and also saves you from the frustration you feel when things aren't going as fast as you would like them to.
There is a timeline of changes you can see in the Fusion Builder, just like the Divi builder. Through this timeline you can do what the redo and undo buttons did in Divi.
You can start building your theme from scratch if you like, just as with Divi. There are over 20 website demos you can use and each demo is highly flexible meaning you can create just about anything out of them according to your needs.
Each of these demos can be easily previewed before installation. These demos save you a good amount of time and also help beginners quickly get going with their websites. Also, the number may sound small but these demos are way more complex than anything Divi has to offer.
You can import an entire website demo within minutes in Avada, that's a privilege not every builder has.
Avada also allows you to control the mobile version of the website, meaning you can alter the appearance to help optimize the page on mobile browsers. Like you can cut a few elements from appearing on the mobile version and you can also move around some elements so that the site works better on a mobile browser.
Avada's Fusion Builder offers over 46 content elements, which includes tables, gallaries, pricing tables and more. These can be customized and naturally be saved to the template library for future use.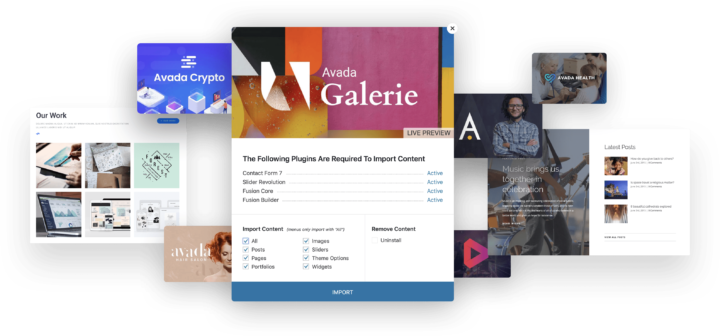 Avada has a total of nine custom WordPress widgets, more than what Divi gives you but they aren't that good. Again, you can easily look around for alternatives.
The main Avada theme options page has an extensive number of design settings. Though, you can't see the changes in real-time unlike Divi. Nonetheless, Avada is fast. It is quick to navigate around so that saves some time to modify these settings.
Avada vs Divi
Avada and Divi, both, were designed keeping in mind the goal of a multi-purpose ("all in one") WordPress theme which can be used to create a huge variety of websites. Though similar, there are some key differences in how they approach the design of some of the features.
Divi has an upper hand when it comes to real-time editing. Avada offers no such real-time editing. With Divi, you will see every change you make thanks to the front-end editor.
Another thing where Divi has an upper hand is that you can apply it to unlimited websites without any additional charges, certainly not the case with Avada where you can only get a license for one website.
Avada's main advantage is in how fast it is. Both Divi and Avada offer demo templates but Avada certainly wins here as it loads the demo websites within minutes.
Another one of Avada's advantages is that it offers you control over the mobile version of the website, thus helping you make your website optimized for mobile users.
Both Divi and Avada let you make some gorgeous pages however Avada takes an edge here as well and gets the aesthetics better.
Both the products are great so it is hard to say which one is the best. But, the question is, which one is the right theme for you?
Well, it basically comes down to what your needs are and what your end goal is. If you want to get a theme for a single website that has a great number of customization options and you don't need a front-end editor, then Avada is for you. On the other hand if you need a theme for multiple websites complete with a real-time editor in exchange for slightly lower customization, then Divi is the one for you.
Get a 10% Discount on Divi! Click the link below and the discount will be applied automatically.
You yourself should give it the thought of the day and decide which suits you the best based on what you have read here.
Read Next: