What does it take to create one of the best-selling themes ever on multiple WordPress theme shops? That's a question meant for the makers of Avada, a multipurpose WordPress theme that has a community of over half a million users around it. When you boast a user base that big, it's clear you're doing something right.
The team behind the theme is ThemeFusion. Back in 2012, they set out to build the perfect WordPress theme – a tall order by all accounts. The Avada theme is what came out of that lofty goal. People may have been skeptical before, but not anymore. ThemeFusion has a whopping 589,931 customers today and that number is growing steadily.
Click Here to Get The Avada Theme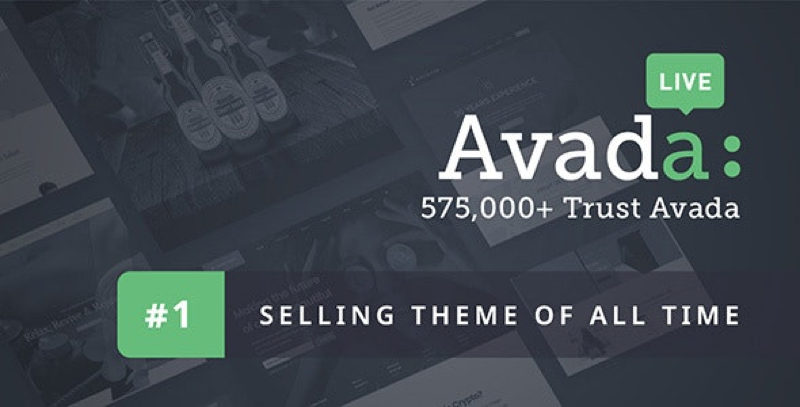 One of the main reasons ThemeFusion has been so successful with Avada is their singular focus on creating the absolute best WordPress theme of all time. There are plenty of WordPress shops out there with a portfolio of themes and plugins to support them. But ThemeFusion, they have a grand total of one theme on offer.
The fact that ThemeFusion has only one theme in its catalog shows how much care and attention they pour into the Avada theme. The team has spent a cumulative 55,000 hours building and fine-tuning this software. The support team has responded to over 300,000 threads about it. This singular focus is one of the main reasons why Avada has managed to become one of the best-selling WordPress themes ever.
While ThemeFusion focuses on doing just one thing right, Avada casts a much wider net. It is a multipurpose WordPress theme, which means that it can be used to build many different kinds of websites and has diverse features to support them.
The multipurpose nature of Avada may put off some website owners who prefer themes with a more narrow focus. There are plenty of themes out there built for very specific applications, such as for restaurant websites or only for landing pages.
The advantage of using a multipurpose theme is that it can evolve easily with your needs. You aren't limited to one look and a few different functional components. The Avada theme morphs itself to suit your needs, whether you're building a website for a hospital or to sell an E-book. Even after you've built your website, there are plenty of tools on offer to quickly add elements and tweak existing ones.
It's already evident from Avada's origins and popularity that it is a great multipurpose WordPress theme. But what is it that makes Avada such a popular WordPress theme? And more importantly, is it the right theme for you? Our review below should answer all your burning questions.
Avada Theme Review
Avada is a WordPress theme built to be easy to customize and offer powerful features at the same time. Building a fully-functional website with Avada is a breeze. You can easily design the website the way you want and dictate the way it behaves without ever having to write a line of code.
With every installation of Avada comes a library of professionally-designed demo websites. Each of these websites was built using the theme itself and can therefore be easily customized to suit your needs. All of these demo websites are available to users at no additional cost and can be imported easily with a few clicks in the admin section of the dashboard.
Click Here to Get The Avada Theme
The demos built using Avada are surprisingly diverse and there's plenty to choose from here. There are websites built for all kinds of businesses, including interior designed, cleaning services, landscapers, podcasts, and driving schools. If you're looking to build a website for your business, chances are, there's already an Avada demo built for it.
So now we know that the demos can serve as a great starting point for your website. But that's not enough. You will need to edit these demos so that they reflect your brand identity and explain what your business does.
Editing websites with Avada is extremely simple. You don't need to know any code to change how your website looks, how it performs, or to edit any text on it. Avada makes it possible to do all of those things using a visual drag-and-drop builder tool.
The way Avada makes this possible is using what it calls its Fusion Builder. This software is a page builder that lets you build wireframes and put together layouts using a drag-and-drop methodology. And now with Fusion Builder Live, you can build your website using a front-end editor, which means that you can see all the changes that you make to your website live.
Fusion Builder is at the core of what makes building websites with Avada so easy. So let's take a look at how it works and what features users have at their disposal.
Avada Fusion Builder Review
Avada's Fusion Builder is a drag-and-drop page builder belonging to the same category as products like Elementor and Divi. The idea here is that you can create website pages visually by picking elements you want and dragging them onto the page. Since you can see all the changes you're making to your website right as you do, it's known as a front-end editor. You don't have to worry about coding or creating mockups to build your website.
To understand how the Fusion Builder page builder works, let's first see what elements it offers. There are over 65 individual elements in its arsenal. Each element is a module that is commonly used in different parts of a website. Some examples are blog, button, audio lightbox, social links, title, and YouTube. Once you see what elements are available to you, it becomes easy to understand how the Fusion Builder works. Users have to simply drag these elements onto the page to create the page that they have in mind.
Let's say you want to create a new blog page. You'd start, of course, by dragging in the Blog element. Then you'd use the Title and Text elements to create the basic structure for your blog post. If you have a video that you'd like to throw in there, you can drag in the YouTube element and paste the video link in. As you'd imagine, this method makes it very simple to put together pages for your website.
Fusion Builder has its own Element Library Dashboard. You can use this not just to access individual elements, but also edit them. That's right, you can edit the inbuilt elements that are in the Fusion Builder library. So if you don't like the way the text in the Title element looks, you can edit the font, font size and so on so that it looks like you want it to.
The library also serves as a hub where you can save all of the elements that you have created. Avada lets you store individual elements as well as entire pages. So you can use pages that you have designed yourself as starting points for new designs and not just the built-in demo library. Being able to save these elements is useful when you want to use them repetitively and it speeds up the design process.
Another way in which Fusion Builder makes the design process faster is through its global save system. Here's how it works. When you create a new element in Fusion Builder, you can check the "Save as Global" box. Now you can access that element or page in the Fusion Builder library. Any time you want to use it, simply add it from the library. Users can make changes to global elements on any one page to make a change to every instance of that element.
There are many uses for this feature. The most obvious one, of course, is that you can use it to create archetypes for elements you use repeatedly. It also makes it faster to make site-wide changes to any element.
For example, let's say you want to make a change to the footer of your website. This is an element that's going to appear on every page of the site. Going to the footer on each page and making the required edits would be a time-consuming process. Instead of that, you can assign the footer as a global element and make the changes you want. Now the changes that you make to it on one page will reflect everywhere else on the website.
When it comes to building page layouts, Fusion Builder helps out with its pre-built column layouts. It is common to express the design of a website in terms of how many columns it has. So you may have a full-width single column layout or a two-column layout. With Avada's Fusion Builder, all these different column combinations come in built.
Fusion Builder also supports the use of nested columns. These are layouts in which you would find columns inside columns. One of the uses of this would be to have three columns inside one column to show a series of images. These kinds of nested column designs are available on Fusion Builder.
If all of the options available on Fusion Builder seems a little overwhelming, don't worry, you can quickly learn how to use the tool. The tool's welcome screen gives you a guided tour and includes information on where you can find additional support, how to use third-party add-ons, etc. Fusion Builder has a sticky control bar from where you can access your library and edit history, so you never have to go digging in the dashboard to use it.
Developers will be happy to know that Fusion Builder has an API. So you can develop tools on top of what's already available to augment the functionality of the software.
Avada Theme – Tools & Features
So we've seen that the Fusion Builder page builder is central to Avada's feature-set. But that isn't all you have to work with. There are a lot more tools and features that the theme offers users. Here are a few that stand out.
Click Here to Get The Avada Theme
Avada Fusion Theme Options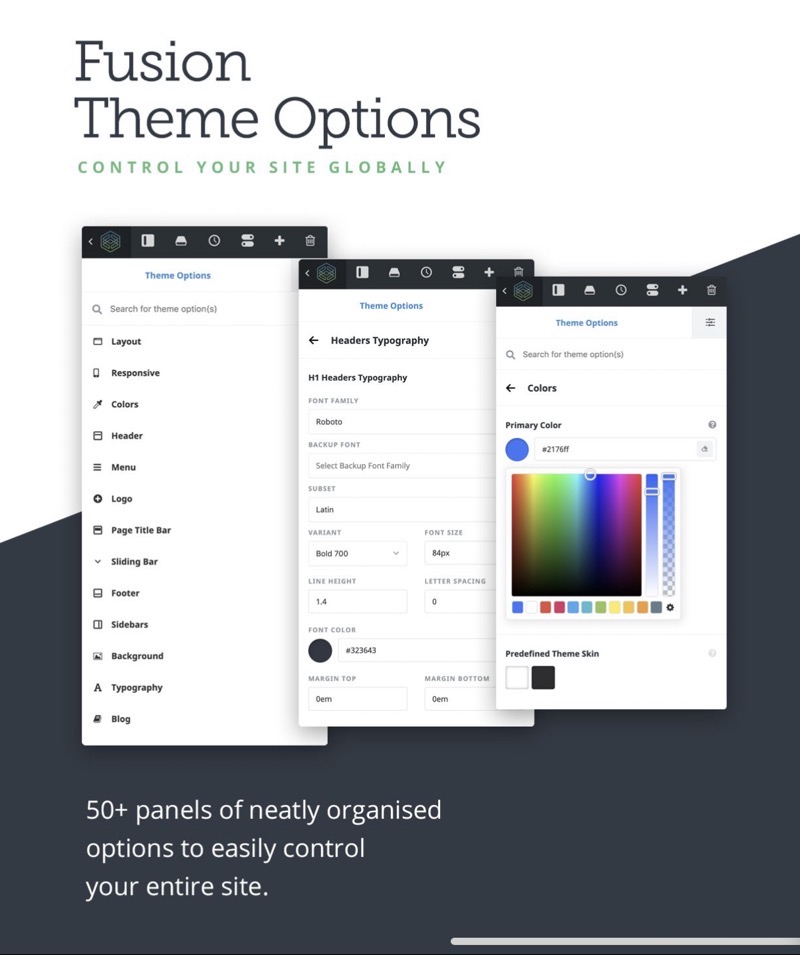 If you've spent time building a WordPress website, you're probably familiar with the Theme Options section of the dashboard. This is where you make universal changes to the theme without having to meddle with theme files or write any code yourself. Avada comes with its own theme options page called Fusion Theme Options, which gives users more powerful choices over what kind of theme-wide changes they want to make.
At the core of Avada's Fusion Theme Options feature is the Advanced Options System. This is the feature that gives you a lot more control to make edits to your theme. You can make changes to every section of your website right from here. Users can see a list of options organized in tabbed sections. Each option has a description of what modification it makes to the front end of the website.
The Fusion Theme Options feature is one that lets you make key changes to your website. It covers many different aesthetic and functional aspects.
For example, let's say you want to make your website mobile responsive. With Fusion Theme Options, you can just go to the Responsive Options section and make a few selections to immediately have your website become mobile responsive. You can set the responsive breakpoints, switch on zoom on mobile devices, set font size minimums and so on all within Fusion Options.
That's just one example of what Fusion Theme Options makes possible on the Avada dashboard. Similarly, you can make changes to the colors, menu bars, typography and more. You can also affect performance-related aspects like the use of dynamic CSS and Javascript and tweaking the Progressive Web App features.
There are two ways Avada users can access the Fusion Theme Options page. The first is right from the WordPress dashboard. When you install the Avada WordPress theme, it transforms the theme options page. So if you go to the Theme Options page in Avada, it takes you right to Fusion Theme Options.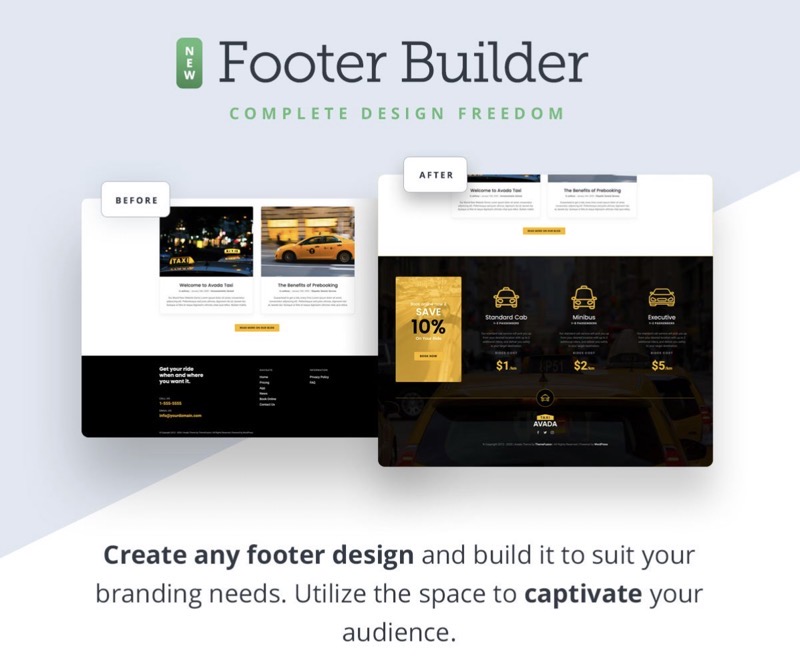 The other way to access Fusion Options is through Fusion Builder Live, the front end editing software we talked about in the previous section. Fusion Builder Live has a panel on its toolbar dedicated to Fusion Theme Options. So you don't have to go to the backend of the website every time you want to access this feature. You can access it from the Fusion Builder and make it part of your standard design process on Avada.
When you dive in you'll see that Fusion Theme Options has hundreds of options to choose from. It gives you an incredible amount of control over your site and plenty of ways to customize it all from a central location on the dashboard.
Click Here to Get The Avada Theme
Avada Fusion Page Options
Avada Fusion Page Options is much like the Theme Options feature except in this case you make changes to specific pages or posts rather than the theme as a whole. The changes that you make to individual pages will override the settings that you have chosen through Fusion Theme Options.
Fusion Page Options deals with various appearance and functionality-related aspects of every page. Below are some of the tabs available on the Page Options screen and what they do:
Layout tab: You can customize the layout of individual pages from this tab. It also has options to change the background images or colors.
Header tab: This is where you can make changes to the page header. That includes changing the font, font size, and uploading a background image if you like.
Sliders tab: Want an image carousel on your page? You can create one easily on this tab.
Content tab: This is where you make changes to the actual content on the page. You can do things like set the padding, change the background color, and display a featured image for a post.
Avada has three custom post types: blog, FAQ, and portfolio. There are a dedicated set of page options for each of these post types. When you're creating an FAQ page, for example, you can decide whether you want to show the pagination options, display author info, show related posts, etc.
Accessing the Fusion Page Options on Avada is quick and easy. Every page or post that you create automatically comes with a Page Options box. The box has tabs for each section of the page. Fusion Builder Live has a separate Page Options tab in its sidebar so that you can make changes to each page while you're working in the page builder.
Click Here to Get The Avada Theme
Avada WordPress Theme Integrations
We've seen what Avada has to offer in terms of in-built features. But that's not the only way in which the theme delivers value to users. It also uses integrations to make it possible to use third-party softwares along with the Avada WordPress theme.
Avada has several integrations spanning various functions. Here's a look at some of them:
WooCommerce Plugin: Want to turn your Avada WordPress website into a full-fledged e-commerce store? Do just that with Avada's WooCommerce plugin integration. Easily add your products to your website and collect payments through WooCommerce.
bbPress: bbPress is a plugin by the WordPress team to create forum websites. Avada integrates seamlessly with bbPress right out of the box. This is useful if you want to enable discussions on your website or create subscription access to a forum.
Form Plugins: Avada integrates with two form plugins, Contact Form 7 and Gravity Forms. Both are popular choices for those looking to take control of how the forms on their WordPress website. Avada's Gravity Forms integration lets you make edits to your forms from the Theme Options section.
Yoast: You've already heard of the ultimate SEO plugin for WordPress. Make your website SEO-compliant using Avada's Yoast integration. The plugin fits right into the theme's dashboard and analyzes every page for SEO issues.
FontAwesome: Getting the font combinations just right is essential to the design goals you have for your website. You don't have to worry about that too much if you're using the Avada theme. It comes with a FontAwesome integration, which means you can immediately access its library of over 900 fonts right away.
Click Here to Get The Avada Theme
Avada WordPress Theme Support & Documentation
Theme Fusion has done plenty to ensure that its customers have everything they need to use Avada and get the help they need if they hit a hitch along the way.
The most basic form of help available to users is the documentation. The documentation is exhaustive and easy to understand.
If, instead, you prefer watching videos, those are available, too. Theme Fusion has a library of full HD video tutorials to walk users through setting up and using Avada. The same thing is available for Fusion Builder. If the documentation and video guides don't do the job, you can always raise a support ticket to have the team address your specific query.
Since Avada is such a popular theme, there's a vibrant community that has formed around the product. The community forum on the website is active and there are threads addressing various aspects of using the product. In addition to that, there's an Avada Users Facebook Group that you can join to interact with fellow users. The over 20,000 members there are a great resource to have whether you're just wondering if Avada is the right choice for you or trying to implement something advanced with the theme.
Click Here to Get The Avada Theme
Avada Theme Pricing & Discounts
Theme Fusion has made the Avada WordPress theme available through the Theme Forest website. The theme is priced $60 on Theme Forest, which includes six months of support from Theme Fusion.
Extending the support to 12 months costs $42, but you get a 57% discount down to $18 if you buy the extended support along with the theme.
Click Here to Get The Avada Theme
Avada Theme Review – Final Thoughts
Avada has done well to keep itself relevant with the Fusion Builder page builder software. It also helps that you can adjust the theme options right from the page builder.
The theme comes with a portfolio of 38 demos spanning various types of websites. This is useful because you can have your website up and running just by picking one of these pre-made websites and editing them.
Although the Avada Fusion Builder software is handy, it doesn't quite stand up to some of the top names in the game like Divi or Elementor. If you are an Avada customer, you're locked in with its Fusion Builder software. You can't combine the theme with a different page builder.
Those are some of the things to keep in mind if you're considering using the Avada theme for your WordPress website.
Click Here to Get The Avada Theme
Read Next:
Best Landing Page WordPress Plugins