Click The Button below and sign up for a free trial of Audible and get 2 Audiobooks for FREE!
Click Here To Get 2 Free Books On Audible
If there's one app that I've used almost every single day for the past 2 years it might just be audible! I got into audible when I began traveling as it makes absorbing knowledge much easier while on the go.
Psst! While you are here, why not sign up for a free month of Kindle Unlimited and get 1000s of books FREE!
Get A Free Month Of Kindle Unlimited

Audible Free Trial
How Does Audible Work?
Audible is a company owned by Amazon that does Audiobooks and audio programs and shows, with more than 200,000 titles available to download right now. From romance, thrillers, or fantasy to the classics, we have something for everyone.
Unlike most places where you rent a book, with audible the moment you buy a book, it's yours to keep forever even if you don't stay a member of audible. Your books are stored in your library in the cloud, where they are yours to keep and enjoy forever.
You can pay by debit or credit card for both memberships and one-off purchases. Once you download an audiobook, you can listen to it on your smartphone, tablet, mp3 player, or laptop forever.
Audible runs on 2 Payment systems: Credits and Paying for an Audiobook.
Credits: If you have a normal membership of Audible, you get one credit a month that you can use to buy any book irrespective of the price. You can even buy credits using your credit/debit card in the Audible store.
Your credits roll over each month for up to 6 months, so you can listen to your audiobooks at your own pace. If you need to take a break, you can pause your membership and restart it later.
Cash: If you are out of your Audible credits for the month and want to buy a book you have 2 options. Buy extra credits or buy a book without credits. Now, this isn't a black and white answer as it depends on the book. For example, you can get the "The Complete Stories of Sherlock Holmes" in audio form for 1 Audible credit. But if you were to buy it without credits, it costs over $50. You can buy 3 additional credits for around $35 thus averaging out at $11 per credit. So, you are better off just waiting to get a new monthly credit or buying some more.
However on the other side of the spectrum a book like "The Wonderful Wizard of Oz" can be had for about $1-2 so spending an entire credit to get it would be an absurd waste!
I personally just buy 1 book a month with the monthly credit I receive with my Audible membership and normally get a really big interesting book. This month I got the great book Sapiens which is 15 hrs and 18 mins in length.
Return Audible Books
Audible has a great policy wherein you can return a book (even if you finished reading it) and exchange it for another one. In my research and personal abuse testing the system, I found that can return to a limit of 10 credits in a row before you get flagged and Audible doesn't allow you to exchange your books anymore.
Is Audible Worth It?
I used to be skeptical of audiobooks before I came across Audible, I decided to give their free trial a whirl and that one one of the best decision I ever made.
1. I can read faster
I used to be a quick reader,  to begin with, but I can absorb content even faster when I'm listening to it. With Audible I can increase the speed and hear a book at 2x the recorded speed. I can also listen to books when I'm traveling or at the gym and that has skyrocketed my ability to gain more knowledge.
Also as someone who lives out of a backpack (and personally not a fan of ebooks), I can manage to listen to massive books like Sapiens without having to be lunging around a huge book.
2. You can give a try for free and Get 2 Free Books from Audible
Audible has a free month trial and even gives you 2 free audiobooks if you sign up after clicking any link on this page.
If you go directly to audible.com and sign up for the free trial you can still get the first month for free but you ONLY get 1 free audiobook but if you click here, you can get the same trial BUT get 2 books for free instead of just 1! 😀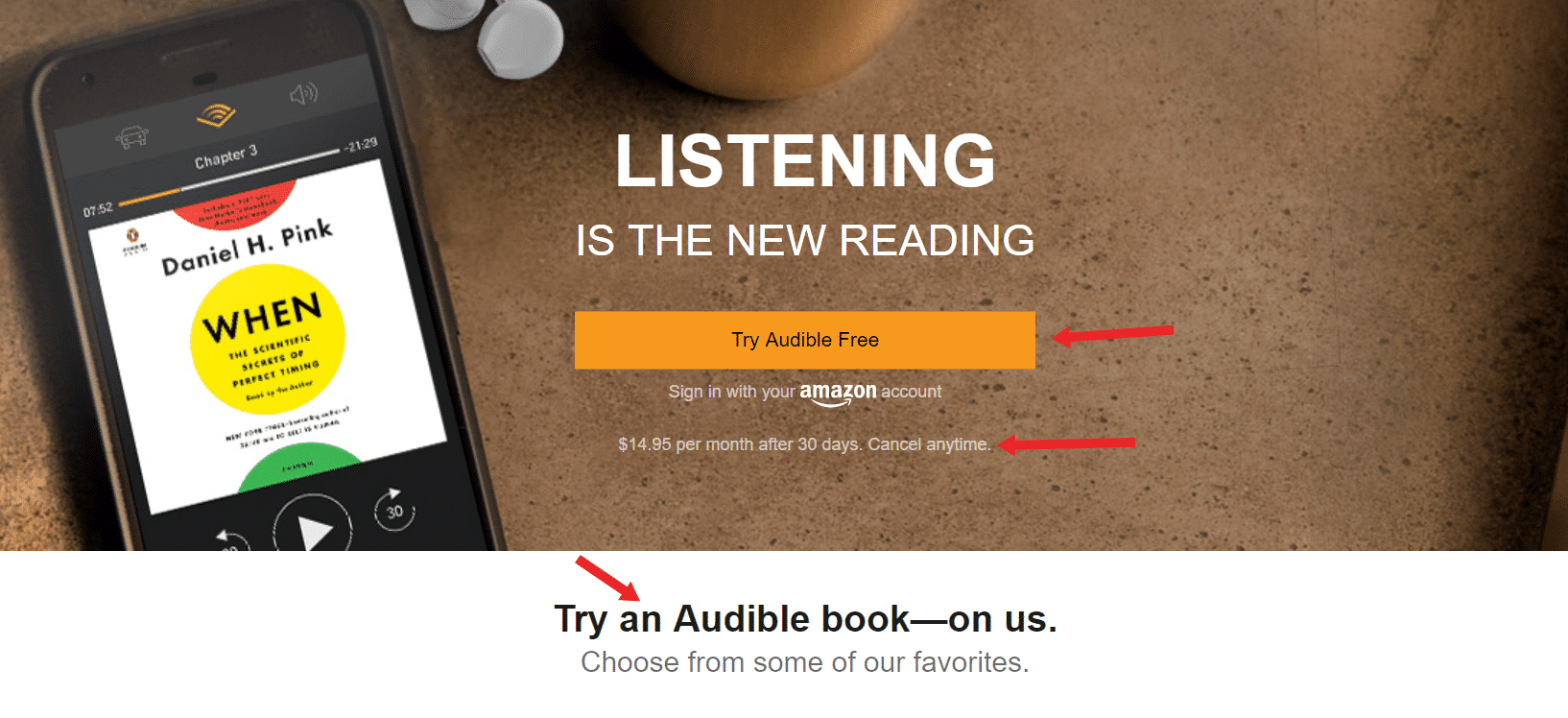 You can cancel your audible subscription and enjoy the 2 free books forever or you might end up loving Audible and becoming a member like me. Either way, you won't know until you try so why not give it a whirl.
Free Audible Books
Click Here To Get 2 Free Books On Audible
Here're a few recommendations for your 2 free audiobooks